Johnny Mack Morrow expresses no confidence in Kim Ennis as President of Bevill State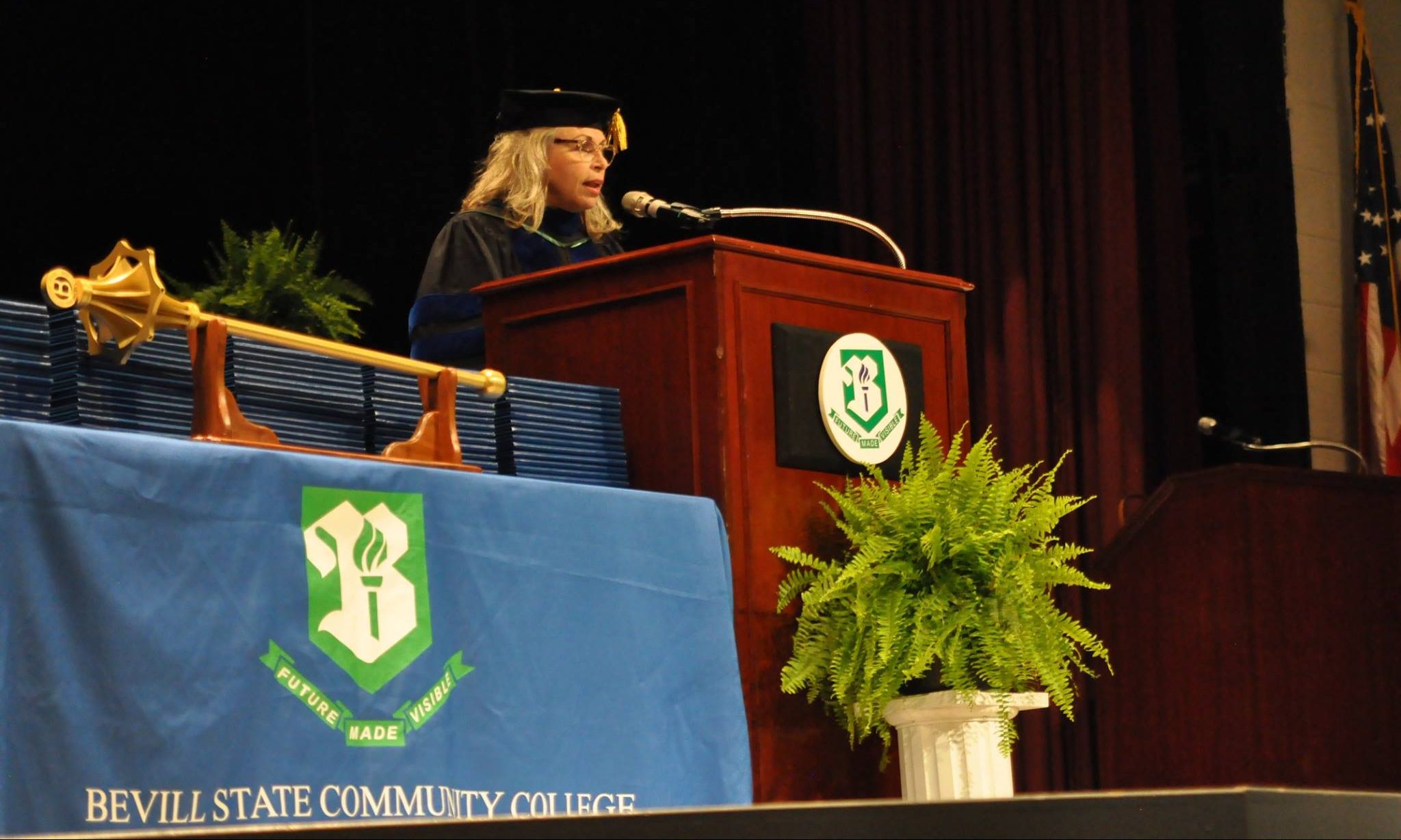 State Rep. Johnny Mack Morrow, D-Red Bay, on Tuesday introduced the Legislative Advisory Task Force-Bevill State Hamilton Campus at a news conference. The group also announced that they unanimously have voted no confidence in Kim Ennis as President of Bevill State. The group is concerned about plans to cancel some programs at Bevill State Hamilton Campus.
"It has been more than one month since I, as a member of the Alabama Legislature whose District is in located within the Hamilton Campus's service area, contacted President Ennis and requested that she immediately cease any plans or activities aimed at closing any program at Bevill State Hamilton," Rep. Morrow said. "Closing any two year technical program is an issue that has been addressed by the Alabama Legislature. The review procedures provided in Section 16-5-8, Code of Alabama 1975, as most recently amended by Act 2000-409, and Chapter 300-2-2 of the Alabama Administrative Code, both remain applicable to community colleges. This review procedure, put in place by the Alabama Legislature, should have been followed by President Ennis when she decided to close these four technical programs but was not. I have also been told that any college desiring to close any program should also contact the Alabama Community College System Office directly for information and assistance because there are many issues a community college should consider before closing a program. I have not verified whether President Ennis did this or not."
"President Ennis, in announcing the closure of the four programs, said that an in depth study had been conducted and that her recommendations were based on that study," Rep. Morrow continued. "I have not been able to find one person within my Legislative District who was contacted by President Ennis as she was doing this study. Not one educator. Not one community leader. Not one business and industry leader was contacted. I have repeatedly asked for a copy of this study and have been denied. President Ennis did forward to me an email that read, "here is the information that you requested." There was no study. What we now know is that a college president living in the Jasper area deciding that she wanted the four technical programs moved to her community. She would rather have the four technical programs in Walker County training the Walker County workforce than in Marion county. This was her motive and it was the basis for her decision. Again I repeat there was no study!"
Morrow asked if there any federal funding issues involved in any of the four technical programs that were being moved from the Hamilton Campus? Where is the supervision of two-year college presidents? Have accrediting entities such as the Southern Association of Colleges and Schools been informed? The legislature increased the appropriations to two-year colleges by almost twenty million dollars in FY 2019. Where will Bevill spend their additional money?
Morrow called on Alabama Governor Kay Ivey (R) to get involved and get answers to his questions.
"Because of this vicious attack on Bevill State Hamilton Campus I have created THE LEGISLATIVE ADVISORY TASK FORCE-BEVILL STATE HAMILTON," Morrow announced. "I feel that we, as legislators, representing the service area of the Hamilton Campus, must be kept informed as we move forward. We now know that the decision makers in Jasper will make decisions that are not in our best interest. We also know that they will misrepresent the truth to get what they want (our workforce programs)."
Morrow announced that Paula Reeves and Scott Hunt will serve as co-chairs of the Task Force.
The Legislative Advisory Task Force-Bevill State Hamilton Campus unanimously voted no confidence in Kim Ennis as President of Bevill State. The Task Force is seeking a meeting with Chancellor Jimmy Baker.
Bevill State Community College has 3,874 students spread out on four campuses: Jasper, Sumiton, Hamilton, Fayette; and the Pickens Center in Carrollton. It is a 56 mile drive from Hamilton to Jasper and can take over two hours of drive time to make the round trip.
According to the college web site, Sumiton has 939 students, Jasper has 680, Fayette and Pickens: 660; while  Hamilton has just 464. Additionally there are 540 online students and 564 in dual enrollment at off-site locations (typically high schools).
According to reporting by the "Daily Mountain Eagle," the eliminated programs include auto body repair and diesel mechanics technology on the Sumiton campus; and automotive technician, advanced design engineering and machine tool technology on the Hamilton campus.
Community leaders in Hamilton and Marian County have concerns that downgrading the technical programs offered at the Hamilton Campus will make it harder for them to recruit employers to the area.
At a public hearing in May, President Ennis said that the college currently has a $30 million operating budget, $23 million of that is salaries and benefits. The college however receives just $15 million from the state. Tuition and fees cover the rest of the budget, which includes maintaining multiple campuses and 55 buildings.  The college had been running a deficit before Dr. Ennis became President.
"We've had to make some immediate cuts, because from Montgomery, I have been told, 'You've got to balance your budget,'" Ennis said. "We've done an in-depth study of our data — every program that we offer…We haven't made any decisions that didn't have data to support those decisions."
"For a program to be considered viable, you have to have at least eight graduates per year," Ennis told the crowd. "We've been studying our data for six months in conjunction with Montgomery."
Bevill State Community College is searching for a Chief Financial Officer.
Johnny Mack Morrow has served seven terms in the House but is not seeking re-election. Rep. Morrow is instead running to represent state Senate District 6 which is currently held by Senator Larry Stutts, R-Sheffield.
Sen. Stutts is in the July 17 Republican runoff versus Steve Lolley, a banker from Guin.
North Alabama had been a long stronghold of the Alabama Democratic Party. All that unraveled in 2010 when Republicans unseated a number of longtime Democratic incumbents. Longtime District Six incumbent Roger Bedford, D-Russellville, survived the 2010 election, the only North Alabama Democratic Senator to do so; but was narrowly defeated by Stutts in 2014. Winning back Senate District Six is one of the top goals of Alabama Senate Democrats.
Click here to read Nicole Smith's reporting on the public hearing on the cuts in the Daily Mountain Eagle.
ACLU joins lawsuit over Alabama voting amid COVID-19 pandemic
The lawsuit was filed on behalf of several voters who are at greater risk from complications or death due to COVID-19. 
The American Civil Liberties Union and its Alabama chapter have joined in a lawsuit attempting to make it easier for some voters to cast their ballot during the COVID-19 pandemic.
The American Civil Liberties Union and ACLU of Alabama joined in the lawsuit filed in May by the NAACP Legal Defense and Educational Fund, Southern Poverty Law Center and Alabama Disabilities Advocacy Program against Gov. Kay Ivey and Secretary of State John Merrill. 
The U.S. Supreme Court in a 5-4 decision last week blocked U.S. District Judge Abdul Kallon's order that would have allowed curbside voting statewide and waived certain absentee ballot requirements for voters in at least Jefferson, Mobile and Lee Counties.
The lawsuit was filed on behalf of several voters who are at greater risk from complications or death due to COVID-19. 
The lawsuit was also brought on behalf of People First of Alabama, Greater Birmingham Ministries, the Alabama State Conference of the NAACP and Black Voters Matter Capacity Building Institute.
With the Supreme Court's decision, voters in the upcoming July 14 Republican runoff election will have to submit a copy of their photo ID and have either two adult witnesses sign their absentee ballot requests or have it notarized. 
"Alabama is in the middle of a deadly and ongoing pandemic but is refusing to take common-sense steps to protect the public's health and their right to vote for all elections in 2020. That's why we are taking legal action," said Alora Thomas-Lundborg, senior staff attorney with the ACLU's Voting Rights Project in a statement. 
"In the midst of an out-of-control pandemic, Alabama officials should be doing everything they can to ensure that all voters have a safe, fair, and equal opportunity to cast a ballot. Instead, officials have chosen politics over public health and safety. They are fighting to make it harder to cast a ballot and have that ballot counted. This litigation is crucial to ensure safe, fair, and equal opportunity to vote," said Randall Marshall, executive director of the ACLU of Alabama, in a statement.
"As we head into preparations for the November general election with COVID-19 cases rising in Alabama, it is critical that our election officials take seriously the protection of voters, poll workers, and our democracy," said Caren Short, senior staff attorney for SPLC in a statement. "In this critical election season, we are grateful to have Black Voters Matter Capacity Building Institute, the ACLU, and the ACLU of Alabama join this effort to ensure that every voter is heard. No voter should have to choose between exercising their fundamental right to vote and their health or the health of a loved one."
Deuel Ross, NAACP's Legal Defense Fund senior counsel, said in a statement that over the July 4th weekend, Alabama reported nearly 5,000 new coronavirus cases.
"Yet, state leaders insist on enforcing draconian restrictions on in-person and absentee voting that no other state finds necessary to combat the almost nonexistent issue of voter fraud," Ross said. "These restrictions are needless in normal circumstances. They are deadly in a pandemic. At trial in September, we will work to make sure that state leaders comply with their constitutional duty to protect the rights and safety of all voters."
In a Tweet on July 2, Alabama's Secretary of State John Merrill expressed gratitude for the Supreme Court's decision. 
"With the news that we have received a Stay in this process, I am excited that the United States Supreme Court has ruled in favor of those who believe in strict interpretation of the Constitution and has decided to grant the Stay and not endorse legislating from the bench," Merrill said in the tweet.