House passes Brooks bill designating Marshall as NASA's rocket propulsion lead
Last Wednesday afternoon, on a unanimous bipartisan voice vote, the U.S. House passed Congressman Mo Brooks', R-Huntsville, bill, HR5345, the "American Leadership in Space Technology and Advanced Rocketry Act" or "ALSTAR Act." The bill formally designates Alabama's Marshall Space Flight Center as NASA's lead center for rocket propulsion. In addition, the ALSTAR Act directs Marshall to explore, develop, coordinate and mature new rocket propulsion technology in cooperation with government and private sector partners.
"I appreciate my colleagues' support for designating Marshall Space Flight Center as NASA's lead center for rocket propulsion," Congressman Brooks said. "It is gratifying to see the ALSTAR Act pass the House with overwhelming bipartisan support. My colleagues recognize that developing and improving rocket propulsion is essential to America's maintaining our leadership in space exploration and national security. In turn, my colleagues also recognize that Marshall Space Flight Center is best equipped to take the lead on exploring, developing, and maturing new rocket propulsion technology in cooperation with government and private sector partners. Perhaps most importantly, the ALSTAR Act formally protects the Marshall Space Flight Center's rocket propulsion efforts and team from those political forces that may, in the future, seek to shift Marshall's rocket propulsion efforts, and jobs, elsewhere."
"As Congress guides America's national space policy, we must promote the robust rocket propulsion industrial base that is essential to our space presence," Rep. Brooks said. "After all, rocket propulsion is fundamental to everything we do in space. The ALSTAR Act ensures the long-term stability of the rocket propulsion industry through better coordination and collaboration between all relevant stakeholders."
Marshall is one of NASA's largest field installations, with almost 6,000 civil service and contractor employees, an annual budget of approximately $2.5 billion and a broad spectrum of human spaceflight, science and technology development missions.
On March 15, 1960, President Dwight D. Eisenhower (R) signed an executive order officially naming the new space center the George C. Marshall Space Flight Center. General George C. Marshall was Chairman of the Joint Chiefs of Staff during World War II. He selected then Major Eisenhower for a series of promotions that eventually led him to being the top allied officer in the European Theatre. Following the war, Marshall served as Secretary of State for the Truman Administration where he won the Nobel Peace Prize for founding the Marshall Plan that provided aid to Europe to recover from World War II. Also on March 16, 1960, Eisenhower signed an executive order transferring the Saturn rocket program from the Army to NASA. On September 8, President Eisenhower visited Huntsville, Ala. to dedicate the new NASA field center. The George C. Marshall Space Flight Center was placed under the direction of former German scientist Dr. Wernher Von Braun. As part of his remarks dedicating the center, President Eisenhower referred to General Marshall as a "man of war, yet a builder of peace."
The Marshall Space Flight Center was tasked with building the Saturn V rocket that launched man to the moon in 1969. Marshall has been heavily involved in numerous NASA missions including the Apollo landings on the surface of the moon, Skylab, the Space Shuttle program that carried a generation of Americans into space, the Hubble Telescope which has revolutionized astronomy, and the Space Launch System which has the potential to possibly get man to Mars.
Brooks added, "Marshall Space Flight Center is the birthplace of the American space program. Dr. Wernher von Braun and his team famously pioneered rocket propulsion at Marshall during the Space Race of the 50s and 60s. Marshall has decades of experience working with other government agencies and industry partners to study and coordinate rocket propulsion technologies that are critical to national security, intelligence gathering, communications, weather forecasting, navigation, communications, entertainment, land use, Earth observation, and scientific exploration. The ALSTAR Act solidifies Marshall's status as America's premier rocket propulsion center and challenges Marshall to develop the next generation of rocket propulsion technology."
"With President Trump's establishment of Space Force as an independent branch of the military, rocket propulsion is recognized as even more important to securing America's future than ever before because America's military relies heavily on its space assets (global positioning satellites being but one example) to protect our national security," Brooks said in a speech on the floor of the House of Representatives.
NASA's Marshall Space Flight Center and the military's Redstone Arsenal have over the last 60+ years transformed Huntsville from a farming and textiles community to one of the foremost aerospace and technology hubs in the entire world.
Congressman Mo Brooks represents Alabama's Fifth Congressional District, which includes the Marshall Space Flight Center.
U.S. Attorney Jay Town announces resignation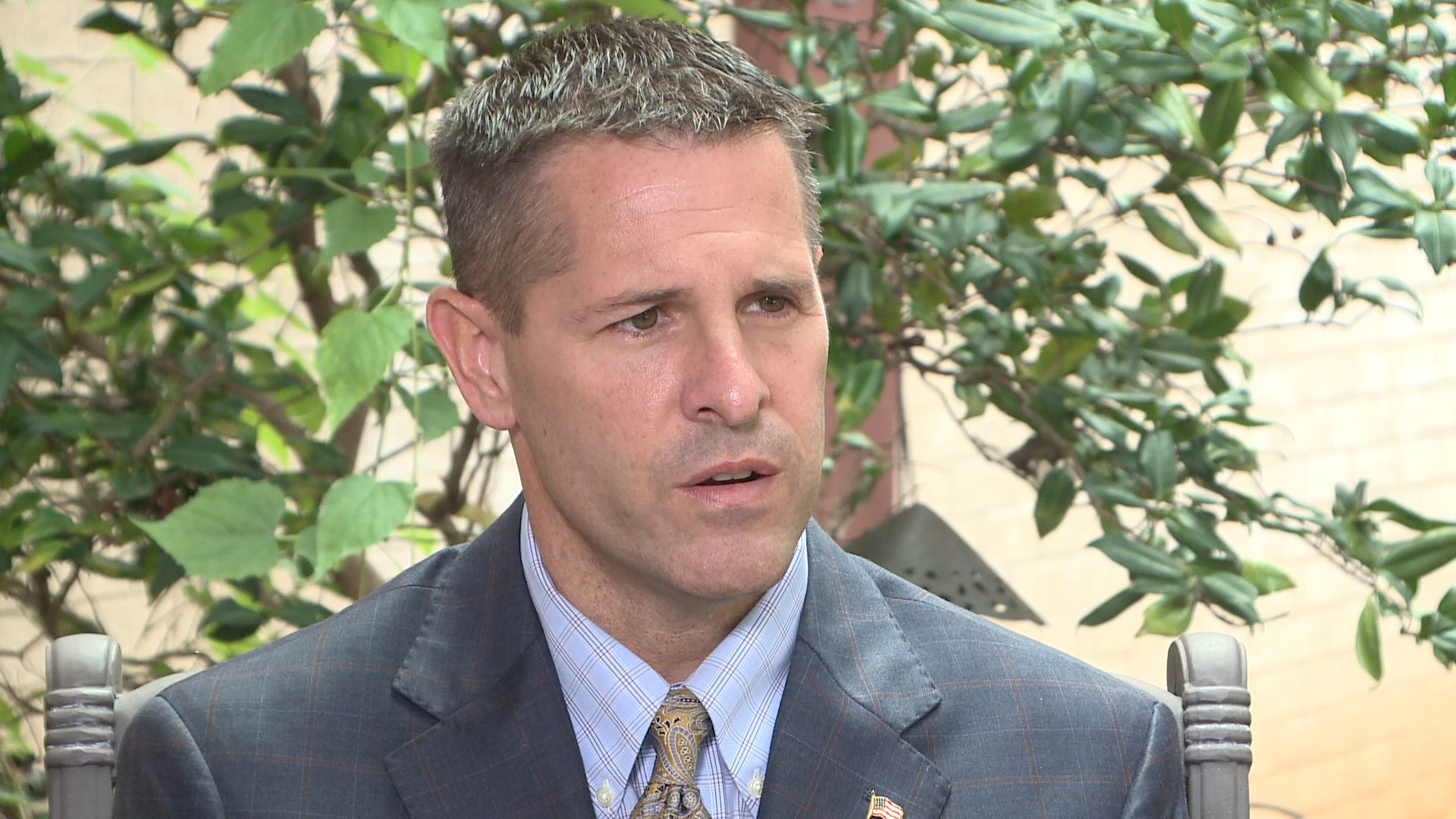 Jay Town, the U.S. attorney for the Northern District of Alabama, on Friday announced his resignation and plans to work at a Huntsville defense contractor and cybersecurity solutions company. 
Town's resignation will be effective Wednesday, July 15, according to a press release. 
"After much thoughtful prayer and great personal consideration, I have made the decision to resign as the United States Attorney of the Northern District of Alabama.  I have tendered my resignation to Attorney General William Barr. General Barr expressed his gratitude for my service to the Department of Justice and to the Northern District and, despite having hoped I would continue in my role, understood and respected my decision," Town said in a statement. 
"I am extremely grateful to President Trump, to whom I also tendered a letter, for his special trust and confidence in me to serve as the U.S. Attorney. It was an honor to be a part of this Administration with an unrivaled class of United States Attorneys from around the nation.  I will forever remain thankful to those who supported my nomination and my tenure as the U.S. Attorney," Town continued.
Town said his job with the unnamed Huntsville defense contractor and cybersecurity solutions company is to begin later this year, and the company is to announce his position "in a few weeks." 
"The Attorney General of the United States will announce my replacement in the coming days or weeks," Town said in the release.  
Town has served in his position since confirmation by the U.S. Senate in August 2017. Prior to that appointment, Town was a prosecutor in the Madison County District Attorney's office from 2005 until 2017.
Attorney General William Barr in a statement Friday offered gratitude for Town's three years of service. 
"Jay's leadership in his District has been immense.  His contributions to the Department of Justice have been extensive, especially his work on the China Initiative and most recently as a Working Group Chair on the President's Commission on Law Enforcement and the Administration of Justice. I appreciate his service to our nation and to the Justice Department, and I wish him the very best," Barr said in a statement.
The U.S. Justice Department in April 2019 notified Gov. Kay Ivey that the department's lengthy investigation into the state's prisons for men found systemic problems of violence, sexual assaults, drugs and corruption which are likely violations of the inmates' Constitutional protections from cruel and unusual punishment. 
Town's office leads the discussions between the U.S Department of Justice and the state on the prison conditions. 
Problems with violence, deaths and drugs in Alabama's overcrowded, understaffed prisons have not markedly improved in the year's since the U.S. Department of Justice released its report.