Did Steve Marshall violate campaign finance laws?
Let's chat about campaign finance laws.
Oh, believe me, I know that sentence ranks right up there with "Hey, watch this video of my kid singing" and "Let's watch two soccer teams not score for an undetermined amount of time."
But give me a minute, if you would, because I'm going to do something few people ever do: I'm going to at least attempt to make a few specific campaign finance laws easy to understand and relatable.
We're going to start here: Attorney General Steve Marshall's allegedly illegal campaign contributions from the Republican Attorneys General Association (RAGA).
This is the thing that Troy King, Marshall's opponent in next Tuesday's runoff election, keeps prattling on and on about. King held a press conference in Huntsville on Tuesday to blast Marshall again, claiming that the more than $700,000 he's taken in from RAGA in this election has been illegal donations.
The reason King believes this is where things usually get complicated, regular folks' eyes glaze over and we all find a ballgame to watch to forget it all.
But hear me out.
King claims these donations violate a rule in Alabama law that prohibits one Political Action Committee (PAC) from donating to another PAC in an effort to obscure the original source of funds.
Let's not get all caught up in precise definitions. Just know that a PAC is a group of like-minded individuals — Republican AGs or Republican governors or construction companies or any group of two or more people — who form this PAC in order to donate money to their preferred candidates.
Why would they do this?
Easy: Politics is a slimy business and sometimes candidates want to have a level of deniability when it comes to donations.
For example, let's say you're an anti-gambling politician in Alabama, but boy, do you ever want to get your hands on that sweet, sweet Indian casino cash. Solution: You have the Indian casinos donate money to a PAC, mix their money with other money donated by not-Indian casinos, and tah-dah, there's a bit of deniability there.
While these PACs do have to disclose their donors, they don't have to disclose where each donor's contributed money went.
And if you have one PAC donating to another PAC things can't get particularly confusing. Which flies in the face of the goal: To ensure the voting public has some idea who is influencing elections in the state.
So, did Marshall violate the law?
That's a tricky question, but what's stone cold for certain is this: He violated the spirit of the law.
Because there's also no doubt that the RAGA PAC, before donating that $700,000-plus to Marshall, accepted transfers from other PACs.
Marshall's camp is hanging its hat on alleged advice it received from the Alabama Secretary of State's Office, which says the state has no authority to force federal PACs located outside of the state to register in Alabama, or follow Alabama laws.
Ethics Commission Director Tom Albritton, however, had a very different view when he answered that question in June from al.com, saying that he had informed other campaigns that similar donations would not be legal. (Albritton wouldn't discuss his statement on Tuesday, saying that because King has filed an ethics complaint against Marshall, it would be improper for him to discuss a pending case.)
But he hasn't retracted his previous advice, and there's one reason why. In the 2010 law that created the PAC-to-PAC ban, it states the law applies to both in-state and out-of-state PACs.
That sure looks like an illegal donation.
But here's the thing. Even if there's a way to technically dodge a campaign finance law violation for this, Marshall can't dodge the fact that he's violating the hell out of the spirit of the law and trying to hide from voters who's dumping huge buckets of cash into his campaign.
Unfortunately for Marshall, if you have enough time and know-how, you can dig through the RAGA contributions and expenditures and figure out where large chunks of money came from. And once you do, it's easy to see why he wouldn't want those donations disclosed.
For example, if one of your major talking points is your fight against opioids, you probably wouldn't want it known that major drug companies — some of which have been sued by other states for their roles in the opioid epidemic — dumped more than $200,000 into RAGA in the first quarter of 2018 alone.
One of the biggest contributors, Mallinckrodt Pharmaceuticals, which dumped $100,000 into RAGA earlier this year, was found by the DEA to have supplied 66 percent of the oxycodone sold in Florida in 2016.
It also wouldn't be too swell for voters to learn that the guy who was taking on gambling operations in Alabama a few months ago was accepting money from a PAC funded by Las Vegas casino owners, Caesars Entertainment and the lobbying firm that represents the Choctaw Indians in Mississippi.
This is why campaign finance laws — as boring as they might be — are vitally important to keeping elections open and giving the voting public a window into who is supporting each candidate. Because that support often says a whole lot about the candidate.
That the AG would be so willing to violate the spirit of that law seems like something you should pay attention to.
Print this piece
Opinion | Gov. Kay Ivey moved the football again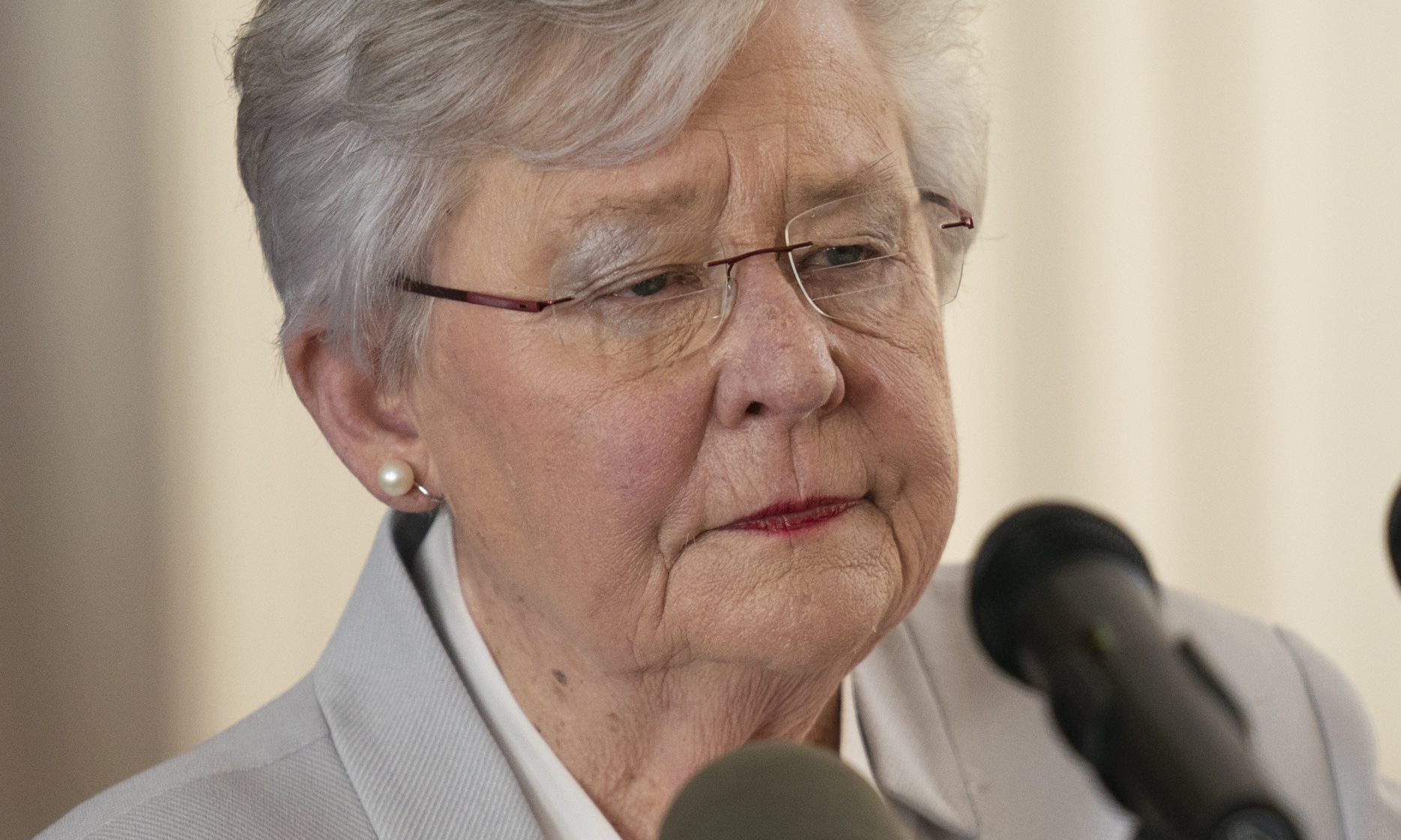 I understand how Charlie Brown must have felt. 
The disappointment and surprise when Lucy moved that football one more time. The betrayal. The embarrassment. The anger. 
I know those feelings, because far too often I've experienced them with Alabama politicians. I want so badly to believe that our elected lawmakers are good and smart people who care about the citizens of the state. That they're not money-grubbing, selfish dolts who will sell us all out for a nickel and new socks. That they will lean on science and facts when crafting policy and ignore the noise from the ignorant minority screaming the loudest. 
And so, far too often, I believe in someone who I know, deep down, is just going to let me down. Who's going to move that football at the last minute. 
On Thursday, it was Gov. Kay Ivey moving the football. 
It seems like only last month that I was writing a column praising Ivey for her sound judgment and decision-making. That's because it was last month when Ivey ignored the screaming crazies calling for a "reopening" of Alabama in the midst of a global pandemic that is, quite clearly, getting worse in this state. 
Ivey listened to real doctors. She leaned on facts. She had a cute comeback — "data over dates" — to shoot down any notion that a calendar day would carry more weight than the data showing infection and hospitalization rates. 
We had a governor making sound decisions rooted in public safety and health. She refused to budge on the matter and refused to let money outweigh the value of human life. 
It was a great time to be alive in Alabama. 
And then, Kay Ivey moved the football. 
A week ago, after telling people that it would be data that determined when Alabama reopens, and that she would follow the White House guidelines for reopening, she did neither. Instead, she did exactly what she said she wouldn't do — used a date to determine that it was time to lift restrictions. 
The lockdown had gone on too long, Ivey said, and it was time to lift it. 
She did so as positive cases were on the rise. And with absolutely no plan for comprehensive testing and tracing — the one thing that Ivey and all medical experts said we HAD to have before we could safely lift restrictions. 
Then, on Thursday, Ivey was back again to lift more restrictions — the day after the mayor of Montgomery told the world that his town and the surrounding three counties are out of ICU beds because of a massive outbreak of new cases. Hospitals in Montgomery are now transporting ICU patients to Birmingham. 
Still, there went Ivey, lifting restrictions to allow strip clubs and concert venues and casinos to reopen. Just in time for the Memorial Day weekend rush — a coincidence, no doubt. 
The reason for all of this is easy to understand. 
There is no plan to save people. 
The testing and tracing we were supposed to have — that would have allowed us to more safely reopen and go about our lives while the carriers of the virus and those exposed to those people are sequestered — have never materialized. And it is painfully obvious at this point that we will never have it. 
In addition, there is no true guidance from the White House, and what little has come from there, we've mostly ignored. We're supposed to have at least seven straight days of reduced positive cases. We don't have one day. 
There's also the Idiot Factor — the groups of crazy people screaming about tyranny and government overreach because they have to put on a mask to shop at Publix. These are the same people who think strapping a bulletproof backpack on their kids to go to school instead of expanding background checks is simply the price of freedom. 
Add it all up, and it's pretty easy to see what Ivey did: Tossed up her hands and said to hell with it, y'all be careful out there. 
And that's disappointing. Because I believe the majority of Alabamians — and there are polls to back this up — were grateful for her measured approach and data-driven decisions. And I think most understand that there are ways to both reopen the economy and still keep in place restrictions that both limit the spread of the virus and impress upon people the danger it still poses. 
But we're not doing that. Not anymore. 
Instead, we're back to taking the easy way, back to catering to big business and rightwing crazies, back to ignoring science and data. 
The football was moved again.
Print this piece