Troy King accuses Marshall of taking $700,000 in illegal, out-of-state campaign contributions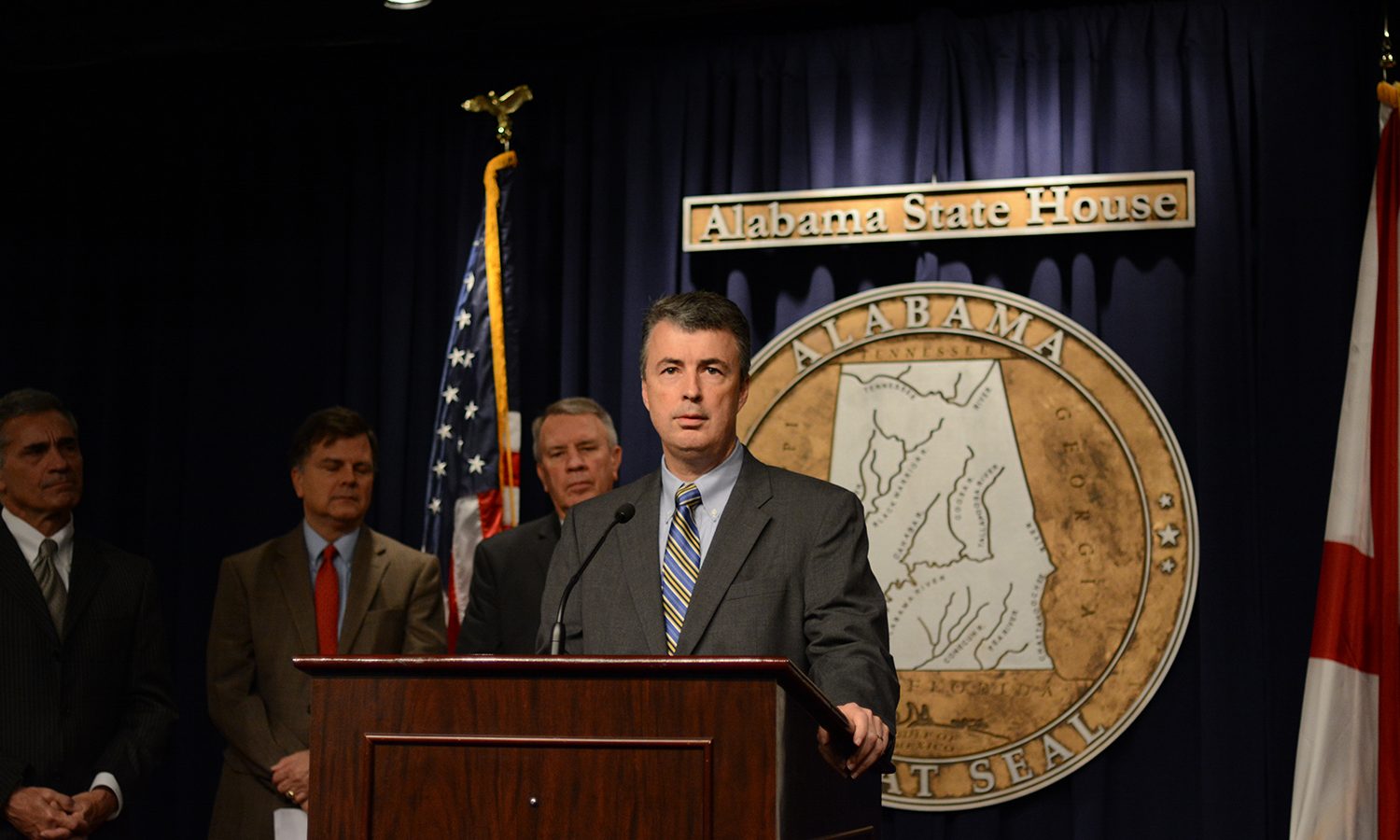 Tuesday, former Alabama Attorney General Troy King (R) said that his opponent, sitting Attorney General Steve Marshall (R) has taken illegal PAC to PAC transfers totaling $700,000. King was addressing the influential Alabama Republican Assembly at their meeting at Bill's Family Dining in Northport.
King said that he has filed a complaint with the Alabama Ethics Commission charging that Marshall has accepted $400,000 in campaign contributions from the Republican Attorney General's Association (RAGA) which King claims is an illegal PAC to PAC transfer. King said that the first thing the Republicans did was to outlaw PAC to PAC transfers. "The Attorney General says that it does not apply to out of state PACs. It does. Luther Strange did the same thing in 2014; but when called on it he returned the money, Marshall doubled down and took another $300,000."
"I am glad to be here with the real Republicans," King told the group. "When I left this office in 2011 I thought I would never be back in politics."
"I did not have to read the Birmingham News," King said. "I did not have to read what they say about me. Donald Trump called out fake news. Alabama is full of fake reporting. They are not even real reporters what they write as news is really opinion."
"I watched what happened in Montgomery," King added. "The people we sent to Montgomery to clean up the mess, became part of the mess." Then there was Bentley. What an embarrassment. When I was growing up in Elba, watching television, my dad used to point to the Governor on TV and say if you work hard you can be that man. How long has it been since parents in Alabama held the Governor of Alabama out as an example for your children? Steve Marshall, "Sent him home to Tuscaloosa without any real consequences for what he did."
"We have failed to end the corruption," King continued. "We watched as legislator after legislator has been removed. There are rules. We call them laws. They need to be enforced. We need to take this state back from corruption. We need to take the state back from crime. When I was attorney general, crime was at a 30-year low. Now we have a 20-year high."
King criticized Marshall for making a secret agreement with defense attorneys of a man the state had attempted to execute by lethal injection, but efforts to get a needle into his blood veins failed. Referring to a new state law allowing execution by gas, King said, "I don't know if we can find his veins, but I bet we can find his nose."
"Politicians should not go to Montgomery and be beholden to somebody who gave them $500,000," King said referring to the Business Council of Alabama (BCA). "Alabama may not be for sale, but Steve Marshall has been bought and sold."
"I am a lifelong Republican," King said. "He was appointed by Don Siegelman. He was a Democrat. He had an Obama bumper sticker. I don't know any Obama bumper sticker wearing Democrat in 2008 who is Trump Republican in 2018. Barack Obama in Illinois wrote the law that you can kill a baby who survives an abortion. I wrote the law that you can prosecute a doctor for murder who does that. Life begins at conception. I am proud of my Pro-Life record."
"If we don't want a Don Siegelman appointee versus Don Siegelman's son the thing to do is to elect a Republican and vote for me on election day," King said.
Don Wallace, a GOP candidate for state school board in the general election, asked how do we convince Doug Jones to support Brett Kavanaugh for U.S. Supreme Court.
King said that we have prayed for the day that there could be a conservative majority on the Supreme Court who can overturn Roe versus Wade. I used to work for Governors and if we got five handwritten letters, not pre-printed postcards but actual handwritten letters we said that there was strong support for a position. If ever there was a day to write a letter to Doug Jones and tell him there are some issues in Alabama that are a red line and you don't cross them it is now.
Ann Eubank, the President of the Alabama Legislative Watchdogs, asked King if he would leave Matt Hart and the Special Prosecutions unit in place.
King said that he couldn't make personnel decisions before he gets in the office. "I have a problem with something called the special prosecutions unit going after corrupt politicians; because I do not think that prosecution is more special than the prosecution of a child rapist."
"It is wrong to keep a special grand jury open for years and years," King said. "I will not commit to you that I will do that." My daddy told me that if you did something the wrong way it is still wrong even if you do it the wrong way. By the time they get to trial they have been robbed of all their money and their reputation.
On corrupt politicians, King said, "We will pursue them relentlessly, but we will do it the right way."
King was critical of Jim Sumner, who used to be the director of the Alabama Ethics Commission for past criticism of his tenure as AG.
King favors changing the ethics law to, "A simple, straightforward law that is easily understood. The guy that wrote it did not understand it. The law is not clear, so lawyers get hired to created confusion. We need an ethics law that is easy to understand and elect persons who are committed to enforcing it."
King was appointed as attorney general by then-Governor Bob Riley (R) and then elected to his own term as AG in 2006.  He was defeated in the GOP primary by Luther Strange in 2010.  King is running against Steve Marshall who was appointed AG by Robert Bentley after Bentley appointed Strange to the U.S. Senate.
The Republican primary runoff is on Tuesday, July 17. Polls will open at 7:00 am and close at 7:00 pm.
The winner of the Republican primary will face Joseph Siegelman (D) on November 5.
The Republican Assembly was founded in California during the 1930s and calls themselves the Conscience of the Republican Party and strives to elect nominees that share their conservative principles. Jennifer Montrose is the President of the Alabama Republican Assembly.
Print this piece
Sessions attacks Tuberville's views on China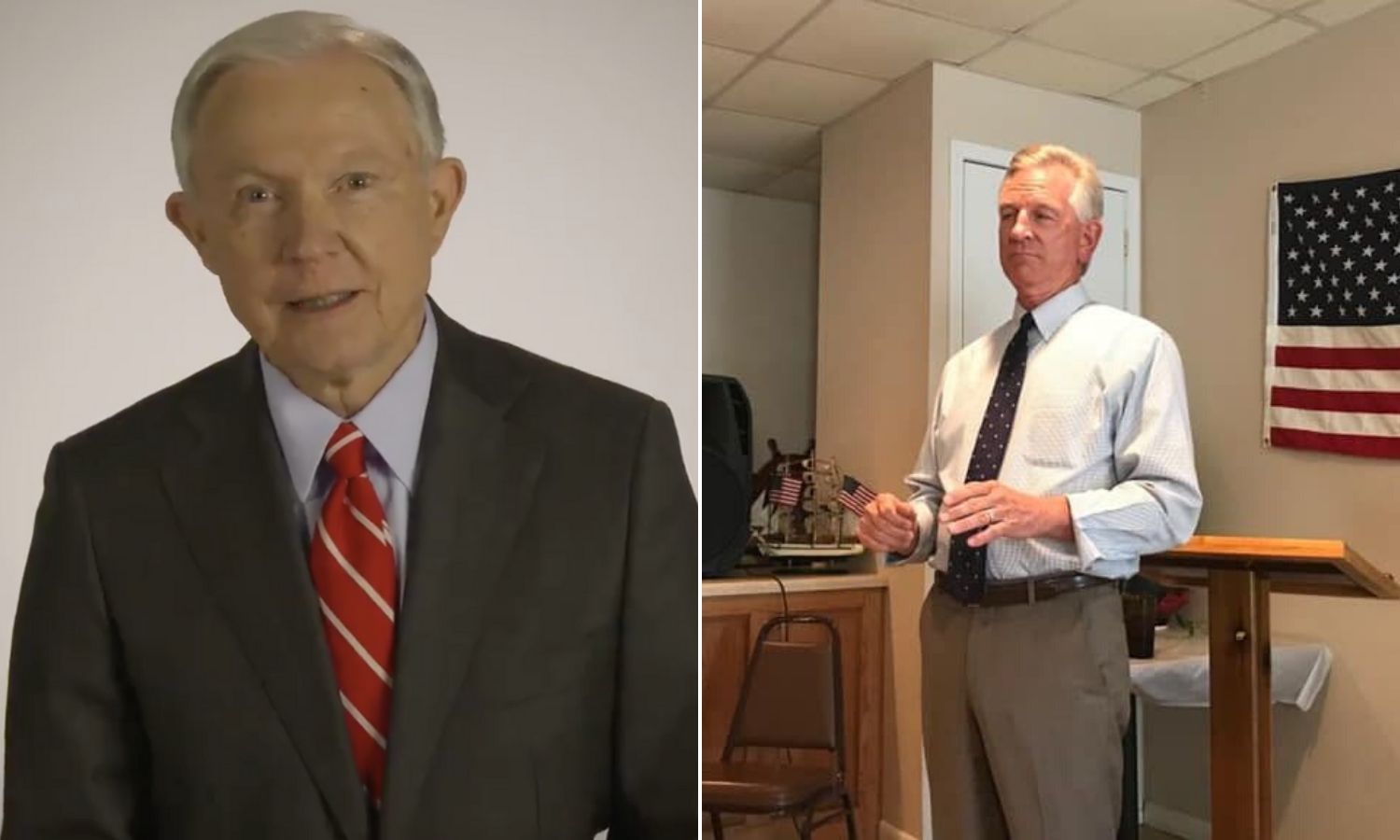 Former Sen. Jeff Sessions, R-Alabama, rolled out an ambitious, comprehensive plan to hold the Chinese government accountable for what Sessions called a cover-up of the coronavirus that has killed tens of thousands of people and devastated economies worldwide.
In an interview Thursday on the Matt & Aunie radio show on Talk 99.5 in Birmingham, for Auburn head football Coach and current GOP Senate candidate Tommy Tuberville expressed his views on China.
Matt Murphy asked: What do you see happening with China?
"Well, we can't worry about China right now…" Tuberville responded.
"You say you don't need to worry about China, but this came from China and our economy depends on China," Murphy asked on follow up. "Specifically how to overcome some of that dependence on Chinese goods and specifically in the pharmaceutical industry because right now we're dependent on the country that covered this up."
"Now we're seeing firsthand the results of letting everything go to China," Tuberville said. "The good thing about this is we'll have manufacturing come back and drugs and all those things….we're headed in that direction, just the simple fact that we can't control our own destiny. Everything's controlled by China. But that'll take care of itself."
During the show, Tuberville also characterized the Wuhan Virus, which has killed over 53,000 people and infected more than 1 million people across the globe, which then including over 1,300 people in Alabama, as "just a virus."
Jeff Sessions issued a statement critical of Tuberville on Friday in response.
"Amazingly, Tommy Tuberville said yesterday, 'We can't worry about China right now,"" Sessions quoted. "China is where the virus is from, and their deliberate lies hid the danger and resulted in a pandemic that never should have happened. We must take on China now and win, not run scared like Tommy Tuberville."
"There are over 1 million infected with the Wuhan Virus, and more than 1,300 in Alabama already," Sessions continued. "This is serious. But Tommy Tuberville said yesterday that 'this is just a virus.' What planet is he on? Tuberville is clueless. No wonder he's scared to debate me. We must stop relying on China for our critical medicines and equipment. I have a detailed plan to fix it. Amazingly, Tuberville also said yesterday, 'Everything's controlled by China, but that'll take care of itself.' Wrong! We must lead with action, this will not 'take care of itself.'"
On Thursday, a U.S. intelligence report claimed that China understated the damage that the coronavirus was doing in their country.
"Alabama's next Senator must be a leader who has the drive and determination to push a Congress that is too often unwilling to confront the critical issues of our time," Sessions continued. "I have proven my willingness and preparedness to lead from Day One. Tuberville is weak: all talk and no action."
Sessions is a former Senator, U.S. Attorney General, Alabama Attorney General, Chairman of the Alabama Republican Party, U.S. Attorney, asst. U.S. Attorney, and U.S. Army Captain.
The Republican primary runoff has been moved to July by Alabama Governor Kay Ivey (R) due to fears of the coronavirus. The virus is believed to have originated in Wuhan City, Hubei Province, China in late 2019.
As of press time, 10,943 Americans have died from COVID-19 including 53 Alabamians. 367,650 Americans have been diagnosed with COVID-19, including 2,006 Alabamians. At this point, only 240 Alabamians are confirmed hospitalized with COVID-19.
COVID-19 is the medical condition caused by a strain of coronavirus first identified late last year in Wuhan City, Hubei Province China, SARS-CoV-2. Since then it has spread across the globe infecting 1,346,566 persons that we are aware of killing 74,697 people.
The winner of the Republican primary runoff will then face Senator Doug Jones (D-Alabama) in the November election.
Print this piece