Chris McCool addresses Alabama Republican Assembly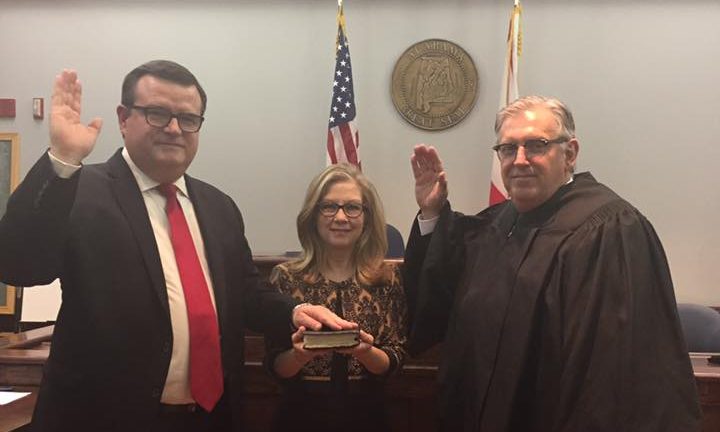 Chris McCool is running for Place 2 on the Alabama Court of Criminal Appeals. McCool addressed the Alabama Republican Assembly Tuesday in Northport.
"I was honored to have the Republican Assembly's endorsement," McCool said. McCool said that even people who should know better are not aware that the primary runoff elections are Tuesday, July 17. "Bad politicians are elected by people who do not vote. The election is next week and people don't get it. Go vote and get that vote out."
"In this race I am running for the Court of Criminal Appeals," McCool said. A lot of people don't understand what that court does. "They don't retrial cases. I am the District Attorney for Pickens, Fayette, and Lamar county. I try cases. The appellate court reviews those cases on appeal. Five judges sit up there in Montgomery and they look at the cold words of the court transcript. In the past we have had jurists there who do not know what they were looking at."
"Our race is between an Assistant Attorney General and myself and we are going to be friends when it is over," McCool said. "He is an appellate lawyer for about 11 years. I have been a trial attorney for the past 23 years." If I am on that court I will know what I am looking at when I read the words of the transcripts.
"I have seen every kind of case there is," McCool said. DUIs, I trialed a hunting from a public road case in Lamar County and I lost. You can't win those in Lamar County. I have trialed public corruption cases, cases involving child abuse and child sex abuse. The last cast I trialed was a man who abused his grandchildren. He is now serving a life sentence. A man killed two police officers and a dispatcher in the Fayette police station. I saw the dead body of my friend lying there. I still trialed that case and that killer sits on death row today.
If you will look at the returns from the primary, I had 80 percent of the vote in Lamar County, 85 percent in Fayette County and 91 percent in Pickens County, McCool said. "The people who know me the most think I have done a good job. I got 70 percent of the vote here in Tuscaloosa and I am grateful for that."
"I have been married to Sherri Fair for 26 years," McCool said. "We have three children."
"I pastor a church a couple of miles from my house," McCool continued. "The biblical foundation for our society is so important." Micah 6:8 sums up how we should live our lives and especially in the judicial system."
"I will shew thee, O man, what is good, and what the Lord requireth of thee: Verily, to do judgment, and to love mercy, and to walk solicitous with thy God." (Micah 6:8 Douay-Rheims)
Be just. Nothing is more important for a judge than to rule justly. Be merciful where the law allows it and be humble McCool explainted.
"I would be honored by your vote, a week from today," McCool said.
McCool was asked how could they motivate Senator Doug Jones (D-Alabama) to vote to confirm Brett Kavanaugh to the U.S. Supreme Court.
"The only thing that is going to get him to vote for Mr. Kavanaugh is an outpouring of support," McCool said. "We all know that he is not one of us, a conservative, the only thing that is going to motivate someone like that is a desire to get re-elected."
Chris McCool is running against Rich Anderson for Place 2 on the Criminal Court of Appeals in Tuesday's Republican primary runoff election.
Polls open at 7:00 am and close at 7:00 pm. You must have a valid picture ID in order to participate in the election. Alabama has a law outlawing crossover voting so you may not vote in a primary runoff that is different than the primary you ran in. The Republican runoff will be winner take all because no Democrat has qualified for this office.
The Alabama Republican Assembly has electing candidates that most closely align with the conservative platform of the Republican Party as their goal. They are the Alabama affiliate of the National Federation of Republican Assemblies.
Alabama GOP chair Terry Lathan congratulates Tuberville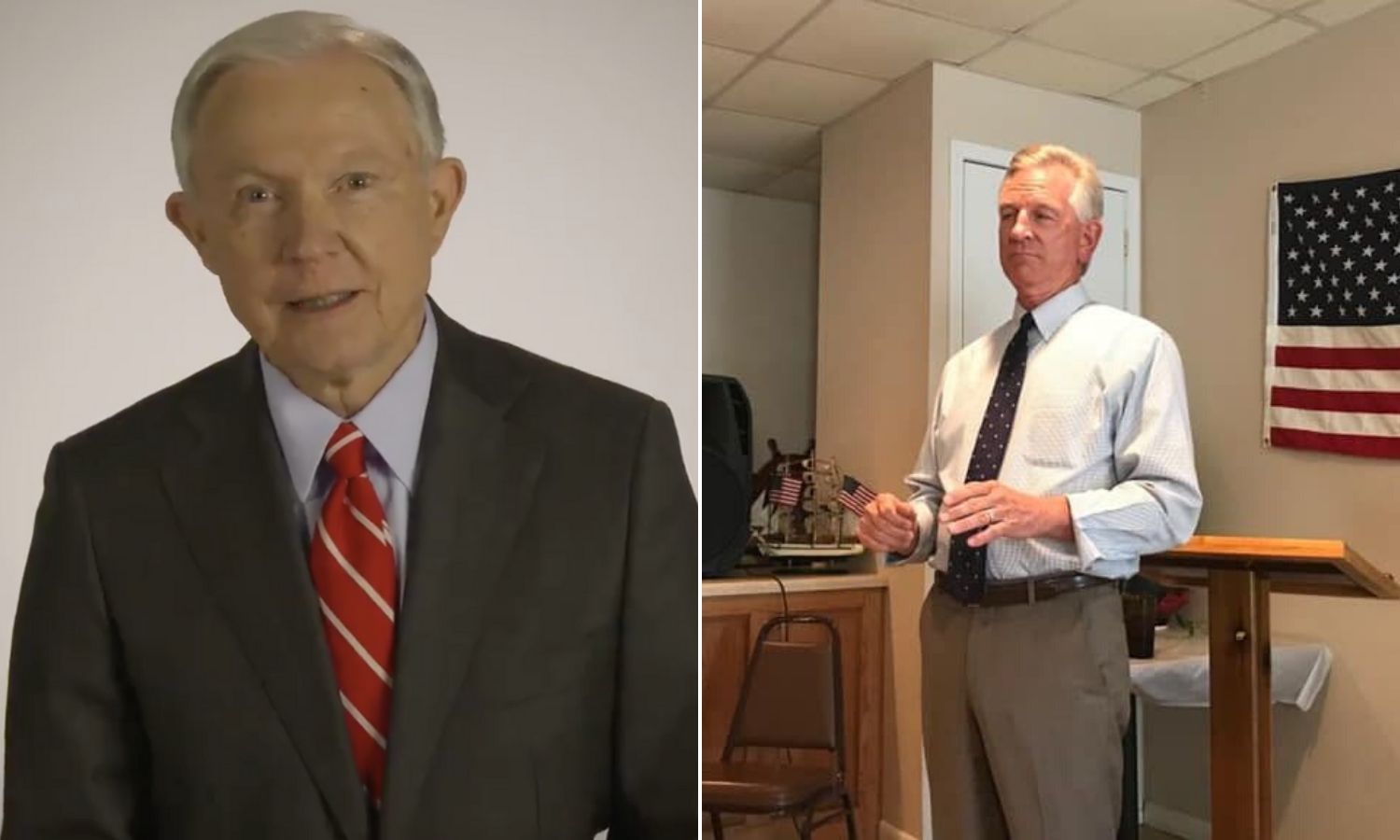 Former Auburn football head coach Tommy Tuberville soundly defeated former Sen. Jeff Sessions, R-Alabama, on Tuesday in the Republican primary runoff. Alabama Republican Party Chairman Terry Lathan issued a statement congratulating Tuberville on the victory.
"It's great to be an Alabama Republican! Our voters have spoken and they have chosen an outstanding U.S. Senate nominee for the November 3rd General Election, Coach Tommy Tuberville," Lathan said. "Even under difficult circumstances with the COVID-19 situation, Alabamians were deeply engaged and determined to participate in our voting process."
With 100 percent of the boxes reporting, Tuberville won 60.74 percent compared to Sessions with 39.26 percent. Tuberville won 64 of Alabama's 67 counties.
"Tommy Tuberville is a true Washington outsider and has gained the trust of Alabama Republican Party voters to represent them and help President Trump 'Drain the Swamp'" Lathan continued. "He will fight for the will of the majority who have been ignored since 2017. His conservative positions on the issues and support of our president will be welcomed when he defeats Doug Jones in November. Alabama is the highest approval rated state for President Trump. The combination of Coach Tuberville and President Trump's popularity in our state puts us in a very strong position to flip this seat back to the GOP."
Tuberville's win effectively ended the 27-year political career of former Attorney General Sessions. Sessions left this Senate seat in 2017 to become U.S. attorney general. Sessions was fired from that post by the man who appointed him to it, President Donald Trump, over strong disagreement with Sessions' decision to recuse himself from the Russian collusion scandal investigation in the 2016 election.
A still angry Trump denounced Sessions as "the biggest mistake" of his presidency and endorsed Tuberville. Sessions could never overcome the president's disapproval with Alabama Republican voters. As recently as Saturday, Trump said of Sessions: "Washington doesn't want him back."
Sessions is also a former Alabama attorney general and chairman of the Alabama Republican Party.
"We are greatly appreciative of Jeff Sessions and his lifetime of commitment to conservative policy and service – not just to Alabamians but to all Americans," Lathan said. "He is a true patriot in every sense of the word and our nation is stronger because of his willingness to take a stand on the issues and fight for the will of Alabamians. Senator Sessions has earned his place in history as a true conservative warrior."
"We would also like to thank Secretary of State John Merrill and the election teams around the state who worked so diligently in providing heath care protection to the voters in today's elections," Lathan added. "Together, we are unstoppable on November 3rd. Alabamians have that date circled in red and plan to end the tenure of liberal Doug Jones. While we know a battle is ahead, his voting record will be in the spotlight – voting to impeach our president and not to seat Justice Kavanaugh, voting against building our nation's security walls and tax cuts just to name a few. We look forward to doing to Doug Jones what he and his left wing buddies failed to do to President Trump – end his time in office."
Tuberville in his speech came out swinging against incumbent Sen. Doug Jones, blasting him for voting to impeach Trump and for voting against Brett Kavanaugh for the Supreme Court.
"Democrat Doug Jones is running for reelection with the slogan of One Alabama," Tuberville said. "Well, you can make no mistake about it: what Doug really means is, One Liberal Alabama."
Tuberville accused Jones of taking "marching orders from Joe Biden, Nancy Pelosi and Chuck Schumer and bartender AOC."
Tuberville thanked Trump for his support and called him: "The greatest President of my life."
Tuberville said he will vote to defend Alabama's Second Amendment rights: "By God, they're not taking our guns."
Tuberville faces stiff competition from Jones, who has raised close to $10 million to spend by Nov. 3 and was not bloodied in a primary contest.
Tuberville is an Arkansas native and a career football coach; best remembered for his tenure at Auburn University. He was also the head coach at the University of Mississippi, Cincinnati, and Texas Tech. He won a national championship as a defensive coordinator at the University of Miami.