Activist calls for Attorney General Steve Marshall to be decertified or impeached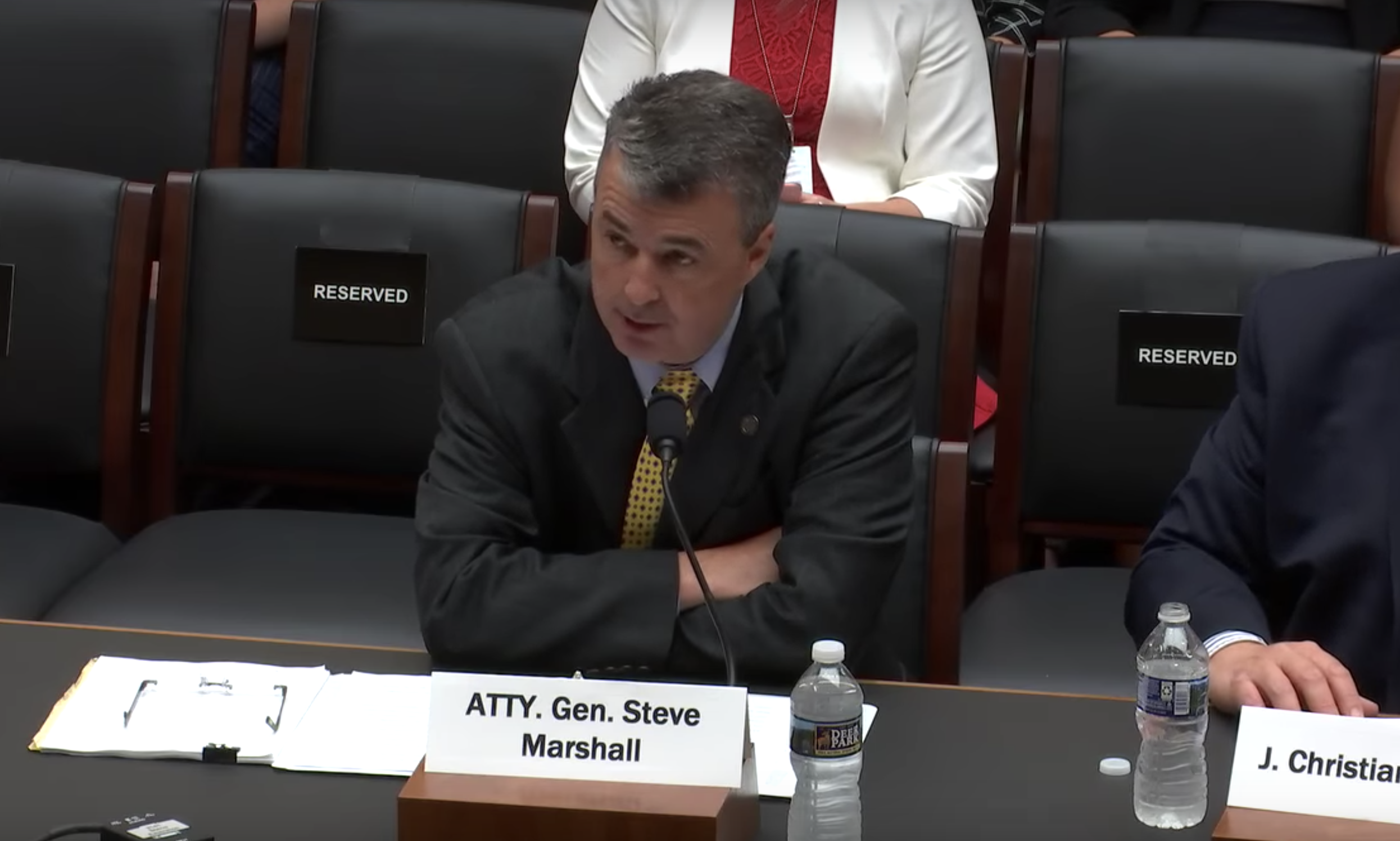 Across the state, lawyers, politicos and candidates are questioning how to deal with the dark money that flowed into the Republican Attorney General's primary race.
North Alabama Republican activist Thomas J. Scovill is calling for Speaker Mac McCutcheon and the ALGOP steering committee to deny Republican primary winner—appointed Attorney General Steve Marshall—certification because of funds he received from the Republican Attorney Generals Association.
"As Steve Marshall's campaign finance issue drags on, the embarrassment to Alabama government and the Alabama Republican Party (ALGOP) is growing," Scovill wrote McCutcheon. "Just as the Alabama Republican Party acted quickly and decisively on the issue of PSC candidate James Bonner's decorum, now is the time to act decisively on the much more serious issue of lawbreaking by our attorney general."
At issue is Marshall's acceptance of $735,000 from RAGA's 527 nonprofit organizations which Scovill and many others believe is a clear violation of Alabama's Fair Campaign Practice Act. The state's Republican legislative supermajority outlawed PAC-to-PAC transfers as part of its reform measures in 2010.
Marshall claims the donations are legal because of a loophole in state law. He also argues that federal law trumps state law in this instance.
Scovill in his letter to Speaker Mac McCutcheon and a petition to ALGOP Chair Terry Lathan says Marshall's claim is not only misleading but wrong.
"The question of federal jurisdiction raised by Marshall is a red herring," says Scovill. "When it comes to campaign finance, those who play in federal elections have to comply with federal law, and those who play in Alabama elections have to comply with Alabama law. Those who play in both have to comply with both."
A thorny advocate for campaign finance transparency, Scovill has fought and won several battles against those who tried to skirt the state's FCPA.
During the primary election, Scovill backed outsider Chess Bedsole in the Republican Attorney General's contest. In the runoff, he supported Marshall until he discovered the RAGA contributions.
"My choice for attorney general was Chess Bedsole," said Scovill. "And just after the primary, I endorsed Steve Marshall, but then when I got back from a two week trip to Colorado on the Thursday before the runoff, I got caught up in all this PAC-to-PAC and 527 stuff and said, 'Oh gee, I should have put some time into this back in February.'"
Marshall won the Republican nomination for Attorney General against Troy King who made the same accusation as Scovill. Montgomery County Judge James Anderson dismissed King's petition to force Marshall to stop using RAGA funds, but that doesn't mean the matter is settled.
Several legal minds say that Judge Anderson was wrong in his ruling. There are also those who want the issue decided before Marshall's exception becomes a rule that opens the floodgates for out-of-state PACs to flood the state with dark money from hidden sources.
"Even with a preliminary review by the Alabama Ethics Commission, this controversy cannot be adjudicated through the office of the Alabama Attorney General for obvious reasons — Marshall is the incumbent attorney general," writes Scovill. "With his nomination by the ALGOP pending, we are out of time for legal quibbles, alibis, and antics."
In both his letter to Speaker McCutcheon and ALGOP, Scovill references PSC candidate James "Jim" Bonner who the Republican Party disqualified shortly before the primary.
As APR's Brandon Moseley reported in June, "Numerous voices in the party have expressed their concerns that Bonner being on the ticket could be an embarrassment that could turn out Democrats jeopardizing and drag down other races up and down the ticket." The Alabama Republican Party Candidate Committee voted not to certify election results for Bonner even though he was already on the printed ballots. At the time, ALGOP Chair Lathan said, "When our state party chooses to take these steps, it is a serious and rare occurrence. We strongly believe that this is one of those solemn moments. This vote was carefully considered and was not taken lightly."
Scovill contends the Republican committee must do the same with Marshall. "Marshall is embarrassing the Alabama Republican Party by violating both the spirit and letter of Alabama law," wrote Scovill. "Republicans are responsible for pressing for enforcement of the law, enforcement which includes impeaching Attorney General Marshall if necessary. Ignoring the issue will create a major controversy Democrats will exploit in the coming general election to the detriment of every Republican on the ballot."
In August, the State's Ethics Commission will likely weigh-in on Scovill's question — finding that RAGA's actions were unlawful, but it's the Republican Party that will ultimately have final say on if the PAC-to-PAC transfer ban applies to Democrats and Republicans alike.
Opinion | Doug Jones's pathway to victory: Substance over lies
Jones said his work in the Senate should prove to the people of the state that party matters less than productivity. 
Alabama Sen. Doug Jones believes voters will ultimately see through Tommy Tuberville's lazy campaign and lies, and that enough of them will be moved by his work over the last two years to send him back to D.C. 
Jones' comments came during a lengthy interview on the Alabama Politics This Week podcast. He also discussed his plans to address some of Alabama's most pressing issues and also praised Sen. Richard Shelby, an Alabama Republican.  
But it was Jones' comments about Alabama voters — and whether too many of them are incapable of moving away from the Republican Party — that were most interesting. Jones still believes there are open-minded voters in the state, and that there isn't enough attention being paid to polls showing a growing dissatisfaction in Alabama with President Donald Trump. 
"There are a number of things that Donald Trump has done that people (in Alabama) don't agree with," Jones said. "There are a number of things that he's done that's hurt Alabama and that they're not OK with. That's where I come in."
Jones said his work in the Senate, where he's sponsored the most bipartisan legislation over the last two years, should prove to the people of the state that party matters less than productivity. 
"I tell everyone, you owe it to yourself to look at every candidate and every issue," Jones said. "I do that. I've been a Democrat all my life but I don't think that I have ever pulled a straight lever. Because I look at every issue. I will tell you that there have been times that I didn't vote for people who are Democrats for whatever reason — I just couldn't do it. I think we owe it to ourselves to do that."
Jones had the perfect example to drive the point home. 
"Y'all all know our state auditor, Jim Zeigler? Jim wasn't always a Republican. Jim's first runs for office were as a Democrat. 
"I rest my case."
You can listen to the full interview at the Alabama Politics This Week website, or you can subscribe to the podcast on Apple Podcasts, Google Play, Spotify or wherever you get your podcasts.