Activist calls for Attorney General Steve Marshall to be decertified or impeached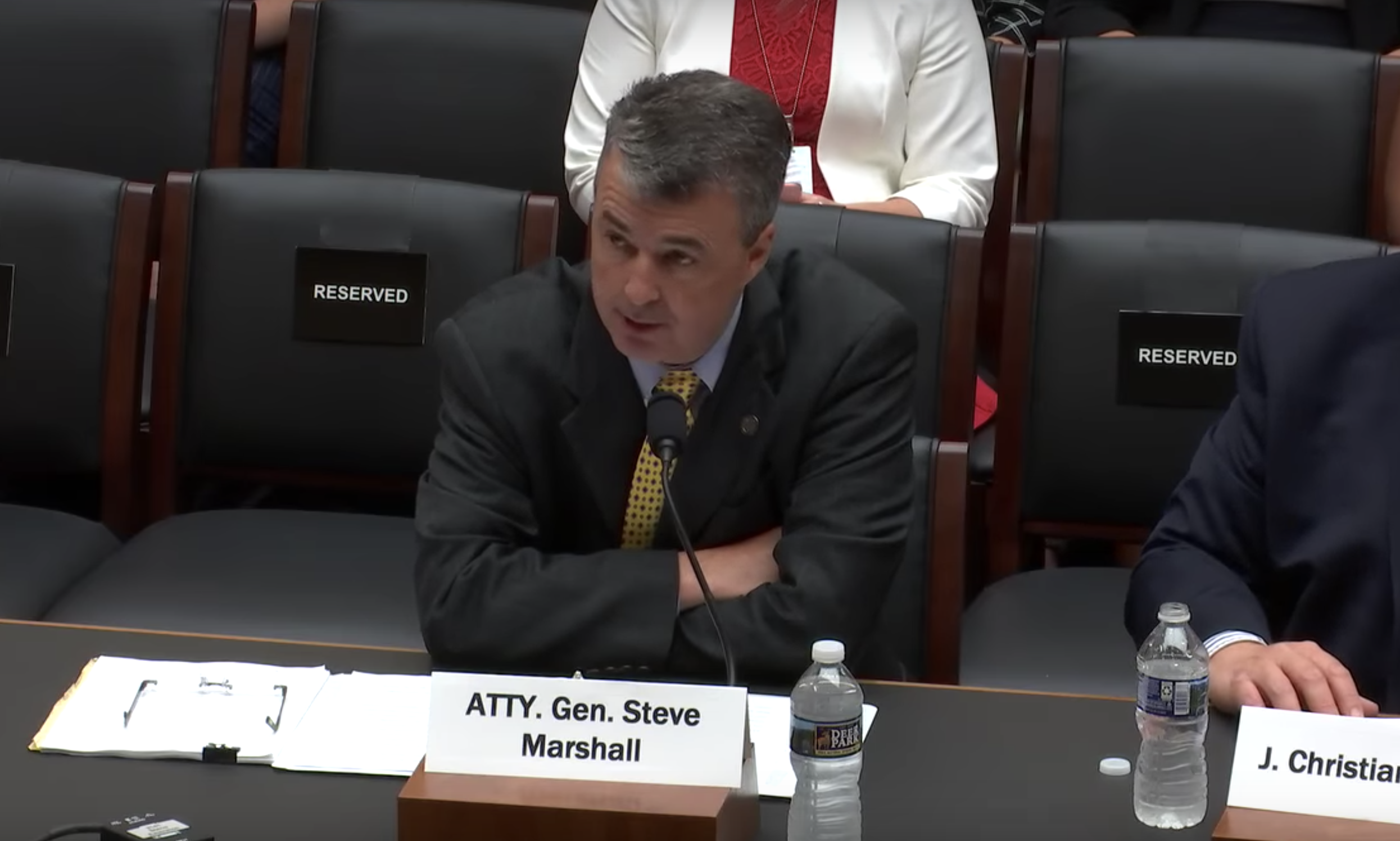 Across the state, lawyers, politicos and candidates are questioning how to deal with the dark money that flowed into the Republican Attorney General's primary race.
North Alabama Republican activist Thomas J. Scovill is calling for Speaker Mac McCutcheon and the ALGOP steering committee to deny Republican primary winner—appointed Attorney General Steve Marshall—certification because of funds he received from the Republican Attorney Generals Association.
"As Steve Marshall's campaign finance issue drags on, the embarrassment to Alabama government and the Alabama Republican Party (ALGOP) is growing," Scovill wrote McCutcheon. "Just as the Alabama Republican Party acted quickly and decisively on the issue of PSC candidate James Bonner's decorum, now is the time to act decisively on the much more serious issue of lawbreaking by our attorney general."
At issue is Marshall's acceptance of $735,000 from RAGA's 527 nonprofit organizations which Scovill and many others believe is a clear violation of Alabama's Fair Campaign Practice Act. The state's Republican legislative supermajority outlawed PAC-to-PAC transfers as part of its reform measures in 2010.
Marshall claims the donations are legal because of a loophole in state law. He also argues that federal law trumps state law in this instance.
Scovill in his letter to Speaker Mac McCutcheon and a petition to ALGOP Chair Terry Lathan says Marshall's claim is not only misleading but wrong.
"The question of federal jurisdiction raised by Marshall is a red herring," says Scovill. "When it comes to campaign finance, those who play in federal elections have to comply with federal law, and those who play in Alabama elections have to comply with Alabama law. Those who play in both have to comply with both."
A thorny advocate for campaign finance transparency, Scovill has fought and won several battles against those who tried to skirt the state's FCPA.
During the primary election, Scovill backed outsider Chess Bedsole in the Republican Attorney General's contest. In the runoff, he supported Marshall until he discovered the RAGA contributions.
"My choice for attorney general was Chess Bedsole," said Scovill. "And just after the primary, I endorsed Steve Marshall, but then when I got back from a two week trip to Colorado on the Thursday before the runoff, I got caught up in all this PAC-to-PAC and 527 stuff and said, 'Oh gee, I should have put some time into this back in February.'"
Marshall won the Republican nomination for Attorney General against Troy King who made the same accusation as Scovill. Montgomery County Judge James Anderson dismissed King's petition to force Marshall to stop using RAGA funds, but that doesn't mean the matter is settled.
Several legal minds say that Judge Anderson was wrong in his ruling. There are also those who want the issue decided before Marshall's exception becomes a rule that opens the floodgates for out-of-state PACs to flood the state with dark money from hidden sources.
"Even with a preliminary review by the Alabama Ethics Commission, this controversy cannot be adjudicated through the office of the Alabama Attorney General for obvious reasons — Marshall is the incumbent attorney general," writes Scovill. "With his nomination by the ALGOP pending, we are out of time for legal quibbles, alibis, and antics."
In both his letter to Speaker McCutcheon and ALGOP, Scovill references PSC candidate James "Jim" Bonner who the Republican Party disqualified shortly before the primary.
As APR's Brandon Moseley reported in June, "Numerous voices in the party have expressed their concerns that Bonner being on the ticket could be an embarrassment that could turn out Democrats jeopardizing and drag down other races up and down the ticket." The Alabama Republican Party Candidate Committee voted not to certify election results for Bonner even though he was already on the printed ballots. At the time, ALGOP Chair Lathan said, "When our state party chooses to take these steps, it is a serious and rare occurrence. We strongly believe that this is one of those solemn moments. This vote was carefully considered and was not taken lightly."
Scovill contends the Republican committee must do the same with Marshall. "Marshall is embarrassing the Alabama Republican Party by violating both the spirit and letter of Alabama law," wrote Scovill. "Republicans are responsible for pressing for enforcement of the law, enforcement which includes impeaching Attorney General Marshall if necessary. Ignoring the issue will create a major controversy Democrats will exploit in the coming general election to the detriment of every Republican on the ballot."
In August, the State's Ethics Commission will likely weigh-in on Scovill's question — finding that RAGA's actions were unlawful, but it's the Republican Party that will ultimately have final say on if the PAC-to-PAC transfer ban applies to Democrats and Republicans alike.
Print this piece
Sessions attacks Tuberville's views on China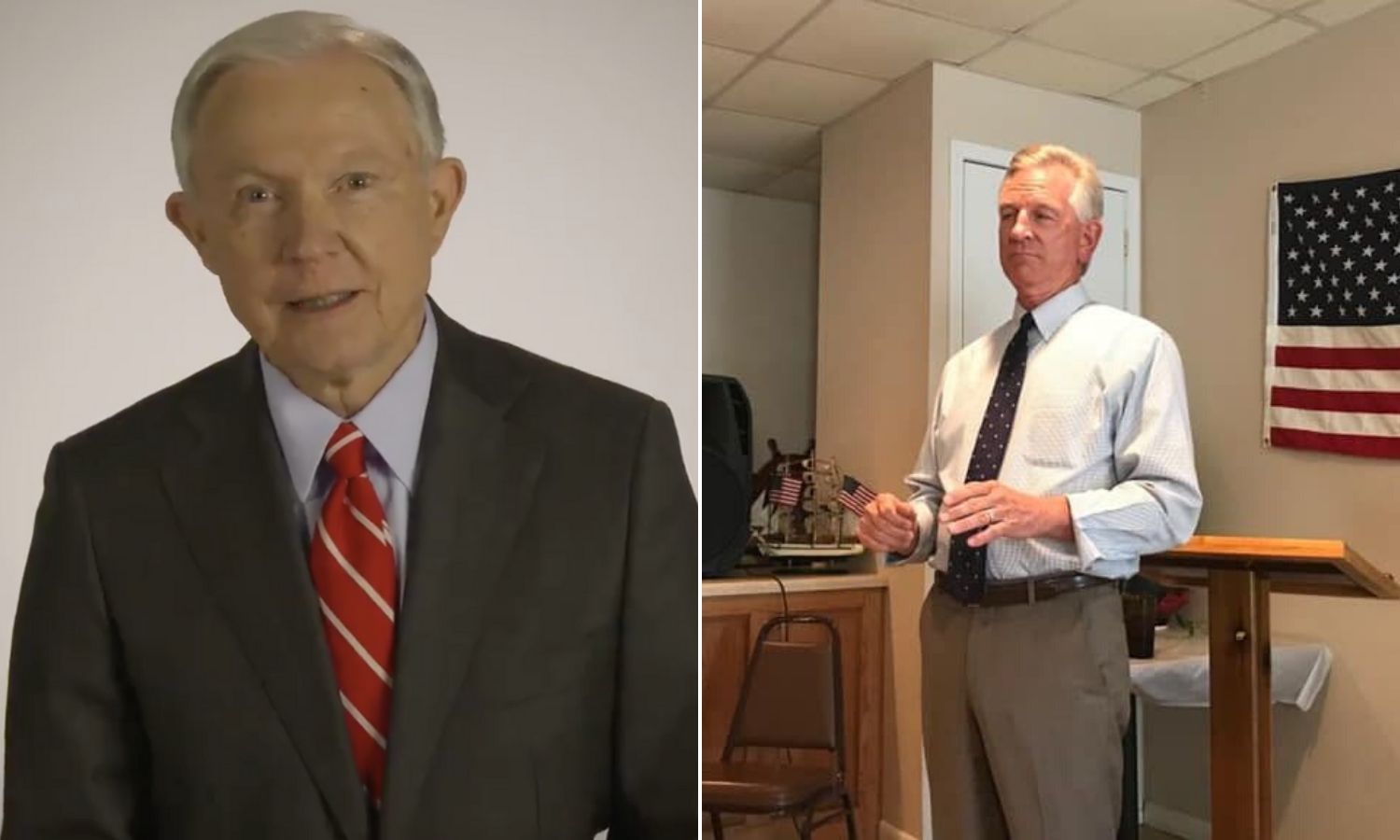 Former Sen. Jeff Sessions, R-Alabama, rolled out an ambitious, comprehensive plan to hold the Chinese government accountable for what Sessions called a cover-up of the coronavirus that has killed tens of thousands of people and devastated economies worldwide.
In an interview Thursday on the Matt & Aunie radio show on Talk 99.5 in Birmingham, for Auburn head football Coach and current GOP Senate candidate Tommy Tuberville expressed his views on China.
Matt Murphy asked: What do you see happening with China?
"Well, we can't worry about China right now…" Tuberville responded.
"You say you don't need to worry about China, but this came from China and our economy depends on China," Murphy asked on follow up. "Specifically how to overcome some of that dependence on Chinese goods and specifically in the pharmaceutical industry because right now we're dependent on the country that covered this up."
"Now we're seeing firsthand the results of letting everything go to China," Tuberville said. "The good thing about this is we'll have manufacturing come back and drugs and all those things….we're headed in that direction, just the simple fact that we can't control our own destiny. Everything's controlled by China. But that'll take care of itself."
During the show, Tuberville also characterized the Wuhan Virus, which has killed over 53,000 people and infected more than 1 million people across the globe, which then including over 1,300 people in Alabama, as "just a virus."
Jeff Sessions issued a statement critical of Tuberville on Friday in response.
"Amazingly, Tommy Tuberville said yesterday, 'We can't worry about China right now,"" Sessions quoted. "China is where the virus is from, and their deliberate lies hid the danger and resulted in a pandemic that never should have happened. We must take on China now and win, not run scared like Tommy Tuberville."
"There are over 1 million infected with the Wuhan Virus, and more than 1,300 in Alabama already," Sessions continued. "This is serious. But Tommy Tuberville said yesterday that 'this is just a virus.' What planet is he on? Tuberville is clueless. No wonder he's scared to debate me. We must stop relying on China for our critical medicines and equipment. I have a detailed plan to fix it. Amazingly, Tuberville also said yesterday, 'Everything's controlled by China, but that'll take care of itself.' Wrong! We must lead with action, this will not 'take care of itself.'"
On Thursday, a U.S. intelligence report claimed that China understated the damage that the coronavirus was doing in their country.
"Alabama's next Senator must be a leader who has the drive and determination to push a Congress that is too often unwilling to confront the critical issues of our time," Sessions continued. "I have proven my willingness and preparedness to lead from Day One. Tuberville is weak: all talk and no action."
Sessions is a former Senator, U.S. Attorney General, Alabama Attorney General, Chairman of the Alabama Republican Party, U.S. Attorney, asst. U.S. Attorney, and U.S. Army Captain.
The Republican primary runoff has been moved to July by Alabama Governor Kay Ivey (R) due to fears of the coronavirus. The virus is believed to have originated in Wuhan City, Hubei Province, China in late 2019.
As of press time, 10,943 Americans have died from COVID-19 including 53 Alabamians. 367,650 Americans have been diagnosed with COVID-19, including 2,006 Alabamians. At this point, only 240 Alabamians are confirmed hospitalized with COVID-19.
COVID-19 is the medical condition caused by a strain of coronavirus first identified late last year in Wuhan City, Hubei Province China, SARS-CoV-2. Since then it has spread across the globe infecting 1,346,566 persons that we are aware of killing 74,697 people.
The winner of the Republican primary runoff will then face Senator Doug Jones (D-Alabama) in the November election.
Print this piece