Committee passes Brooks Amendment
Tuesday, Congressman Mo Brooks', R-Huntsville, bipartisan amendment was approved by a committee.
The amendment passed a substitute to S. 141, the Space Weather Research and Forecasting Act by the House Science, Space, and Technology Committee in a voice vote.
Rep. Brooks partnered with Congressman Ed Perlmutter, D-Colorado, to offer this amendment, which replaces and Brooks says, "improves" the text of the Senate passed Space Weather Research and Forecasting Act.
Congressman Brooks said, "Thank you Mr. Chairman for bringing this legislation and the Perlmutter-Brooks amendment in the nature of a substitute up for committee consideration today. Space weather is an important issue because the consequences of a severe space weather event can be far-reaching and disastrous. The Perlmutter-Brooks amendment helps to establish a formal space weather observation and forecasting architecture that, hopefully, will help mitigate the harmful consequences of space weather to life and property on Earth and in space."
"Space weather is a collection of physical processes, beginning at the Sun with solar winds and ultimately affecting human activities on Earth and in space," Rep. Brooks said. "Solar winds and their interaction with Earth's atmosphere are not as understood as they should be. Fortunately, numerous people and organizations are changing this. Scientists and engineers at Marshall Space Flight Center, in my district, have been at the forefront of this vital research for many years. Under the Perlmutter-Brooks amendment, their research will not only continue, but improve so as to help advance the nation's space weather knowledge to where it needs to be."
Brooks thanked Rep. Perlmutter, for his leadership on space weather and his partnership on this amendment.
The legislation designates the National Space Council and a new National Committee for Space Weather Observation and Forecasting with space weather research and forecasting responsibilities along with the academic community and the commercial sector.
"Space weather events can cause great damage to our infrastructure and our economy," said Perlmutter. "Colorado's research community and federal laboratories stand ready to enhance our understanding of space weather events and improve our forecasting abilities. This legislation will better coordinate federal research investments with our operational forecasters who provide warnings to those impacted by weather events and ensure our academic and commercial partners are working hand in hand to improve space weather forecasting."
The legislation requires that the National Space Council establish national priorities for space weather within six months of enactment. It also requires the newly created National Committee for Space Weather Observation and Forecasting to develop a National Space Weather Plan within nine months of enactment to implement those national priorities and delineate appropriate roles among the federal agencies involved in space weather. The Office of Science and Technology Policy will be required to develop a National Space Weather Research Roadmap within one year of enactment to plan federal space weather research. Rep. Perlmutter's office says that together these three tasks will encourage more collaboration between federal agencies, the academic community, and the commercial sector and build upon the National Space Weather Strategy and National Space Weather Action Plan released in 2015. The legislation also creates a pilot program for the purchase and validation of commercial sector space weather data to determine the ability of forecasters to incorporate this data into their models and forecasts. The bill encourages the sharing of information between the research community and operational forecasters to improve new technologies, models and forecasts.
"Given the growing national importance and reliance on technology, it is critical we expand our scientific understanding of the interactions between the sun and Earth so we can improve forecasting and mitigate the effects of space weather events," said Congressman Perlmutter.
Lloyds of London estimates that a worst-case scenario space weather event could cost up to $2.6 trillion and impact as many as 40 million people by causing outages at electric utilities, disrupting GPS and communication networks and forcing airlines to reroute air traffic.
Congressman Mo Brooks represents Huntsville, which is the home of NASA's Marshall Space Flight Center.
Print this piece
Jones criticized for voting to limit Trump's war powers authority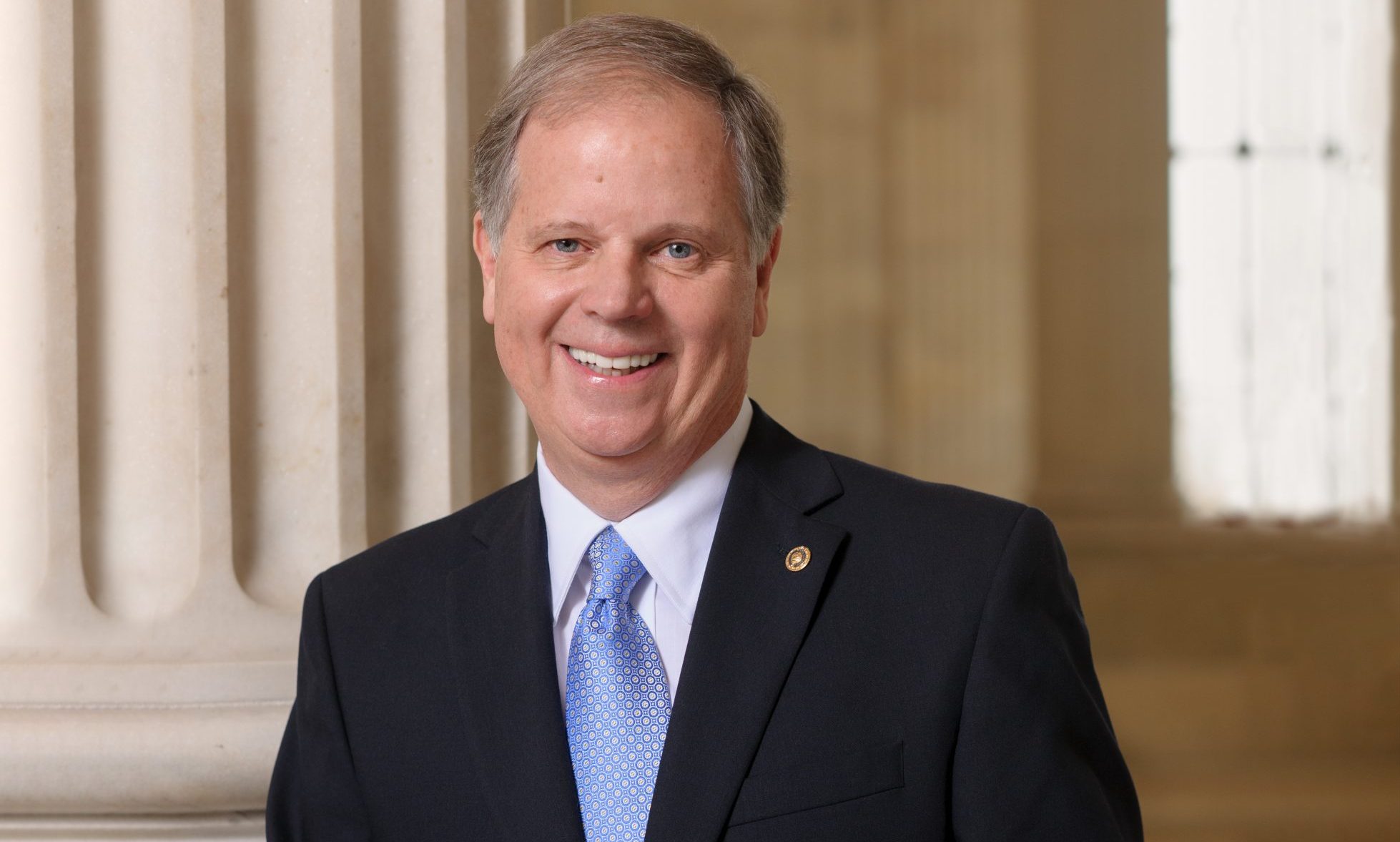 Thursday, U.S. Senator Doug Jones (D-Alabama) voted in favor of S.J.Res.68, a resolution which directs the removal of United States military from hostilities against the Islamic Republic of Iran that have not been authorized by Congress. Jones have been criticized by Republicans for voting to limit President Donald J. Trump's war powers on Iran.
"Before a President can lead us into war, he or she must first earn the support of the American people and also fulfill their solemn constitutional obligation to seek approval from Congress," Sen. Jones said in a statement. "While the President has the power to protect Americans in the case of an imminent attack, that authority does not extend to committing our service members to long-term hostilities unilaterally. This resolution sends a strong message that we will follow the Constitution and we will not send our troops into harm's way without the serious consideration and consent of the Congress."
Trump Victory National Finance Committee member Perry O. Hooper Jr. released a statement in response.
"Senator Jones once again turned his back on Alabama and voted as the leftwing Democrats commanded. He has no regard for the values, opinions or views of Alabamians," Hooper said. "He sees us as deplorables just like the elites of the Democratic party who have funded 80 percent of his doomed campaign for re-election.:
Hooper stated, "I whole heartily support the President who stated 'We are doing very well with Iran and this is not the time to show weakness… If my hands were tied, Iran would have a field day. Sends a very bad signal. The Democrats are only doing this as an attempt to embarrass the Republican Party.'"
"The Commander-in-chief must be free to work with his staff and his military leaders to conduct covert operations like the one that eliminated Iran's terrorist-in-chief General Soleimani," Hooper added. "You can't micromanage the war on terrorism. The Democrats in Congress are so filled with Trump Derangement Syndrome that no matter how much it would benefit our country and the world; they would never give Trump a "victory". If it came down to it, they would leak everything to the media no matter what the consequences."
Senator Jones is a cosponsor of the legislation and a member of the Senate Armed Services Committee. Eight moderate Republicans voted with the Democrats on the resolution.
Senator Jones has also been criticized by Republicans for his comments that he was "appalled" by Pres. Trump's actions following his acquittal on both Articles of Impeachment.
"Newsflash for Senator Doug Jones: Most Alabamians have been appalled by his actions his entire time in office," former Attorney General Jeff Sessions said. "It's about time we send Doug home, and replace him with someone who understands our values. Alabamians deserve a Senator they can be proud of again."
Sessions is a candidate for the Republican nomination for Jones' Senate seat.
The Republican primary will be on March 3.
Print this piece