There is growing pressure on Sen. Doug Jones over Kavanaugh confirmation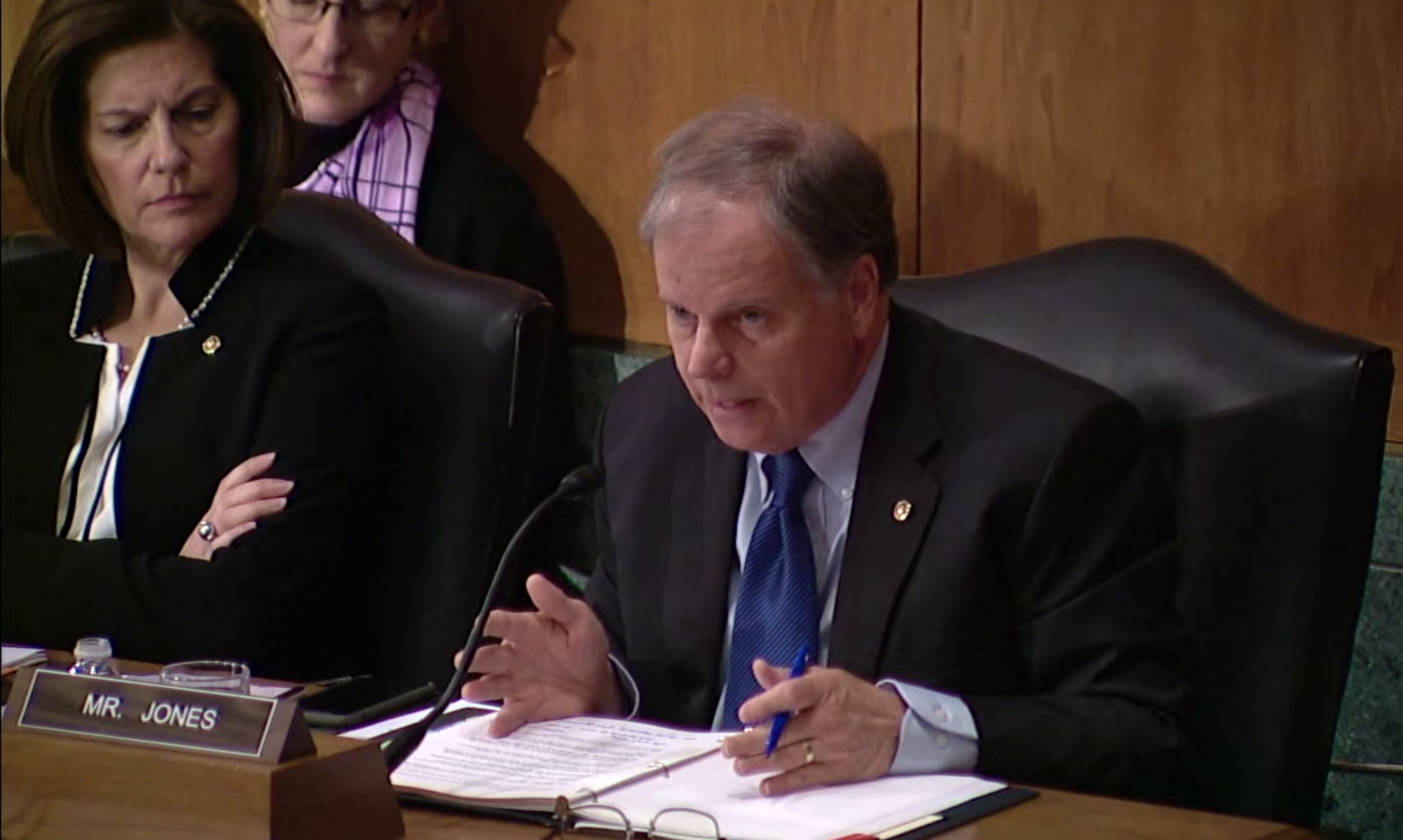 On Tuesday, U.S. Senator Richard Shelby (R-Alabama) met with President Donald J. Trump's Supreme Court nominee Brett Kavanaugh and expressed his strong support. Most observers already expected that Shelby will vote to confirm Kavanaugh; but no one knows with certainty how Alabama's other Senator Doug Jones (D) will vote on Kavanaugh's confirmation.
Jones recently told a packed town hall in Hoover that he has not made a decision yet.
"Now I know all of you are wondering which way I lean on the Supreme Court," Sen. Jones said. "I will be an independent voice for Alabama. I have a great concern of the partisan nature of the court as I believe we need an independent judiciary. I have not made a decision. Judge Kavanaugh has a very large body of work."
The conservative Judicial Crisis Network and the Pro-Life group, the Susan B. Anthony list, have both been running commercials urging Alabama voters to call Jones and tell him to vote to confirm Brett Kavanaugh. Jones, however, said that he will not be moved by the TV ads.
"It doesn't matter how many TV ads run," Jones said. "This is a nomination, not a political campaign."
---
---
Senate Democrats have poured over Judge Kavanaugh's decisions on the D.C. Appeals Court and have not really found a smoking gun to base their opposition on, other than he was appointed by Pres. Trump and they are resisting Pres. Trump. More recently Democrats in the Senate have been requesting documents, some of them still classified, from Kavanaugh service during the George W. Bush (R) administration where Kavanaugh was a White House Counsel for President Bush.
"I am hoping to get more White House documents," Jones said. "Senator Leahy made sure all the nominee Elena Kagan's records were delivered. It is not delaying, it is due diligence."
Kavanaugh has met with a number of Senators recently including Shelby, Rand Paul (R-Kentucky), and Joe Manchin (D-West Virginia); but Jones has wanted to wait on meeting with Kavanaugh.
"I want my meeting with Judge Kavanaugh after the hearing," Sen. Jones said. "I want to really talk to him not just a meet and greet."
Sen. Manchin is the first Democratic Senator to meet with Kavanaugh and remains undecided even after his two hour meeting with the judge.
"Judge Kavanaugh and I had a productive meeting and talked about his experience, record and a variety of issues that will impact West Virginians, including his views on healthcare." Sen. Manchin said. "The Supreme Court may ultimately decide the fate of pre-existing conditions protections for nearly 800,000 West Virginians and will personally impact everyone who knows somebody with a pre-existing condition. Right now, there is a pending lawsuit in federal court brought by 20 state Attorneys General, including the Attorney General of West Virginia, which would allow insurance companies to once again deny coverage to West Virginians with pre-existing conditions. As the Senator from West Virginia, I have a constitutional responsibility to advise and consent on a nominee to fill Supreme Court vacancies and I take that responsibility seriously. I think it's irresponsible to announce your position minutes after the nominee is announced. I will not make a final decision on Judge Kavanaugh's nomination until I complete a thorough and fair examination of his candidacy in order to decide whether he should hold the position of Associate Justice on the highest court in the land, just as I did with Neil Gorsuch."
Manchin, along with Sens. Heidi Heitkamp of North Dakota and Joe Donnelly of Indiana, were the only three Democrats who voted to confirm Pres. Trump's previous Supreme Court pick, Neil Gorsuch.
A recent poll showed that 54 percent of Alabamians support the confirmation of Brett Kavanaugh. Only 30 percent are opposed. Despite this, some Alabama Democrats are urging Jones to vote against Kavanaugh's nomination.
Congressional Candidate Mallory Hagan (D-Opelika) said on social media, "I am supportive of Senator Jones, but I still wish to let him know that, as Alabamians, we expect him to vote NO for Supreme Court nominee Kavanaugh. Please call his office."
Hagan is a former Miss America who is challenging incumbent Mike Rogers (R-Saks) in the Third Congressional District.
Jones realizes that not everyone is going to be happy no matter what he does.
"This is what Howell Heflin taught me. I know I will disappoint some," Jones said.
(Original reporting by the Alabama Media Group, ABC 33/40 TV, and Fox News contributed to this report.)
Print this piece
Alabama leaders remember Auburn head football Coach Pat Dye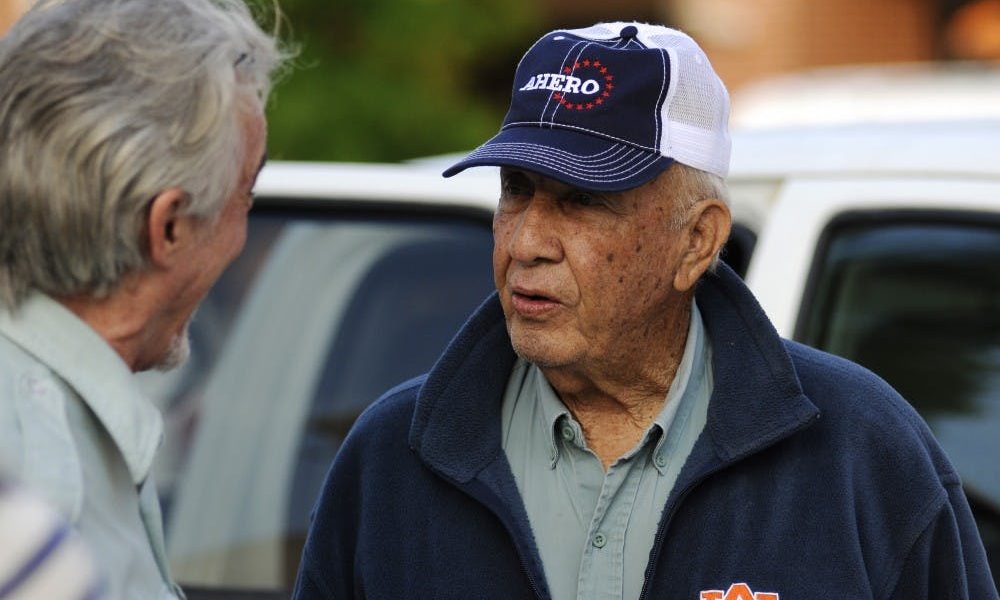 On Monday, former Auburn football head Coach and Athletic Director Pat Dye died from kidney and liver failure. He had recently tested positive for COVID-19 as well. He was age 80. Many Alabama leaders commented fondly on the legendary Auburn football Coach from 1981 to 1992.
Congressman Robert Aderholt (R-Haleyville) said in a statement, "If there was a college football version of Mount Rushmore, Pat Dye could be there among the greats. Not only did he bring Auburn football back into prominence by winning games, SEC Championships, and what probably should have been a 1983 National Championship, he was a wonderful molder of young men. While he will long be remembered for the games he won and the contributions he made to the great Auburn-Alabama rivalry, there are hundreds of people who were touched by him who will carry on his legacy for decades to come."
U.S. Senate candidate former Auburn head football coach Tommy Tuberville said, "Today is a sad day for the Auburn community with the loss of Coach Pat Dye. Coach Dye was a true Auburn man and believed in the value of hard work and "a sound mind, in a sound body and a spirit that is not afraid, and in clean sports that develop these qualities." He helped to instill these Auburn principles in players and fans alike. He was one of the coaching greats of the game, and many including myself learned invaluable lessons from watching him. My thoughts and prayers are with his family for peace and comfort during this time."
U.S. Senate candidate former Attorney General Jeff Sessions said, "The state of Alabama has lost one of its legendary coaches in Pat Dye. The field at Jordan-Hare Stadium in Auburn is named for him. He won four SEC championships at Auburn University, and he coached my choice for the world's greatest athlete, Bo Jackson, and others like Tracy Rocker, the tremendous Outland Award winner. Coach Dye's teams were famous for their toughness and fighting spirit and for never quitting. He brought the Iron Bowl to Auburn and won an upset victory in that historic first game at Auburn in 1989. Pat Dye never lost his country roots or his common touch. My condolences to Coach Dye's family, and to the entire Auburn family."
Alabama Governor Kay Ivey (R) said, "I am saddened to hear of the passing of Coach Pat Dye — a great man, coach and member of the Auburn family. Not only was he a phenomenal football coach, but an even better person. For years, I have known Pat personally and have always valued his friendship and colorful commentary. He had great takes on both football and life. Coach Dye truly embodied the Auburn spirit. He will be missed not only by the Auburn family, but the entire state of Alabama. War Eagle, Coach. Your life and legacy lives on."
Former State Rep. Perry O. Hooper Jr (R-Montgomery) said, "We lost a great Coach and a Great American today!Coach Pat Dye passed away this morning."
U.S. Senator Doug Jones (D-Alabama) said, "Coach Dye was larger than life-a true legend. Not only did he win countless Auburn football games at the helm of championship teams, but more importantly he won the hearts of so many in Alabama and beyond. He truly was a man of great character and my heart is heavy hearing the news of his recent passing. Louise and I will be keeping his loved ones in our prayers."
U.S. Representative Bradley Byrne (R-Montrose) said, "‪Coach Dye was always so friendly, encouraging, and just a true joy to be around. Rebecca and I join so many others in mourning his passing and remembering a life most certainly well lived."
Alabama Republican Party Chairman Terry Lathan said, "Moments I'll always remember and be grateful for- celebrating my birthday with an Auburn man and legend. Wings up Coach as he walks humbly with God. "I believe in my Country, because it is a land of freedom and because it is my own home, and that I can best serve that country by doing justly, loving mercy, and walking humbly with my God."-Auburn creed."
"I was saddened to hear about Coach Dye's passing this morning," said Second Congressional District candidate Barry Moore. "Everyone in Alabama knew him, and those who knew him well knew what a fine person he was."
Auburn Athletics Director Allen Greene said, "For four decades, Coach Dye showed all of us what it looks like to be an Auburn person. His coaching exploits are well known, securing his induction into the College Football Hall of Fame. His skills as an administrator were equally formidable, resulting most notably in bringing the Iron Bowl to Jordan-Hare Stadium. Just like his football teams, Pat Dye the athletic director was tenacious, never backing down from a fight when he believed Auburn's good name and best interests demanded it. Thanks to his tenacity, I'll always treasure my first home Iron Bowl, celebrating victory on the field that bears his name."
Current Auburn Head Football Coach Gus Malzahn said, "Coach Dye was much more than a hall of fame coach and administrator at Auburn. He was an Auburn leader and visionary. He not only returned the football program back to national prominence during his tenure, but was a key figure in bringing the Iron Bowl to Auburn and made an impact on the university and in the community. He embodied what Auburn is about: hard work, toughness and a blue collar mentality. Coach Dye's impact on Auburn is endless and will stand the test of time. "
Dye also coached for six seasons at East Carolina University and one season with the University of Wyoming. Dye played football at the University of Georgia and was an assistant football coach under legendary University of Alabama head football Coach Paul "Bear" Bryant. Dye's overall record as a head coach was 163-62-5. He was 99-39-4 at Auburn where he is the third winningest coach in the history of the program.
Print this piece