Opinion | Doing right and doing write-ins in November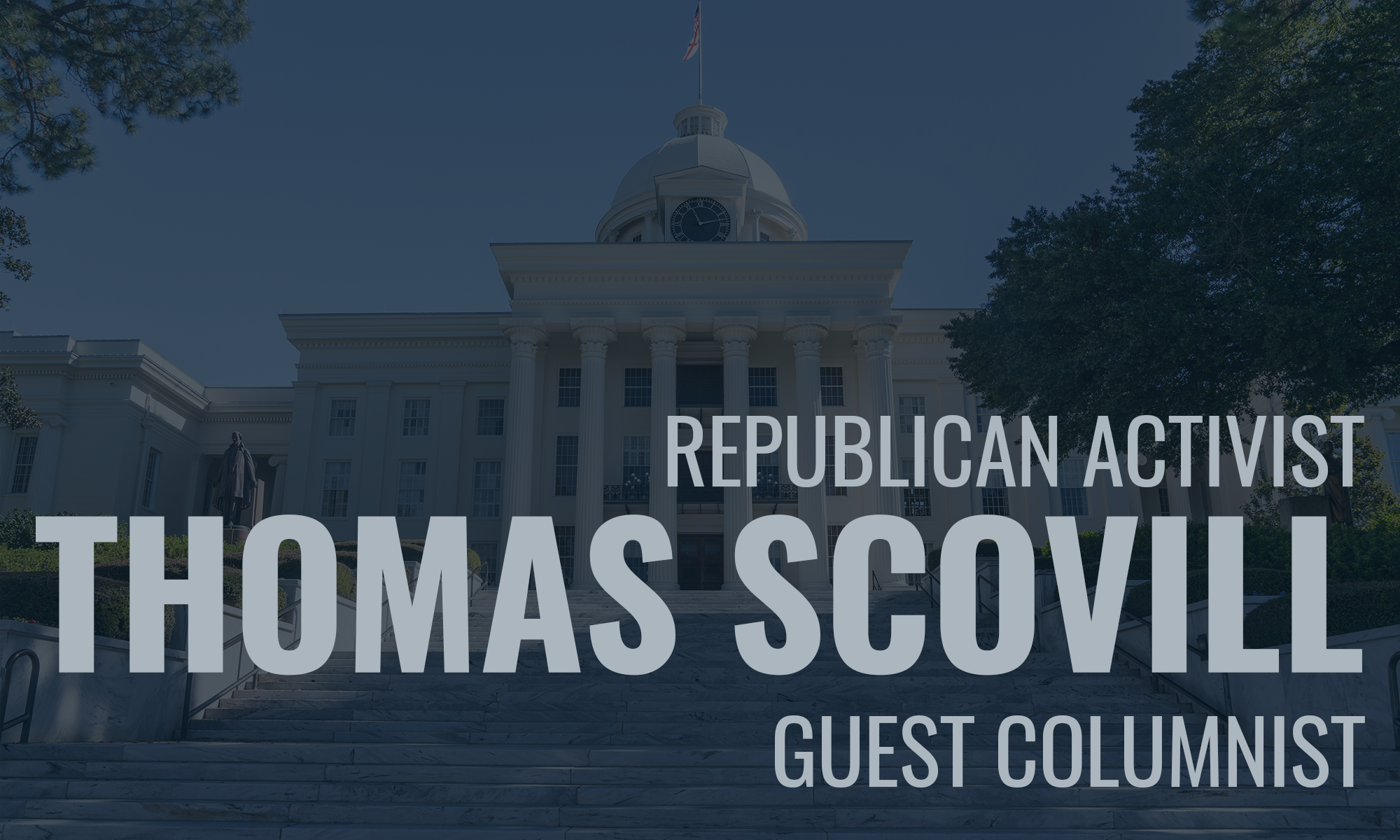 Because the best politics is good governance and the best governance is based on Republican principles, I vote for Republican nominees so Republicans can control government and enact a Republican agenda to provide the good governance we all expect and deserve.
This means politics is like a team sport. I like the principles of Republicanism, so my team is Republican. I expect everyone on the team to cooperate in getting Republicans into office and in advancing a Republican agenda. Unfortunately, this year I am disappointed by the many Republicans who are not cooperating as they should, so now, unlike the last 50 years, I am not voting a straight Republican ticket in the general election in November.
I will vote for nominees who please me. I will not vote for nominees who displease me. I will use the Dick Shelby precedent and write in the names of Republicans whom I like better.
Some Republican nominees have already won me over. I will vote for my Republican congressman, nominees for county offices, and nominees for local and state-wide judicial offices. I will be voting for most of the Republicans nominees on my general election ballot.
Except for the judges, my plan is to not vote for Republican nominees who want a job in Montgomery. There are 12 of them – the Republican nominees for the House, Senate, governor, lieutenant governor, attorney general, secretary of state, treasurer, auditor, commissioner for agriculture and industries, public service commission places 1 and 2, and state board of education. Those nominees who want to remain or become Montgomery Republicans are welcome to urge me to change my mind, but they should hurry because I am looking for names to write in. Weighing in out loud on the issues below would help them with me.
I am disappointed in Montgomery Republicans who stay quiet while others of them break the law.
For example, Attorney General Steve Marshall has taken $735,000 of unlawful contributions from the Republican Attorneys General Association (RAGA) in blatant defiance of Alabama law which prohibits 527 organizations from giving money to Alabama candidates. Marshall is required by law to return the money and has not. Even though campaign finance is the signature issue which swept them into super majority power in 2010, Montgomery Republicans are silent on the issue, perhaps they are too busy preparing alibis for their scofflaw colleague.
Montgomery Republicans are also silent about the Ethics Commission and Republican election officials who, in defiance of state ethics law, are putting candidates on ballots when the candidates have not first filed Statements of Economic Interests (SEI) with the state Ethics Commission. The SEI is an important element in government transparency, or at least it was.
Montgomery Republicans defied the origination clause of the Alabama Constitution when they enacted a Senate bill to create a tax on internet sales. The voluntary tax is taking $50 million out of the Alabama economy this year and will take out much more next year when it becomes compulsory. Of course, Montgomery Republicans do not talk much about this when they are away from extra special, revenue hungry friends.
And in recent years, four Montgomery Republicans have been convicted of crimes – Speaker Mike Hubbard, his House allies Greg Wren and Mickey Hammon, and Governor Bentley – no back benchers here. Meanwhile, three other Montgomery Republican are twisting in the wind of federal indictments.
What happened to the Republican ethic hawks we elected in 2010?
Montgomery Republicans are being blatantly disloyal to the Republican team.
In March, Governor Ivey passed over qualified Republicans to appoint a Democrat to the Madison County Commission. I am baffled that she did not use the opportunity to put a Republican into a traditionally Democrat district. I am disappointed by the silence of Montgomery Republicans.
In May during the week before the primary and while early voting was in progress, the Alabama Republican Party (ALGOP) decided to save PSC 1 candidate Jeremy Oden by censuring his opponent, James Bonner, and declaring that votes for Mr. Bonner would not be counted. Apparently, despite having been on Republican ballots five times since 2010, the sometimes indecorous ways of Mr. Bonner were noticed only when Oden's investors complained about their guy being in trouble despite a 70 to 1 funding advantage.
Also in this election cycle, ALGOP leaders have turned a blind eye to 60 Republicans, who in defiance of party rules to the contrary, have collectively taken over $600,000 from the Alabama Education Association (the AEA, the parent company of the Alabama Democrat Party). Even House Speaker McCutcheon took AEA money. This is an affront to fair play and those who followed the rule. Of the 60, 55 won or placed in the primary. Meanwhile, Montgomery Republicans were telling the investing class to not contribute to primary candidates challenging GOP incumbents.
I am sad the Alabama GOP is becoming little more than an incumbent protection racket.
None of my concerns are mitigated by brilliance in Montgomery Republicans advancing an impressively Republican agenda. Besides some minor pruning of general government, passing the Alabama Accountability Act to enable the force of competition into government education, requiring voter photo ID, and implementing electronic campaign finance disclosures, in eight years our Montgomery Republicans have done little else I can crow about. They have not even started to reform Medicaid, pensions, earmarks, and the budget process. Alabama government remains the major player in the retail booze business.
What happened to the Republicans we elected in 2010? Today, I am more fearful of what Montgomery Republicans are planning to do to me in 2019, than I am about Alabama Democrats and Socialists.
We have enough Republican cheerleaders. We need leaders who will call out criminality and disloyalty within the party while they boldly advance a Republican agenda. Montgomery Republicans who do that will get my vote. Otherwise, I am going to do what U.S. Senator Shelby did in last year's special election for the U.S. Senate. I will write in the names of Republicans who please me more than the GOP nominees.
Thomas Scovill is a Republican activist and military veteran. He resides in Huntsville.
Opinion | Comprehensive sex-ed for all can improve people's health
Last July, I spoke with Sky H., a 20-year–old who identifies as non-binary and grew up in a very conservative rural town in the Black Belt region of Alabama. In school, Sky received abstinence-only education. Sky told me there was little instruction about sexual and reproductive health besides the basics of reproduction.
After years of pain, Sky was diagnosed at age 18 with endometriosis, a painful disorder that can lead to fertility complications. The condition might have been diagnosed much earlier if they had learned more about their own bodies and reproductive health in school, Sky believed.
Unfortunately, Sky's experience isn't unique. Over the past year and a half, I've spoken to more than 40 young people from 16 counties throughout Alabama who also didn't learn about their sexual and reproductive health in school. Like Sky, they missed out on critical information and described the negative impact this had on the choices they made and their health as they grew older.
Schools in Alabama are not required to teach about sexual health but if they do, the State Code mandates a focus on abstinence. The State Code also contains stigmatizing language around same-sex activity and prohibits schools from teaching about sexual health in ways that affirm lesbian, gay, bisexual and transgender (LGBT) youth. This makes it even harder for young people like Sky to get information.
But Alabama is not alone. Sixteen other states in the U.S. also do not mandate sex education in schools. And at least five others have laws stigmatizing same–sex activity.
Comprehensive sexuality education can improve health outcomes for young people. It can help them learn about their bodies and how to recognize abnormal gynecological symptoms, steps they can take to prevent and treat sexually transmitted infections (STIs) and other dangers to their health, and where they can go for reproductive health services.
Sex ed can also educate young people about the human papillomavirus (HPV) — the most common sexually transmitted infection in the U.S. — and how to lower their risk of HPV-related cancers through the HPV vaccine.
This information can improve young people's health and save lives. Yet so few young people in schools throughout Alabama — and the U.S. — receive it. Instead, like Sky and other Alabama students, many young people receive abstinence-focused education.
These programs withhold critical, science-based information young people need to make safer decisions on their sexual health. They also shame adolescents about their sexuality, often leaving young people uncertain about who they can talk to or where they can go for accurate information about sexual behavior and health.
The problem is both a lack of political will and of adequate funding. Discriminatory property taxes and an inequitable education system leave many school districts in rural and less wealthy regions of Alabama without adequate funding. This means that programs considered optional, like sex ed, often aren't offered.
Alabama, a state with high rates of sexually transmitted infections and cancers related to HPV needs to do more to address historic inequalities and state neglect that have left Black people at a higher risk of poor health outcomes. Mandating comprehensive sexuality education for all of the state's schools — and allocating state funding for these programs — would be an important step forward.
Students in underfunded and neglected school districts — many of whom are Black and living in poverty — often lose out on access to critical and lifesaving information. It keeps them from being able to make informed and safe decisions and can harm their health. This unequal access to information can create lifelong disadvantages and may contribute to racial disparities in health as young people age into adulthood.
The Black Belt region of Alabama, where Sky is from, has high rates of poverty and poor health outcomes. The Black Belt region also has high rates of sexually transmitted infections and the highest rates of HIV in the state. Yet schools in this rural and marginalized region of the state are persistently underfunded.
The COVID-19 pandemic has brought glaring attention to systemic inequalities and racial disparities in health, including in Alabama, where Black people are significantly more likely to die from the virus than white people. Within the United States, we continue to see the disproportionate toll the pandemic has taken on Black people, who are more likely to live in poverty, lack access to health insurance, and suffer from chronic health conditions that put them at a higher risk of adverse health outcomes from the virus.
The pandemic has highlighted the importance of ensuring that everyone has the information, tools, and resources they need to make informed decisions to protect their health. Schools in Alabama — and across the country — should help do that for all young people.
The pandemic is also showing us what happens when discrimination and neglect leave certain people out.