Opinion | Doing right and doing write-ins in November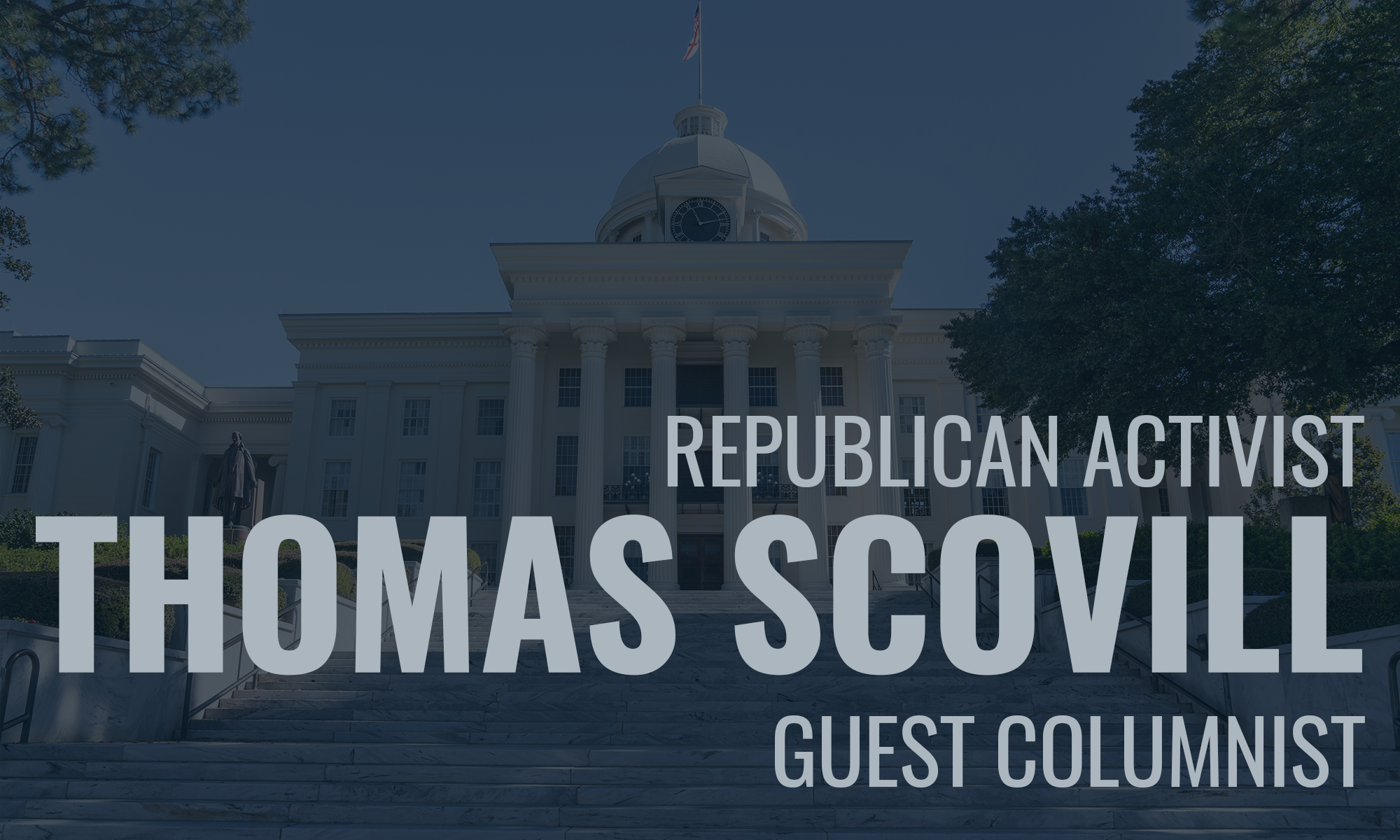 Because the best politics is good governance and the best governance is based on Republican principles, I vote for Republican nominees so Republicans can control government and enact a Republican agenda to provide the good governance we all expect and deserve.
This means politics is like a team sport. I like the principles of Republicanism, so my team is Republican. I expect everyone on the team to cooperate in getting Republicans into office and in advancing a Republican agenda. Unfortunately, this year I am disappointed by the many Republicans who are not cooperating as they should, so now, unlike the last 50 years, I am not voting a straight Republican ticket in the general election in November.
I will vote for nominees who please me. I will not vote for nominees who displease me. I will use the Dick Shelby precedent and write in the names of Republicans whom I like better.
Some Republican nominees have already won me over. I will vote for my Republican congressman, nominees for county offices, and nominees for local and state-wide judicial offices. I will be voting for most of the Republicans nominees on my general election ballot.
Except for the judges, my plan is to not vote for Republican nominees who want a job in Montgomery. There are 12 of them – the Republican nominees for the House, Senate, governor, lieutenant governor, attorney general, secretary of state, treasurer, auditor, commissioner for agriculture and industries, public service commission places 1 and 2, and state board of education. Those nominees who want to remain or become Montgomery Republicans are welcome to urge me to change my mind, but they should hurry because I am looking for names to write in. Weighing in out loud on the issues below would help them with me.
I am disappointed in Montgomery Republicans who stay quiet while others of them break the law.
For example, Attorney General Steve Marshall has taken $735,000 of unlawful contributions from the Republican Attorneys General Association (RAGA) in blatant defiance of Alabama law which prohibits 527 organizations from giving money to Alabama candidates. Marshall is required by law to return the money and has not. Even though campaign finance is the signature issue which swept them into super majority power in 2010, Montgomery Republicans are silent on the issue, perhaps they are too busy preparing alibis for their scofflaw colleague.
Montgomery Republicans are also silent about the Ethics Commission and Republican election officials who, in defiance of state ethics law, are putting candidates on ballots when the candidates have not first filed Statements of Economic Interests (SEI) with the state Ethics Commission. The SEI is an important element in government transparency, or at least it was.
Montgomery Republicans defied the origination clause of the Alabama Constitution when they enacted a Senate bill to create a tax on internet sales. The voluntary tax is taking $50 million out of the Alabama economy this year and will take out much more next year when it becomes compulsory. Of course, Montgomery Republicans do not talk much about this when they are away from extra special, revenue hungry friends.
And in recent years, four Montgomery Republicans have been convicted of crimes – Speaker Mike Hubbard, his House allies Greg Wren and Mickey Hammon, and Governor Bentley – no back benchers here. Meanwhile, three other Montgomery Republican are twisting in the wind of federal indictments.
What happened to the Republican ethic hawks we elected in 2010?
Montgomery Republicans are being blatantly disloyal to the Republican team.
In March, Governor Ivey passed over qualified Republicans to appoint a Democrat to the Madison County Commission. I am baffled that she did not use the opportunity to put a Republican into a traditionally Democrat district. I am disappointed by the silence of Montgomery Republicans.
In May during the week before the primary and while early voting was in progress, the Alabama Republican Party (ALGOP) decided to save PSC 1 candidate Jeremy Oden by censuring his opponent, James Bonner, and declaring that votes for Mr. Bonner would not be counted. Apparently, despite having been on Republican ballots five times since 2010, the sometimes indecorous ways of Mr. Bonner were noticed only when Oden's investors complained about their guy being in trouble despite a 70 to 1 funding advantage.
Also in this election cycle, ALGOP leaders have turned a blind eye to 60 Republicans, who in defiance of party rules to the contrary, have collectively taken over $600,000 from the Alabama Education Association (the AEA, the parent company of the Alabama Democrat Party). Even House Speaker McCutcheon took AEA money. This is an affront to fair play and those who followed the rule. Of the 60, 55 won or placed in the primary. Meanwhile, Montgomery Republicans were telling the investing class to not contribute to primary candidates challenging GOP incumbents.
I am sad the Alabama GOP is becoming little more than an incumbent protection racket.
None of my concerns are mitigated by brilliance in Montgomery Republicans advancing an impressively Republican agenda. Besides some minor pruning of general government, passing the Alabama Accountability Act to enable the force of competition into government education, requiring voter photo ID, and implementing electronic campaign finance disclosures, in eight years our Montgomery Republicans have done little else I can crow about. They have not even started to reform Medicaid, pensions, earmarks, and the budget process. Alabama government remains the major player in the retail booze business.
What happened to the Republicans we elected in 2010? Today, I am more fearful of what Montgomery Republicans are planning to do to me in 2019, than I am about Alabama Democrats and Socialists.
We have enough Republican cheerleaders. We need leaders who will call out criminality and disloyalty within the party while they boldly advance a Republican agenda. Montgomery Republicans who do that will get my vote. Otherwise, I am going to do what U.S. Senator Shelby did in last year's special election for the U.S. Senate. I will write in the names of Republicans who please me more than the GOP nominees.
Thomas Scovill is a Republican activist and military veteran. He resides in Huntsville.
Print this piece
Opinion | With COVID-19 policy, don't blame your umbrella. The rain got you wet
Monica S. Aswani, DrPH, is an assistant professor of health services administration and Ellen Eaton, M.D., is an assistant professor of infectious diseases.
Editor's note: The opinions expressed in this perspective are those of the authors.
---
As states re-open for business, many governors cite the devastating impact of physical distancing policies on local and state economies. Concerns have reached a fever pitch. Many Americans believe the risk of restrictive policies limiting business and social events outweighs the benefit of containing the spread of Covid-19.
But the proposed solution to bolster the economy — re-opening businesses, restaurants and even athletic events — does not address the source of the problem.
A closer look at the origins of our economic distress reminds us that it is Covid-19, not shelter-in-place policy, that is the real culprit. And until we have real solutions to this devastating illness, the threat of economic fallout persists.
Hastily transitioning from stay-at-home to safer-at-home policy is akin to throwing away your umbrella because you are not getting wet.
The novelty of this virus means there are limited strategies to prevent or treat it. Since humans have no immunity to it, and to date, there are no approved vaccines and only limited treatments, we need to leverage the one major tool at our disposal currently: public health practices including physical distancing, hand-washing and masks.
As early hot spots like New York experienced alarming death tolls, states in the Midwest and South benefited from their lessons learned.
Indeed, following aggressive mandates around physical distancing, the number of cases and hospitalizations observed across the U.S. were initially lower than projected. Similarly, the use of masks has been associated with a reduction in cases globally.
As the death toll surpasses 100,000, the U.S. is reeling from Covid-19 morbidity and mortality. In addition, the U.S. has turned its attention to "hot spots" in Southern states that have an older, sicker and poorer population. And to date, minority and impoverished patients bear the brunt of Covid-19 in the South.
Following the first Covid-19 case in Alabama on March 13, the state has experienced 14,730 confirmed cases, 1,629 hospitalizations and 562 deaths, according to health department data as of Monday afternoon.
Rural areas face an impossible task as many lack a robust health care infrastructure to contend with outbreaks, especially in the wake of recent hospital closures. And severe weather events like tornadoes threaten to divert scarce resources to competing emergencies.
Because public health interventions are the only effective way to limit the spread of Covid-19, all but essential businesses were shuttered in many states. State governments are struggling to process the revenue shortfalls and record surge in unemployment claims that have resulted.
The Coronavirus Aid, Relief and Economic Security Act, or CARES Act, allocated $150 billion to state governments, with a minimum of $1.25 billion per state. Because the funds were distributed according to population size, 21 states with smaller populations received the minimum of $1.25 billion.
Although states with larger populations, such as Alabama and Louisiana, received higher appropriations in absolute terms, they received less in relative terms given their Covid-19 related medical and financial strain: the CARES Act appropriations do not align resources with state need.
As unemployment trust funds rapidly deplete, these states have a perverse incentive to reopen the economy.
Unemployment claimants who do not return to work due to Covid-19 fears, per the Alabama Department of Labor, can be disqualified from benefits, perpetuating the myth of welfare fraud to vilify those in need.
The United States Department of Labor also emphasized that unemployment fraud is a "top priority" in guidance to states recently.
Prematurely opening the economy before a sustained decline in transmission is likely to refuel the pandemic and, therefore, prolong the recession. Moreover, it compromises the health of those who rely most heavily on public benefits to safely stay home and flatten the curve.
Some would counter this is precisely why we should reopen — for the most vulnerable, who were disproportionately impacted by stay-at-home orders.
The sad reality, however, is that long-standing barriers for vulnerable workers in access to health care, paid sick leave and social mobility pre-date this crisis and persist. And we know that many vulnerable Americans work on the frontlines of foodservice and health care support where the risk from Covid-19 is heightened.
A return to the status quo without addressing this systemic disadvantage will only perpetuate, rather than improve, these unjust social and economic conditions.
Covid-19 has exposed vulnerabilities in our state and nation, and re-opening businesses will not provide a simple solution to our complex economic problems.
No one would toss out their umbrella after several sunny days so why should America abandon public health measures now? After all, rain is unpredictable and inevitable just like the current Covid-19 crisis.
The threat of Covid-19 resurgence will persist until we have effective preventive and treatment options for this novel infectious disease.
So let's not blame or, worse, discard the umbrella. Instead, peek out cautiously, survey the sky and start planning now to protect the vulnerable, who will be the first to get wet.
Print this piece