A former student of a West Alabama private school has filed a lawsuit against the school, its board and its headmaster, alleging they were aware of inappropriate and illegal sexual relationships between a female teacher and several students more than a year before charges were filed against the teacher but failed to inform the parents or law enforcement.
The lawsuit is yet another chapter in a teacher-student sex scandal that has shaken Pickens Academy, the small private school, and led to the arrest of the female teacher and her husband, who was also a teacher at the school, on separate accusations of sexual interactions with students.
Not only does the lawsuit allege school administrators were aware of rumors and accusations, it also alleges a pattern of negligence at the school and that the teacher, Charli Parker, had an inappropriate relationship with one of her teachers while she was a student there a decade before.
The complaint, filed in Pickens County Circuit Court last week, claims Pickens Academy headmaster Brach White, who is named as a defendant in the suit, was aware as early as October 2014 of  allegations that the teacher, Mrs. Parker, who was 28 at the time, was "sexting" at least three male students who were under the age of 19.
Mrs. Parker was a girls' basketball coach, volleyball coach and teacher at the small school in Carrollton. The plaintiff, who was a male student involved with Mrs. Parker, is not named in the lawsuit. A Pickens County judge approved the plaintiff's request to file the lawsuit anonymously.
"On October 21, 2014, Brach White questioned the Plaintiff and three other students in his office concerning rumors of 'sexting' between them and Mrs. Parker," the plaintiff's attorney wrote in the suit. "White questioned Mr.Parker (Charli Parker's husband) following that interview, but took no further investigative or corrective action."
Jamie Parker, Mrs. Parker's husband whom the headmaster is alleged to have questioned, was also a boys' basketball coach, student government adviser and math teacher at the school. The lawsuit alleges Mr. Parker, the husband, recruited the plaintiff to play basketball for the school before the student later became involved with Mrs. Parker.
Mr. Parker was later accused of having sexual interactions with a different female student.
Mrs. Parker wasn't arrested until March 2016, when she was charged with being sexually involved with the student at least 11 times over the prior two years, including just days before her arrest. She pleaded guilty to the charges in August 2017 and was sentenced to three years in state prison. She's serving her sentence in Tutwiler Prison for Women and is set to be released in 2020. Mr. Parker was arrested only after his wife on charges of having sexual interactions with the separate female student on several occasions. He also pleaded guilty but hasn't been sentenced.
The plaintiff's lawsuit alleges that Mrs. Parker engaged in inappropriate sexual acts with the student both on and off school property, including in her classroom, at her home, at motels and at the home of the male student.
"Throughout the 2014-2016 school years Mrs. Parker systematically manipulated the Plaintiff with her affections, physical interludes, and gifts bestowed upon the Plaintiff," attorneys said. "Mrs. Parker purchased beer, underwear, food, basketball shoes, cell phones, and illegal substances for the Plaintiff and his friends."
The plaintiff's attorneys allege White and the school failed to inform the plaintiff's parents or law enforcement of the interrogation and interview that took place — ommissions that the plaintiff's attorneys argue ran afoul of the school's obligations and duties to report the incident. Lawyers for the plaintiff are seeking documents and correspondence that would back up that claim.
"Allegations of misconduct on the part of Mrs. Parker were known by the Defendants as early as October 2014 and they ignored and/or failed to act in violation of their civil responsibilities to the Plaintiff," the lawsuit reads. "That as the direct and proximate result of the actions and/or inactions of the Defendants, the Plaintiff sustained harm, including trauma, mental, and emotional damages…"
As the case moves to discovery, attorneys are seeking information and testimony from school officials who would have been aware of other inappropriate relationships at the school. The attorneys say the school failed to properly supervise, hire and train its employees to prevent sexual relationships between students and faculty, leading to what the attorneys say is a history of inappropriate relationships there.
"Not only did Mr. and Mrs. Parker engage in inappropriate sexual relationships with students for a period of years, but Mrs. Parker herself was engaged in an inappropriate sexual relationship with a faculty member during her time as a student at Pickens Academy as well," the lawsuit reads. "The lack of training, supervision, policies, procedures, and structure to deal with inappropriate sexual relationships between students and faculty over the past decade or more has created a dangerous environment where it is acceptable if not commonplace for faculty members to engage in dangerous relationships with Pickens Academy students."
The plaintiff is seeking compensatory and punitive damages against the school and the headmaster for mental anguish, loss of the enjoyment of life, future hedonic damages and any other damages available under the law.
Alabama reports record-breaking 2,164 new COVID-19 cases
Thursday's number of new cases hit 2,164 and blew past the previous daily record set on July 3 by 406 cases.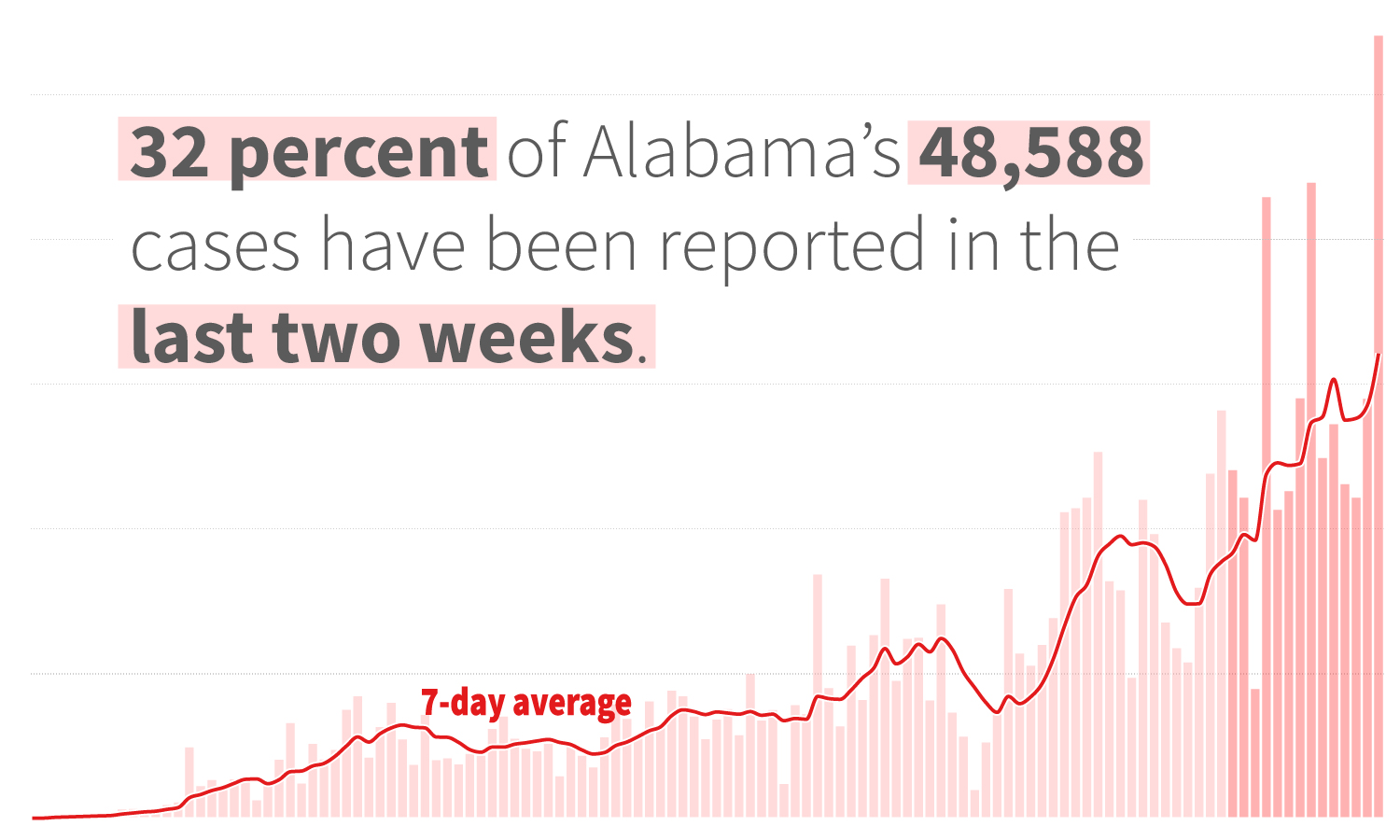 New COVID-19 cases in Alabama on Thursday jumped by nearly double from the day before, and for the first time broke 2,000 in a single day, according to the latest data from the Alabama Department of Public Health.

Thursday's number of new cases hit 2,164 and blew past the previous daily record set on July 3 by 406 cases. Both the seven-day and 14-day rolling average of new daily cases in Alabama were also at record highs Thursday. 
Thirty-two percent of the state's 48,588 cumulative confirmed cases have been added within the last two weeks. 
The Alabama Department of Public Health did not publish Wednesday an update to the total number of tests performed, which throws off the day's figures for the percentage of tests that are positive, but on average, over the last week, the state's seven-day rolling average of percent positivity has roughly 15 percent. 
Public health experts say the percent positivity should be at or below 5 percent — otherwise there isn't enough testing being done and cases are going undetected. 
Along with surging new cases, the number of COVID-19 patients hospitalized on Wednesday was higher than it's been since the beginning of the pandemic. On Wednesday 1,110 coronavirus patients were being treated in state hospitals, which was the fourth straight day of record current hospitalizations. 
UAB Hospital's COVID-19 Intensive care units were nearing their existing capacity Tuesday. The hospital has both a COVID ICU and a COVID acute care unit designated to keep patients separated from those who don't have the virus, but it has more space in other non-COVID units should it need to add additional bed space.

Hospitals in Madison County this week are also seeing a surge of COVID-19 patients. Paul Finley, the mayor of the city of Madison, told reporters Wednesday that local hospitals were reporting record numbers.

Hospitals there were at 80 to 90 percent capacity.
"Our ambulances yesterday had their greatest number of runs since this started," said Crestwood Hospital CEO Dr. Pam Hudson on Wednesday, adding that in about 20 percent of calls staff is having to wear full personal protective equipment. "That indicates that they are working with patients who have symptoms that could be compatible with COVID."
Meanwhile, Madison County set a new daily record, adding 286 cases Thursday, the first time the county has surpassed 200 cases a day. The county was largely spared early on in the pandemic, with low case counts and low death rates, but roughly 42 percent of Madison County's total case count since March has been reported in the last week as 803 new cases have been added.
Jefferson County and Madison County, over the last week, have accounted for 26 percent of the state's new cases.
Jefferson County led the state in the most new cases Thursday with 343 and has added 1,498 cases in the last week. The county's total cases increased by 33 percent from last week, and stood at 6,030 confirmed COVID-19 cases Thursday.
While Jefferson County and Madison County are seeing the state's most intense increases, other large counties including Shelby County, Baldwin County and Tuscaloosa County have also seen record increases and rising percent positive rates.
At least 81 people have died from COVID-19 in the last week, and 162 people have died in the last two weeks.
At least 1,042 people have died from COVID-19 since March, and at least 26 other deaths are listed as "probable" COVID-19 deaths.