Efforts underway to reestablish BCA as unifying voice for all businesses
With the changes at the Business Council of Alabama come a once in a generation opportunity to rebuild a, "stronger BCA and a better Alabama," as stated by Alabama Power Company's CEO, Mark Crosswhite, in announcing new leadership and governance for the floundering business organization.
Those business leaders who joined Crosswhite in the struggle to save BCA credit his quiet strength and unwavering resolve in what one insider calls, "The most important political coup in a decade."
The primary goal moving forward is to reestablish BCA as the unified voice for business, according to insiders.
But first, the challenging work of cleaning up the mess left behind by former President and CEO Billy Canary must be addressed.
During restructuring conferences, it was discovered that recently at Canary's direction $1.6 million was taken from BCA's reserve account and spent.
Individuals close to the operation say that Canary and his people stonewalled, lied and hid information about BCA's finances and day-to-day operations from its executive committee and members.
"They lied to everybody," said an individual with knowledge of BCA's operations under Canary, who asked not to be identified for this report. "They even lied to each other, so I guess you could say they were equal opportunity liars."
Those lies kept many BCA members in the dark about the serious problems facing the group. They also kept Canary in power.
Crosswhite, who was selected to chair BCA's new Executive Committee, has already tasked a member of the group with examining the organization's finances to see what else might have been hidden during Canary's tenure.
BCA's new bylaws democratize the organization with an 11 member Executive Committee comprised of leaders from small, medium and large business entities.
Committee members say never again will BCA operate like an Eastern European oligarchy with Canary acting as supreme chieftain.
Under BCA's new canons of operation, the president and CEO, as well as the chairman of the board, will answer to the Executive Committee.
Along with uncovering the actual state of BCA's financial affairs will come a personnel and program review.
"Canary's acolytes will need to go," says a highly placed individual. "This is not a good time to have Billy Canary as a character reference on your resume." Also on the chopping block will be programs like BEA, which was created as a quasi-education association that primarily worked to undermine public education.
For nearly 10 years, BCA has served as handmaiden to a Triumvirate consisting of Canary, former Gov. Bob Riley and then-Republican Party Chair and later House Speaker Mike Hubbard.
It is widely believed that Riley, Canary and Hubbard used BCA and the Republican Party as a way to control state government to enrich themselves. Their plans came undone like so many before them because they couldn't master their greed and avarice according to those who once traveled with them. Hubbard is now a convicted felon, Canary is trying to build a lobbying group in Montgomery and Riley is marginalized with only a handful of loyalists remaining in the Gov. Kay Ivey administration.
Now comes the hard work of rebuilding BCA as an organization that represents businesses both large and small and not just the special interests of a few.
Those who participated in the effort to reclaim BCA believe the organization can be a force for good that represents both what is best in Alabama's business community and also the state as a whole.
Sens. Doug Jones, Cory Gardner introduce the American Dream Down Payment Act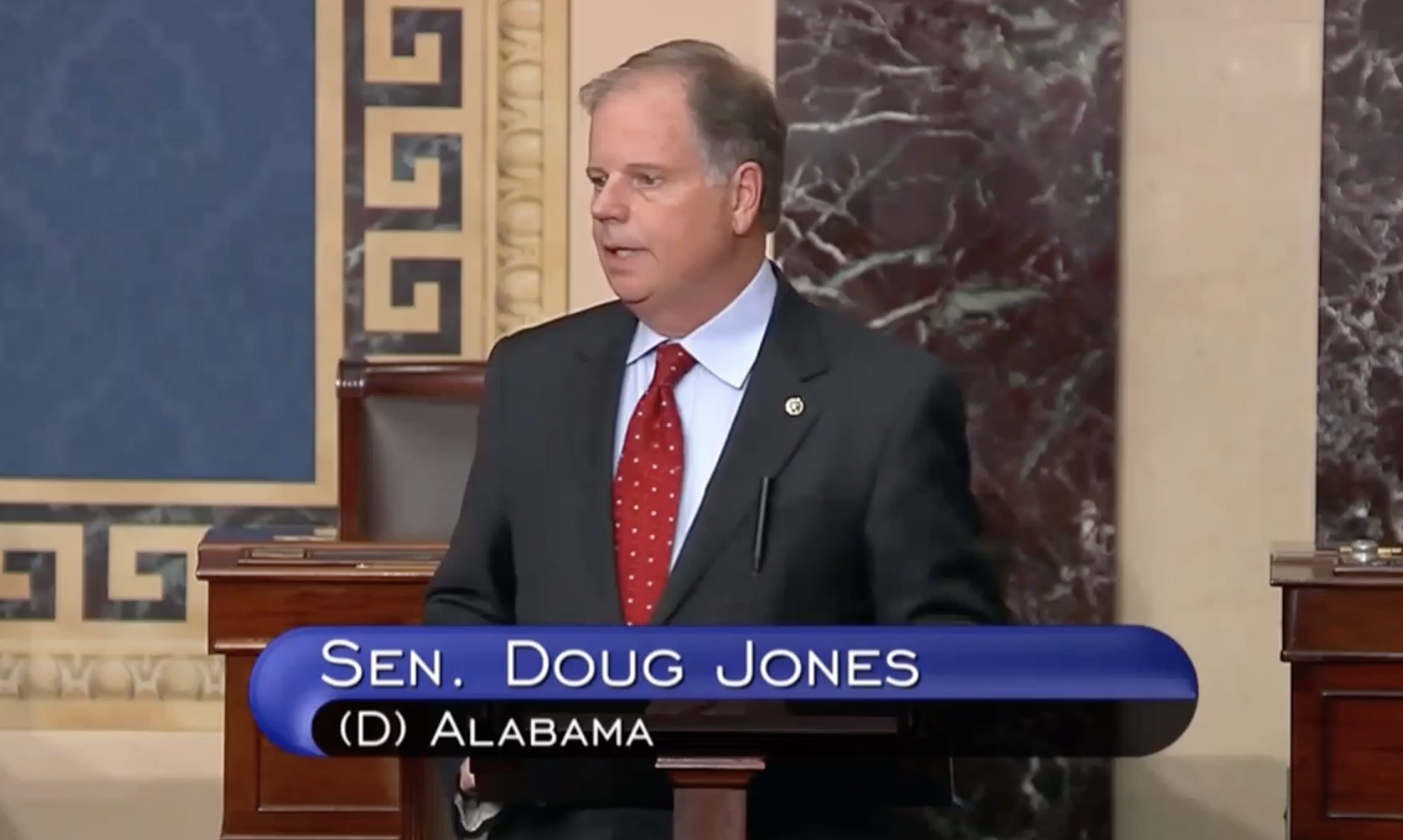 Tuesday, U.S. Senators Doug Jones (D-Alabama and Cory Gardner (D-Colorado) introduced the American Dream Down Payment Act of 2020. The bipartisan legislation would help prospective homeowners save for a traditional 20-percent down payment by creating special tax-advantaged savings accounts for eligible housing costs.
"As the coronavirus pandemic continues to devastate our nation's economy, it is getting even harder for many folks in Alabama and across the country to put money away in savings and to work toward the American dream of owning a home," said Senator Jones. "Down payments are the biggest barrier to homeownership for first-time homebuyers, especially among low-income and minority Americans, and make it harder to build generational wealth that is often tied to home-ownership. Our legislation would provide a new path to help make the dream of buying a home a reality by making it easier to save money for down payments and other housing-related costs."
"A down payment on a home can be a significant barrier to becoming a homeowner," said Sen. Gardner. "Inspired by the popular 529 education savings accounts, this bipartisan bill will make it easier for people to save for a down payment, which will aid both our unique housing challenges in Colorado and our economic recovery from the COVID-19 pandemic. I'm proud to work with Senators Jones and Brown to help more families achieve the American Dream and own a home."
These accounts would be similar to the popular 529 Plan accounts that encourage people to save pre-tax money to pay for future education expenses. Senator Sherrod Brown (D-Ohio) is the Ranking Member of the Senate Banking & Housing Committee and an original cosponsor of the legislation.
The sponsors cite a recent survey by the Urban Institute which found that more than two-thirds of renters view the down payment as a barrier to owning a home. As rents and student loan debt rise, it can be harder for prospective homeowners to save for a down payment, especially if they are a first-time homebuyer or aren't able to receive help from family members.
"Borrowers of color have been locked out of affordable homeownership for decades," said Sen. Brown. "The gap in Black and white homeownership rates remain as large now as it was before the Fair Housing Act was signed into law. These troubling and persistent inequities in homeownership rates have prevented generations of Black and brown families from obtaining the American dream of owning a home. The American Dream Down Payment Act is a new tool to help make homeownership a reality."
Even though the nation-wide homeownership rate is relatively stable, there are significant disparities in homeownership by age, race, and ethnicity. The Black homeownership rate which peaked just prior to the 2008-2009 Great Recession, has fallen to a 50-year low in 2016, at just 41.7 percent. That remains nearly 30 points below the White homeownership rate. This is before the recent COVID-19 economic panic, Millennials are less likely to own a home by age 34 than their parents or grandparents were. If these trends continue, a growing number of Americans will be locked out of homeownership.
"The introduction of the American Dream Down Payment Act offers Black American families and individuals the opportunity to build legacy wealth through homeownership," Sen. Brown added. "The ability to accumulate tax-free savings funds breaks down/eliminates one of the most prominent barriers to achieving homeownership, the down payment. This Act serves as a tangible springboard to increase Black homeownership and real wealth-building prospects which the National Association of Real Estate Brokers (NAREB) includes in the meaning of its time-honored slogan, Democracy in Housing," said Donnell Williams, National President, National Association of Real Estate Brokers."
The American Dream Down Payment Act would: Let states establish American Dream Down Payment Accounts, which they would manage in the same way they manage 529 Plan accounts today; Allow prospective homeowners to save up as much as 20% of today's housing cost, indexed for inflation, to use for eligible down payment and other housing costs; Facilitate long-term savings for a down payment and allow contributions from family and friends; and Allow homebuyers using their American Dream Down Payment Account savings and earnings to use those funds tax-free at withdrawal for eligible expenses.
To protect American Dream Down Payment Account holders, the Securities and Exchange Commission would be required to set standards for the investments of eligible accounts and allowable fees.
This legislation is supported by the National Association of Realtors, Habitat for Humanity, and the National Association of Real Estate Brokers.
Senator Jones is a member of the Senate Banking & Housing Committee. Both Jones and Gardner face tough re-election battles this year.