Maddox, other Democrat candidates speak at ACD Kennedy-King Dinner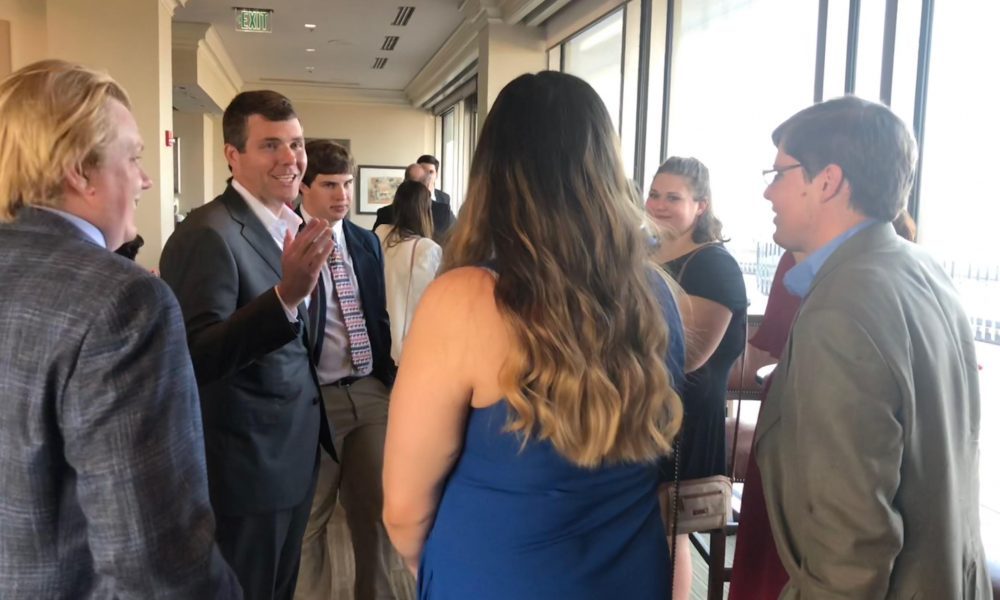 The Alabama College Democrats hosted a night of dinner, conversation and energizing, pro-public service addresses delivered by multiple Democratic candidates and guests on Saturday.
The ACD Kennedy-King Dinner was held at the Capital City Club and featured a multitude of candidates that evening, which included: Dr. Will Boyd, the Democratic lieutenant governor nominee; Cara McClure, Public Service Commission Place 1 candidate; Kari Powell, Public Service Commission Place 2 candidate; Heather Milam, Democratic Secretary of State nominee; Joe Siegelman, Democratic attorney general candidate; and Tuscaloosa Mayor Walt Maddox, Democratic candidate for governor, also made an appearance.
Also attending the event was Coach David Burkette, state Senator for District 26, and Mayor Randall Woodfin of Birmingham.
The night consisted of dozens of college-aged, politically-driven students mingling with their local, Democratic idols and representatives. The candidates made their way around the venue in order to reach out and introduce themselves to as many students possible. Guests and political figures alike were engaged and conversation-driven throughout the night.
Guests were seated for dinner upon the program's beginning. The evening was emceed by Jacob Morrison, the ALDC programs director, and he introduced the first speaker, Dr. Will Boyd. Dr. Boyd was to-the-point on thanking the young Democrats for their contributions to the cause, briefly touched on his political background and left the audience with a prayer and a certainty that he is going to "become the 31st lieutenant governor of the great state of Alabama."
Senator David Burkette was a rousing speaker and supplied the guests with words of wisdom and laughter. Following his speech, Mayor Randall Woodfin took to the stage early and spoke to the students. Then, speaking of the other candidates, said, "These are good people, they're mothers, they're fathers, they're professionals, they are people who have taken out of their time to want to be public servants and understand the real definition of servant leadership. And for that reason alone is why I believe in every single one of them."
Cara McClure and Kari Powell also delivered strong speeches that highlighted their many achievements and points of interest in their backgrounds that they believe make them the best candidates for the Public Service Commission. Behind the PSC candidates came the Democratic candidate for Secretary of State, Heather Milam, who was able to stir up the audience in a positive manner with the delivery of her address. "Who are we as Democrats? We are a party that's committed to transparency. We are the party that is committed to civil rights. We are the party that is committed to families, to equity, to equality, to human rights and voter rights." She ended on a push for women to run for office and a widespread idea for young people to engage in politics because, "politics is not a dirty word."
Joe Siegleman, although not listed on the agenda, took to the stage and urged students to elect a new generation of leadership. "It's going to take your generation recognizing that you can take the reigns of this state and that you can make a difference." He also made sure to greatly thank Mayor Randall Woodfin and Mayor Walt Maddox for their achievements and strides they make as city leaders.
Tuscaloosa Mayor Walt Maddox closed the night with his address to the students. "What gets me excited is thinking about what all of us can do together as candidates. Together, we are going to stamp out corruption that's eaten away at Montgomery for too long, and I can assure you that our administration is going to be the most accountable and transparent in the history of this state," he said. "Tonight, college Democrats, you have a team of candidates that are going to give it everything we have on that field so that we take being on the right side of history, and in Alabama, we can again believe in our leadership up and down the ticket. This is Alabama's moment, and I believe, and I hope you believe, as well."
The night ended after Maddox's delivery to the audience, which was met with a standing ovation.
The Alabama College Democrats are the official collegiate arm of the Alabama Democratic Party. Building Alabama's next generation of progressive leaders.
First presidential debate is tonight
Tuesday's debate, set to begin at 8 p.m. CST, will be moderated by Fox News Sunday anchor Chris Wallace.
President Donald Trump and former Vice President Joseph Biden, the Democratic nominee for president, are preparing for Tuesday night's debate.
Tuesday's debate will be moderated by Fox News Sunday anchor Chris Wallace. The debate will be at 8 p.m. CST and is being hosted at Case Western Reserve University and the Cleveland Clinic in Cleveland, Ohio.
Due to COVID-19, the two candidates and the moderator will not shake hands. There will be a small number of ticketed guests inside the debate hall, along with debate officials, crews and TV network anchors including Fox News.
Trump has prepared with help from former New Jersey Governor Chris Christie and former New York City Major Rudy Giuliani but has chosen not to have traditional lengthy practice sessions.
Trump is suggesting he doesn't want to overdo it.
"Sometimes you can go too much in that stuff," Trump told reporters on Sunday.
Biden has been holding mock debate sessions with senior adviser Bob Bauer and top aides, according to CBS News.
"I'm prepared to go out and make my case as to why I think he's failed and why I think the answers I have to proceed will help the American people, the American economy and make us safer internationally," Biden said.
"The president prepares by being president," Trump campaign communications director Tim Murtaugh reportedly said. "And by regularly facing hostile news media. That's pretty good practice by any measure."
The debate as to whether Trump should have appointed Judge Amy Coney Barrett to fill the vacancy on the Supreme Court created by the death of Ruth Bader Ginsburg will almost certainly come up.
"Joe Biden spent a lot of time in his basement to study up," said Lara Trump, the president's campaign adviser and daughter-in-law. "He's been in this game for 47 years. I assume he'll do OK. Quite frankly, the bar has been lowered so much for Joe Biden that if he stays awake for the whole thing it's like maybe he won."
The two candidates are running very different campaigns.
From March until the last week in August, according to news reports, Biden made no in-person speeches or campaign appearances. Biden's events since have been rare and attended by just a few invited guests.
Trump, on the other hand, has been holding mass campaign rallies. Trump has held 14 in-person rallies in September including in swing states New Hampshire, Michigan, Wisconsin, Nevada, Florida, Virginia and Minnesota with multiple trips to Ohio, North Carolina and Pennsylvania.