Opinion | The yoga ban in Alabama schools explains so much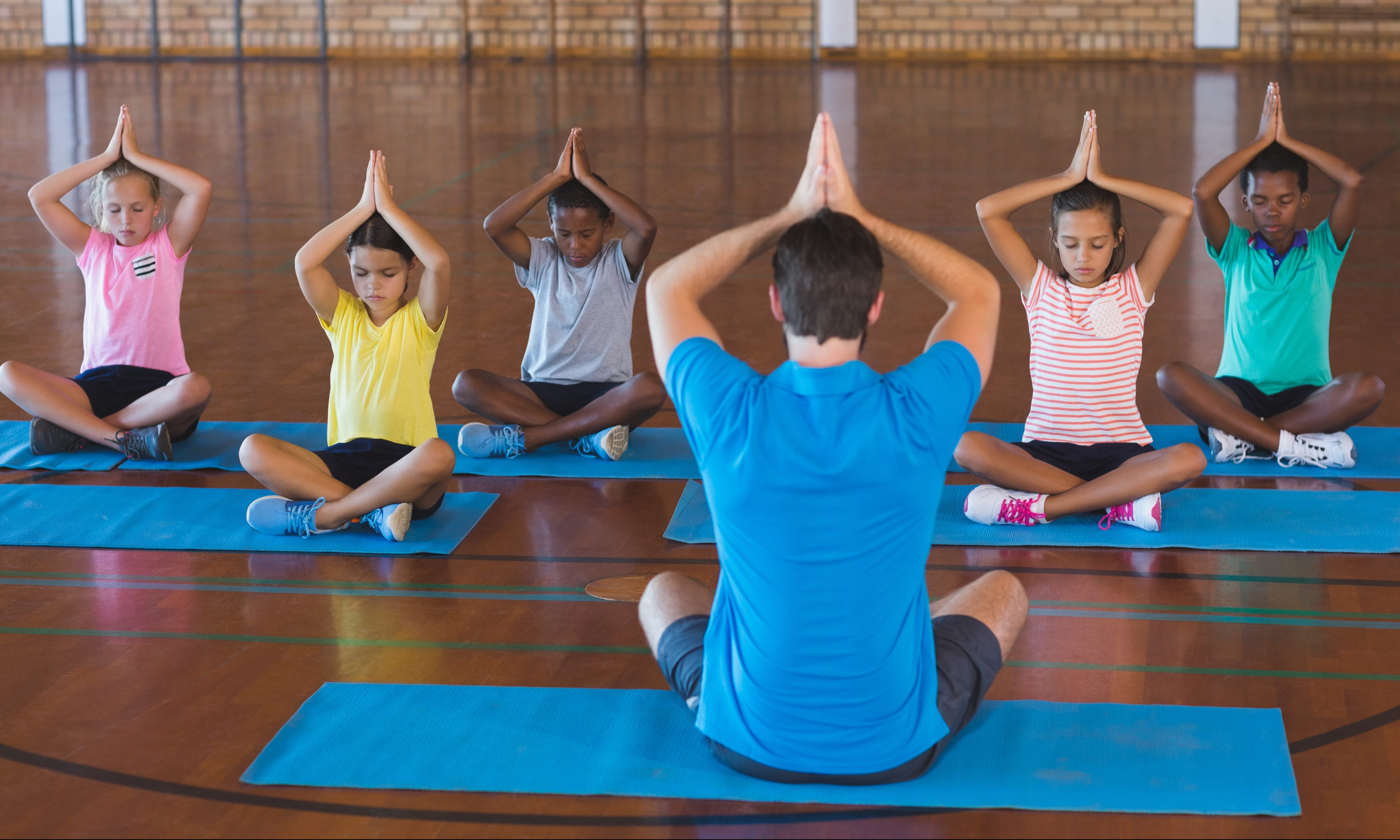 Yoga is illegal in Alabama public schools.
If you ever wanted to sum up this state, that sentence — and the explanation behind it — should more than suffice.
In a nutshell, it's this: Alabama lawmakers were, in the early 1990s, so concerned with the spread of the Hindu religion, by way of strenuous stretching, that they banned yoga from Alabama's schools.
There is nothing more Alabama than banning exercise because it is loosely tied to a religion not named Christianity.
Even better was the fact that, according to a newspaper clipping posted by the Montgomery Advertiser's Brian Lyman, following the meeting in which yoga AND meditation were banned, the more than 500 people who attended the meeting left the room unsure of what had taken place.
Basically, they burned Lululemon at the stake, and no one was really sure why.
But these were in the pre-9/11 days, when Southern Christian fear-mongering required a tad more effort and a lot more creativity. Without the Islamic boogeymen to lean on to scare hapless southerners into church pews on Sunday morning, you had to work for it.
Although, they did have one advantage, since this was also in the pre-Google-in-your-pocket days. Without an ever-present internet search engine in everyone's pockets, scaring overworked moms and disinterested dads into believing that a downward dog pose was the first step to cow worship and eternal damnation was a tad easier to do.
And so, there were the state board members in 1993, with the ridiculous Eagle Forum breathing down their necks — because without a phony religious crisis the Eagle Forum would be left sewing together blue jean skirts — and a room full of anti-Hindu activists — if you can even imagine such a thing — and the board had to do something.
What they did — how to put this delicately? — was something idiotic.   
The language in the regulations passed that day states that yoga is "A Hindu philosophy and method of religious training …." and that it "allegedly" develops the body and mind. And just to be sure nothing slipped by them from these weird religions where people close their eyes and talk to strange beings in the ether, the board banned all uses of hypnosis and dissociative mental states.
It stated that school personnel were prohibited from using hypnotic states, guided imagery, meditation or yoga.
Now, if you're like me, you're thinking: What the hell is "guided imagery"?
Good news, my friend, because the state board, in its usual thorough manner, supplied us with definitions of these terms. The bad news is that after reading the definition of "guided imagery," you still won't know what "guided imagery" is.
But you'll definitely know what it's not.
"Guided imagery can be described with various terms or labels, such as visualization, visual imagery, guided imagery or guided fantasy. Guided imagery is used as an induction or deepening technique of hypnosis/meditation. It involves the communication or suggestion, describing a scene in which the student/subject is encouraged to experientially participate, normally following a progressive relaxation technique."
I'd like to take a moment to recognize the effort and wordsmanship of the poor state department of education worker who was tasked with writing that definition and managed to come up with … that group of words.
However, if you, like me, were lost at the end of that definition, there is a disclaimer: "NOTE: Guided imagery, a common induction technique of hypnosis, should not be confused with the normal use of the imagination."
So, to sum up, our state board of ed banned thinking real hard.
Which, looking back, explains quite a bit.
Opinion | Tommy, can you hear me?
That Morning Consult poll of Alabama voters that showed Republican Tommy Tuberville with a 17-point lead over incumbent Democratic Sen. Doug Jones for the U.S. Senate was such a stunner, a Jones campaign aide rushed out an email fundraiser trying to quell any panic.
Until now, most polls have shown Jones to be competitive against an unnamed Republican and, specifically, Tuberville, the former Auburn football coach who defeated Jeff Sessions to win the Republican nomination.
"I would never respond to an outside poll, but a new poll is out there showing Doug Jones losing by … wait for it … 17 points," writes Joe Trippi, senior adviser for the Doug Jones for Senate campaign.
"Here is my comment," Trippi writes. "No way."
Unfortunately, in Alabama, there is a way.
Republicans in the state tend to vote straight ticket in overwhelming numbers. Alabama is one of a handful of states that even allows straight-ticket voting, but the reality is, it does. So voters who want to cast their ballot for, say, Donald Trump in November, but who also like Jones, will have to split their ticket.
The Morning Consult poll showed that a large number of independent voters are undecided, and that could swing the election toward Jones. But straight-party voting can be a hope killer.
Not yet, though. It's still early. The election is still nearly three months away. We've not seen Tuberville do much of anything but bow before Trump, who endorsed him over his former attorney general. But that's Trump loyalty for you.
Indeed, the country is going so poorly right now, one wonders other than the hard-core racists, who still supports Trump.
I know, I know: Alabama is different (plus, we still have more than our share of hard-core racists). But c'mon, folks, more than 157,300 Americans are dead from the COVID-19 pandemic, completely mismanaged by the Trump administration. There have been more than 4.7 million cases. In Alabama, there have been more than 90,000 cases and more than 1,600 deaths.
Meanwhile, the U.S. and Alabama economies are in shambles and getting worse, not better. Trump has sided with Confederate statues and flags over eliminating the systemic racism found in police departments and other government agencies. Plus, most recently, Trump sent his secret army of unidentified goons to sweep protesters off the streets in American cities.
Trump is nobody's friend but his own.
Then there's Tuberville. A decent if mediocre football coach, Tuberville certainly is no Nick Saban. Tuberville isn't even a Gus Malzahn.
Sessions tried to argue that Tuberville wasn't a resident of Alabama, either, but that's not fair. Where Sessions is concerned, unfair is a character trait.
While Tuberville does maintain properties in Florida, he and his wife have owned a home in Auburn for at least three years. Too, they both are registered voters in Alabama, though Sessions said Tuberville cast his ballot in Florida during the 2018 midterms.
What's more important is where Tuberville stands on the issues. And that, we don't know much about. We know Jones is a moderate who works with members of both parties. He clearly represents Alabama's best interests as well as any U.S. senator who has served from Alabama.
Though the loons try to paint Jones as a liberal-socialist-communist bogeyman, he's nowhere close. Certainly, he's different from Sessions, who held that Senate seat for two decades before becoming Trump's attorney general. He's different from Sessions in that he actually gets legislation through the Senate. Sessions mainly interfered with progress while a senator.
The first U.S. senator to support Trump's candidacy, Sessions identified with Trump most likely because they're both die-hard racists. Trump rewarded that loyalty by back-stabbing Sessions out of Washington.
At some point, though, Tuberville must make his positions clear, and not simply that he'll support anything Trump does. That would be a disaster for Alabama, as much as Trump is a disaster for the United States.
The former Auburn University football coach can't just continue being a sycophant for Trump, whose own poll numbers are tanking and who is likely not going to win re-election.
Should Alabama send a Republican to represent the state with a Democratic president, a likely Democratic Senate and a solidly Democratic House? That would be useless.
But Trippi, in his email, did show how Tuberville wins easily: "One bad poll turns all of us off … you write the race off, and Tuberville coasts to victory because no one is paying attention," says Trippi. "Everyone abandons Alabama except Mitch McConnell, who is ALL IN to beat Doug. The proof is in the money he (McConnell) is spending now."
It's true that McConnell is working hard to unseat Jones to protect Republicans' wobbly control of the U.S. Senate, and if they weren't concerned that Jones has a good shot at winning re-election, McConnell would spend that campaign money in another state.
Tuberville must do more than hide behind Trump. We need to hear Tuberville's plan, where he stands on the issues and what he'll bring to Alabama that Jones hasn't already.
Let's hear it, Coach Tommy. But you'll have to scoot back a bit first.