September marks the beginning of the annual hunting season in Alabama as a number of hunting seasons begin this month.
Goose season in Alabama has already begun and will last from September 1 to September 30. The aggregate bag limit of 5 dark geese (Canada, White-fronted, and Brant). You can not take more than one Brant geese in a day. Additionally, hunters may take an aggregate bag limit of 5 light geese (Snow, Blue, Ross's) per day.
For the North Zone of Alabama, dove (mourning and white winged) season will begin at twelve noon on Saturday, September 8. Opening day for South Alabama will not begin until twelve noon on Saturday, September 15. For doves, the south zone is Baldwin, Barbour, Coffee, Covington, Dale, Escambia, Geneva, Henry, Houston and Mobile counties. The other 58 counties are considered the North Zone.
Hunters may hunt doves only from a half hour before sunrise until sunset. The limit per hunter is just fifteen doves per day.
The rabbit and squirrel Seasons begin on September 15 and will run all the way until March 3, 2019. Hunters are limited to just 8 rabbits or squirrels per day.
Alabama will have a special teal season from September 8 through September 23. The limit is just six per day.
Clapper rail, Virginia rail, sora and gallinule seasons run from September 8 and will run until September 23. The limit is just fifteen per day.
Remember that licensed hunters who hunt doves, woodcock, rails, snipe, coots, ducks, or geese in Alabama are required by federal law to have a Harvest Information Program Permit prior to hunting. HIP permits are free and can be obtained when you purchase your license. You must have a license to hunt or fish in Alabama. Unless you have a lifetime license, September is the month to renew your license.
Remember that you can hunt hogs, coyotes, opossum, foxes, beaver, nutria, groundhog, starlings, crows, English sparrows, bullfrogs, pig frogs, and raccoons year round in Alabama.
Alabama also allows year round hunting of bobcats; but note though that all bobcat and otters in Alabama, regardless of method of harvest, are required to be tagged by a representative of the Wildlife and Freshwater Fisheries Division within 14 days of harvest or may be left with a taxidermist with a completed tagging form, and the taxidermist is required to have the bobcat or otter tagged within 14 days of receipt.
Also be aware that nighttime hunting of hog season with dogs (no guns allowed) ended on August 31 and won't begin again until May 1.
Archery season for deer does not begin until October 15.
You can not hunt bear, mountain lion, or ruffed grouse in Alabama at any time of the year.
For more information on hunting regulations consult the Alabama Department of Conservation and Natural Resources.
Alabama women to Ivey: Support fair processes
Last week, Ivey co-authored a letter of support for Barrett and released it to media outlets.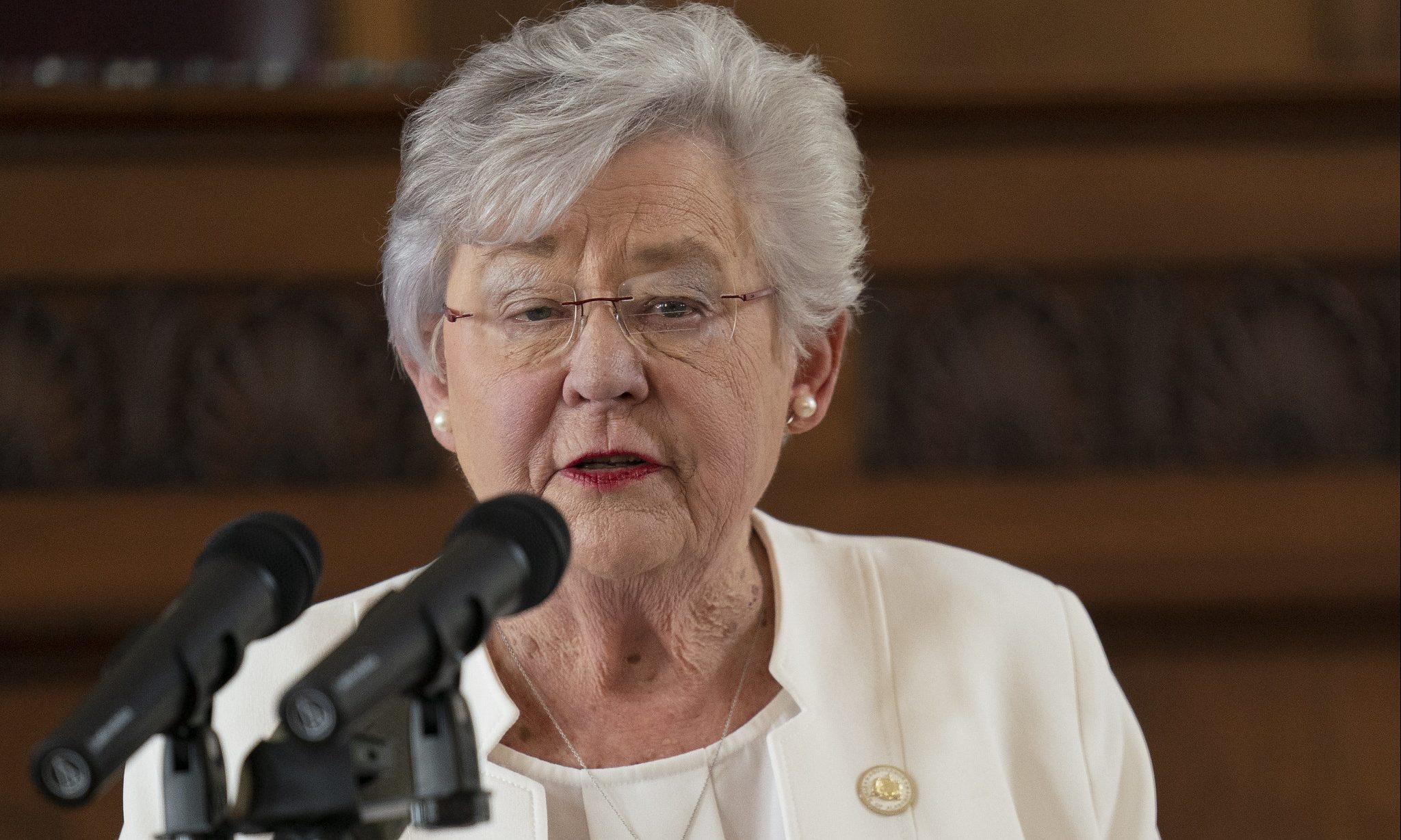 A letter signed by a bipartisan group of about a thousand Alabama women takes issue with Gov. Kay Ivey's recent support of Republican Supreme Court nominee Amy Coney Barrett, and it encourages Ivey and other state officials to instead support fair processes.
Last week, Ivey co-authored a letter of support for Barrett and released it to media outlets. In response, the letter from Alabama women calls the process to nominate Barrett, which is occurring after more than 50 million votes have been cast and in a Senate that is predicted to change from Republican to Democratic control, unfair and "anti-democratic."
The letter, which doesn't criticize Ivey or request that she rescind her endorsement of Barrett, asks instead that Ivey and other state leaders honor women by implementing and following fair processes that provide women with equal opportunities.
The full letter is below:
Dear Governor Ivey,
We are a group of women. We are current and future mothers, grandmothers, caregivers, leaders and champions of all citizens of our great state. We are moderates, progressives and conservatives. When we agree with our leaders, we say so, as we have in your support for education, workforce development, and sensible mask policies.  
We also speak up when we do not agree. Thus, we want to respond to your letter in support of Amy Coney Barrett because it does not represent our views. 
Like you and Judge Barrett's father, we want to tell all young girls that they can do anything their male counterparts can do and they can be anything and everything they want to be. We want it to be a truth, not just a signal "that the most qualified individual will get the job".  In addition to those things, we want them to know and believe that the process will be fair, because no matter the job, the process should be fair. And our children and young people (boys or girls) should be able to trust that democracy works and can be counted on. How can we assure them when this process has been so rushed and undemocratic?
We are women who oppose Judge Barrett's confirmation, because confirming her at this time, when 50 million Americans have already cast their votes, is anti-democratic. Regardless of what ways she does or does not think or talk like us, what matters is that a confirmation should not take place after the election is underway. 
We do not expect you to rescind your support of Judge Barrett. However, we urge you and the other women leaders who have advanced to top positions in our government to stand with us in asking for a fair process that takes place after the election. A process that helps us to believe that our voices and our votes matter because the American people should have the right to choose who nominates the next Supreme Court Justice.
Respectfully, 
Emily Hess Levine
Lindsey Chitwood
Megan Cheek
Kira Fonteneau
Ronne M. Hess
Cindi Cassis Branham
Anna Brantley Fry
Joellyn M. Beckham
Kristen Berthiaume
Alexandra Ruthann Bullock McElroy
The letter is signed by more than 800 women. The full list of signatures was sent to APR with the letter. We have chosen to list only the first 10 for the sake of brevity.