September marks the beginning of the annual hunting season in Alabama as a number of hunting seasons begin this month.
Goose season in Alabama has already begun and will last from September 1 to September 30. The aggregate bag limit of 5 dark geese (Canada, White-fronted, and Brant). You can not take more than one Brant geese in a day. Additionally, hunters may take an aggregate bag limit of 5 light geese (Snow, Blue, Ross's) per day.
For the North Zone of Alabama, dove (mourning and white winged) season will begin at twelve noon on Saturday, September 8. Opening day for South Alabama will not begin until twelve noon on Saturday, September 15. For doves, the south zone is Baldwin, Barbour, Coffee, Covington, Dale, Escambia, Geneva, Henry, Houston and Mobile counties. The other 58 counties are considered the North Zone.
Hunters may hunt doves only from a half hour before sunrise until sunset. The limit per hunter is just fifteen doves per day.
The rabbit and squirrel Seasons begin on September 15 and will run all the way until March 3, 2019. Hunters are limited to just 8 rabbits or squirrels per day.
Alabama will have a special teal season from September 8 through September 23. The limit is just six per day.
Clapper rail, Virginia rail, sora and gallinule seasons run from September 8 and will run until September 23. The limit is just fifteen per day.
Remember that licensed hunters who hunt doves, woodcock, rails, snipe, coots, ducks, or geese in Alabama are required by federal law to have a Harvest Information Program Permit prior to hunting. HIP permits are free and can be obtained when you purchase your license. You must have a license to hunt or fish in Alabama. Unless you have a lifetime license, September is the month to renew your license.
Remember that you can hunt hogs, coyotes, opossum, foxes, beaver, nutria, groundhog, starlings, crows, English sparrows, bullfrogs, pig frogs, and raccoons year round in Alabama.
Alabama also allows year round hunting of bobcats; but note though that all bobcat and otters in Alabama, regardless of method of harvest, are required to be tagged by a representative of the Wildlife and Freshwater Fisheries Division within 14 days of harvest or may be left with a taxidermist with a completed tagging form, and the taxidermist is required to have the bobcat or otter tagged within 14 days of receipt.
Also be aware that nighttime hunting of hog season with dogs (no guns allowed) ended on August 31 and won't begin again until May 1.
Archery season for deer does not begin until October 15.
You can not hunt bear, mountain lion, or ruffed grouse in Alabama at any time of the year.
For more information on hunting regulations consult the Alabama Department of Conservation and Natural Resources.
COVID-19 hospitalizations in Alabama continue surge
On Monday, 1,335 patients with COVID-19 were being cared for in hospitals statewide, the most to date.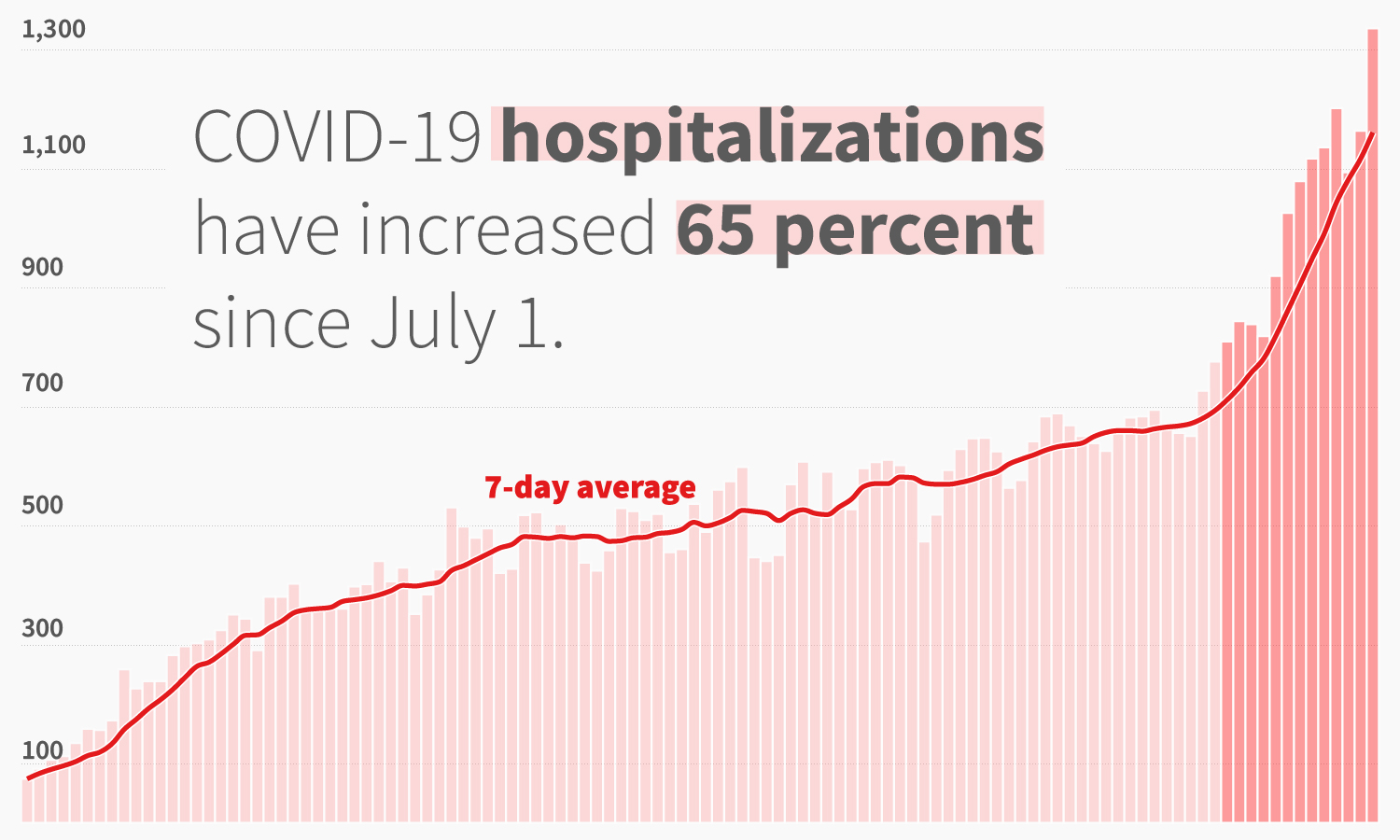 Alabama on Monday saw the highest number yet of COVID-19 patients in hospitals since the start of the pandemic, and the second-highest single-day increase in coronavirus cases on record. 
On Monday, 1,335 patients with COVID-19 were being cared for in hospitals statewide. That was 172 more COVID-19 patients than were hospitalized the previous day — and the largest single-day increase in hospitalization numbers reported by the Alabama Department of Public Health.

The last record number of hospitalized COVID-19 patients in Alabama was on Friday, when 1,201 people were being treated statewide. The increase Monday is also 134 more patients than were being care for on Friday.
Friday was the sixth straight day of record-breaking COVID-19 hospitalizations in Alabama. Friday also saw the second-highest number of deaths in a single day in the state, when ADPH confirmed 35 new deaths as a result of COVID-19, nearly breaking the previous record of 37 set on May 12.
On Monday, the state also added 1,860 to Alabama's total case count, bringing the cumulative total now to 54,768 confirmed cases. That's the second-highest single-day increase in cases since the start of the pandemic. With 25,783 people presumed to have recovered from the virus, and at least 1,096 dead, more than half of the state's cases, or 27,889, are presumed to be active.

Testing has ticked up slightly in the last few weeks — Alabama's seven-day average of tests conducted was 9,176 on Monday, 93 more than the previous high set on July 5 — but the percentage of tests that are positive continues to increase as well, a sign that new cases aren't just due to more testing. 
The seven-day average positivity rate Monday was 16.18 percent, which was almost 30 percent higher than it was a week ago. Taking into account the Alabama Department of Public Health's incomplete testing data on July 9 and in early April, which threw off the positivity rate, Monday's seven-day average was the highest on record for Alabama. 
Public health officials say that the percent of tests that are positive should be at or below 5 percent or there's not enough testing being done and cases are going undetected. 
Madison County continues to see a surge in new cases. The county added 267 new coronavirus cases on Monday, and over the last week added 1,044 new cases, which was 70 percent more than were added the week before. Madison County's positivity rate this week has been roughly 16 percent. 
Jefferson County followed closely behind Madison County, adding 266 new cases Monday and 1,602 cases within the last week, which was a 30 percent increase from the week before. 
In Mobile County, there were 157 new cases Monday.
Mobile County's weekly total of new cases for the last week was 23 percent higher than the previous week.