Marshall's former law partner supporting Siegelman for attorney general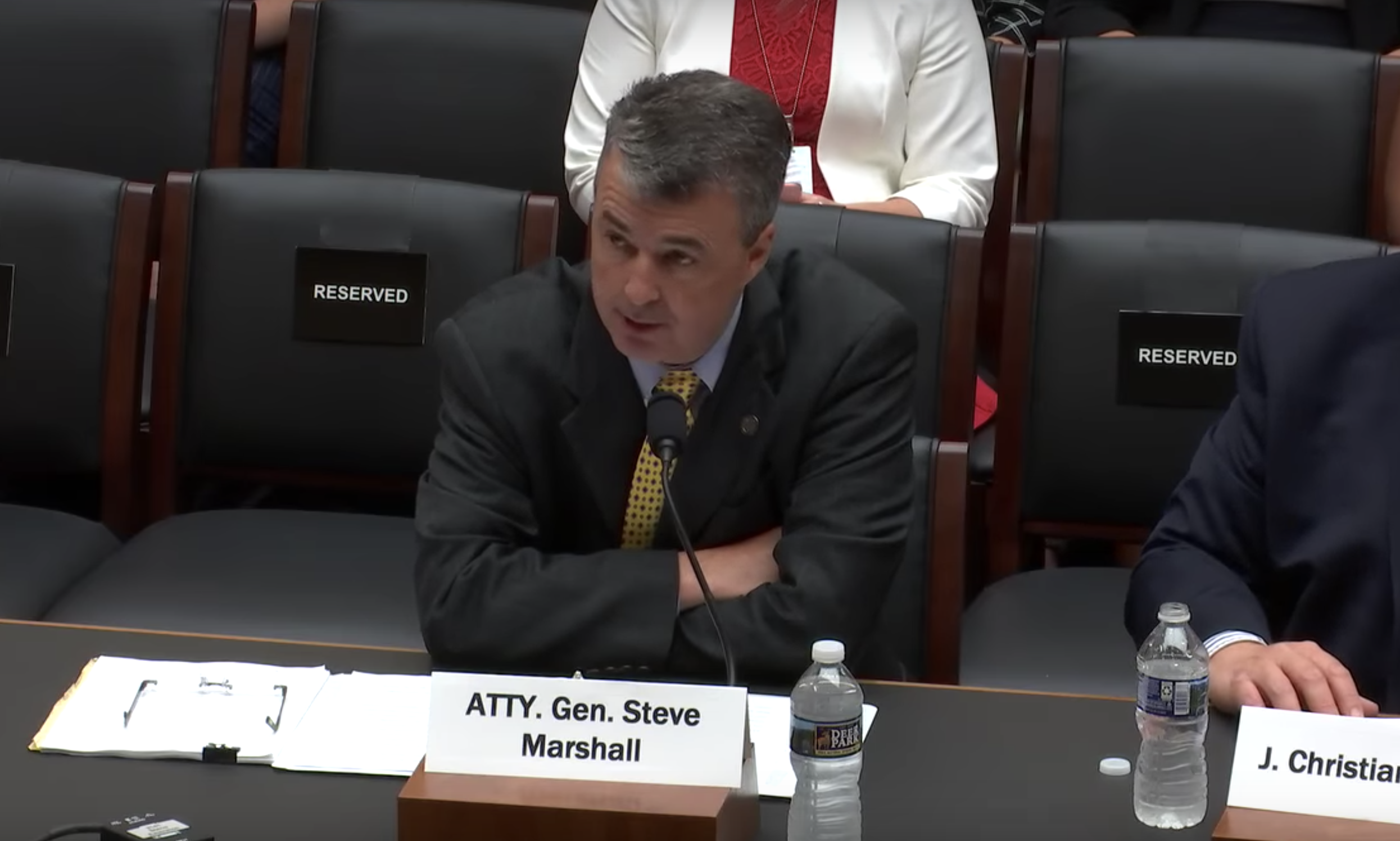 Corporate and special interests are fueling the campaign of Republican attorney general nominee Steve Marshall while mostly small individual donors are driving his Democrat challenger, Joseph Siegelman.
Over half of Marshall's contributions in August came from lobbyist-controlled PACs and businesses with interests before the state. FCPA reports for August show just the opposite for Siegelman, whose campaign for the month was mainly funded by individuals.
One of Siegelman's stand-out donors is of particular interest because he is Marshall's former law partner. For over a decade, Jeff McLaughlin and Marshall were  law partners; he also was Marshall's political mentor.
McLaughlin has made only one campaign contribution for the general election cycle, and that is to Siegelman. During the primary, he supported Chris Christie.
McLaughlin, a Democrat, served three terms in the Alabama House of Representatives until his defeat in 2010, when Republicans were swept into power. Dubbed as "the last honest politician in Alabama," McLaughlin has worked to end the corrupt political system that plagues Alabama. APR called McLaughlin's office to ask why he was not supporting his friend and former partner, but as of deadline, APR's calls were not returned. Several individuals who would only speak on background say party politics is just one of the reasons McLaughlin isn't backing Marshall.
Marshall's campaign showed a beginning balance for August of $66,543.46. He lists total cash contributions for the month at $105,725.00, with $95.00 in itemized in-kind contributions.
Expenditures were $52,860.87, leaving Marshall with $119,417.39 in cash on hand.
Marshall received 52 individual contributions, primarily from special interests with business before the state.
Siegelman reported a $147,990.66 beginning balance with $70,699.00 in cash and $23,750.00 in itemized in-kind contributions for the month. He lists itemized expenses at $56,376.81 with an ending balance of $162,121.68.
Siegelman's 211 contributions were mostly from individuals.
Marshall not only has the advantage of running under the ALGOP banner – he also benefits from having incumbent status by having been appointed to his position by disgraced former Gov. Robert Bentley.
The Alabama Ethics Commission has yet to determine the legality of Marshall receiving $735,000 in questionable campaign contributions from the Republican Attorneys General Association.
NRSC congratulates Tuberville on winning runoff
The chairman of the National Republican Senatorial Committee, Indiana Sen. Todd Young, released a statement Tuesday congratulating Tommy Tuberville on his primary victory in Alabama.
"As a true political outsider, Tommy Tuberville has what it takes to stand up for the people of Alabama, conservative values and President Trump – and most importantly, defeat Doug Jones," Young said. "I look forward to another victory for Tuberville in November and working with him to build on President Trump's and our Republican Senate Majority's record of accomplishment."
Tuberville won the Republican primary runoff with 61 percent of the vote. His opponent, Former Attorney General and Sen. Jeff Sessions, received 39 percent.
Sessions was the first senator to endorse Donald Trump for president, served as Trump's attorney general for almost two years and was an important campaign surrogate for Trump during the 2016 presidential election. But the rift that developed between the two former political allies grew so large that the president called appointing Sessions as AG his "biggest mistake" as president.
Trump endorsed Tuberville and actively campaigned for Tuberville and against Sessions.
"Tommy Tuberville WON big against Jeff Sessions," Trump said on Twitter. "Will be a GREAT Senator for the incredible people of Alabama. @DougJones is a terrible Senator who is just a Super Liberal puppet for Schumer & Pelosi. Represents Alabama poorly. On to November 3rd."
The president is seeking re-election himself this year, and he will lead the Nov. 3 general election ticket for the GOP.
During his victory speech, Tuberville said that Trump called to congratulate him. Tuberville called Trump, "the greatest president of my lifetime."
Club for Growth PAC was an early endorser of Tuberville and contributed heavily to his election effort. President David McIntosh issued a statement congratulating Tuberville on winning the runoff.
"Coach Tommy Tuberville is a principled, pro-growth conservative, and well positioned to defeat liberal Democrat Sen. Doug Jones in the General Election," McIntosh said.
Club for Growth PAC also backed former State Rep. Barry Moore, R-Enterprise, in his bid to be the GOP nominee in the 2nd Congressional District. Moore won his race, beating Jeff Coleman.
Club for Growth Action spent $1,433,763 on the race, and Club for Growth members contributed $132,932 directly to Tuberville's campaign through the Club for Growth PAC.
Club for Growth Action announced that it will launch a new TV ad, "American Green," on July 15, highlighting Jones' "support for the Export-Import Bank and the billions in taxpayer funded loans that went to communist China."
Former State Rep. Perry Hooper Jr., R-Montgomery, is a member of the Alabama Republican Executive Committee and Trump's National Finance Committee.
"This is a huge win for the President," Hooper said. "This shows that the people of Alabama are fully behind the president."
Hooper said that he likes Jeff Sessions, but that Sessions should not have gotten into this race at the last possible moment and months after Tuberville and the other candidates had been out of the road campaigning.
"I honestly believe he will do everything in his power to defeat Doug Jones in November," Hooper said. "Coach Tuberville campaigned on his genuine support for President Trump and his Agenda and his desire to do what's best for the people of Alabama. His sincerity came through as led the ticket in March."
Hooper formally endorsed Tuberville in the days before the runoff election.
Sessions actually received 9,154 votes fewer in the runoff than he did back in March, while Tuberville gained 96,069 votes. 711,809 voted in the Republican primary while 549,721 voted in Tuesday's primary runoff – a decrease of 162,080 from March.
Part of that drop was due to a lack of competitive local races in many precincts, people traveling on summer holiday and no presidential politics to bring people to the polls — but part of it was also likely due to COVID-19 fears. The runoff had been scheduled for March 31, but it was delayed in hopes that the coronavirus global pandemic would have lessened.
It actually has gotten much worse.
Tuberville faces incumbent Sen. Doug Jones in the Nov. 3 general election.