Maddox touts plans to expand Medicaid, launch education lottery at bus tour kick off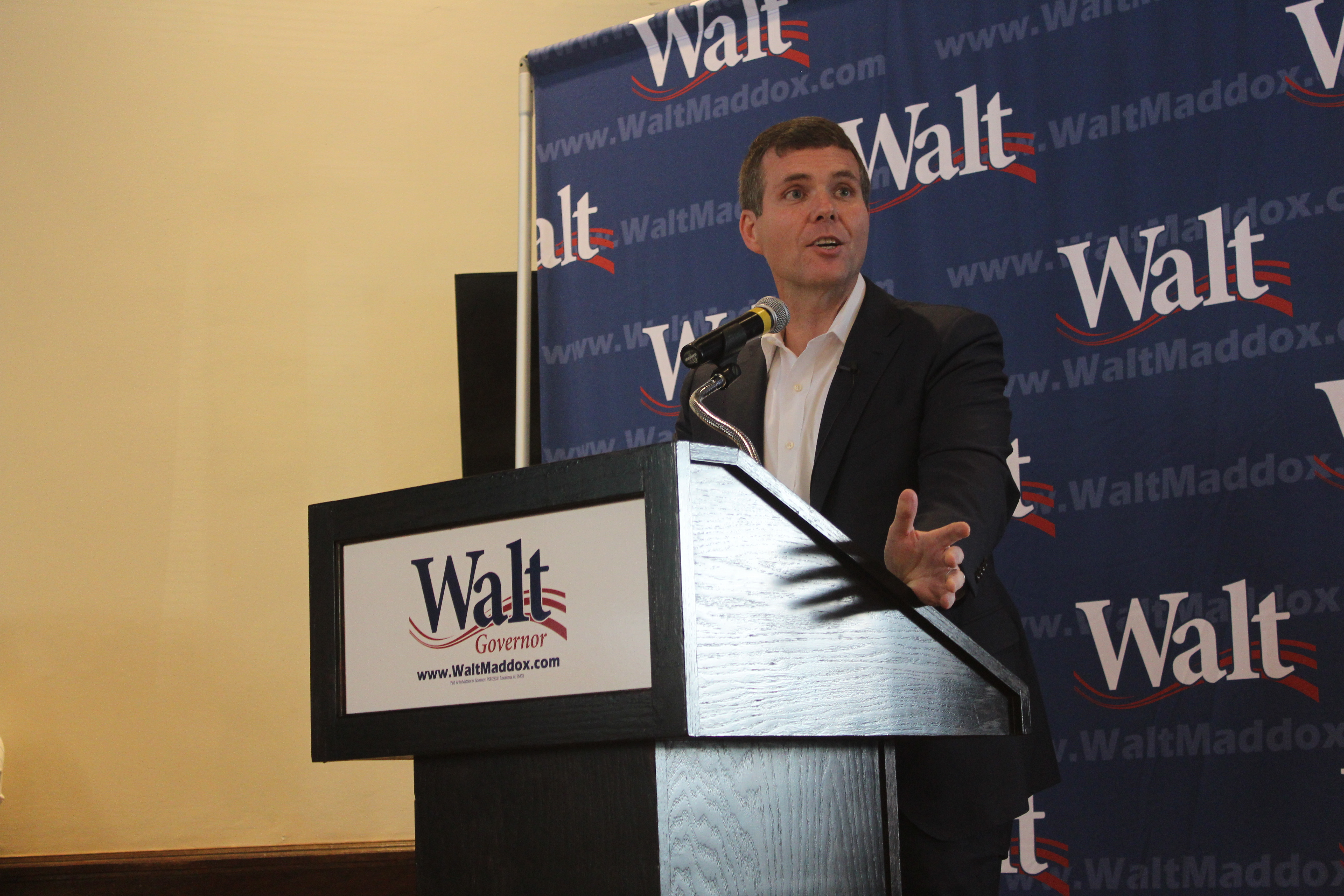 Democratic gubernatorial candidate Walt Maddox promoted his plans to establish a state education lottery and expand Medicaid at the kick off of his statewide bus tour in Tuscaloosa on Monday.
Maddox is attempting to make gains against sitting Gov. Kay Ivey by visiting 35 different stops on the tour. After the launch in Tuscaloosa, Maddox stopped at the Walker County Kiwanis in Jasper on Monday.
Later this week, he'll visit the Shelby County Democrats in Pelham on Thursday and attend the Dr. Yvonne Kennedy Community Service Awards Banquet in Mobile on Friday.
The last stop of his tour will be at Magic City Classic football game between Alabama A&M and Alabama State University in Birmingham on Oct. 27 at Legion Field.
At the kick off event in Tuscaloosa Monday, Maddox said he was running for governor because of his two kids, Taylor and Eli, who joined him at the event along with his wife.
"Our state is not where it needs to be," Maddox said. "We are at or near the bottom in everything that matters — everything. And they deserve to grow up in a state that can provide them the opportunities that I've had and that your families have had. And this is the pivotal moment."
Maddox said he would continue to push hard for an education lottery and Medicaid, two issues he said would appeal to crossover and moderate voters.
"I'm willing to tell the truth to things that matter," Maddox said when asked how he would appeal to Republicans in a deeply red state that hasn't elected a Democratic governor since 1998.
"If you're in Haleyville, Alabama, right now, you've had to experience an increase in taxes because your hospital is on the verge of closing," Maddox said. "If you're in Alex City right now, your hospital could close all because, whether you're Haleyville or Alex City, because we didn't expand Medicaid."
Maddox said the state's road and bridges are inadequate to handle 21st Century traffic, and the state's schools are behind in offering a 21st Century education.
"Too many families woke up this morning and saw they were sending their children to schools that are not going to meet a technology-driven economy," Maddox said.
And the Democrat said Ivey, who has so far refused to debate him ahead of the Nov. 6 election, is ducking those issues in favor of other, more controversial issues that will turn out her conservative base.
"How do you get moderates, moderate Republicans and independents to vote for you? You talk about more important things than monuments," Maddox said.
Maddox also promised to address mental health issues and overcrowded prisons during a 10-minute question-and-answer session with reporters who attended the kick-off event.
"Those are things that people care about, not this nonsense of political rhetoric. They want results, and that's what we are going to deliver as governor," Maddox said.
When asked what he thinks about Ivey's decision not to debate him, he said it wasn't a slight against him, but a slight against the people of Alabama, who he said deserve a debate.
"It doesn't hurt me that she doesn't want to debate. It hurts the people of Alabama," Maddox said. "Think how many schools today — nearly a hundred schools in our state are struggling  — doesn't she owe the parents at those school a debate?"
The Democrat said Ivey should also answer pressing questions about prisons, infant mortality and access to health care before the election in 50 days.
,
Print this piece
Alabama House Minority Leader Anthony Daniels endorses Mike Bloomberg for president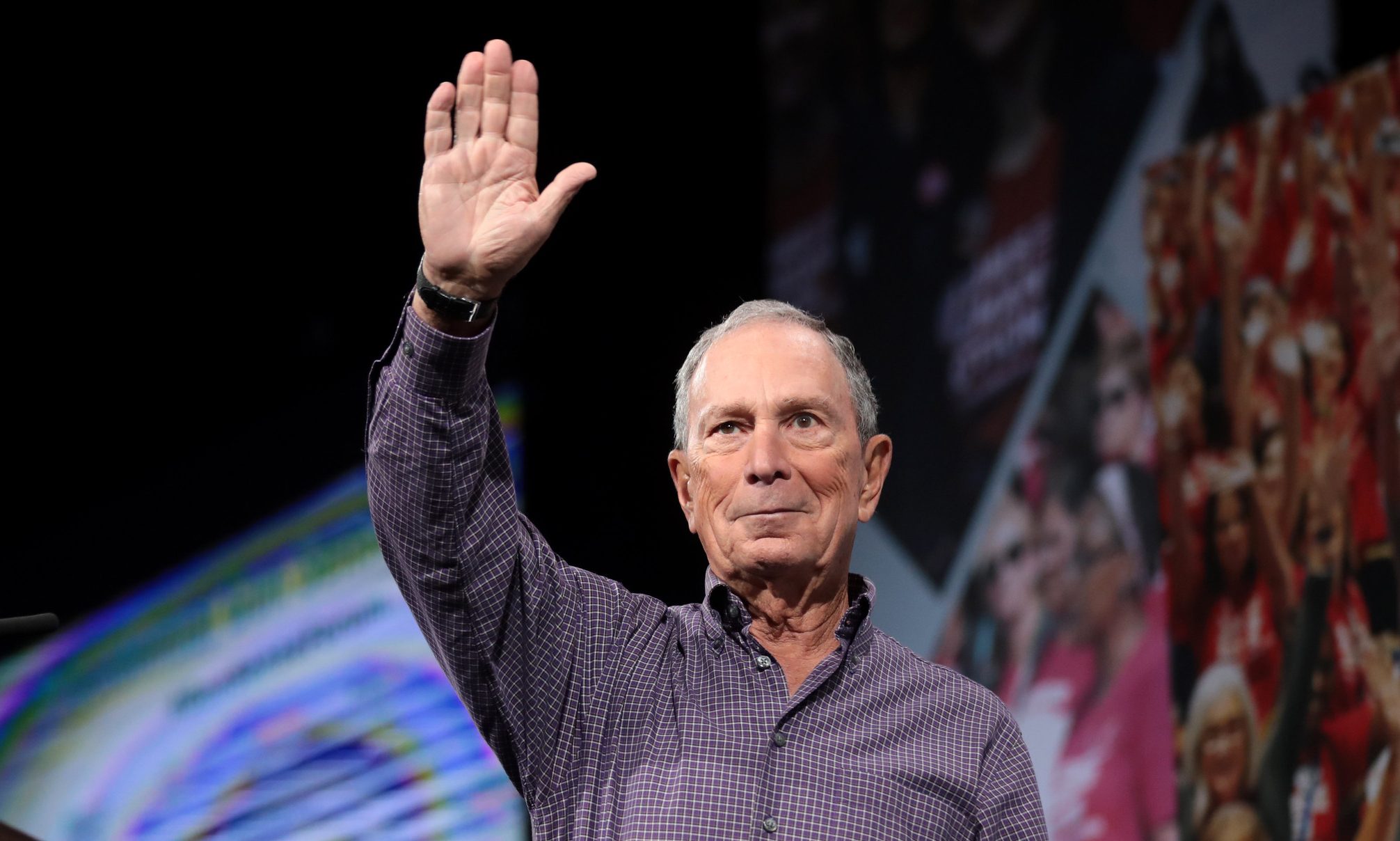 Alabama House Minority Leader Anthony Daniels announced his endorsement of Democratic presidential candidate Mike Bloomberg today, 4 days ahead of Alabama's primary election on Super Tuesday. Daniels joins State Senate Minority Leader Bobby Singleton and Black Caucus Chair Representative A.J. McCampbell in support of Mike. In his endorsement, Rep. Daniels cited Mike's work taking on tough fights on health care, public education, and supporting small businesses.
"We need a president who has a proven record of bringing people together to tackle the tough challenges we face in this country, and I can't think of anyone better to do that than Mike Bloomberg," said Rep. Daniels. "Not only is Mike the best positioned to take on Trump, but he has also proven he can deliver on his promises to make this country better for all. Alabamians should know that when I head to the polls this Tuesday, I'll be proudly casting my vote for Mike Bloomberg."
Rep. Anthony Daniels represents the 53rd District in the Alabama State House of Representatives, where, since 2017, he has served as minority leader. Rep. Daniels received his Bachelor's and Master's degree from Alabama A&M University. A former public school teacher and small business owner, Daniels is known for championing innovative education programs, like the Alabama School of Cyber Technology and Engineering, that prepare young people for promising careers, cultivate homegrown talent, and drive economic growth. Under his leadership, the House Democratic Caucus has made significant strides in addressing key issues like support for cradle-to-Pre-K programs, proven workforce development, and job readiness initiatives, and bringing broadband access to rural areas. They have also succeeded in preventing the passage of partisan legislation that hurts working families.
"Alabamians know how important this election is for the future of our country, and that's why they're supporting Mike Bloomberg, a doer and not a talker with a record of not shying away from tough fights," said Bradley Davidson, Mike Bloomberg 2020 Alabama State Advisor. "We're honored to have the support of Rep. Daniels, a respected leader in Alabama and beyond, and we look forward to working together with him to get Mike elected."
Mike Bloomberg will return to Alabama on Sunday, March 1 to participate in the 55th annual Selma bridge crossing to commemorate Bloody Sunday. Additionally, Bloomberg visited Montgomery earlier this month for an organizing event and to speak at the 60th annual Alabama Democratic Conference (ADC) Convention, the Alabama Democratic Party's largest Black caucus. He later received the endorsement of the group.
Print this piece