Maddox touts plans to expand Medicaid, launch education lottery at bus tour kick off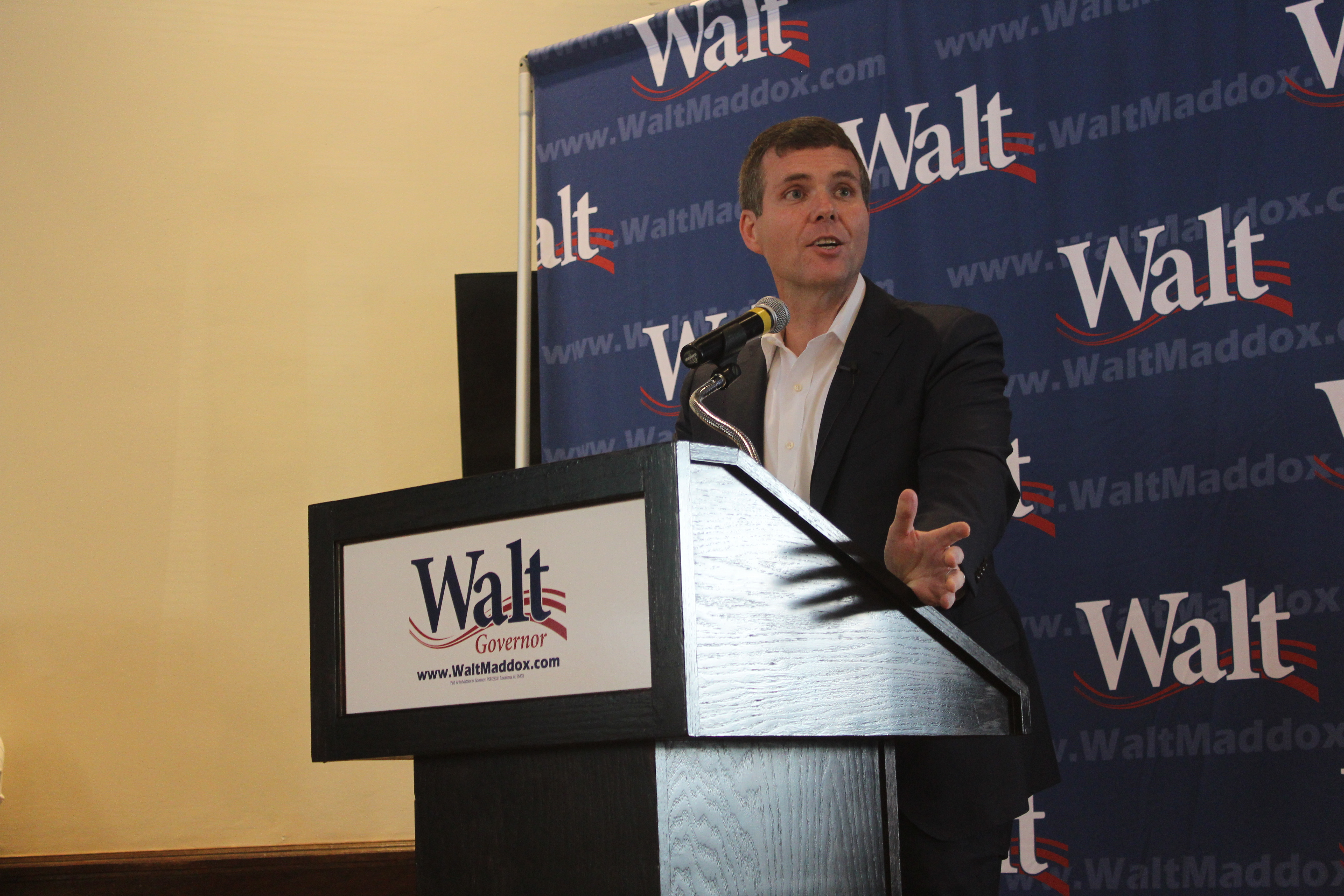 Democratic gubernatorial candidate Walt Maddox promoted his plans to establish a state education lottery and expand Medicaid at the kick off of his statewide bus tour in Tuscaloosa on Monday.
Maddox is attempting to make gains against sitting Gov. Kay Ivey by visiting 35 different stops on the tour. After the launch in Tuscaloosa, Maddox stopped at the Walker County Kiwanis in Jasper on Monday.
Later this week, he'll visit the Shelby County Democrats in Pelham on Thursday and attend the Dr. Yvonne Kennedy Community Service Awards Banquet in Mobile on Friday.
The last stop of his tour will be at Magic City Classic football game between Alabama A&M and Alabama State University in Birmingham on Oct. 27 at Legion Field.
At the kick off event in Tuscaloosa Monday, Maddox said he was running for governor because of his two kids, Taylor and Eli, who joined him at the event along with his wife.
"Our state is not where it needs to be," Maddox said. "We are at or near the bottom in everything that matters — everything. And they deserve to grow up in a state that can provide them the opportunities that I've had and that your families have had. And this is the pivotal moment."
Maddox said he would continue to push hard for an education lottery and Medicaid, two issues he said would appeal to crossover and moderate voters.
"I'm willing to tell the truth to things that matter," Maddox said when asked how he would appeal to Republicans in a deeply red state that hasn't elected a Democratic governor since 1998.
"If you're in Haleyville, Alabama, right now, you've had to experience an increase in taxes because your hospital is on the verge of closing," Maddox said. "If you're in Alex City right now, your hospital could close all because, whether you're Haleyville or Alex City, because we didn't expand Medicaid."
Maddox said the state's road and bridges are inadequate to handle 21st Century traffic, and the state's schools are behind in offering a 21st Century education.
"Too many families woke up this morning and saw they were sending their children to schools that are not going to meet a technology-driven economy," Maddox said.
And the Democrat said Ivey, who has so far refused to debate him ahead of the Nov. 6 election, is ducking those issues in favor of other, more controversial issues that will turn out her conservative base.
"How do you get moderates, moderate Republicans and independents to vote for you? You talk about more important things than monuments," Maddox said.
Maddox also promised to address mental health issues and overcrowded prisons during a 10-minute question-and-answer session with reporters who attended the kick-off event.
"Those are things that people care about, not this nonsense of political rhetoric. They want results, and that's what we are going to deliver as governor," Maddox said.
When asked what he thinks about Ivey's decision not to debate him, he said it wasn't a slight against him, but a slight against the people of Alabama, who he said deserve a debate.
"It doesn't hurt me that she doesn't want to debate. It hurts the people of Alabama," Maddox said. "Think how many schools today — nearly a hundred schools in our state are struggling  — doesn't she owe the parents at those school a debate?"
The Democrat said Ivey should also answer pressing questions about prisons, infant mortality and access to health care before the election in 50 days.
,
Coalition of attorneys general file opposition to Alabama attempt to ban curbside voting
The AGs argue that Alabama's suggestion to the courts that curbside voting invites fraud is "unfounded."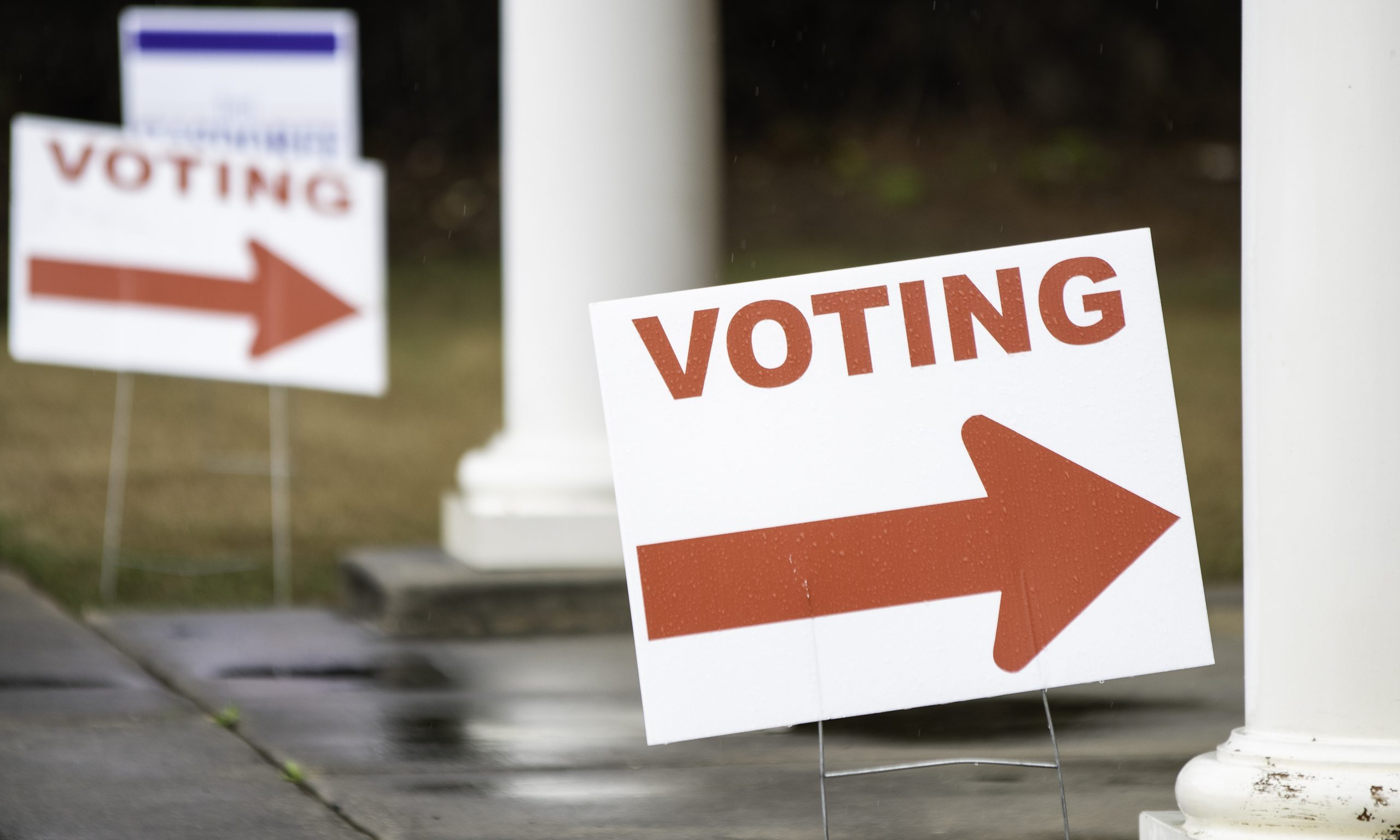 A coalition of 17 state attorneys general have filed an opposition to Alabama's attempt to get the U.S. Supreme Court to ban curbside voting. 
In a friend-of-the-court brief, led by District of Columbia Attorney General Karl Racine, the attorneys general argue to that curbside voting is safer for those at greatest risk from COVID-19, and that a ban on the practice would disproportionately impact the elderly, the disabled and Black Alabamians.
They also argue that Alabama's suggestion to the courts that curbside voting invites fraud is "unfounded." 
"The Presidential Advisory Commission on Election Integrity, established by President Trump following the 2016 election, 'uncovered no evidence to support claims of widespread voter fraud,'" the brief states, adding that there is no evidence that curbside voting in the many states that allow it invites fraud. 
"The practice is longstanding and widespread—as noted, more than half of states have historically offered curbside voting in some form," the brief continues. 
Alabama Attorney General Steve Marshall on Oct. 13 said the state will appeal to the U.S. Supreme Court a federal appeals court ruling allowing curbside voting in the Nov. 3 election. 
A panel of federal appeals court judges on Oct. 13 reversed parts of U.S. District Judge Abdul Kallon's Sept. 30 ordered ruling regarding absentee voting in the upcoming Nov. 3 elections, but the judges let the previous ruling allowing curbside voting to stand. 
The lawsuit, filed by the NAACP Legal Defense and Educational Fund, Southern Poverty Law Center, American Civil Liberties Union, ACLU of Alabama and Alabama Disabilities Advocacy Program, was brought on behalf of several Alabamians with underlying medical conditions. 
"Curbside voting is a longstanding, secure voting option that local jurisdictions have made available to protect the health of vulnerable voters, including elderly, disabled, and voters with underlying health issues," Racine said in a statement. "Curbside voting minimizes the risk to persons who are particularly susceptible to COVID-19, and local jurisdictions should be able to offer this common-sense accommodation to voters. State Attorneys General will keep fighting to ensure that voters can safely make their voices heard at the ballot box this November."
The brief filed by the coalition of state attorneys general comes as the number of COVID-19 hospitalizations across Alabama has been ticking upward.
Racine is joined in the brief by attorneys general from California, Connecticut, Delaware, Hawaii, Illinois, Maryland, Michigan, Minnesota, Nevada, New Mexico, New York, Oregon, Rhode Island, Vermont, Virginia and Washington.