Small business group endorses Kay Ivey for governor
Tuesday, September 18, 2018 the NFIB Alabama Political Action Committee has endorsed Kay Ivey for governor. The National Federation of Independent Businesses is the nation's leading small-business association. NFIB State Director Rosemary Elebash announced the endorsement Monday at a news conference at Southern Distributor/Auto Electric and Carburetor Co., an NFIB member business in Birmingham.
The NFIB Alabama PAC's endorsement is based on the candidate's record and position on small-business issues.
"Kay Ivey is the clear choice for Alabama's small businesses," Elebash said. "Kay Ivey is a strong leader who understands the challenges facing Alabama's job creators. She opposes higher taxes and burdensome rules and regulations that would make it harder for small businesses to succeed and create jobs. This spring, she signed legislation prohibiting cities from requiring companies to purchase a municipal business license before driving through their jurisdictions for work purposes."
"As Governor, I have made it my job to create a strong environment for job creation," Gov. Ivey said. "That's why I've worked closely with the NFIB and the state Legislature, signing the largest tax cut in a decade and eliminating unnecessary regulations that make it more difficult and more expensive to do business. Being endorsed for Governor by Alabama's small businesses is truly an honor. I am grateful for their trust, support and everything they do to keep Alabama working!"
"Since taking office a little over a year ago, Governor Ivey has announced more than 15,500 new jobs and more than $8 billion in capital investment, creating exciting new opportunities for all kinds of small businesses," Elebash added. "Under her leadership, our pro-business climate has received national recognition from the likes of the influential Business Facilities magazine, and Alabama's employment rate is the highest it's ever been."
The President of Southern Distributors Steve Kampwerth said, "I would lie to welcome our guests including our esteemed guest, Governor Kay Ivey."
Kampwerth personally thanked Gov. Ivey for her support for Senate Bill 316 during the last legislative session. "This bill established a 10,000 maximum before they had to apply for a local delivery license. As an auto parts distributer, we had to apply for hundreds of these licenses annually. Thank you governor for supporting this bill."
Director Elebash said that each election, "We send a ballot to each of our members statewide. For the very first time since I have been here, Governor Ivey received the endorsement of 98 percent of our members. That is a record."
Gov. Ivey was elevated to the office in April of 2017 Elebash said. "The NFIB has passed more than 80 small business bills in that period of time."
"It is my honor to be here and spend time to people like you that our devoted to keeping Alabama working," Gov. Ivey said. "Job creators are important to keep Alabama working."
"It is not enough for our business to survive but to thrive," Ivey said.
Elebash promised that, We will be working each day to make sure that our member are out working to help turn out the powerful small-business voting bloc on Election Day.
Reporters asked Ivey about her school sentry program that allows schools to arm one administrator.
"It is up to each school system to make their own decision," Ivey said on whether or not they participate in the program.
Ivey said that she was not surprised by the recent court decision against the Alabama prison system and said that the prison system was working on filling its staffing shortage.
"We are working best and fast as we can," she said. "Just because you have to hire more folks, it doesn't mean they are available." The prisons, "Are an Alabama problem, it will be solved by Alabamians."
On Friday, U.S. District Judge Myron Thompson, a Jimmy Carter appointee, ordered the state to show why it should not be held in contempt of court for failing to meet his deadline for increasing the number of staff devoted to mental health in the prisons. The Southern Poverty Law Center is suing the state and the Alabama Department of Corrections on behalf of the convicts claiming that the lack of mental health staff amounts to cruel and unusual punishment under the Eighth Amendment of the U.S. Constitution.
The Alabama Political Reporter asked Director Elebash why they were not supporting Tuscaloosa Mayor Walter "Walt" Maddox (D) who has promised a lottery as a solution for some of the state's revenue problems.
"We consider that as more of a social issue," Elebash said. "None of my members have said that to me. My members have real world problems. They call me and say I have a problem," with a regulation or something, such as like the issue here about the local delivery licenses. "Governor Ivey has been real good at working with us."
"Gov. Ivey is all about action, not words," Elebash said.
The NFIB said in a statement that "Today's endorsement puts the considerable grassroots support of the state's small businesses behind the governor's campaign. Small-business owners and their employees vote in high numbers and are known for recruiting friends, family members and acquaintances to vote. NFIB will encourage its Alabama members to help turn out the powerful small-business voting bloc on Election Day."
For more than 75 years, NFIB has been the voice of small business, advocating on behalf of America's small and independent business owners, both in Washington, D.C., and in all 50 state capitals. The NFIB is nonprofit, nonpartisan, and member-driven. Since its founding in 1943, NFIB has been exclusively dedicated to small and independent businesses and remains so today.
Print this piece
Opponents accuse Tuberville of supporting amnesty for undocumented immigrants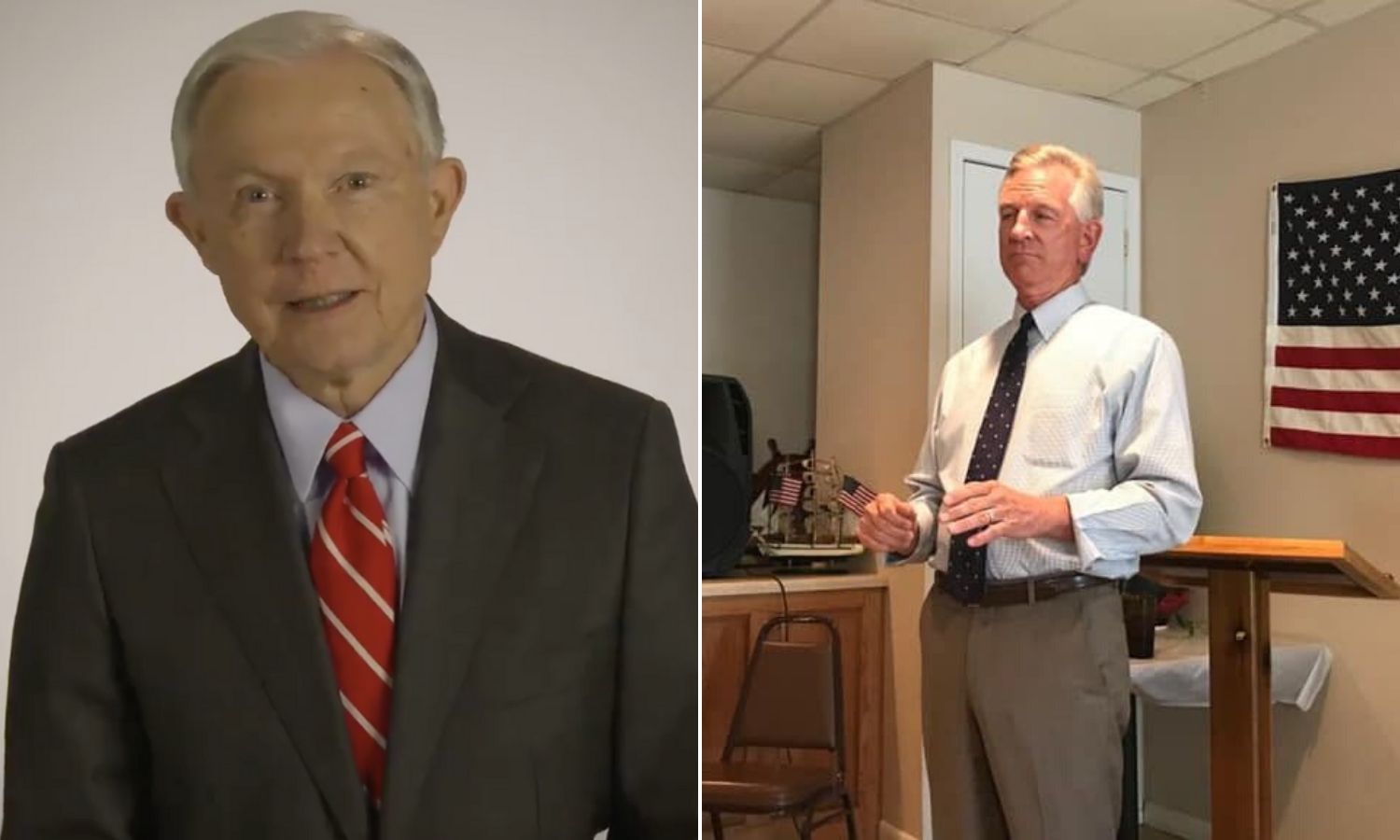 The Senate campaign is heating up as the top three candidates are all going negative. Former Auburn head football coach Tommy Tuberville has attacked Congressman Bradley Byrne (R-Montrose) and former Attorney General and Senator Jeff Sessions of being career politicians. Both Byrne and Tuberville have attacked Sessions for not having adequately served President Donald J. Trump (R) while Attorney General. Byrne has even attacked Tuberville's coaching abilities. The latest attacks on Tuberville accuse him of supporting amnesty for illegal aliens. Sessions even accused Tuberville of being a "tourist."
Wednesday, Sessions announced a new television ad called "Tuberville for Amnesty."
Byrne and Tuberville point to an August speech by Coach Tuberville when he said: "There are people coming across the border that need jobs… and we want them to come over here… Let em' come in and become citizens like we all became citizens."
The Tuberville campaign called the attack "fake news" on Twitter.
Sessions' campaign manager Jon Jones said, "Tuberville is claiming that his own words are 'fake news.' All of them? Tommy Tuberville needs to read the transcript. It is clear that Tuberville supports immigration amnesty, and he is attempting to trick Alabama voters to believe otherwise. In contrast, Jeff Sessions has done more than just say he wants to fix the border – he has already worked alongside President Trump to stop illegal immigration."
The new Sessions ad reads: "Tuberville is trying to trick you, hiding his support for immigration amnesty." Then plays an audio clip of the Tuberville comment from August
Tuesday, Byrne told reporters in Trussville: "I can tell you right now this issue about Tommy Tuberville's position on amnesty is a key issue. And so we're going to keep telling people about his position on that and let him explain why he doesn't think that's amnesty."
"Let em' come in and become citizens like we all became citizens," Tuberville is quoted in the ad.
Tuberville has denied supporting amnesty and says that he supports President Trump's immigration agenda.
The Sessions ad further charges: "And Tuberville's not even from Alabama, he's a tourist here. He lives, pays taxes and even votes in Florida."
On Tuesday, the Tuberville campaign responded with an attack ad of their own.
"The career politicians are desperate to hang on to their paychecks and power, so they have started airing negative ads full of false attacks and baseless distortions," Tuberville said. "Our new commercial allows us to respond with some hard truths about which candidate wants to drain the D.C. swamp and is tough enough to actually help President Trump get the job done."
The Tuberville ad has Byrne with former Secretary Hillary Clinton and Sessions with Congressman Adam Schiff (D-California) who led the impeachment effort against President Trump. The ad even connects Sessions and Byrne with Sen. Mitt Romney (the only Republican in either House of Congress who found that the President did anything wrong.)
State Representative Arnold Mooney, former Chief Justice Roy Moore, Ruth Page Nelson, and businessman Stanley Adair are also running for the Republican nomination for the Senate seat currently held by Doug Jones (D).
The Republican primary is March 3.
Print this piece