Jay Mitchell campaigns in St. Clair County
Republican nominee for the Alabama Supreme Court Jay Mitchell addressed the influential St. Clair County Republican Party at City Market Grill in Pell City Thursday.
Mitchell said that he wants to go to Montgomery and be part of, "Restoring confidence in what we do in Montgomery."
Jay Mitchell said that he was born in Mobile and grew up in the Wiregrass. When he was ten, his family moved to Homewood. Mitchell went to Birmingham Southern where he played basketball and was part of a Division 3 basketball national championship team. Mitchell went to the University of Virginia School of Law, where he met his wife.
Mitchell and his wife, Elizabeth live in Homewood, with their four children. Jay is a partner with Maynard, Cooper & Gale in Birmingham. He has handled numerous cases at both the trial and appellate levels. He is recognized as one of the top attorneys in the United States
Mitchell said that if he is elected to the Alabama Supreme Court he is going to focus on what does the law say. "I believe that we have a responsibility as the Judiciary to stay on the right side of our boundary line and not become some sort of a super legislative group."
"I am not running for a paycheck, I am not running for a safe seat," Mitchell said. I am going to Montgomery to work.
Mitchell said that he is glad that if he goes to Montgomery that St. Clair County District Attorney Richard Minor (R) will be working in the Judicial Building with him. Minor is the Republican nominee for the Court of Criminal Appeals. Minor has no Republican opponent.
Mitchell said that retired St. Clair County Judge Jim Hill does a great job representing St. Clair County in the Alabama legislature.
Mitchell said that "there is a great forgetting going on" right now. We are forgetting how the country was founded, the liberties guaranteed by the Constitution, and how men have sacrificed to protect our liberties. Mitchell promised that if he is elected to the Alabama Supreme Court that he will take time to talk to school groups. I am committed to do my part to help educate the next generation about this country.
Mitchell's race is one of just two state appellate court races where the Democrats fielded a candidate. Mitchell faces Jasper attorney Donna Wesson Smalley (D) in the November general election.
Associate Justice Tom Parker (R) is running against Jefferson County Judge Robert Vance (D) for Chief Justice of the Alabama Supreme Court.
Former St. Clair Republican Party Chairman Paul Thibado said that we need to put a lot of effort into recruiting new people particularly young people to the county party. St. Clair County should be an industrial mecca.
St. Clair County Republican Party Chairman Lance Bell said that the newly elected St. Clair County Republican Party representative on the State Republican Executive Committee Emory Cox has had to resign his post because he has taken a job in the White House.
The St. Clair County Party Executive Committee members there elected St. Clair County School Board Attorney John Rhea to fill the vacancy. There was no opposition.
Bell said that Richard Minor was also stepping down from the State Republican Executive Committee and that the county party executive committee will vote on his replacement next month. The October meeting is tentatively set to be held in Moody.
St. Clair County Circuit Clerk Annette Manning Hall reminded the Republicans present that absentee ballots become available at her office on Monday, September 24.
Bell said that Kay Ivey's St. Clair County Chairman Bill Morris was going to need help manning stations at the polls on election day.
Gov. Kay Ivey (R) faces Tuscaloosa Mayor Walter "Walt" Maddox (D).
Print this piece
Sessions: FFRF's demands that Ivey stop praying is ridiculous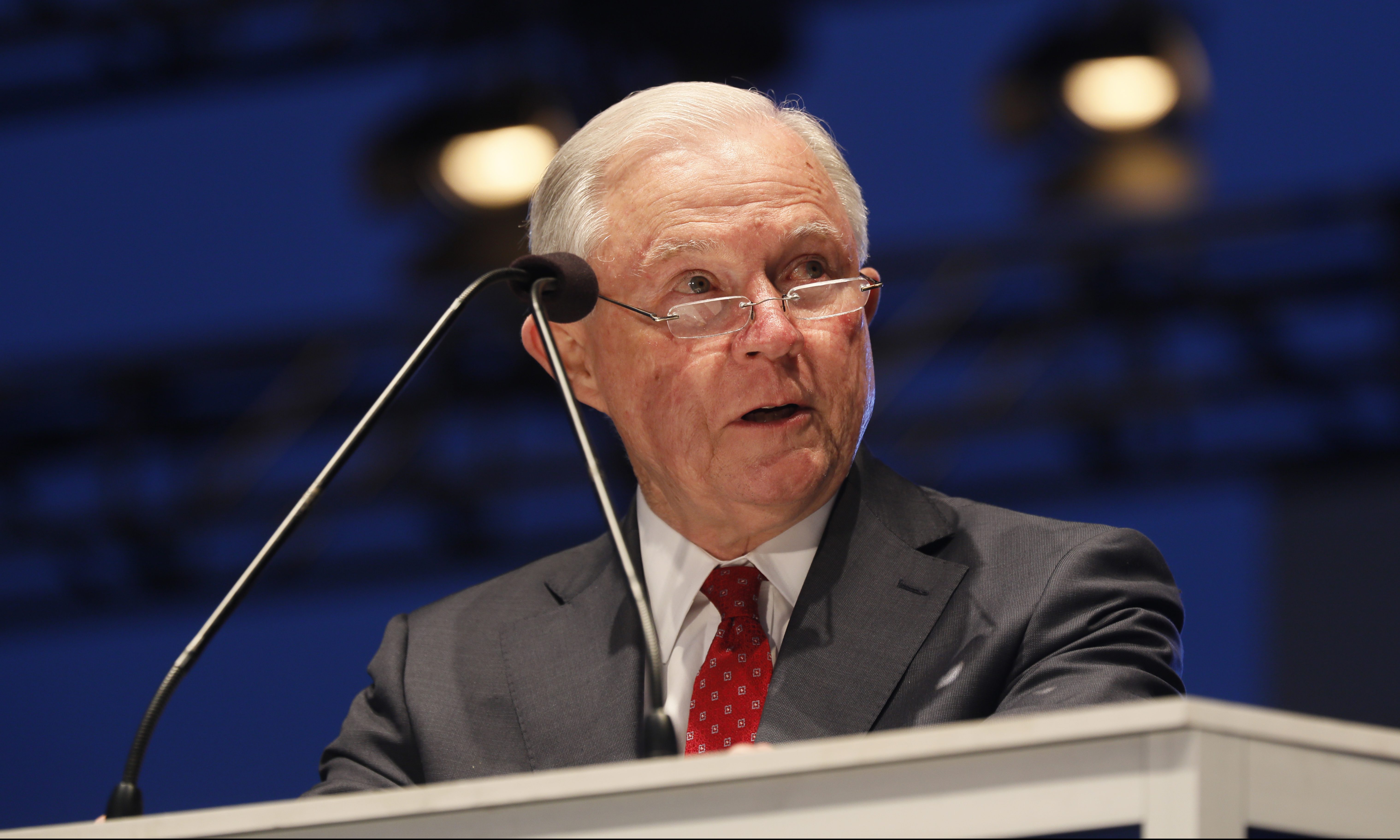 Wednesday, former Senator and GOP Senate candidate Jeff Sessions, R-Alabama, said that Alabamians will not be intimidated by the Freedom From Religion Foundation. Sessions was responding to a letter that the FFRF sent to Alabama Governor Kay Ivey (R) demanding that she stop praying at press conferences and citing scriptures.
"This is RIDICULOUS," Sessions said. "Alabamians will NOT be intimidated by Freedom From Religion Foundation atheists spouting constitutional heresies in their war on religion. My friend Governor Kay Ivey is completely within her God-given and constitutional rights to pray for Alabama, and I stand with her!"
"The FRFF atheists want to force Governor Ivey and all public officials to hide their deeply-held convictions," Sessions continued. "THEY are trying to impose their views AGAINST religion on US! Gov. Ivey calling for prayer for our great state & country is NOT her forcing Christianity on anyone."
"The Constitution guarantees EVERY American, even public officials, the right to freely exercise their religion," Sessions stated. "It's time this country REJECT the FRFF's extreme and unconstitutional view of religious liberty in America."
On Monday, the Wisconsin based Foundation chastised Gov. Ivey for, "Your use of your office to promote Christianity. FFRF's purposes are to protect the constitutional principle of separation between state and church and to educate the public on matters relating to non-theism."
The FFRF objected to Gov. Ivey's speech during Friday's press conference announcing that she was issuing a stay-at-home order for the State of Alabama to fight COVID-19.
"Multiple concerned Alabama residents reported that you used this official government event to promote your personal religious beliefs," the FFRF wrote. "In the middle of your speech you suddenly started preaching,"
"The good Lord reminds us in Isaiah 43:1-3, and I quote, "Do not fear for I am with you. Do not be dismayed for I am your God," Ivey said drawing the ire of the FFRF. "I will strengthen you and help you. I will uphold you with my righteous hand."
They also objected to Ivey's inviting Reverend Cromwell Handy from the Dexter Avenue King Memorial Baptist Church to speak at this official state-sponsored event."
"Reverend Handy delivered a 9-minute long sermon, during which he recited many different bible verses and referred to the pandemic as an opportunity given by God "to pause and reflect on His glory."" The FFRF continued. "To end the press conference, you asked Reverend Handy "to lead a prayer to God Almighty asking for his blessings.. Reverend Handy then led all of the government officials present in a lengthy formal prayer "in Jesus' name.""
The FFRF claimed that, "These actions amount to an endorsement of religion, specifically Christianity, in contravention of the Establishment Clause of the First Amendment."
"We urge you in the future to refrain from promoting religion in your official capacity as governor of Alabama," the FFRF stated.e
Sessions faces former Auburn head football Coach Tommy Tuberville in the Republican primary runoff on July 14. The winner of the runoff will face U.S. Senator Doug Jones (D-Alabama) in the November general election.
Sessions served in the Senate from 1997 to 2017. He left the Senate after he was confirmed as President Donald J. Trump's Attorney General and served in that role through November 2018. He was a late entry into the race for the Republican nomination for U.S. Senate.
Print this piece