Governor Ivey grand marshalls Winfield Mule Day Festival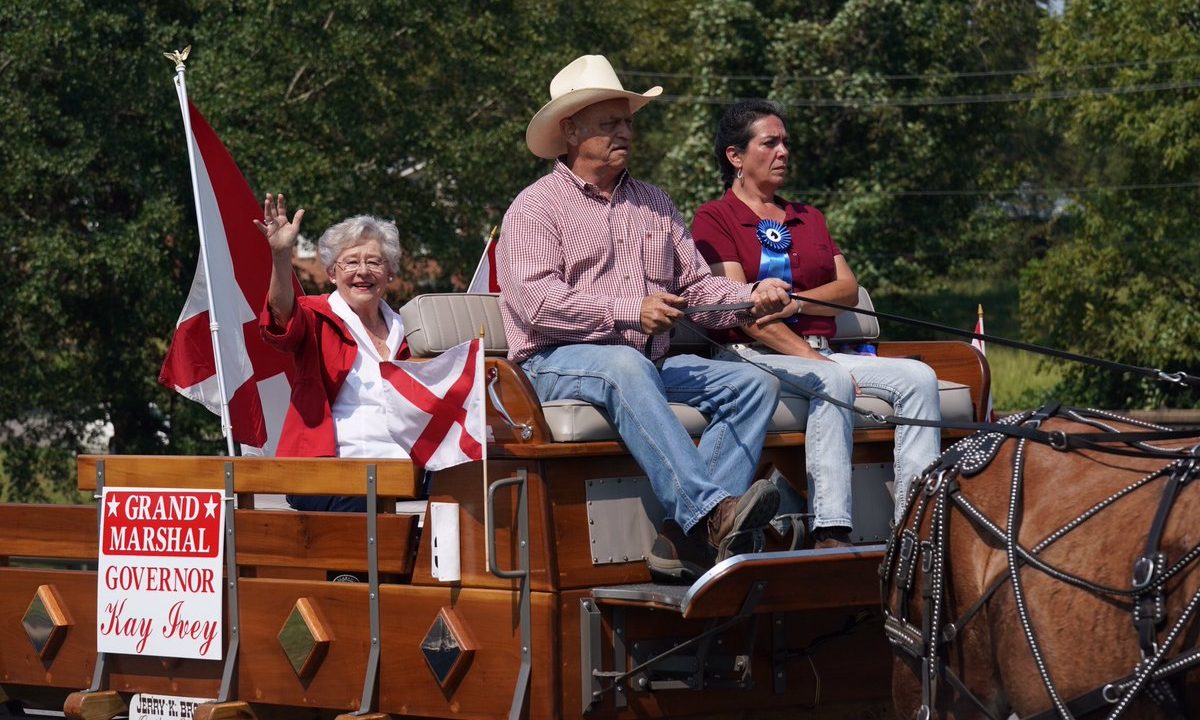 Saturday, Alabama Governor Kay Ivey (R) was on the campaign trail in Winfield where she was the grand marshal of the mule day festival.‏
"Glad to be in Winfield for the 44th Mule Day Festival!" Gov. Ivey said on social media. "It was such an honor serving as the grand marshal of the parade & being a part of this annual Alabama tradition. I enjoyed meeting the many festival goers & participants!"
Both Kay Ivey and her opponent, Tuscaloosa Mayor Walter "Walt" Maddox (D) were busy this weekend campaigning with just six weeks left until the November 6 general election. Maddox attended campaign appearances in Mobile.
Winfield's Mule Day began Friday with Mule Night Madness which was from around 6:00 pm until midnight. The Encore Mule Night 5K race was at midnight in downtown. On Saturday vendors opened their booths before 9:00 am and stayed open until the afternoon. The parade was at 11:00 am in historic downtown Winfield. The Civil War re-enactment of the Skirmish at Luxapillila Creek was at 2:00 pm on Saturday and 2:00 pm on Sunday at the park.
Winfield is in state Senate District Six, which is one of the most competitive state Senate races. Both incumbent Senator Dr. Larry Stutts (R-Sheffield) and challenger state Representative Johnny Mack Morrow (D-Red Bay) were also in the parade.
As Grand Marshal, Gov. Ivey rode in the lead wagon in the parade drawn by a pair of red mules. More mules pulling wagons followed, along with the Danville High School band, parade riders on horseback, antique tractors, beauty contest winners, and Civil War re-enactors.
Mule are the sterile hybrid offspring produced by crossing a horse with a donkey.  Mules played a tremendous role in American agriculture before being replaced by tractors.  George Washington was an early American mule breeder.
Organizers want anyone who is present to share their pictures of the 44th Mule Day festival.
"We NEED your HELP!! Please SHARE! Mule Day – Winfield, Alabama is collecting photographs from this years Mule Day. As many of you know, Winfield is getting their very own museum. We are needing as many photographs as possible to be a part of the Mule Day Collection. Please tag us and use the hashtag #muleday2018 #muledaywinfieldalabama. We want pictures of the parade, vendors, tractors, mules, car show, entertainment, carnival, Mule Night 5k Glow Run, civil war re-enactment & ball, your children, your family, your food experience, your shopping experience. Anything that pertains to Mule Day. Let's see 👀 those photographs! We hope you have a wonderful and fun time at Mule Day – Winfield, Alabama. September 21, 22 & 23, 2018 Winfield Main Street Program, Inc The Pastime Theatre Winfield, Alabama Skirmish At Luxapallila Creek/Mule Day/ Winfield, AL. Sept.22, 23-2018 Winfield Chamber of Commerce Encore Rehabilitation – Winfield Skirmish At Luxapallila Creek/Mule Day/ Winfield, AL. Sept.22, 23-2018 Winfield Main Street Program, Inc."
Gov. Ivey has been emphasizing the robust economy, her work in job creation, and the record low levels of unemployment.
"Alabama's pro business climate has earned yet another top 3 publication ranking!" Gov. Ivey announced on social media Friday. "Thank you @AreaDevelopment for recognizing the tremendous economic development efforts going on here. AL has an unparalleled workforce, & we're always looking to expand our #MadeinAL family!"
Maddox however is emphasizing the expansion of entitlements and will be holding a press conference on Monday in Montgomery to promote Medicaid expansion.
Print this piece
Secretary of State to evaluate all county registrars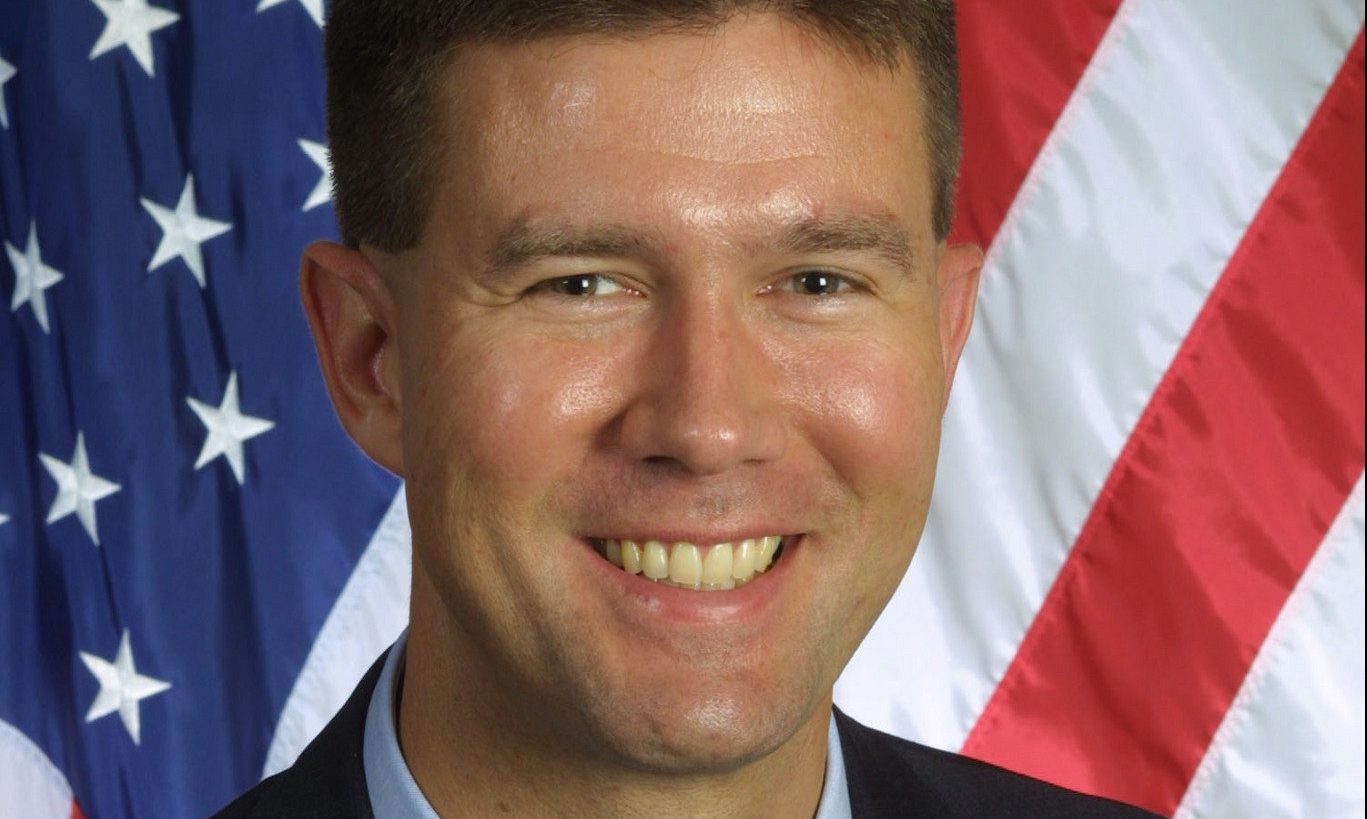 This week, Secretary of State John H. Merrill notified all 204 Registrars in the State of Alabama that their performances would be evaluated following the November 3, 2020 General Election.
"Every agent of the state should be held accountable for their actions – especially those who are tasked with protecting the opportunity for Alabamians to exercise their constitutional right to vote. These evaluations will ensure that Registrars are completing their duties in serving the people of their respective county," stated Secretary Merrill.
Beginning December 1, 2020, the Office of the Secretary of State will be traveling to all 67 counties to meet with and confirm whether or not each registrar is completing his or her assigned duties.
Section 17-4-35 of the Code of Alabama requires the Supervisor of Voter Registration to evaluate Registrars on the performance of their lawful functions. Section 17-3-2 requires the Secretary of State to prescribe guidelines to assist the State Board of Appointment to determine the qualifications of the members of the Boards of Registrars.
The qualifications are as follows:
Capable of following Alabama's Ethics Laws
Self-motivated, reliable, responsible, accountable
Resident of county
Qualified elector of county (registered to vote)
High school diploma or equivalent
Computer skills (Microsoft Office competency including Word, Excel, Outlook)
Proficient in utilizing an email account
Proficient in typing (word and data processing)
Ability to utilize a computer, scanner, printer, label-maker, and camera
Map reading skills (understanding of local, county, and state district lines, precincts, and polling places)
Excellent communication and organizational skills, including customer service skills to assist citizens, voters, election officials, and other offices in-person, by email, and via telephone
Understanding and willingness to express office etiquette
Ability to work Monday through Friday and some weekends during intervals of the year in preparation of local, county, and state elections
Reliable and responsible for working assigned days as agreed upon by the Board of Registrars
Must be willing to consider the registrar position as the primary occupation, and must be available for working the normal business hours of the office
Must have reliable transportation to and from the office location
Understanding of confidentiality and security of private information
Willing to retain and protect private information not available to the public
Ability to travel to mandatory training sessions one or more times a year throughout the state
Required to be a team player and work alongside two other board members in close proximity in the office setting
Understanding of Title 17 of the Code of Alabama, the Alabama Administrative Code, and Alabama Attorney General Opinions that apply to the position
Willingness to study and learn daily functions of the office using the Alabama Boards of Registrars Handbook and other guidance from the Alabama Secretary of State
Proficient in managing, filing, and storing extremely important and permanent documents received in the office, including voter registration applications and voter file maintenance records
Capable of learning to utilize multiple systems of software related to voter registration and the Alabama free Photo Voter ID
Must be unbiased and completely non-partisan during office hours and during any point in which representing the office
Ability to form positive working relationships with local, county, and state election officials and be cooperative and professional when working with other offices
Evaluations will be made public, following completion.
Print this piece