Governor Ivey grand marshalls Winfield Mule Day Festival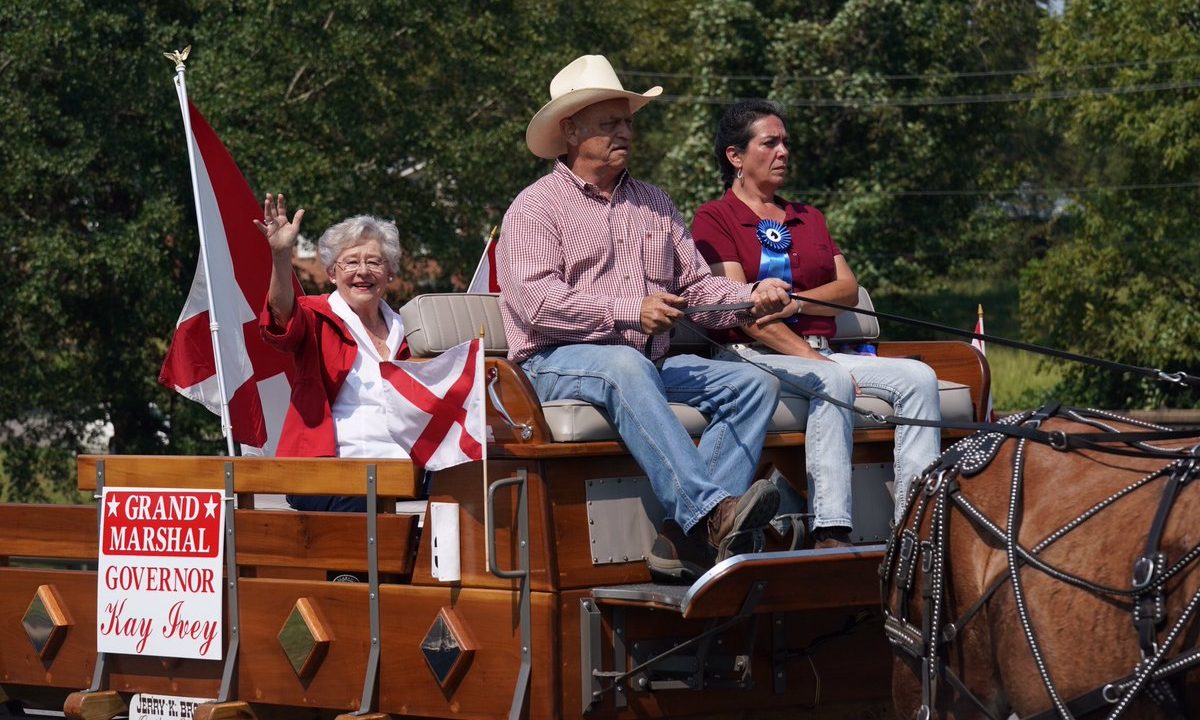 Saturday, Alabama Governor Kay Ivey (R) was on the campaign trail in Winfield where she was the grand marshal of the mule day festival.‏
"Glad to be in Winfield for the 44th Mule Day Festival!" Gov. Ivey said on social media. "It was such an honor serving as the grand marshal of the parade & being a part of this annual Alabama tradition. I enjoyed meeting the many festival goers & participants!"
Both Kay Ivey and her opponent, Tuscaloosa Mayor Walter "Walt" Maddox (D) were busy this weekend campaigning with just six weeks left until the November 6 general election. Maddox attended campaign appearances in Mobile.
Winfield's Mule Day began Friday with Mule Night Madness which was from around 6:00 pm until midnight. The Encore Mule Night 5K race was at midnight in downtown. On Saturday vendors opened their booths before 9:00 am and stayed open until the afternoon. The parade was at 11:00 am in historic downtown Winfield. The Civil War re-enactment of the Skirmish at Luxapillila Creek was at 2:00 pm on Saturday and 2:00 pm on Sunday at the park.
Winfield is in state Senate District Six, which is one of the most competitive state Senate races. Both incumbent Senator Dr. Larry Stutts (R-Sheffield) and challenger state Representative Johnny Mack Morrow (D-Red Bay) were also in the parade.
As Grand Marshal, Gov. Ivey rode in the lead wagon in the parade drawn by a pair of red mules. More mules pulling wagons followed, along with the Danville High School band, parade riders on horseback, antique tractors, beauty contest winners, and Civil War re-enactors.
Mule are the sterile hybrid offspring produced by crossing a horse with a donkey.  Mules played a tremendous role in American agriculture before being replaced by tractors.  George Washington was an early American mule breeder.
Organizers want anyone who is present to share their pictures of the 44th Mule Day festival.
"We NEED your HELP!! Please SHARE! Mule Day – Winfield, Alabama is collecting photographs from this years Mule Day. As many of you know, Winfield is getting their very own museum. We are needing as many photographs as possible to be a part of the Mule Day Collection. Please tag us and use the hashtag #muleday2018 #muledaywinfieldalabama. We want pictures of the parade, vendors, tractors, mules, car show, entertainment, carnival, Mule Night 5k Glow Run, civil war re-enactment & ball, your children, your family, your food experience, your shopping experience. Anything that pertains to Mule Day. Let's see 👀 those photographs! We hope you have a wonderful and fun time at Mule Day – Winfield, Alabama. September 21, 22 & 23, 2018 Winfield Main Street Program, Inc The Pastime Theatre Winfield, Alabama Skirmish At Luxapallila Creek/Mule Day/ Winfield, AL. Sept.22, 23-2018 Winfield Chamber of Commerce Encore Rehabilitation – Winfield Skirmish At Luxapallila Creek/Mule Day/ Winfield, AL. Sept.22, 23-2018 Winfield Main Street Program, Inc."
Gov. Ivey has been emphasizing the robust economy, her work in job creation, and the record low levels of unemployment.
"Alabama's pro business climate has earned yet another top 3 publication ranking!" Gov. Ivey announced on social media Friday. "Thank you @AreaDevelopment for recognizing the tremendous economic development efforts going on here. AL has an unparalleled workforce, & we're always looking to expand our #MadeinAL family!"
Maddox however is emphasizing the expansion of entitlements and will be holding a press conference on Monday in Montgomery to promote Medicaid expansion.
U.S. Supreme Court rules Alabama can ban curbside voting
"The District Court's modest injunction is a reasonable accommodation, given the short time before the election," the three dissenting justices wrote.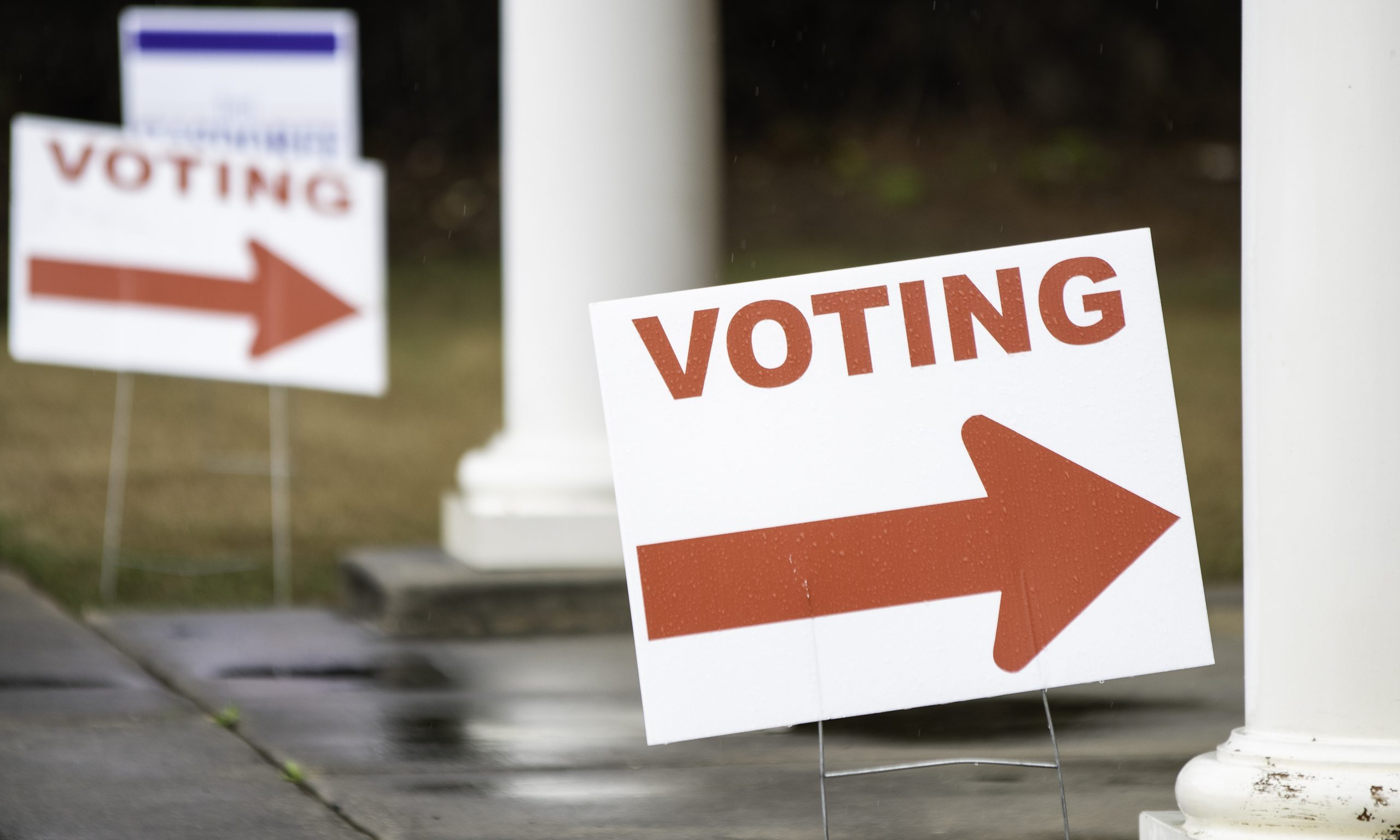 The Supreme Court, in a 5-3 decision, allowed Alabama Secretary of State John Merrill to ban curbside voting, staying a district court injunction that had allowed some counties to offer curbside voting in the Nov. 3 election amid the COVID-19 pandemic.
The Supreme Court's majority in its order declined to write an opinion, but Justices Stephen Breyer, Elena Kagan and Sonya Sotomayor's five-page dissent is included.

The lawsuit — filed by the NAACP Legal Defense and Educational Fund, Southern Poverty Law Center, American Civil Liberties Union, ACLU of Alabama and Alabama Disabilities Advocacy Program — was brought on behalf of several older Alabamians with underlying medical conditions.
"The District Court's modest injunction is a reasonable accommodation, given the short time before the election," the three dissenting justices wrote. 
Sotomayor, who wrote the dissent, closed using the words of one of the plaintiffs in the case. 
"Plaintiff Howard Porter Jr., a Black man in his seventies with asthma and Parkinson's disease, told the District Court, '[So] many of my [ancestors] even died to vote. And while I don't mind dying to vote, I think we're past that – We're past that time,'" Sotomayor wrote. 
Alabama Secretary of State John Merrill on Wednesday applauded the Supreme Court's decision. 
"I am proud to report the U.S. Supreme Court has now blocked a lower court's order allowing the fraudulent practice of curbside voting in the State of Alabama," Merrill said in a statement. "During the COVID-19 pandemic, we have worked diligently with local election officials in all 67 counties to offer safe and secure voting methods – including through the in-person and mail-in processes. I am glad the Supreme Court has recognized our actions to expand absentee voting, while also maintaining the safeguards put into place by the state Legislature."
"The fact that we have already shattered voter participation records with the election still being 13 days away is proof that our current voting options are easy, efficient, and accessible for all of Alabama's voters," Merrill continued. "Tonight's ruling in favor of election integrity and security is once again a win for the people of Alabama."
Sherrilyn Ifill, president and director-counsel of the NAACP Legal Defense and Education Fund, expressed frustration after the ruling in a tweet.
"Another devastating loss for voters and a blow for our team fighting to ensure safe voting for Black and disabled voters in Alabama. With no explanation, the SCOTUS allows Alabama to continue making it as hard as possible for COVID-vulnerable voters," Ifill wrote.
Curbside voting is not explicitly banned by state law in Alabama, but Merrill has argued that because the practice is not addressed in the law, he believes it to be illegal. 
A panel of federal appeals court judges on Oct. 13 reversed parts of U.S. District Judge Abdul Kallon's Sept. 30 order ruling regarding absentee voting in the upcoming Nov. 3 elections, but the judges let the previous ruling allowing curbside voting to stand. 
In his Sept. 30 ruling, Kallon wrote that "the plaintiffs have proved that their fears are justified" and the voting provisions challenged in the lawsuit "unduly burden the fundamental Constitutional rights of Alabama's most vulnerable voters and violate federal laws designed to protect America's most marginalized citizens."
Caren Short, SPLC's senior staff attorney, in a statement said the Supreme Court's decision has curtailed the voting rights of vulnerable Alabamians.
"Once again, the Supreme Court's 'shadow docket' – where orders are issued without written explanation – has curtailed the voting rights of vulnerable citizens amidst a once-in-a-century public health crisis. After a two-week trial, a federal judge allowed counties in Alabama to implement curbside voting so that high-risk voters could avoid crowded polling locations," Short said. "Tonight's order prevents Alabama counties from even making that decision for themselves. Already common in states across the South and the country before 2020, curbside voting is a practice now encouraged by the Centers for Disease Control and Prevention (CDC). It should be a no-brainer to implement everywhere during a pandemic; the Alabama Secretary of State unfortunately disagrees, as does the Supreme Court of the United States."