Governor Ivey grand marshalls Winfield Mule Day Festival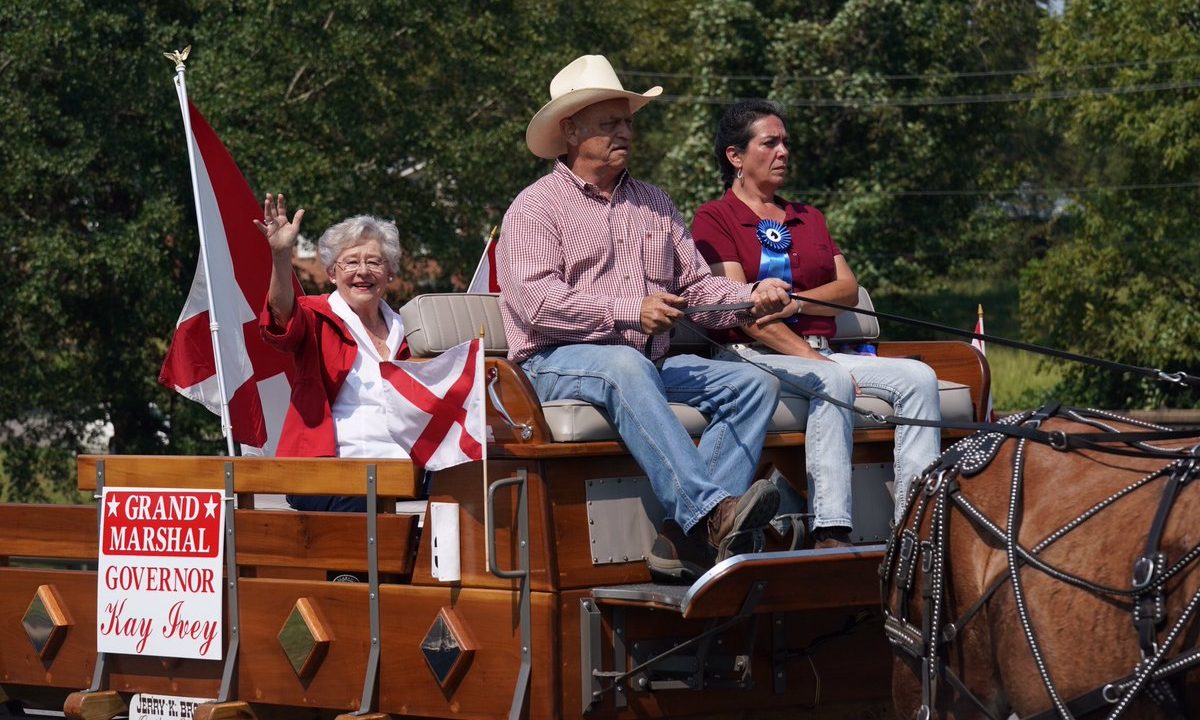 Saturday, Alabama Governor Kay Ivey (R) was on the campaign trail in Winfield where she was the grand marshal of the mule day festival.‏
"Glad to be in Winfield for the 44th Mule Day Festival!" Gov. Ivey said on social media. "It was such an honor serving as the grand marshal of the parade & being a part of this annual Alabama tradition. I enjoyed meeting the many festival goers & participants!"
Both Kay Ivey and her opponent, Tuscaloosa Mayor Walter "Walt" Maddox (D) were busy this weekend campaigning with just six weeks left until the November 6 general election. Maddox attended campaign appearances in Mobile.
Winfield's Mule Day began Friday with Mule Night Madness which was from around 6:00 pm until midnight. The Encore Mule Night 5K race was at midnight in downtown. On Saturday vendors opened their booths before 9:00 am and stayed open until the afternoon. The parade was at 11:00 am in historic downtown Winfield. The Civil War re-enactment of the Skirmish at Luxapillila Creek was at 2:00 pm on Saturday and 2:00 pm on Sunday at the park.
Winfield is in state Senate District Six, which is one of the most competitive state Senate races. Both incumbent Senator Dr. Larry Stutts (R-Sheffield) and challenger state Representative Johnny Mack Morrow (D-Red Bay) were also in the parade.
As Grand Marshal, Gov. Ivey rode in the lead wagon in the parade drawn by a pair of red mules. More mules pulling wagons followed, along with the Danville High School band, parade riders on horseback, antique tractors, beauty contest winners, and Civil War re-enactors.
Mule are the sterile hybrid offspring produced by crossing a horse with a donkey.  Mules played a tremendous role in American agriculture before being replaced by tractors.  George Washington was an early American mule breeder.
Organizers want anyone who is present to share their pictures of the 44th Mule Day festival.
"We NEED your HELP!! Please SHARE! Mule Day – Winfield, Alabama is collecting photographs from this years Mule Day. As many of you know, Winfield is getting their very own museum. We are needing as many photographs as possible to be a part of the Mule Day Collection. Please tag us and use the hashtag #muleday2018 #muledaywinfieldalabama. We want pictures of the parade, vendors, tractors, mules, car show, entertainment, carnival, Mule Night 5k Glow Run, civil war re-enactment & ball, your children, your family, your food experience, your shopping experience. Anything that pertains to Mule Day. Let's see 👀 those photographs! We hope you have a wonderful and fun time at Mule Day – Winfield, Alabama. September 21, 22 & 23, 2018 Winfield Main Street Program, Inc The Pastime Theatre Winfield, Alabama Skirmish At Luxapallila Creek/Mule Day/ Winfield, AL. Sept.22, 23-2018 Winfield Chamber of Commerce Encore Rehabilitation – Winfield Skirmish At Luxapallila Creek/Mule Day/ Winfield, AL. Sept.22, 23-2018 Winfield Main Street Program, Inc."
Gov. Ivey has been emphasizing the robust economy, her work in job creation, and the record low levels of unemployment.
"Alabama's pro business climate has earned yet another top 3 publication ranking!" Gov. Ivey announced on social media Friday. "Thank you @AreaDevelopment for recognizing the tremendous economic development efforts going on here. AL has an unparalleled workforce, & we're always looking to expand our #MadeinAL family!"
Maddox however is emphasizing the expansion of entitlements and will be holding a press conference on Monday in Montgomery to promote Medicaid expansion.
Print this piece