Jones bill to declassify unsolved Civil Rights era cases passes committee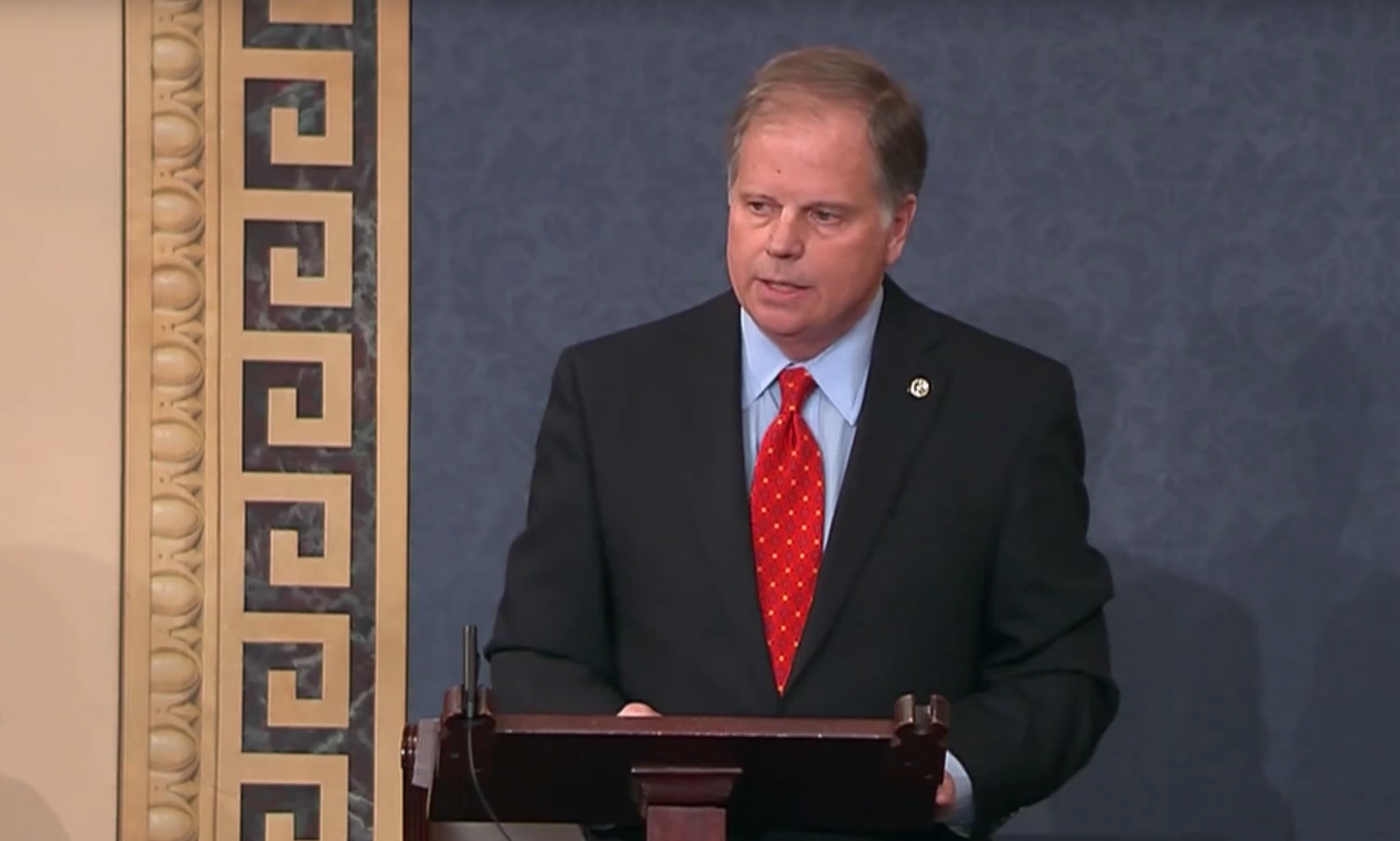 U.S. Sen. Doug Jones is trying to declassify a number of documents related to unsolved criminal civil rights cases that are nearly 50 years old.
His bipartisan bill that would do just that passed through the Senate Committee on Homeland Security and Government Affairs Wednesday. The Civil Rights Cold Case Records Collection Act, which he introduced with Republican Sen. Ted Cruz of Texas, would require the review, declassification and release of documents that remain classified unnecessarily.
"While the communities and families impacted by these crimes might not get justice, I hope they can get some sense of closure by getting access to these records," Jones said. "We need to take steps to unlock these documents while there's still time for people to have that healing process and understand all the facts that are out there. As a former prosecutor who secured convictions in a decades-old cold case, I know that it's never too late to seek justice. It's time now that we give every grieving family the same opportunity."
Cruz said the civil rights movement triumphed by securing for millions of people their rightful share in the American Dream, but not without sacrifice.
"Unfortunately, many violent crimes committed against black families struggling for equality during this time were never solved," Cruz said. "Our bill attempts to address this by disclosing case records so that private detectives, historians, victims, and victims' families may access these files, pursue leads, and document these tragic events. I am proud to work with my colleagues in this bipartisan effort, and am hopeful that additional sunlight and public interest will bring revelation, justice, and closure where it has long been lacking."
One of the most well-known cases that remains classified is the murder of Emmett Till, a 14-year-old African-American boy who was lynched in Mississippi in 1955. His murderers were acquitted of murder by an all-white jury, much like most of those who were responsible for the lynching of black people in the early and middle 20th Century.
His death sparked the next phase of the Civil Rights Movement, and he later became an icon for many.
Till's case was re-opened by the Department of Justice earlier this year after it had received new information. However, more than 100 other cold cases remain closed without any resolution.
Since its introduction, Jones' office the legislation has earned bipartisan support and has brought renewed national attention to the issue of civil rights cold cases.
Ainsworth returns to work after testing positive for COVID
Ainsworth's office on Sept. 21 announced he had tested positive earlier that week, having been tested after someone in his Sunday school class tested positive for the disease. 
Alabama Lt. Gov. Will Ainsworth on Wednesday announced that he was returning to work that day and had met public health requirements for quarantining after testing positive for COVID-19 some time last week.
Ainsworth's office on Sept. 21 announced he had tested positive earlier that week, having been tested after someone in his Sunday school class tested positive for the disease. 
"While many have battled with coronavirus, my symptoms never progressed beyond some mild congestion that I usually experience with seasonal allergies," Ainsworth said in a statement. "During the quarantine period, I participated in several Zoom calls, caught up on some office work, spent some quality time with my family, and completed a number of overdue projects on my farm."
Members of Ainsworth's staff who were in close contact with him haven't tested positive for COVID-19 but will remain in quarantine for a full 14-day period as a precaution, according to a press release from Ainsworth's office Wednesday. 
"Ainsworth once again urges all Alabamians to practice personal responsibility, which may include wearing masks, maintaining social distancing whenever possible, and taking other precautions to lessen chances of exposure to COVID-19," the press release states.
Ainsworth still disagrees with Gov. Kay Ivey's statewide mask mandate, he said. According to the release, he considers such orders "a one-size-fits-all governmental overreach that erodes basic freedoms and liberties while removing an individual's right to make their own health-related choices." 
The wearing of cloth or medical masks has been proven to inhibit the spread of COVID-19 and the more people who wear masks, the better. While not perfect, masks limit the spread of respiratory droplets that may contain infectious virus shed from the nose and mouth of the mask wearer.
It is possible — even likely — for symptomatic, pre-symptomatic and mildly symptomatic people to spread the virus. That's why it's important to wear a mask even when you're not sick.
Cloth masks offer only minimal protection from others who are not masked, meaning that masks are not simply a matter of personal safety but safety of others. Masks are also only effective when worn over both the mouth and the nose. [Here's a guide on how to wear masks properly.]
Dr. Deborah Birx, coordinator of the White House's coronavirus task force, told Ivey after she announced the statewide mask order that it was a "brilliant" idea. The order has been credited by Alabama infectious disease experts as having dramatically reduced the number of cases, hospitalizations and deaths in the weeks after the order went into effect. 
Dr. Don Williamson, president of the Alabama Hospital Association, told APR on Tuesday that from personal observation he is seeing more people not wearing masks, or wearing them improperly, and said the state could dramatically reduce the risk of COVID-19 if the public regularly wore masks and wore them properly.
Hospitalizations of COVID-19 patients in Alabama on Monday crossed the 1,000 mark for the first time since Aug. 31 — a sign that Alabama may be headed for another peak in hospitalizations as the state prepares for winter and flu season.