Opinion | Brett Kavanaugh lies a lot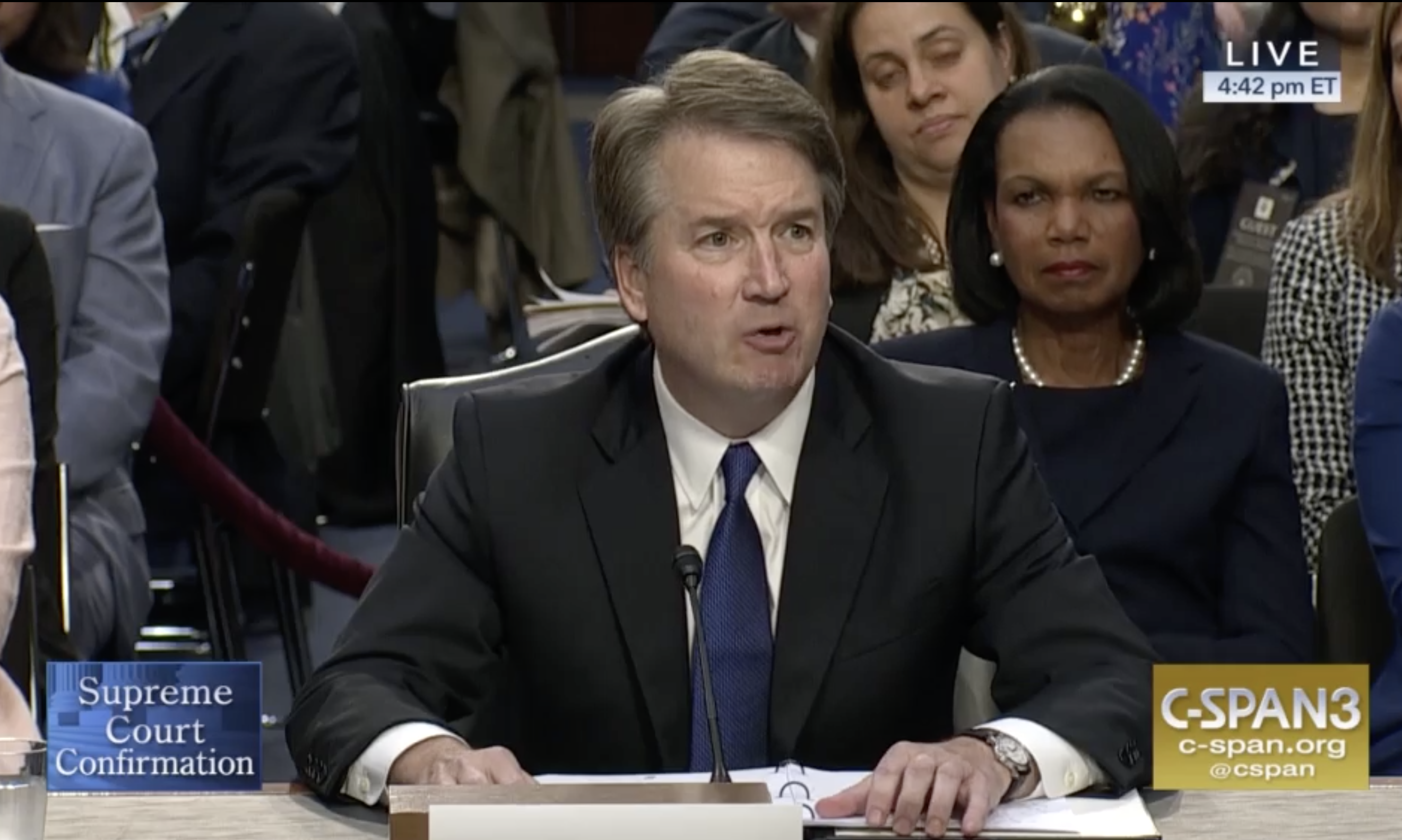 Brett Kavanaugh is a liar.
Let's get that straight right off the bat. He's a stone cold, look-you-in-the-eye-and-lie liar.
That's really the only reason there even was a hearing on Thursday, in which decades-old allegations of sexual assault against Kavanaugh were in the spotlight. Had Donald Trump's Supreme Court nominee been truthful about his high school and early college days during his initial confirmation hearing, there would have been no need for Thursday's.
But instead, Kavanaugh chose in that first hearing to paint himself as the model teen, who spent his days studying and going to church and helping old ladies cross streets and rescuing kittens from trees.
That Brett Kavanaugh never drank. That Brett Kavanaugh was the boy every grandma loves.
On Thursday, we got to meet Bart O'Kavanaugh, Brett's alter ego.
And Bart, true to his portrayal in books written by one of Kavanaugh's former friends, really, really liked beer. And he also has a bit of an anger issue. And a problem with respect and decorum.
And he's a complete and utter partisan hack who has no business serving on any bench, much less the Supreme Court.
But above all else, the guy is a huge liar.
No one cares that Kavanaugh was a drinker in high school and college. I drank enough beer in college to float the college. Some of the best people I know today — the best husbands, the best fathers, the best businessmen, the best public servants, the best church members — were borderline alcoholics in college.
Your future values and morals are not usually defined by your ignorant actions at that immature time in your life. Everyone with a working brain understands this.
But at the same time, don't try to lie about it.
It's like … have you ever been scrolling through Facebook and ran across a post from an old high school friend who's prattling on and on about some outrageous behavior that they've witnessed, and how it's just shocking and appalling and totally un-Christian? And the only thing you can think is: Dude, I remember watching you funnel grain alcohol and run naked through a grocery store one night.
That's what happened with Kavanaugh.
When he attempted to paint himself as this pure-as-the-driven-snow teen, he opened himself up to his high school and college friends coming forward with the truth.
And that should be enough to kill his nomination.
Because with that lie, Kavanaugh, in this his-word-versus-her-word situation just lost all credibility. With the exposure of that lie, Kavanaugh is now asking the committee to accept that he was lying completely about his past, but that he's not lying about trying to rape Christine Blasey Ford.
In the meantime, Ford is open and honest about it all. She's taken a polygraph. She's asked for an FBI investigation. She's provided the names of witnesses that could be subpoenaed. When she didn't know something, she said she didn't know.
And Kavanaugh just kept on lying.
Even as he tried to recast himself as a good high school and college student who just liked to drink a few beers — but absolutely not so many beers that he ever forgot anything at all — Kavanaugh couldn't help but straight up lie about things that are easily verified.
Like the term "devil's triangle," which appeared in his yearbook. It is not a drinking game, as he claimed. I'll leave it to you to Google.
The same for "boofing."
And then there's the "Renate alumnius" thing. If you bought Kavanaugh's explanation that he and his friends were using that in a friendly, you're-one-of-us way, get your head examined. (One person who absolutely didn't buy it was Renate Schroeder, the girl mentioned.)
Kavanaugh was angry about those Renate questions. And about the questions of his heavy drinking. And about pretty much everything else.
He should have been angry with himself.
Thursday's hearing essentially boiled down to a contest of who you believe more — Kavanaugh or Ford. Ford gave no one a reason to doubt anything she said.
Brett Kavanaugh, on the other hand, is a liar.
Opinion | Tommy, can you hear me?
That Morning Consult poll of Alabama voters that showed Republican Tommy Tuberville with a 17-point lead over incumbent Democratic Sen. Doug Jones for the U.S. Senate was such a stunner, a Jones campaign aide rushed out an email fundraiser trying to quell any panic.
Until now, most polls have shown Jones to be competitive against an unnamed Republican and, specifically, Tuberville, the former Auburn football coach who defeated Jeff Sessions to win the Republican nomination.
"I would never respond to an outside poll, but a new poll is out there showing Doug Jones losing by … wait for it … 17 points," writes Joe Trippi, senior adviser for the Doug Jones for Senate campaign.
"Here is my comment," Trippi writes. "No way."
Unfortunately, in Alabama, there is a way.
Republicans in the state tend to vote straight ticket in overwhelming numbers. Alabama is one of a handful of states that even allows straight-ticket voting, but the reality is, it does. So voters who want to cast their ballot for, say, Donald Trump in November, but who also like Jones, will have to split their ticket.
The Morning Consult poll showed that a large number of independent voters are undecided, and that could swing the election toward Jones. But straight-party voting can be a hope killer.
Not yet, though. It's still early. The election is still nearly three months away. We've not seen Tuberville do much of anything but bow before Trump, who endorsed him over his former attorney general. But that's Trump loyalty for you.
Indeed, the country is going so poorly right now, one wonders other than the hard-core racists, who still supports Trump.
I know, I know: Alabama is different (plus, we still have more than our share of hard-core racists). But c'mon, folks, more than 157,300 Americans are dead from the COVID-19 pandemic, completely mismanaged by the Trump administration. There have been more than 4.7 million cases. In Alabama, there have been more than 90,000 cases and more than 1,600 deaths.
Meanwhile, the U.S. and Alabama economies are in shambles and getting worse, not better. Trump has sided with Confederate statues and flags over eliminating the systemic racism found in police departments and other government agencies. Plus, most recently, Trump sent his secret army of unidentified goons to sweep protesters off the streets in American cities.
Trump is nobody's friend but his own.
Then there's Tuberville. A decent if mediocre football coach, Tuberville certainly is no Nick Saban. Tuberville isn't even a Gus Malzahn.
Sessions tried to argue that Tuberville wasn't a resident of Alabama, either, but that's not fair. Where Sessions is concerned, unfair is a character trait.
While Tuberville does maintain properties in Florida, he and his wife have owned a home in Auburn for at least three years. Too, they both are registered voters in Alabama, though Sessions said Tuberville cast his ballot in Florida during the 2018 midterms.
What's more important is where Tuberville stands on the issues. And that, we don't know much about. We know Jones is a moderate who works with members of both parties. He clearly represents Alabama's best interests as well as any U.S. senator who has served from Alabama.
Though the loons try to paint Jones as a liberal-socialist-communist bogeyman, he's nowhere close. Certainly, he's different from Sessions, who held that Senate seat for two decades before becoming Trump's attorney general. He's different from Sessions in that he actually gets legislation through the Senate. Sessions mainly interfered with progress while a senator.
The first U.S. senator to support Trump's candidacy, Sessions identified with Trump most likely because they're both die-hard racists. Trump rewarded that loyalty by back-stabbing Sessions out of Washington.
At some point, though, Tuberville must make his positions clear, and not simply that he'll support anything Trump does. That would be a disaster for Alabama, as much as Trump is a disaster for the United States.
The former Auburn University football coach can't just continue being a sycophant for Trump, whose own poll numbers are tanking and who is likely not going to win re-election.
Should Alabama send a Republican to represent the state with a Democratic president, a likely Democratic Senate and a solidly Democratic House? That would be useless.
But Trippi, in his email, did show how Tuberville wins easily: "One bad poll turns all of us off … you write the race off, and Tuberville coasts to victory because no one is paying attention," says Trippi. "Everyone abandons Alabama except Mitch McConnell, who is ALL IN to beat Doug. The proof is in the money he (McConnell) is spending now."
It's true that McConnell is working hard to unseat Jones to protect Republicans' wobbly control of the U.S. Senate, and if they weren't concerned that Jones has a good shot at winning re-election, McConnell would spend that campaign money in another state.
Tuberville must do more than hide behind Trump. We need to hear Tuberville's plan, where he stands on the issues and what he'll bring to Alabama that Jones hasn't already.
Let's hear it, Coach Tommy. But you'll have to scoot back a bit first.