Ivey addresses Etowah County Republican Party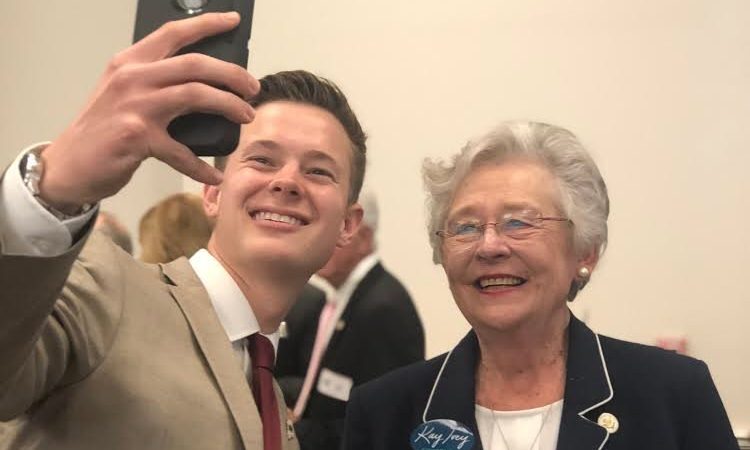 Alabama Governor Kay Ivey (R) addressed the Etowah County Republican Party Tuesday at their Martin-Reagan dinner in Gadsden.
"I can remember coming to an Etowah County Republican Party meeting and if we had 25 we though we had a full crowd," Gov. Ivey said addressing the crowd of six hundred there for the dinner at the Venue at Coosa Landing. "God bless you."
"I had just three hours notice before I became the 54th governor of Alabama," Ivey said. "That night, I spoke to my fellow Alabamians and promised that we would have an open honest transparent government."
"I have delivered on each of those promises," Ivey said. "We have steadied the ship."
Ivey said that she had to evaluate the cabinet that she inherited. Ultimately, she replaced about half of them. The Governor praised her cabinet. "They are my teammates and co-workers."
Ivey said that her strong start strong finish education plan has three core focuses: Pre-K through grade three, computer science education, and preparing students for the workforce.
"They are 5000 vacant jobs paying in the $80,000 bracket in Alabama in the area of computer science," Gov. Ivey said because we don't have workers with the skills to fill them.
"I was proud to sign the largest middle class tax cut in history," Ivey said. "I signed the largest education budget in a decade and I am proud of that. Both budgets combined are right at $9 billion."
(When Ivey entered office) "There were only 313 state troopers," Ivey said. "That wasn't safe for the troopers, much less the people of Alabama. I worked with the legislature and by February we will have more than 400 law enforcement officers on our highways."
Ivey said that the election is right in the middle of football season. "Right now the people of Alabama are looking for a head coach. I am the only one with experience working at this level. Our state has won every single game while I have been governor."
Gov. Ivey faces Tuscaloosa Mayor Walter "Walt" Maddox (D).
"What search committee would even consider hiring someone who has never even coached a game at this level?" Ivey asked.
Gov. Ivey was followed by Republican Lieutenant Governor candidate state Representative Will Ainsworth R-Guntersville.
"She has not made a mistake," Ainsworth said. "She has restored our reputation."
On the Governor's education plan, Rep. Ainsworth said, "I support her plan 100 percent. My two children are public school students in Alabama. I want them to have the same opportunities," as children anywhere else in the country.
"The confidence in the private sector is at an all-time high," Ainsworth said.
Ainsworth said that polling shows that most people my age believe that socialism, not capitalism, is the prefered way. "Socialism is not the answer, capitalism is the answer."
"I am honored to be the Republican nominee for Lieutenant Governor," Ainsworth concluded.
The Chairman of the Etowah Republican Party is state Senator Phil Williams (R).
"This is not a room that would have been full fifteen years ago," Chairman Williams said. "I believe that after November sixth we will be entirely a Republican County."
The general election will be November 6.
Print this piece
Alabama Republicans will hold summer meeting August 1
Tuesday, the Alabama Republican Party announced that the state executive committee will meet on Saturday, August 1.
The Alabama Republican Party Summer Meeting is scheduled to be at the Trussville Civic Center, 5381 Trussville Clay Road, Trussville, AL 35173).
"We will be meeting in person and will be following all social distancing guidelines as applicable at the meeting time," wrote Alabama Republican Party Chairman Terry Lathan. "As the guidelines change, the ALGOP will plan accordingly for a safe, in person business meeting. The civic center can accommodate the social distancing guidelines with some alternations. However, as of today, special event buildings are closed. We will look for a backup place in case we need one. For now, our meeting is booked at the Trussville Civic Center."
"Because of the guidelines that require distancing and not knowing what the future brings, the luncheon fundraiser we had scheduled prior to our meeting will be postponed," Lathan explained. "Seating for 8-10 people at a table is not conducive for now- hopefully this will change sooner than later. It takes us months to prepare for 500 at our dinners, luncheons and meetings. The virus situation has hijacked many of our choices. Stay tuned for information about an exciting event later in the fall."
Lathan said that, "The guidelines are fluid and our plan will need to adjust accordingly." "Please be assured that our team will be focused on having a safe and efficient Summer Meeting on August 1."
"I encourage you and your county parties to use your time this summer working on your political plans," Chairman Lathan told the members of the Executive Committee. "We have asked the chairs to turn in your tentative plans to us by July 1 so we all can prepare early to win back the US Senate race and re-elect President Trump. It's Great to be a Republican."
Re-electing Donald J. Trump (R) and defeating Democratic incumbent Senator Doug Jones are the focus of the Alabama Republican Party. Tommy Tuberville and Jeff Sessions are in the July 14 Republican Primary runoff seeking that nomination.
The Alabama Republican Party holds six of the state's seven congressional seats. They are not challenging incumbent Terri Sewell (D-Selma). Republican incumbents Mo Brooks of Huntsville and Gary Palmer of Hoover do not have Democratic challengers. Republicans are hoping to re-elect incumbent Congressmen Robert Aderholt (R-Haleyville) and Mike Rogers (R-Saks) who face Democratic challengers. Congressional Districts One and Two are both vacant. In CD1 Bill Hightower faces Jerry Carl in the Republican Party primary runoff. In CD2 Barry Moore and Jeff Coleman are seeking the GOP nomination. Both eventual nominees will face Democratic opponents in the fall.
The Alabama Republican Party holds every statewide office. The highest profile state office on the November ballot is Public Service Commission President where the Alabama Republican Party hopes to re-elect incumbent Twinkle Andress Cavanaugh.
Print this piece