Alabama Republicans react to Kavanaugh confirmation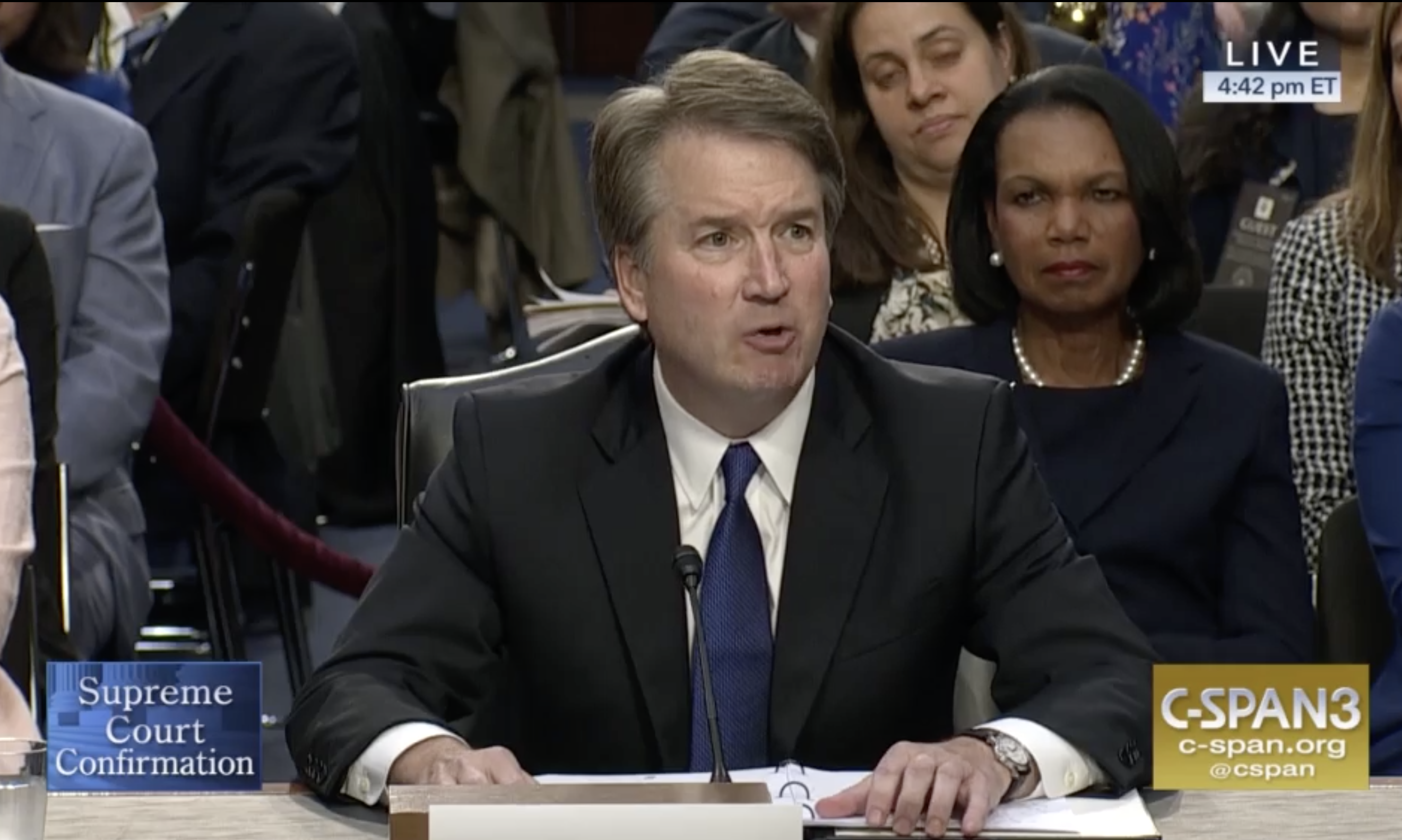 Saturday, Alabama Republicans celebrated the confirmation of Brett M. Kavanaugh by a 50 to 48 vote.
Alabama Republican Party Chairman Terry Lathan said, "The Alabama Republican Party congratulates Judge Brett Kavanaugh on his confirmation. Judge Kavanaugh has our full support as he begins his honorable journey serving the American people on our nation's highest court."
"In celebrating this confirmation, we thank Senator Shelby and his Republican colleagues for their yes votes," Lathan continued. "Unlike Senator Jones, Senator Shelby exemplified what it means to be a true public servant by representing the majority of Alabamians when he cast his final vote. Without meeting with Judge Kavanaugh, Doug Jones even went so far as to insinuate his opinion mattered more than those of the people he was elected to serve. During a Friday morning CNN interview, Senator Jones said while it may be true that Alabama is for Judge Kavanaugh, it's not the 'be all to end all.' His arrogance is reprehensible as he has now officially told our citizens he knows best. It is clear that Senator Doug Jones' allegiance lies not to his Alabama constituents, but strongly to the Democrat Party. Voters will remember this when they head to the polls in 2020."
Trump Alabama Victory Chairman Perry O Hooper Jr. said, "In bowing to his Democrat overlords, Senator Doug Jones has betrayed the citizens of Alabama who overwhelmingly support President Donald Trump and his Supreme Court nominee Brett Kavanaugh. In siding with the most liberal politicians in the country like Diane Fienstien, Cory Booker and Nancy Pelosi, Doug Jones has shown where his true beliefs are; not with the good people of Alabama who overwhelming support Brett Kavanaugh and President Donald Trump but with the socialist liberals who control the Democrat Party."
"Our nation is better off with Judge Kavanaugh on the Supreme Court, and I am glad the circus is over," Congressman Bradley Byrne, R-Montrose, said. "I applaud the senators who supported Judge Kavanaugh, including Alabama Senator Richard Shelby. This process and the shameful tactics used have been an embarrassment to our nation, but I hope we can now move forward as a country and not return to these pathetic political games again."
"Judge Brett Kavanaugh is a conservative, experienced jurist who I believe will be a strict constitutionalist on the Supreme Court," Congresswoman Martha Roby, R-Montgomery, said. "I am pleased that the United States Senate voted to confirm him, and I am confident he will serve the Court and the American people admirably."
"For now, we can thank President Trump and our GOP team by voting Republican this November," Byrne concluded.
"It is an absolute shame Senator Doug Jones chose to vote no and deny the pleas and calls of his constituents who clearly want to see Judge Kavanaugh confirmed," Lathan concluded. "In 2020 the voters will hold Senator Jones responsible for continually ignoring the will of Alabamians and instead choosing to follow the bidding of Democrat leadership."
The general election will be November 6.
USDA is seeking rural energy grant applications
The deadlines to apply for grants is Feb. 1, 2021, and March 31, 2021. Applications for loan guarantees are accepted year-round.
United States Department of Agriculture Deputy Under Secretary for Rural Development Bette Brand on Wednesday invited applications for loan guarantees and grants for renewable energy systems, and to make energy efficiency improvements, conduct energy audits and provide development assistance.
The funding is being provided through the USDA's Rural Energy for America Program, which was created under the 2008 Farm Bill and reauthorized under the 2018 Farm Bill. This notice seeks applications for Fiscal Year 2021 funding.
The deadlines to apply for grants is Feb. 1, 2021, and March 31, 2021. Applications for loan guarantees are accepted year-round.
REAP helps agricultural producers and rural small businesses reduce energy costs and consumption by purchasing and installing renewable energy systems and making energy efficiency improvements in their operations.
Eligible systems may derive energy from wind, solar, hydroelectric, ocean, hydrogen, geothermal or renewable biomass (including anaerobic digesters).
USDA encourages applications that will support recommendations made in the Report to the President of the United States from the Task Force on Agriculture and Rural Prosperity to help improve life in rural America.
Applicants are encouraged to consider projects that provide measurable results in helping rural communities build robust and sustainable economies through strategic investments.
Key strategies include achieving e-Connectivity for rural America, developing the rural economy, harnessing technological innovation, supporting a rural workforce and improving quality of life. For additional information, see the notice in the Federal Register.