Democrats react to Kavanaugh confirmation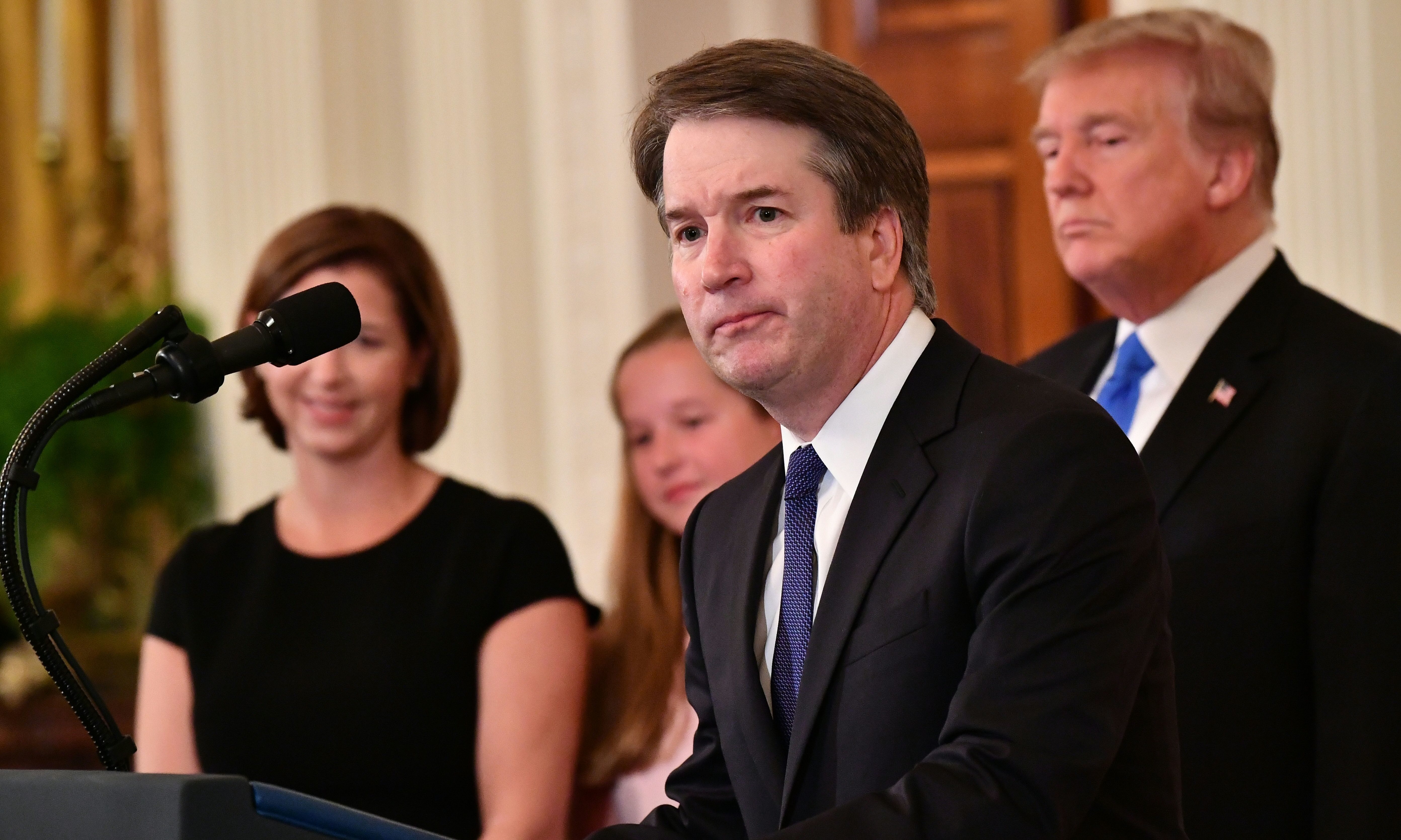 Saturday, the United States Senate confirmed Brett M. Kavanaugh to the Supreme Court on a 50 to 48 vote. Kavanaugh's confirmation was the most partisan Supreme Court hearings in decades. Ultimately, all but one Republican Senator voted for Kavanaugh and all but one Democratic Senators voted against. That vast partisan gulf left Republicans jubilant Saturday night and Democrat bitterly disappointed.
"As Brett Kavanaugh has been confirmed to the Supreme Court, we are all feeling angry, frustrated, and disappointed," Congressional candidate Mallory Hagan said. "However, what we are feeling right now must not discourage us; we have to use it as motivation to actively work to shape our future for the better. This midterm election is our time to decide the future of our country, and we cannot let this opportunity pass us by. It's time for action."
Hagan is a former Miss America who is challenging incumbent Mike Rogers, R-Saks, in the Third Congressional District on November 6.
"If Amendment 2 passes and Roe v. Wade is overturned – which is a likely scenario with Kavanaugh on the highest court in the land – there will be life and death consequences for the women of Alabama," said President and CEO of Planned Parenthood Southeast Advocates Staci Fox. "Alabamians – especially women of color and women with low incomes – already face barriers in accessing health care and, in a world where abortion is outlawed with no exceptions, they would bear the brunt of of those consequences."
On November 6, Alabama voters will have the opportunity to consider the Pro-Life Amendment 2 which would effectively make abortion illegal in Alabama, if the Supreme Court were to reverse the highly controversial 5 to 4 Roe versus Wade ruling.
"Brett Kavanaugh may have just been confirmed to the Supreme Court, but the grassroots movement that came together to oppose him will only continue to grow," CREDO Action Co-Director Heidi Hess said. "Eventually, when the dust settles and the right-wing fever that has overtaken Congress breaks, Kavanaugh will be impeached for lying under oath to the Senate Judiciary Committee, or for other criminal acts."
"Susan Collins will never be mistaken for a moderate again," Hess continued. "When Kavanaugh guts Roe v. Wade, women everywhere will remember the pivotal role Susan Collins played in making it happen. Sen. Joe Manchin's vote to confirm Kavanaugh goes against every Democratic value. Tom Perez, Chris Van Hollen and Chuck Schumer must hold him accountable."
"The DNC and DSCC should stop funding or otherwise supporting Manchin's re-election campaign," Hess continued. "Chuck Schumer should immediately remove him from Democratic leadership. No one has ever mistaken Manchin for a leader and he is clearly not a Democrat."
"We want to express our deepest gratitude to the millions of activists who fought Kavanaugh from the beginning to the very end and the brave and powerful survivors who shared their stories," Hess said. "Someday soon, thanks to their persistence and grassroots organizing, they'll get the responsive, respectful and progressive government they deserve."
"There's no question, Kavanaugh's confirmation represents a horrendous step backward for progress," the activist group People's Action said in a statement. "It also sends the exact wrong message to boys and young men. That you can assault women, dodge accountability, and still ascend to one of the highest offices in the land. We instead should be modeling what new masculinity looks like. The Senators who voted to confirm Kavanaugh failed mightily in this opportunity.
"Kavanaugh's confirmation to the Supreme Court threatens to set our country back a generation on access to health care, racial justice environmental protections, presidential powers, reproductive rights, and much more," People's Action continued. "It is a stark reminder of the power of our vote and the impact of elections. That is why we are talking to one million voters in this midterm. On the doors, we will ask voters to remember Kavanaugh's confirmation – despite all the evidence that he is not fit to serve – as they head to the polls in November."
"It's not enough to get mad — we have to beat the Republicans who rammed this nomination through," Democratic National Committee Chairman Tom Perez said. "Time and time again, Republicans have shown that they can't be trusted to stand up to the Trump administration on a single thing. So it really is this simple: If we don't want people like Brett Kavanaugh to be appointed to lifetime positions in our federal judiciary, we need to elect Democratic majorities this November. Democrats only need to flip two Senate seats this November to win control of the Senate and make sure Trump can't ram through any more judges like Brett Kavanaugh to the Supreme Court."
Democrats are hoping that the Kavanaugh controversy will lead to a "blue wave" election that will wash away Republicans and give Democrats control of both Houses of Congress for the first time since 2010.
Print this piece
Five patients with COVID-19 have died at EAMC hospital in Opelika
UPDATE: East Alabama Medical Center said Sunday that its death toll has increased to six.
Death toll at East Alabama Medical Center increases to 6
The number of patients who have died from COVID-19 at East Alabama Medical Center in Opelika since Friday has increased to six, the hospital said in a statement Sunday.
---
Five patients who were being treated for COVID-19 at East Alabama Medical Center in Opelika, Alabama, have died since Friday, the hospital said in a statement Saturday.
"Our hospital family expresses its collective condolences to the families of these five patients," said Laura Grill, EAMC President and CEO.  "As everyone knows, this virus has taken a toll on our nation and world, and our community is not exempt from that. Our hearts and prayers are with these families at this very difficult time."
Three of the patients were from Chambers County and two were from Lee County. The Alabama Department of Public Health is still investigating the deaths and has not updated their website to reflect them.
Hospital officials and ADPH are working through the process for official state determination before adding them to the COVID-19 death count.
"The ICU staff, respiratory therapists and physicians who worked most closely with these patients are especially struggling and we ask that the community lift them up today just as they have been lifting up our whole organization the past two weeks," Grill said.
EAMC is currently treating 19 patients hospitalized with a confirmed COVID-19 diagnosis. Five patients who were previously hospitalized with COVID-19 have been discharged. There are 22 patients who are currently hospitalized at EAMC with suspected COVID-19.
The number of hospitalized patients has more than doubled from seven on Tuesday. It anticipates more.
The county had at least 56 confirmed cases of COVID-19 by Saturday afternoon, more per capita than Jefferson County, Shelby County and Madison County. That number has also continued to grow. To the north, Chambers County, which falls under EAMC's service area, has the most cases per capita in the state, meaning there are more confirmed cases per person than any other county. That county's total stands at 17.
Many of the patients who have tested positive, according to EAMC, had a common "last public setting" in church services.
"While there are no absolute patterns among the confirmed cases in Lee County, one nugget of information does stand out a little—the last public setting for a sizable number of them was at church," East Alabama Medical Center said in a statement Friday night.  "Not at one church, or churches in one town, but at church in general."
The hospital has urged churches to move online and cancel in-person services. Some churches have continued to meet, as recently as last Sunday, despite "social distancing" directives from the Alabama Department of Public Health that prohibited non-work gatherings of 25 or more people.
EAMC is urging the public to act as if they are under a "shelter-in-place" at home order, as the state has so far refused to issue such a directive.
"EAMC is asking everyone to shelter in place at home," the hospital said in a statement Friday night. "Sheltering in place means you stay at home with immediate family members only and should not leave your home except for essential activities such as food, medical care, or work. You should not host gatherings of people outside of your immediate family. You should also maintain a 6-foot distance from other people as much as possible, wash your hands frequently for at least 20 seconds each time, and frequently disinfect high-touch surfaces."
It's also asking businesses that have access to personal protective equipment like gowns, masks, latex gloves and hand sanitizer to bring those items to a collection site outside of EAMC's main lobby. The site is open from 9 a.m. to 4 p.m. on weekdays.
This story is developing and will be updated.
Print this piece