Democrats react to Kavanaugh confirmation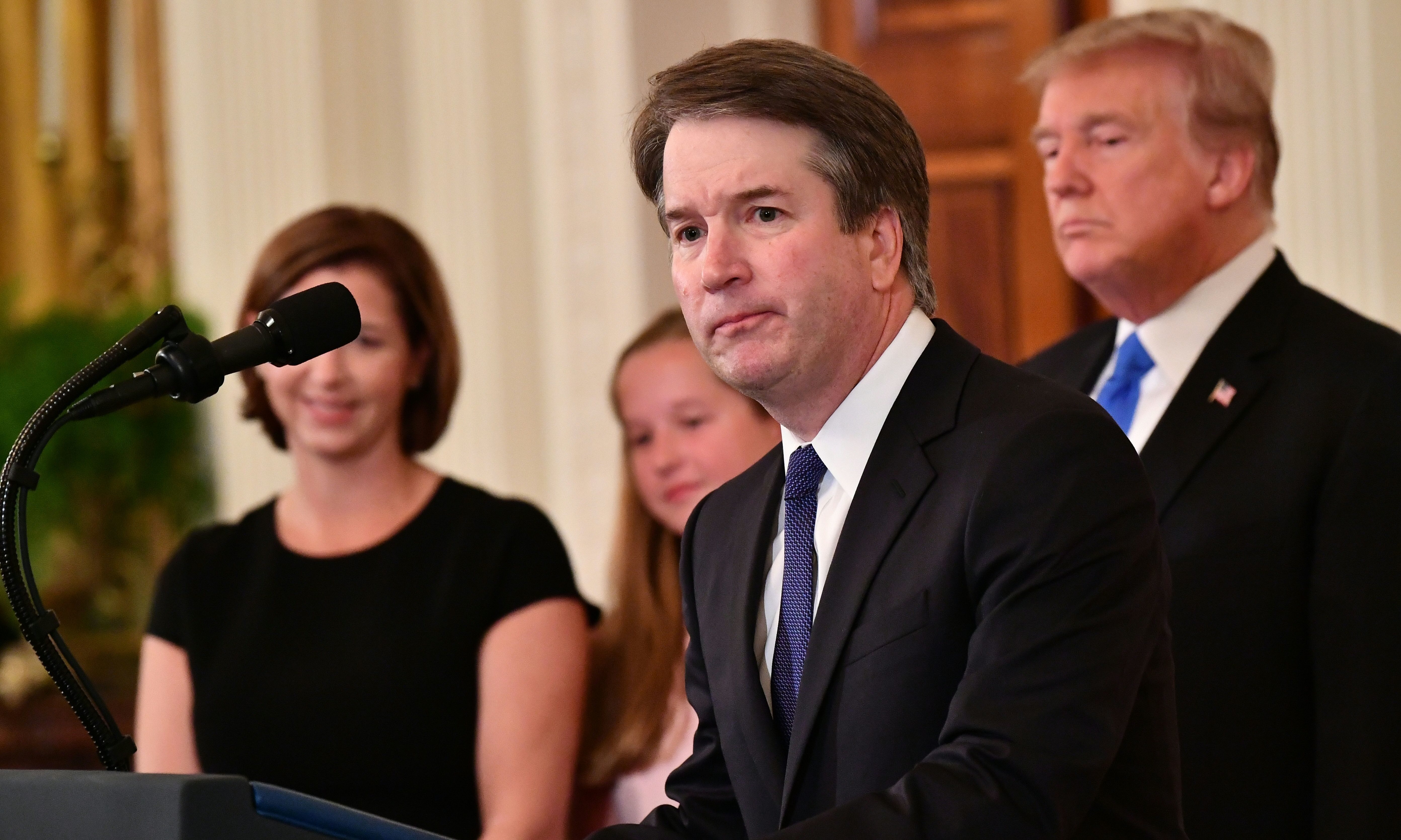 Saturday, the United States Senate confirmed Brett M. Kavanaugh to the Supreme Court on a 50 to 48 vote. Kavanaugh's confirmation was the most partisan Supreme Court hearings in decades. Ultimately, all but one Republican Senator voted for Kavanaugh and all but one Democratic Senators voted against. That vast partisan gulf left Republicans jubilant Saturday night and Democrat bitterly disappointed.
"As Brett Kavanaugh has been confirmed to the Supreme Court, we are all feeling angry, frustrated, and disappointed," Congressional candidate Mallory Hagan said. "However, what we are feeling right now must not discourage us; we have to use it as motivation to actively work to shape our future for the better. This midterm election is our time to decide the future of our country, and we cannot let this opportunity pass us by. It's time for action."
Hagan is a former Miss America who is challenging incumbent Mike Rogers, R-Saks, in the Third Congressional District on November 6.
"If Amendment 2 passes and Roe v. Wade is overturned – which is a likely scenario with Kavanaugh on the highest court in the land – there will be life and death consequences for the women of Alabama," said President and CEO of Planned Parenthood Southeast Advocates Staci Fox. "Alabamians – especially women of color and women with low incomes – already face barriers in accessing health care and, in a world where abortion is outlawed with no exceptions, they would bear the brunt of of those consequences."
On November 6, Alabama voters will have the opportunity to consider the Pro-Life Amendment 2 which would effectively make abortion illegal in Alabama, if the Supreme Court were to reverse the highly controversial 5 to 4 Roe versus Wade ruling.
"Brett Kavanaugh may have just been confirmed to the Supreme Court, but the grassroots movement that came together to oppose him will only continue to grow," CREDO Action Co-Director Heidi Hess said. "Eventually, when the dust settles and the right-wing fever that has overtaken Congress breaks, Kavanaugh will be impeached for lying under oath to the Senate Judiciary Committee, or for other criminal acts."
"Susan Collins will never be mistaken for a moderate again," Hess continued. "When Kavanaugh guts Roe v. Wade, women everywhere will remember the pivotal role Susan Collins played in making it happen. Sen. Joe Manchin's vote to confirm Kavanaugh goes against every Democratic value. Tom Perez, Chris Van Hollen and Chuck Schumer must hold him accountable."
"The DNC and DSCC should stop funding or otherwise supporting Manchin's re-election campaign," Hess continued. "Chuck Schumer should immediately remove him from Democratic leadership. No one has ever mistaken Manchin for a leader and he is clearly not a Democrat."
"We want to express our deepest gratitude to the millions of activists who fought Kavanaugh from the beginning to the very end and the brave and powerful survivors who shared their stories," Hess said. "Someday soon, thanks to their persistence and grassroots organizing, they'll get the responsive, respectful and progressive government they deserve."
"There's no question, Kavanaugh's confirmation represents a horrendous step backward for progress," the activist group People's Action said in a statement. "It also sends the exact wrong message to boys and young men. That you can assault women, dodge accountability, and still ascend to one of the highest offices in the land. We instead should be modeling what new masculinity looks like. The Senators who voted to confirm Kavanaugh failed mightily in this opportunity.
"Kavanaugh's confirmation to the Supreme Court threatens to set our country back a generation on access to health care, racial justice environmental protections, presidential powers, reproductive rights, and much more," People's Action continued. "It is a stark reminder of the power of our vote and the impact of elections. That is why we are talking to one million voters in this midterm. On the doors, we will ask voters to remember Kavanaugh's confirmation – despite all the evidence that he is not fit to serve – as they head to the polls in November."
"It's not enough to get mad — we have to beat the Republicans who rammed this nomination through," Democratic National Committee Chairman Tom Perez said. "Time and time again, Republicans have shown that they can't be trusted to stand up to the Trump administration on a single thing. So it really is this simple: If we don't want people like Brett Kavanaugh to be appointed to lifetime positions in our federal judiciary, we need to elect Democratic majorities this November. Democrats only need to flip two Senate seats this November to win control of the Senate and make sure Trump can't ram through any more judges like Brett Kavanaugh to the Supreme Court."
Democrats are hoping that the Kavanaugh controversy will lead to a "blue wave" election that will wash away Republicans and give Democrats control of both Houses of Congress for the first time since 2010.
First presidential debate is tonight
Tuesday's debate, set to begin at 8 p.m. CST, will be moderated by Fox News Sunday anchor Chris Wallace.
President Donald Trump and former Vice President Joseph Biden, the Democratic nominee for president, are preparing for Tuesday night's debate.
Tuesday's debate will be moderated by Fox News Sunday anchor Chris Wallace. The debate will be at 8 p.m. CST and is being hosted at Case Western Reserve University and the Cleveland Clinic in Cleveland, Ohio.
Due to COVID-19, the two candidates and the moderator will not shake hands. There will be a small number of ticketed guests inside the debate hall, along with debate officials, crews and TV network anchors including Fox News.
Trump has prepared with help from former New Jersey Governor Chris Christie and former New York City Major Rudy Giuliani but has chosen not to have traditional lengthy practice sessions.
Trump is suggesting he doesn't want to overdo it.
"Sometimes you can go too much in that stuff," Trump told reporters on Sunday.
Biden has been holding mock debate sessions with senior adviser Bob Bauer and top aides, according to CBS News.
"I'm prepared to go out and make my case as to why I think he's failed and why I think the answers I have to proceed will help the American people, the American economy and make us safer internationally," Biden said.
"The president prepares by being president," Trump campaign communications director Tim Murtaugh reportedly said. "And by regularly facing hostile news media. That's pretty good practice by any measure."
The debate as to whether Trump should have appointed Judge Amy Coney Barrett to fill the vacancy on the Supreme Court created by the death of Ruth Bader Ginsburg will almost certainly come up.
"Joe Biden spent a lot of time in his basement to study up," said Lara Trump, the president's campaign adviser and daughter-in-law. "He's been in this game for 47 years. I assume he'll do OK. Quite frankly, the bar has been lowered so much for Joe Biden that if he stays awake for the whole thing it's like maybe he won."
The two candidates are running very different campaigns.
From March until the last week in August, according to news reports, Biden made no in-person speeches or campaign appearances. Biden's events since have been rare and attended by just a few invited guests.
Trump, on the other hand, has been holding mass campaign rallies. Trump has held 14 in-person rallies in September including in swing states New Hampshire, Michigan, Wisconsin, Nevada, Florida, Virginia and Minnesota with multiple trips to Ohio, North Carolina and Pennsylvania.