Maddox speaks in Birmingham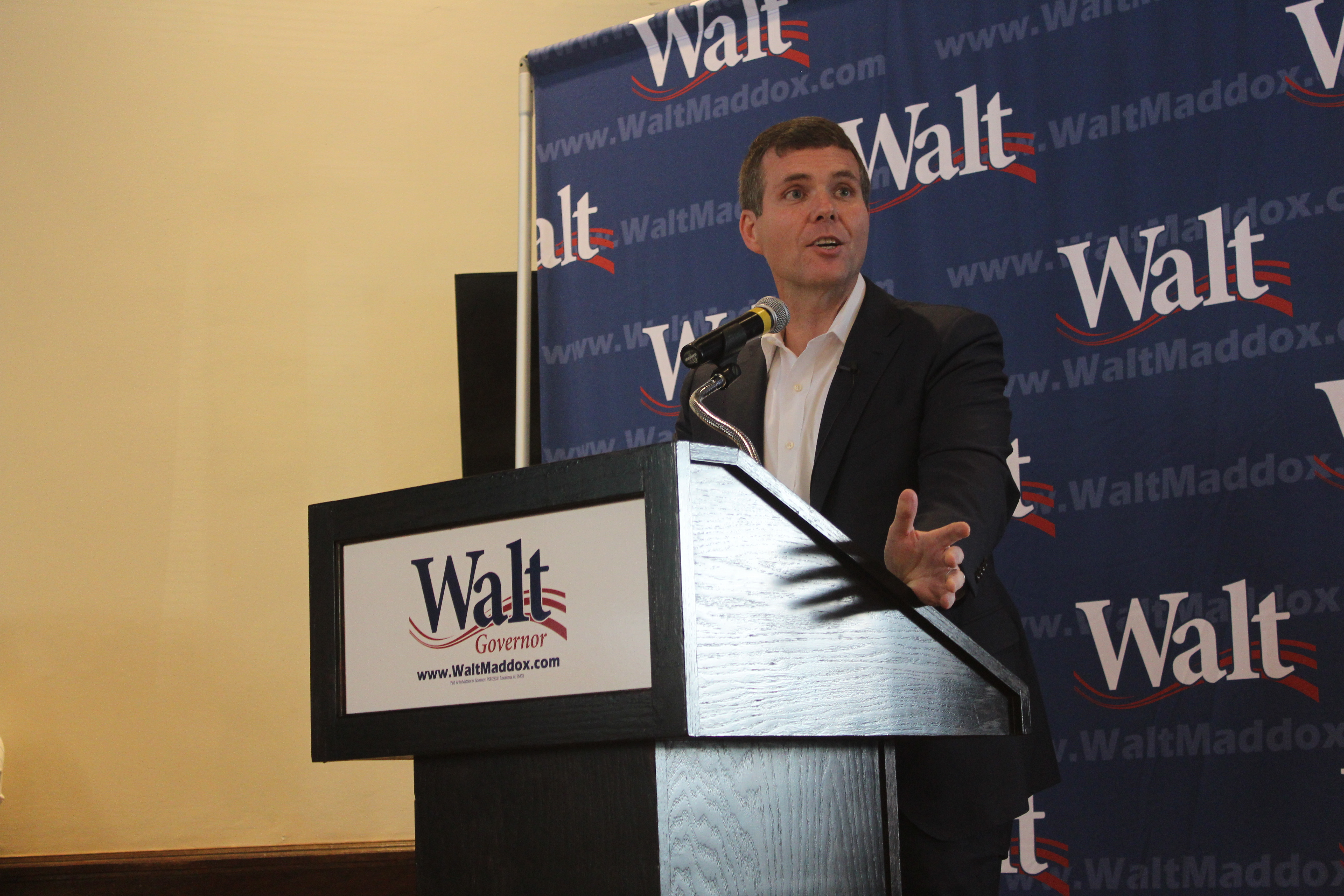 Tuesday, Democratic gubernatorial candidate Walter "Walt" Maddox (D) spoke to the Birmingham Kiwanis Club at the Harbert Center. Maddox is the Mayor of Tuscaloosa.
"I was fortunate to get to play football at UAB," Maddox said. "That opportunity gave me an education."
"The future of Alabama and the future of Birmingham are tied together," Maddox stated. "My 13 years as Mayor has shown excellence. I have had to address the greatest recession since the 1930s and the tornado."
Maddox said that he has shown, "The type of fiscal conservatism that matters." Tuscaloosa has just two percent municipal sales tax versus Birmingham at four percent or Auburn at four percent or Gadsden at five percent. "Tuscaloosa is doing more with less."
"Tuscaloosa has become the model for what happens when you focus on solutions and not on rhetoric," Maddox claimed. "There are pockets of brilliance in our state. We see it in Huntsville, in Tuscaloosa, and here in Birmingham."
Maddox said that there are a number of challenges facing the state. The Department of Corrections is under a court order from Judge Myron Thompson. We continue to fail in mental health treatment for our inmates. We fail in the treatment of substance abuse, in educational attainment, and in job training. "Our jails have become defacto mental health centers."
"In Tuscaloosa thirty percent of our inmates are on psychotropic drugs and the state has no plan," Maddox said. Maddox said that he did not favor Ivey's plan to build $800 million in new prisons.
Tuscaloosa, Birmingham, and local government is using our funds to move highway projects forward, Maddox said. "Across our state we see fundamental problems in our infrastructure."
"I am 45 years old and our state has been forty-fifth and fiftieth in everything that matter my entire life," Maddox said. "It is the same 100 failing schools time and time again."
"Alabama ranks 47th nationally in healthcare," Maddox said. "The Center for Disease Control (CDC) ranked Alabama last in infant mortality." For African Americans 15.1 infants per 1000 die. "Another 12 hospitals or mental health centers could close in the next ten years."
"We do not hold our leaders to the same standard that we hold football coaches to," Maddox said. We have low expectations and it has shaken our faith in government.
If Maddox is elected governor, "The first thing I want to do is to expand Medicaid. Haleyville had to raise their taxes to keep their hospital open. Wilcox County had to raise their taxes to keep their hospital open. This is not about fiscal management. The Kaiser Family Foundation has found that states are net winners when they expand Medicaid.
"If Alabama had expanded Medicaid alone it would have saved UAB alone $25 million because it would have decreased their charitable care," Maddox said. "The second thing I want to do is to pass an education lottery."
Maddox said that his lottery would have a scholarship component including workforce development. The model that he is using is the Tennessee lottery. "90 percent of the new jobs that are being created require either a degree or a two year technical education. He also wants to fund universal pre-K at the cost of $90 million a year.
"I will never place party over people," Maddox promised. "I will always do what is in the best interests of the state."
"We are going to stop paying the legal bills of governor Robert Bentley," Maddox said. "I know there may be a law firm in Birmingham that has an objection to that."
Maddox said that he wanted to make sure that romantic relationships are covered under our ethics law and we will make sure that none of our employees are getting paid by outside sources.
"Gerrymandering is the biggest problem we face as a state," Maddox said. "We have drawn district lines where the primaries are the biggest battle and not the general election."
"We want to begin taxing sports gaming and we want to reach a compact with the Poarch Creek Indians," Maddox said.
Maddox said that we only have 300 State Troopers. "According to ALEA we should have 750. According to the University of Alabama we should have over one thousand."
"Alabama's roads and bridges are in very bad shape," Maddox said. Right now our gas taxes are going to other things. Maddox said that all gas taxes would go to ALDOT. "In our first legislative session I would support a 12 cent fuel tax." "A portion of that needs to go back to county and municipal government."
Maddox said that watching the Kavanaugh hearing, "It is chilling as to what can happen when you offer yourself for public service." On the positive side I get to meet people like you. "Social media makes it harder but in the end there is nothing better than serving something better than yourself."
A member of the audience asked about replacing the 1901 Constitution.
"Many of the things you see are symptoms of the disease and the disease is the 1901 Constitution," Maddox said. "We will not be able to address it in the first four years. The document was born out of racism. It has held this state back for decades."
The Birmingham Kiwanis Club is the biggest in the nation. They meet for lunch every Tuesday downtown. Chief Justice candidate Tom Parker (R) will be the featured speaker on October 16. Governor Kay Ivey (R) will address the group on October 23. On October 30 Alabama Department of Commerce Secretary Greg Canfield will be the featured speaker.
"Alabama is better than being at or near the bottom in everything that matters," Maddox said. "If we do not win my fear is that we will continue to rock along and in five years we will ask ourselves why are we still 47th or worse."
Walt Maddox is a graduate of Central High School in Tuscaloosa. He went to UAB where he played lettered in football for four years. He received a Master's Degree at UAB and then went back to Tuscaloosa where he worked for the Alabama Education Association (AEA) as a Uniserve Director. He was elected to the City Council, then elected Mayor. He is now serving in his fourth term as Mayor. 12.5 percent of the city was destroyed in the 2011 tornado. He has received national recognition for his efforts following the tornado. He has run in nine marathons. Maddox and his wife Stephanie have two children
Mayor Maddox faces Governor Kay Ivey (R) in the November 6 general election.
Opinion | For Coach Tub, no thinking required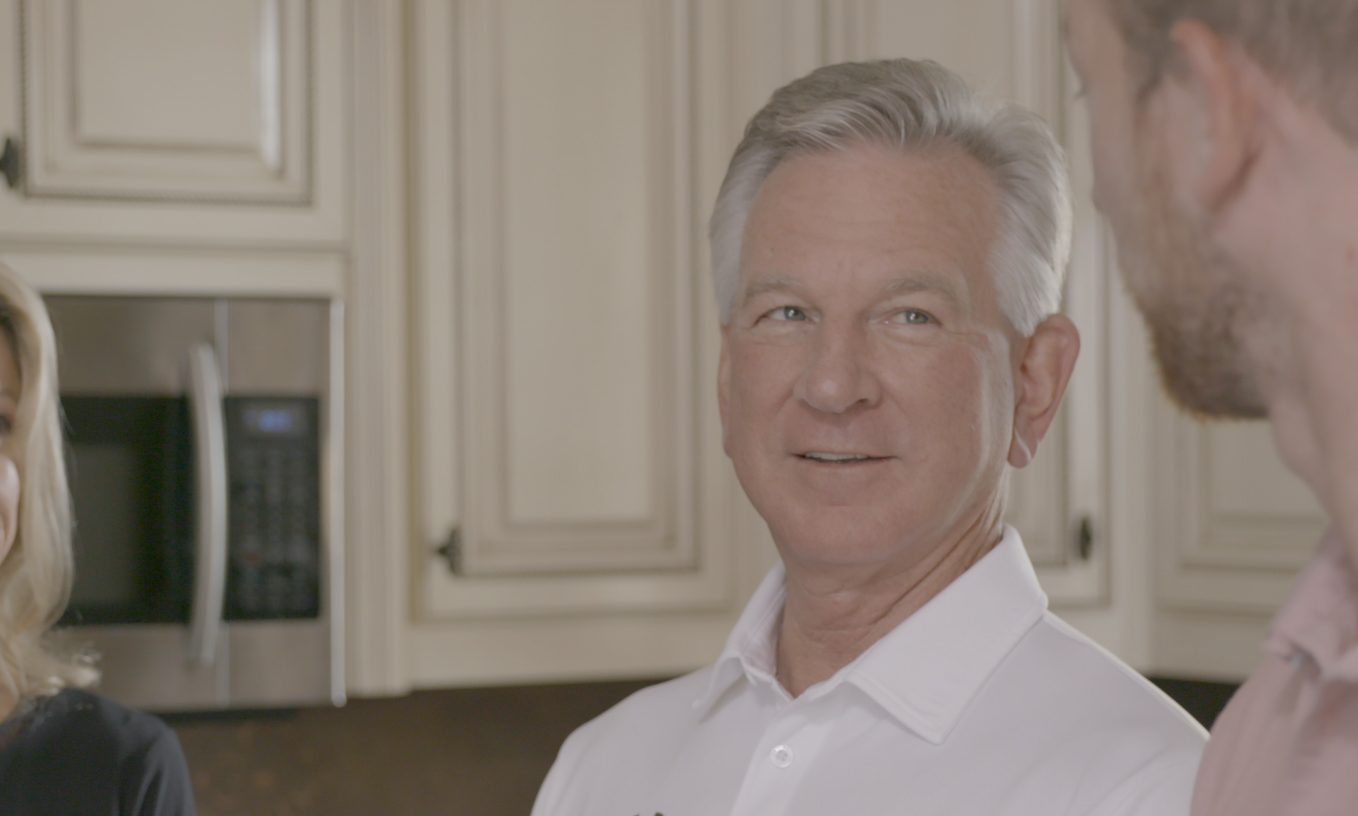 Has Tommy Tuberville ever had an original thought? It doesn't sound like it. Coach Tub basically spews Republican talking points and keeps his mouth firmly locked onto Donald Trump. He disrespects Alabama voters so much that he thinks that's all he needs to do to win a place in the U.S. Senate.
Tuberville recently addressed the St. Clair County Republican Party at its September meeting. As reported by APR, Tuberville is quoted as saying the following, and I'll offer a short rebuttal. I'm doing this because Tuberville is clearly afraid to death to debate his opponent, U.S. Sen. Doug Jones.
So here goes:
Tuberville: "America is about capitalism, not socialism. I think we are going to decide which direction we are going to go in the next few years."
Me: We decided which way we were going to go years ago, when the federal government started subsidies for oil and gas companies, farmers and other big industry and business. That, coach, is your so-called "socialism."
I'm not necessarily opposed to subsidies to boost business, depending on the cause, but I'm not going to let a dimwitted, know-nothing, mediocre, former football coach pretend we don't already have "socialism" in this country.  
What Tuberville really means is that he's against "socialism" like Medicare or Medicaid or Social Security or food assistance or health insurance. He's a millionaire already, so there's no need for him have empathy for or support a safety net for people who are less fortunate socially and economically. That's Tuberville's "socialism," and the Republican Party's "socialism," and Trump's "socialism."
That's a cruel, mean perspective that would cast aside the great majority of Americans for the rich (Tuberville, Trump) and connected and, where Trump is concerned, the fawning.
Tuberville: "I am not a Common Core guy. I believe in regular math. We need to get back to teaching history."
Me: I would love to ask Coach Tubby, one-on-one, exactly what he thinks "Common Core" is. I'll guarantee you he can't explain more than he already has. "I believe in regular math?" There is no other math. It's math. Does he think there's a math where 1+1=3? There isn't one. There are a variety of ways to teach math, but there's only math, not a "fake" math or a "Republican" math or a "Democratic" math or, God forbid, a "Socialist" math.
And when Coach Tommy said, "We need to get back to teaching history," one wonders if he's ever been into a classroom. We know more than a few of his former players weren't in many classrooms, if reports are correct. But they always played the game under his uninspired coaching.
Of course schools teach history.
The history Coach T. is talking about is Donald Trump's "white" history, the one we've been teaching in our schools forever. Not real history; you know, the one where the United States was founded as a slave-holding nation, where Native Americans were massacred and starved by the hundreds of thousands, where white supremacy was codified within our laws, where any color but white was subjugated. That history. The history that is finally fading away, so we can really see where we've been as a nation—so we know where, as a nation, we need to go.
Tuberville: Tuberville said he supports following the Constitution and appointing a replacement for Associate Justice Ruth Bader Ginsburg, who died Friday.
Me: Well, of course he does. Tuberville doesn't have an independent thought in his body, and Donnie told him this is what he's supposed to think. The big question: How much will a Senator Tuberville be able to function as a member of a minority party in the Senate — with no Papa Trump in the White House to tell him what to do?
Both scenarios are real possibilities, if not likelihoods.
There is no question that Doug Jones is far more qualified than Tuberville. Jones can work across the aisle, which will be vitally important if Democrats take control of the Senate. Jones has his own thoughts, which sometimes go against the Democratic Party's wishes. Jones is independent, smart and represents Alabama well.
Tuberville is a failed football coach who lives in Florida. That's about it.