Maddox speaks in Birmingham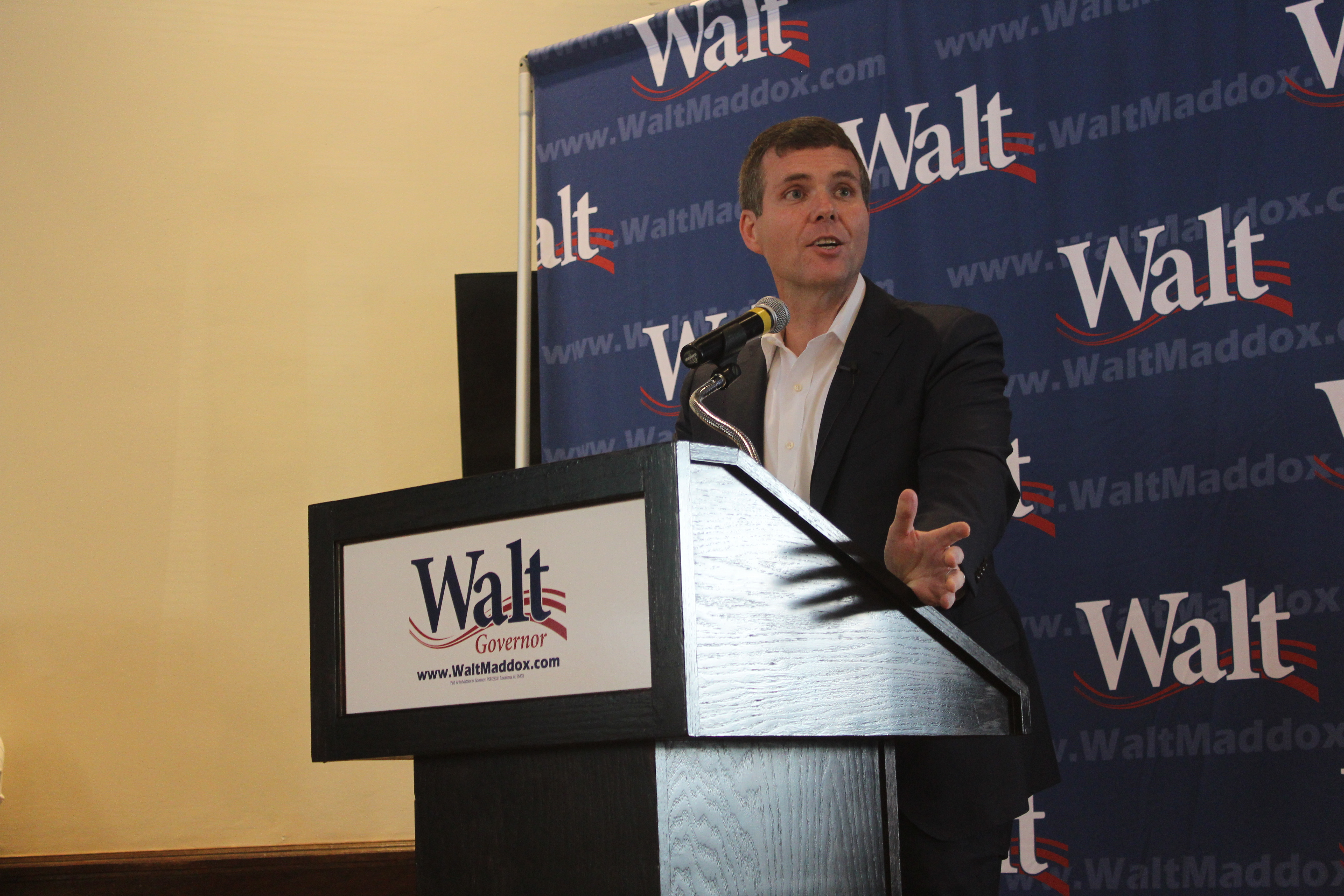 Tuesday, Democratic gubernatorial candidate Walter "Walt" Maddox (D) spoke to the Birmingham Kiwanis Club at the Harbert Center. Maddox is the Mayor of Tuscaloosa.
"I was fortunate to get to play football at UAB," Maddox said. "That opportunity gave me an education."
"The future of Alabama and the future of Birmingham are tied together," Maddox stated. "My 13 years as Mayor has shown excellence. I have had to address the greatest recession since the 1930s and the tornado."
Maddox said that he has shown, "The type of fiscal conservatism that matters." Tuscaloosa has just two percent municipal sales tax versus Birmingham at four percent or Auburn at four percent or Gadsden at five percent. "Tuscaloosa is doing more with less."
"Tuscaloosa has become the model for what happens when you focus on solutions and not on rhetoric," Maddox claimed. "There are pockets of brilliance in our state. We see it in Huntsville, in Tuscaloosa, and here in Birmingham."
Maddox said that there are a number of challenges facing the state. The Department of Corrections is under a court order from Judge Myron Thompson. We continue to fail in mental health treatment for our inmates. We fail in the treatment of substance abuse, in educational attainment, and in job training. "Our jails have become defacto mental health centers."
"In Tuscaloosa thirty percent of our inmates are on psychotropic drugs and the state has no plan," Maddox said. Maddox said that he did not favor Ivey's plan to build $800 million in new prisons.
Tuscaloosa, Birmingham, and local government is using our funds to move highway projects forward, Maddox said. "Across our state we see fundamental problems in our infrastructure."
"I am 45 years old and our state has been forty-fifth and fiftieth in everything that matter my entire life," Maddox said. "It is the same 100 failing schools time and time again."
"Alabama ranks 47th nationally in healthcare," Maddox said. "The Center for Disease Control (CDC) ranked Alabama last in infant mortality." For African Americans 15.1 infants per 1000 die. "Another 12 hospitals or mental health centers could close in the next ten years."
"We do not hold our leaders to the same standard that we hold football coaches to," Maddox said. We have low expectations and it has shaken our faith in government.
If Maddox is elected governor, "The first thing I want to do is to expand Medicaid. Haleyville had to raise their taxes to keep their hospital open. Wilcox County had to raise their taxes to keep their hospital open. This is not about fiscal management. The Kaiser Family Foundation has found that states are net winners when they expand Medicaid.
"If Alabama had expanded Medicaid alone it would have saved UAB alone $25 million because it would have decreased their charitable care," Maddox said. "The second thing I want to do is to pass an education lottery."
Maddox said that his lottery would have a scholarship component including workforce development. The model that he is using is the Tennessee lottery. "90 percent of the new jobs that are being created require either a degree or a two year technical education. He also wants to fund universal pre-K at the cost of $90 million a year.
"I will never place party over people," Maddox promised. "I will always do what is in the best interests of the state."
"We are going to stop paying the legal bills of governor Robert Bentley," Maddox said. "I know there may be a law firm in Birmingham that has an objection to that."
Maddox said that he wanted to make sure that romantic relationships are covered under our ethics law and we will make sure that none of our employees are getting paid by outside sources.
"Gerrymandering is the biggest problem we face as a state," Maddox said. "We have drawn district lines where the primaries are the biggest battle and not the general election."
"We want to begin taxing sports gaming and we want to reach a compact with the Poarch Creek Indians," Maddox said.
Maddox said that we only have 300 State Troopers. "According to ALEA we should have 750. According to the University of Alabama we should have over one thousand."
"Alabama's roads and bridges are in very bad shape," Maddox said. Right now our gas taxes are going to other things. Maddox said that all gas taxes would go to ALDOT. "In our first legislative session I would support a 12 cent fuel tax." "A portion of that needs to go back to county and municipal government."
Maddox said that watching the Kavanaugh hearing, "It is chilling as to what can happen when you offer yourself for public service." On the positive side I get to meet people like you. "Social media makes it harder but in the end there is nothing better than serving something better than yourself."
A member of the audience asked about replacing the 1901 Constitution.
"Many of the things you see are symptoms of the disease and the disease is the 1901 Constitution," Maddox said. "We will not be able to address it in the first four years. The document was born out of racism. It has held this state back for decades."
The Birmingham Kiwanis Club is the biggest in the nation. They meet for lunch every Tuesday downtown. Chief Justice candidate Tom Parker (R) will be the featured speaker on October 16. Governor Kay Ivey (R) will address the group on October 23. On October 30 Alabama Department of Commerce Secretary Greg Canfield will be the featured speaker.
"Alabama is better than being at or near the bottom in everything that matters," Maddox said. "If we do not win my fear is that we will continue to rock along and in five years we will ask ourselves why are we still 47th or worse."
Walt Maddox is a graduate of Central High School in Tuscaloosa. He went to UAB where he played lettered in football for four years. He received a Master's Degree at UAB and then went back to Tuscaloosa where he worked for the Alabama Education Association (AEA) as a Uniserve Director. He was elected to the City Council, then elected Mayor. He is now serving in his fourth term as Mayor. 12.5 percent of the city was destroyed in the 2011 tornado. He has received national recognition for his efforts following the tornado. He has run in nine marathons. Maddox and his wife Stephanie have two children
Mayor Maddox faces Governor Kay Ivey (R) in the November 6 general election.
Print this piece
Carl, Hightower raising money for July GOP primary runoff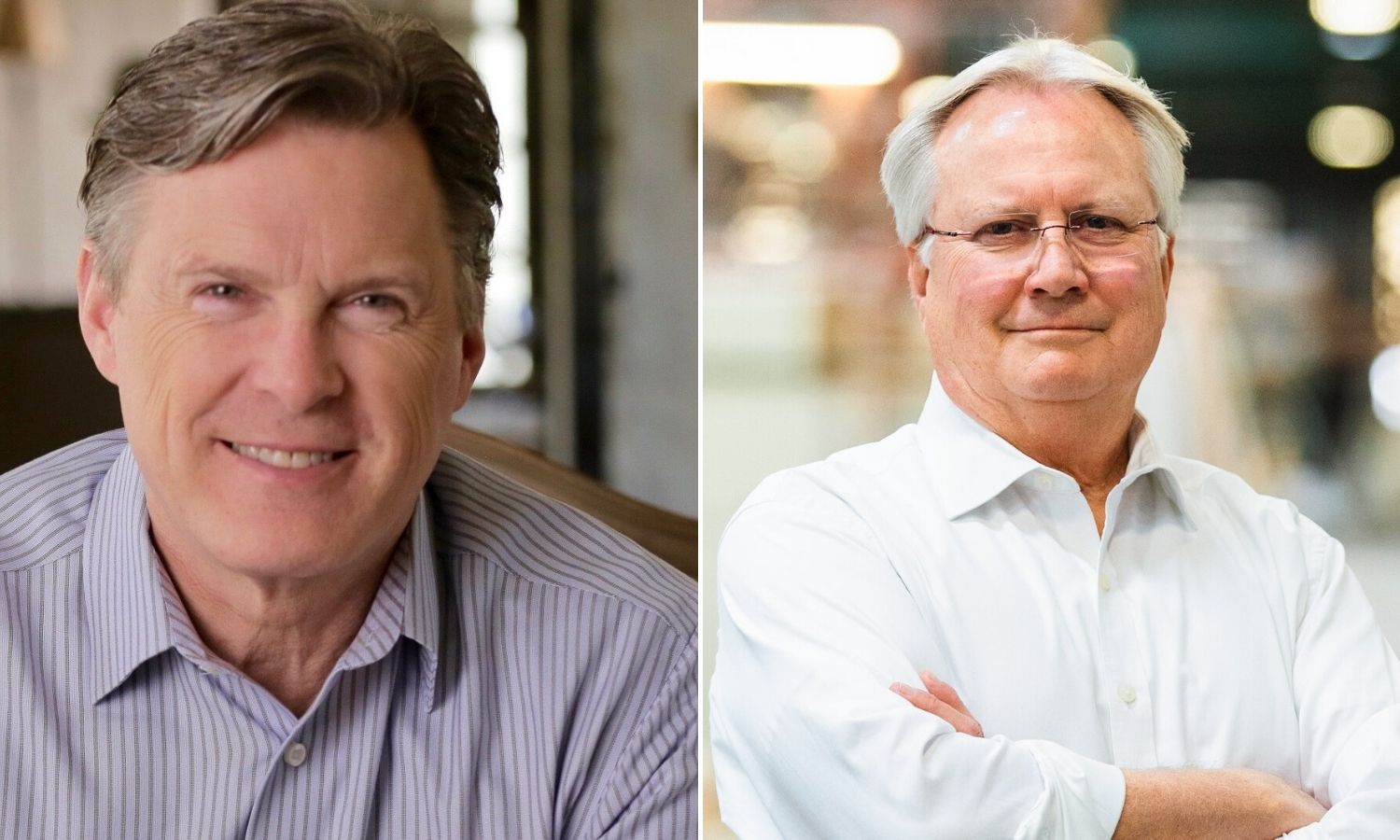 Mobile County Commissioner Jerry Carl and former State Senator Bill Hightower are running in the Republican Party primary runoff on July 14.
Both campaigns are preparing for the final push. Their Federal Elections Commission reports on their fundraising efforts are through the end of March.
Carl reported total receipts of $1,513,462.10. $709,525.10 of Carl's money comes contributions. $670,169.60 of that is contributions from individuals; while $37,700 are contributions from other committees. Carl has contributed $1,655.50 to his own campaign. Carl's congressional campaign also reports personally loaning his campaign $758,900.
Carl has already spent $1,307,240.85. $1,114,940.85 was for campaign operating expenses, $400 was for contribution refunds and $191,900 were loan repayments. Carl entered the month with $206,221.25 in cash on hand and debts of $567,000.
R.E. Myles of Grand Bay, AL donated $8400 to Carl's campaign. Myles is the President of the law firm McDowell, Knight, Roedder, & Sledge. There are two entries for Mr. Myles of Grand Bay. The second is for $5,600. Carl's other top contributors include: Rachel Burton is a Mobile housewife $5,800. Philip Burton of Mobile contributed $5,600. Burton works for the Burton Property Group. Clarence Burke Jr. of Foley works for Wolf Creek Industries $5,600. Nancy Myles of Grand Bay is retired, $5,600. Morgan Myles is a Mobile engineer with Core Industries, $5600. White-Spunner & Associates is a real estate firm, $5,400. Warren Nicholson of Mobile, who works for NFINA Technology, $5,400. Kathy Nichols of Mobile is retired, $5,400. Matt Metcalfe is a Mobile realtor, $5,400. Jerry Lathan is a contractor from Theodore, $5,400.
Former State Senator Bill Hightower reported total contributions of $1,071,355.21. $1,032,155.21 were individual contributions; while $39,200 were contributions from other committees. Hightower has no outstanding loans.
Hightower has already spent $858,340.60. $848,860.60 were operating expenses. $5,600 were refund contributions to individuals. $3,880 were other disbursements. The Hightower campaign had $213,023.40 in cash on hand.
Club for Growth PAC is supporting Hightower and they have donated $19.600 to his campaign. Major contributors include: Richard Uihlein of Lake Forest, Illinois is the CEO/owner of Uline, $11,200. Roy Drinkard of Cullman is the owner of Drinkard Construction, $2,800. Lamar Harrison of Wilmer, AL is the President of Gulf Construction and Hauling, $2,800.00. Rhonda Scott is an Opelika homemaker, $2,800.00. Allen Harris of Opelika is the owner of Bailey-Harris Construction Company $2,800. Donna Williams is a Mobile homemaker $2,800. George Montgomery is the president of his own company $2,800. Sherri Trick is a Tuscaloosa homemaker $2,800. Carrie Montgomery of Mobile is the treasurer at Gulf Fastener. $2,800. Kreis William of Birmingham is a vice president at JohsonKreis Construction $2,800.
The winner of the Republican primary runoff will face the winner of the Democratic Party primary runoff between James Averhart and Kiani Gardner
The First Congressional District is an open seat, because incumbent Bradley Byrne, R-Montrose, is not seeking re-election.
Print this piece