Former ALEA Chief confirms Ivey's emergency hospitalization and cover-up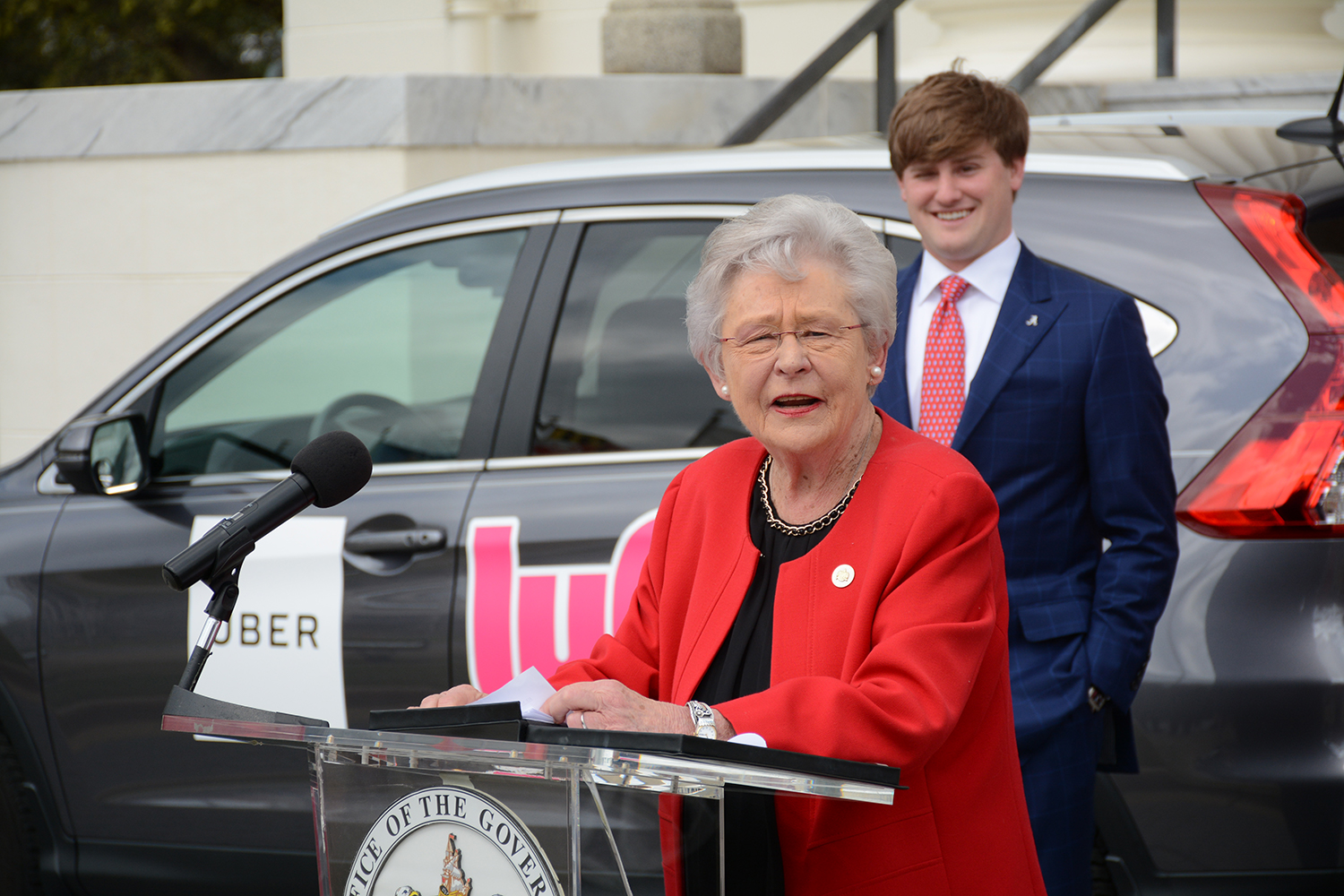 After then-Lt.Gov. Kay Ivey was rushed to a Colorado hospital with stroke-like symptoms, she and her staff attempted a cover-up to keep the public ignorant of her medical condition.
A year ago, when APR reported the emergency hospitalization, Ivey's staff equivocated and then went to extraordinary lengths to deny, evade and mislead the public about the incident in which Ivey reportedly suffered a series of mini-strokes.
Ivey's Chief of Staff hid hospitalization after stroke-like symptoms
In 2017, former Alabama Law Enforcement Agency Secretary Spencer Collier would not confirm APR's report, but with just weeks until the Nov. general election, APR contacted Collier and others about Ivey's 2015 medical emergency, and this time Collier confirmed Ivey's hospitalization, the cover-up and the steps taken to punish the trooper who sat by Ivey's bedside in a Colorado Springs medical facility while she recovered from what was reported as mini-strokes.
Ivey's hospitalization occurred while attending the Aerospace State Association Annual Meeting in Colorado Springs. She was reportedly hospitalized for three days or more. She was accompanied by Chief of Staff Steve Pelham and Security Officer Thomas Andrew "Drew" Brooks.
"I remember vividly; I was contacted by Jack Clark, who was chief of protective services, which is an appointed position. Chief Clark advised me that he was contacted by Lt. Gov. Ivey's detail leader," Collier said. "Chief Clark advised me that the detail leader contacted him and stated that he made the decision to rush Governor Ivey to the hospital after what he deemed was a medical emergency. And Chief Clark advised me that, 'oh, she was admitted to the hospital and the initial diagnosis was stroke-like symptoms.'"
Shortly after Ivey replaced disgraced Gov. Robert Bentley, APR asked Ivey's office about the crisis situation. At the time, her office first denied the event had taken place. Days later when other media outlets pressed the issue, Ivey's spokesperson said that she had suffered altitude sickness.
This was a ruse Collier said that was first concocted at the time of her hospitalization.
"Initially the trooper was told, 'don't tell anyone,'" said Collier. Later, they changed the story by admitting to altitude sickness, according to Collier.
"Chief Clark said the trooper in charge of her security detail was later told to report that Gov. Ivey was suffering from altitude sickness," Collier recalls. "That was not the case, and the trooper obviously knew that was not the case. And, pointed that out to Chief Clark, who then told me."
The order to make a false statement to a superior officer was given by Ivey's Chief of Staff Steve Pelham, according to Collier and others who were familiar with the cover-up.
Immediately upon being informed of Ivey's hospitalization, Collier says he alerted then-Gov. Bentley who asked to be kept apprised of the ongoing situation.
Collier is currently suing Bentley for wrongful termination, and the Ivey administration has paid over $300,000 to protect Bentley in the suit, which is still ongoing.
Bentley has told close associates that he was fully aware of Ivey's incident in Colorado as well as other things he claims to be holding.
When Trooper Brooks returned from Colorado, Collier said he was worried about his future because he had not hidden Ivey's emergency and was afraid of reprisal.
"He [Brooks] did the right thing by notifying his supervisor, just based on what we call continuity of operations or continuity of government," Collier said. "He followed policy, and he did the right thing by notifying his supervisor but being instructed not to tell anyone raised red flags for everyone."
Collier strongly asserts that he is not trying to make an issue with Ivey's health. "I can relate," he said.
However, he says the decision to not be truthful was a political decision. "Executive Security Troopers are trained not to focus on political discussions and especially not repeat them. However, a line was clearly crossed when the Trooper was instructed also to be deceitful," Collier said. "I think the Trooper showed integrity by recognizing that withholding information pertaining to continuity of operations from his chain of command outweighed his concern for maintaining his position as her detail leader."
But not keeping Ivey's secret did have consequences for Brooks.
"I received a call from her [Ivey] one morning not long after the Colorado incident, and I mean early, like six in the morning, to meet her at Balch & Bingham in Montgomery," Collier said. The meeting at a private law office was unusual but that Ivey frequently called him directly on security matters rather than following the proper chain of command.
"Of course I immediately was concerned and thought it was a law enforcement issue. I got up, got dressed, and met her in a private office at Balch & Bingham," he recalled. "She wanted that particular trooper [Brooks] transferred that day, effective. She stated that it was over a breach in her security protocol. She basically accused the trooper of trying to hack into her email. So she wanted him transferred."
Collier also said he didn't believe Ivey's explanation for reassigning Brooks. "I did not believe Gov. Ivey's explanation that he attempted to access her email. Such behavior would have warranted an internal investigation, and she very clearly did not want that to happen."
Brooks was reassigned that day by noon, according to Collier. When Brooks was transferred, his pay was automatically cut 7.5 percent. Troopers assigned to Executive Security within the Protective Services Unit automatically receive a three-step raise while working on a protection detail. Brooks was transferred to a drivers' license station in Houston County.
The Ivey administration's claims of altitude sickness run contrary to medical information provided by the Cleveland Clinic.
Colorado Springs, located at the eastern foot of the Rocky Mountains is 6,035 feet above sea level. Ivey traveled to Colorado Springs from Montgomery where the elevation is only 240 feet. However, according to the Cleveland Clinic, "altitude sickness, also called mountain sickness, is a group of general symptoms that are brought on by climbing or walking to a higher and higher altitude (elevation) too quickly. Altitude sickness can affect anyone who goes to high altitudes without giving the body time to adjust to the changes in air pressure and oxygen level. High altitude is defined as 8,000 – 12,000 feet above sea level. Very high altitude is 12,000 – 18,000 feet and altitudes above 18,000 feet are considered extremely high altitude."
According to the Cleveland Clinic, "Severe altitude sickness is an emergency situation, and the affected person must be taken to a lower altitude immediately."
However, Ivey remained in Colorado Springs, 2,000 feet below what the Cleveland Clinic determines as high altitude.
Collier says the trooper's report, which should still be on file at ALEA, list TIAs as the cause of Ivey's three day emergency hospitalization. TIA stands for Transient Ischemic Attacks often referred to as "Mini Stokes." The Stroke Association points out that these temporary episodes are more appropriately called "warning stroke…because they can indicate the likelihood of a coming stroke." About 1 in 3 people who has a TIA goes on to experience a subsequent stroke."
He also says text messages and emails between her office at the time of the incident will confirm his story. However, he expects the Ivey administration to deny his account. Collier says he is willing to take a polygraph test and challenges Ivey and Pelham to do the same.
During the Republican primary, GOP State Sen. Bill Hightower challenged Ivey and other gubernatorial candidates to release their medical records. Ivey, after brushing off Hightower's challenge, did eventually provide a statement from a doctor who also happened to be one of her campaign contributors.
Why Ivey and her staff felt compelled to cover-up her hospitalization and then lie to the media is unclear. Perhaps more disturbing was her move to demote a trooper for following protocol to secure her safety.
Collier never mentioned Trooper Brooks by name.
Related reports:
Gov. Ivey's office says she's "healthy," doesn't dispute APR report
Gov. Kay Ivey promises she's healthy: "I've never felt better"
Governor's Office says 2015 hospitalization was the result of altitude sickness
Why does the Ivey Administration continue to mislead the public and press?
Print this piece
Alabama Republicans upset with Jones' "no" vote on coronavirus stimulus bill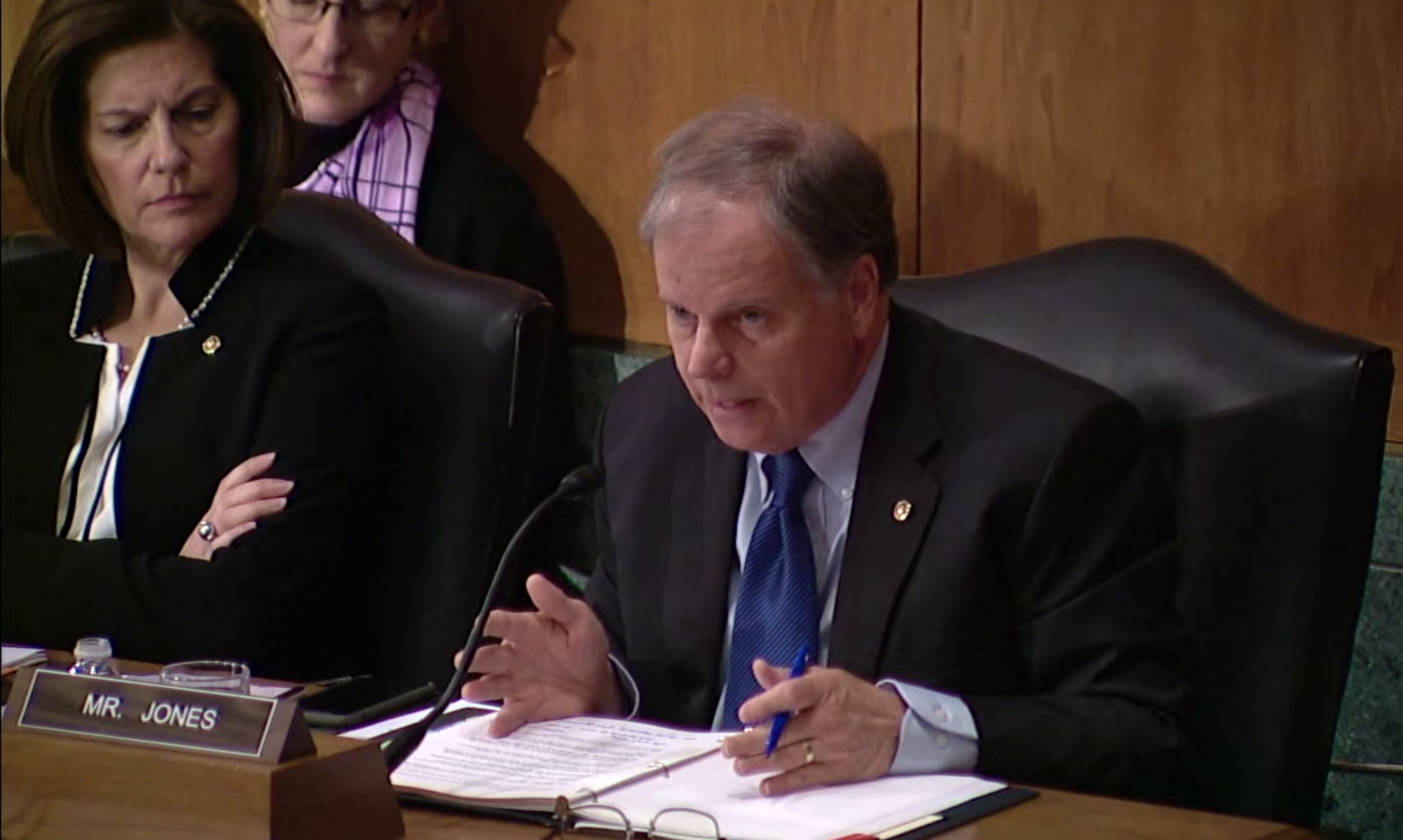 Alabama Republican leaders on Monday condemned U.S. Sen. Doug Jones' procedural vote to prevent the coronavirus stimulus bill from coming to a vote.
On Sunday, Democrats blocked action on the comprehensive stimulus package — the third of the legislative response to the coronavirus outbreak. The bill is still being negotiated and the vote was not a vote on whether to pass a final version of the stimulus package.
"I voted against it yesterday because I wanted to make a point," Jones said. "We had lost the negotiating and bipartisan progress for about 24 hours. And I felt very strongly that we need to get that progress back. So I voted no on a procedural motion to proceed, and guess what happened, they got down to negotiating, and in the last 24 hours, more progress has been made in the last 24 hours and than there was in the 24 hours before that."
We've made a lot of progress in the last 24 hours and so today I voted to move the process forward—but make no mistake this bill needs major changes before it would earn my full support, including:

✔️ $$$ for our cities/counties
✔️ ️full transparency for the $500B relief fund pic.twitter.com/3ZWqwVP8ko

— Doug Jones (@SenDougJones) March 23, 2020
By Monday, Jones decided to vote yes another similar procedural vote, a vote to move forward with the legislative process but said that does not mean he will vote for the final product if changes aren't made.
"We need to get the clock ticking," Jones said. "We have got to get this thing moving. I felt it very important to tell my leader as well as leader McConnell that we need to get it together."
But Republicans in the state are not happy with Jones's procedural vote. Alabama Republican Party Chairman Terry Lathan said, "This is not the time for politics."
"Senator Doug Jones needs to follow the example of Democrat New York Governor Andrew Cuomo – who has put his political differences aside and is working across the aisle with President Trump during this crisis – instead of being Nancy Pelosi and Chuck Schumer's partisan puppet," Lathan said in a statement. "His NO vote Sunday night has had serious ramifications on the people of Alabama and our country. The Democrats helped craft this emergency unprecedented legislation and then, like Charlie Brown and the football, yanked away desperately needed help for America."
The deal was originally negotiated by Treasury Secretary Steven Mnuchin and Speaker Pelosi. Democrats had agreed, but the deal had been held up last week by conservative Republicans balking at the price tag – all of this will be paid for with deficit spending and no plan to pay any of it back in the foreseeable future.
The Republican position in the Senate was weakened further when Republican Senator Rand Paul, R-Kentucky, announced he was infected with the novel strain of the coronavirus, SARS-CoV-2, though he is showing no symptoms of COVID-19, the illness caused by the virus.
46,148 Americans have been confirmed as having the virus. The virus has killed 582 Americans, 140 of them on Monday alone.
"Doug Jones has let the majority of our state down in an uncertain time," Lathan said. "We needed him – and he ignored us AGAIN. "
Sen. Richard Shelby, R-Alabama, voted in favor of ending debate and bringing the stimulus bill to a vote.
"Thank you to President Trump and Senator Richard Shelby for putting America and Alabama first," Lathan concluded. "We continue to lift our leaders up in prayer as their burdens and decisions weigh heavy."
Republican Senate candidate Jeff Sessions said, "I've seen this play before too many times. Just as the Senate was ready to pass a bi-partisan bill providing support for American workers… Senator Chuck Schumer & House Speaker Nancy Pelosi blew it up at the last minute, trying to add unrelated spending to a bill with already too much spending. Amazingly, Pelosi wants to use this time of crisis to breath new life into the Green New Deal!"
Republican Senate candidate Tommy Tuberville said, "America is at war with an enemy we can't see, and we currently have no weapon that can kill it. To win this war against the Coronavirus, salvage the U.S. economy, and provide needed financial help to millions of Americans, Doug Jones and other Senate Democrats are going to have to put their partisanship and hatred of President Trump aside and support a bipartisan stimulus package. Now is the time to work together as Americans first and save the partisan political battles for when this crisis is resolved."
The president, with bipartisan support from Congress and the governors, issued recommendations that led states to shut down their schools and most businesses beginning a week and a half ago.
The question for most business owners now is will they make payroll or just lay off their workers. Mnuchin's deal included loans that small businesses would not have to pay back if they used it to make payroll and pay overhead. It also included cash payments for Americans. The average family of four would receive about $3,000 under the plan.
"We need to get the money into the economy now. If we do that, we think we can stabilize the economy," Mnuchin said on Sunday. "I think the president has every expectation that this is going to look a lot better four or eight weeks from now."
"This isn't the financial crisis that's going to go on for years," Mnuchin added. "We're going to do whatever we need to do to win this war."
Former State Representative and Member of the National Trump/Victory Finance Committee Perry Hooper said that he is confident the Coronavirus Stimulus Legislation will pass.
"One of the most important parts of the Bill is addressing the needs of Small Business and the employees," Hooper told the Alabama Political Reporter. "Small Business is the backbone of America. Any Republican or any Democrat would be insane voting against the Trump Stimulus Legislation."
Print this piece