Anti-abortion group National Right to Life endorses Ivey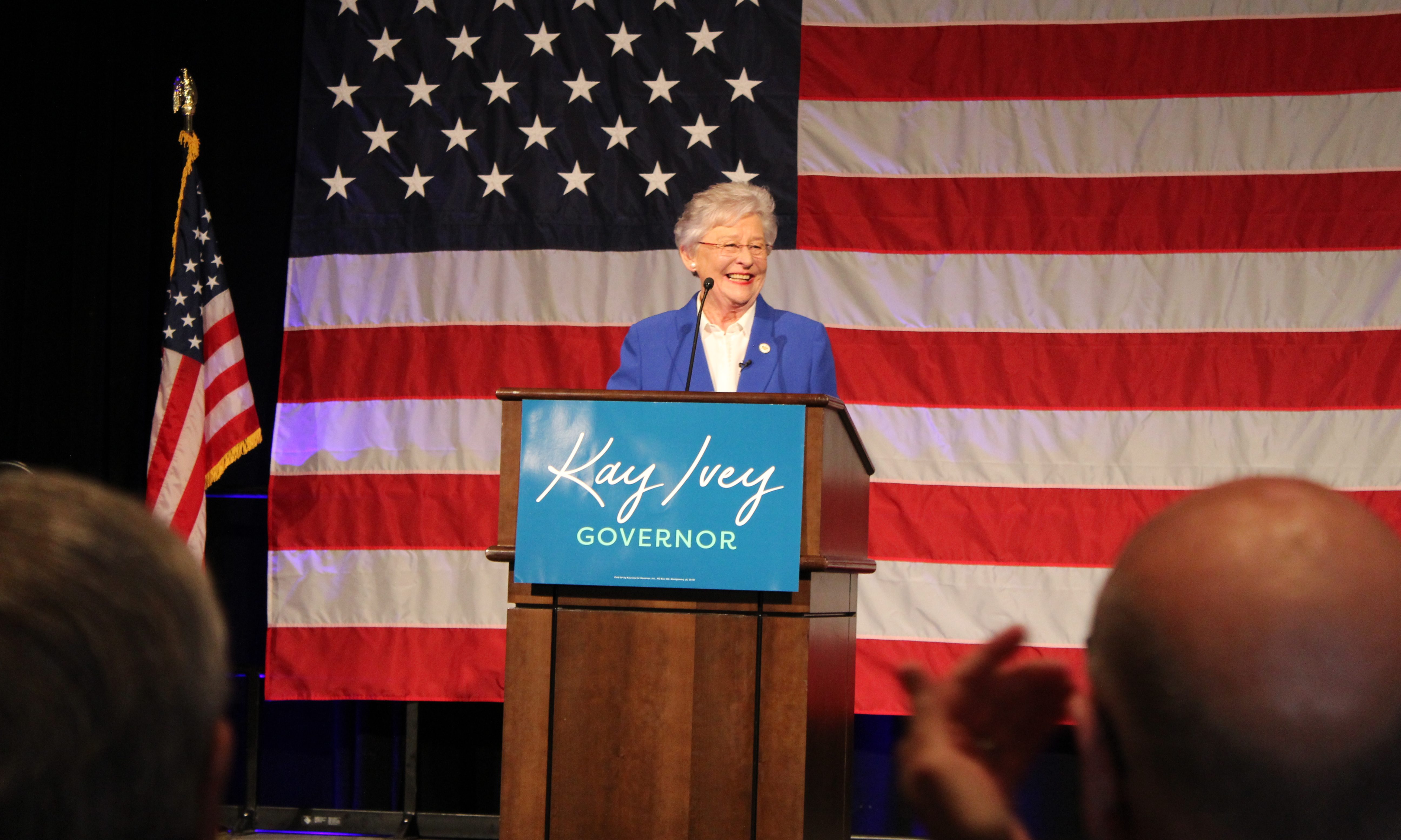 National Right to Life announced their endorsement of Alabama Governor Kay Ivey (R) in the Nov. 6 general election.
Ivey said she proudly accepted the endorsement from National Right to Life, the third pro-life organization to endorse Ivey as Governor.
In a letter announcing their support for Kay Ivey, National Right to Life Executive Director David O'Steen and Political Director Karen Cross described Governor Ivey as a "strong advocate for life."
National Right to Life applauded Governor Ivey's support of the Pain-Capable Unborn Child Protection Act as well as her opposition to using taxpayer dollars to fund abortions and abortion providers.
"All Alabama voters who are concerned with the right to life and with the protection of the most vulnerable members of the human family should vote to reelect you as governor so that you can continue to advance vital pro-life public policies," said Cross and O'Steen.
Governor Ivey's opponent, Tuscaloosa Mayor Walter "Walt" Maddox (D) has been running ads touting his pro-life and pro-gun credentials, which is odd for the modern Democratic Party; but Ivey is the one with the endorsements from the Susan B. Anthony List, Alabama Citizens four Life, and the National Rifleman's Association (NRA). The NRA magazines with their Kay Ivey endorsements arrived in NRA households across Alabama on Tuesday.
"This endorsement reflects your commitment to strengthening a culture of life. We look forward to working with you to protect the most vulnerable members of the human family – unborn children and medically dependent or disabled persons – whose lives are threatened by abortion or euthanasia," said Cross and O'Steen in their letter.
Kay Ivey has served two terms as Alabama's state Treasurer and two terms as the Lieutenant Governor. She was elevated to Governor in April 2017 when then Governor Robert Bentley (R) resigned after the House Judiciary Committee began impeachment hearings. Ivey grew up on a cattle farm in Wilcox County, attended Auburn University, went to work as a school teacher, then went to work in state government.
Ivey's campaign is emphasizing her administration's strong job growth, robust economic growth, increasing pre-K access, and workforce development as reasons to elect her as governor. Mayor Maddox's campaign is promising to extend Medicaid benefits to more people, raise fuel taxes, a state-sponsored lottery, taxing sports gambling, and a gambling agreement with the Poarch Creek Indians.
The general election will be on Tuesday, November 6. Also in this election, voters gets to vote on Amendment Two which states that nothing in the Alabama Constitution can be construed as allowing abortions to take place. The growing pro-life movement is hopeful that the U.S, Supreme Court will eventually overturn the highly controversial Roe versus Wade ruling that forced the states to allow abortion on demand.
Alabama State Fraternal Order of Police endorses Russell Bedsole
The Alabama State Fraternal Order of Police endorsed Republican candidate Russell Bedsole in the special election in Alabama House of Representatives District 49. Bedsole is a Captain with the Shelby County sheriff's Department and currently serves on the Alabaster City Council.
"There is no doubt that our country, state, and communities are facing extreme challenges," said Everette Johnson, the president of the Alabama State FOP. "These challenges have caused stress, divisiveness, and concern for the future of our country. Now more than ever, we need strong, yet compassionate, leaders to guide us through these turbulent times. We need leaders who understand how important the safety of our communities should be and the willingness to work together for all. Russell Bedsole is that leader."
Bedsole said it is an honor to be endorsed by the Alabama State Fraternal Order of Police.
"As a representative of District 49, I will work to protect law and order in our communities and stand up for our conservative Christian values in Montgomery," he said.
Bedsole and competitor Mimi Penhale were the top two vote-getters in the Republican primary runoff. Chuck Martin, who came in third, has also endorsed Bedsole.
"I wanted to again thank those that voted for me, supported me by putting up signs and making phone calls," Martin said in a statement on social media. "I also want to thank those who also made donations to fund my campaign. Since I came in third, Russell Bedsole and Mimi Penhale have both ask for my endorsement. I want to ask those that supported me to support Russell Bedsole. Both candidates are great people, but Debbie and I made the decision to support Russell."
Bedsole has been elected twice by the citizens of Alabaster to represent the city's fifth ward on the Alabaster City Council. Bedsole's campaign said that during his time of service, Alabaster has benefited from positive economic growth, a first-class school system and a high quality of life. He has also received endorsements from the Shelby County Fraternal Order of Police, Alabama Association of Nurse Anesthetists and Conservation Alabama.
A runoff election for the District 49 seat will be held on Sept. 1.
"I humbly ask for your vote on September 1 to grant me the opportunity to serve District 49," Bedsole said.
The special election is being held to fill the seat left vacant when Rep. April Weaver, R-Briarfield, joined President Donald Trump's administration as a regional director of the Department of Health and Human Services. House District 49 includes portions of Bibb, Chilton and Shelby Counties. The eventual Republican nominee will face Democratic nominee Cheryl Patton in the Special General Election on Tuesday, Nov. 17. The winner will serve the remainder of April Weaver's term, which ends in late 2022.