St. Clair GOP urged to vote yes on Alabama Amendment Two
Rick Renshaw with the Alliance for a Pro-Life Alabama addressed the St. Clair County Republican Party at a meeting in Moody Thursday. Renshaw urged the gathered Republicans to vote Yes on Amendment two.
Amendment Two is a pro-life amendment that would clarify that nothing in the Alabama Constitution could be interpreted as guaranteeing a right to an abortion.
Renshaw said that the opposition is, "Sitting on $900,000. We have about a $1000. When I say they are going to outspend us a million to one, I mean that literally."
We are not going to be able to run TV or radio advertising, Renshaw said. The opposition group is calling itself: "Alabama for Healthy Families. Can you be any more deceptive?"
We recently announced three co-chairs for our group, the Alliance for a Pro-Life Alabama: PSC President Twinkle Andress Cavanaugh, Republican Party Chairman Terry Lathan, and Mary Sue McClurkin. She shepherded a lot of legislation through the House during her four terms.
We have a statement from the Attorney General supporting Amendment Two, Renshaw said. Any state candidate is welcome to submit a statement supporting Amendment Two.
AG Steve Marshall (R) has been supportive of the pro-life cause.
"When the Democrats controlled the legislature, we were kind of conditioned to vote no on Amendments," Renshaw said. We need to get over that. Renshaw said that he was good with all four of the statewide Amendments; but particularly Amendment Two.
Renshaw warned that Planned Parenthood and the Amendment Two opposition would use scare tactics and misinformation to defeat Amendment Two.
"They are trying to scare people about the nature of the Amendment." Renshaw said.
Renshaw told the Alabama Political Reporter that Planned Parenthood PACs in other state are transferring funds to the Alabama for Healthy Families PAC in violation of Alabama's PAC to PAC transfer ban law.
"Thank you for letting me come up here and speak," Renshaw told the St. Clair County Republicans.
The Chairman of the St. Clair County Republican Party is Lance Bell.
Chairman Bell said that Sheriff elect Billy Murray (R) did not run for another term as a member of the state Republican Executive Committee because he did not want to appear on the ballot twice. Emory Cox ran for that seat; but he got a job in the White House so had to resign.
The St. Clair County Executive Committee then accepted nominations for the vacancy. Judge Phil Seay (R), a former St. Clair Republican Party Chairman, was selected unanimously to fill that vacancy on the State Republican Executive Committee.
"Thank you very much I really appreciate it," Judge Seay said.
The Treasurer reported that the St. Clair County Republican Party had over $45,000 in their main checking account. The bass tournament and scholarships accounts are separate from that main account.
Judge Seay made a motion that $10,000 of that be used to pay campaign debts for Judge-elect Bill Cole (R), Judge-elect Richard Minor (R), support the campaign of State Senator Jim McClendon (R), and state house candidate Craig Lipscomb (R). The St. Clair County Repubican Steering Committee would be able to spend up to $10,000 at their discretion.
The motion passed unanimously.
Chairman Bell announced that the Party will have officer elections in February.
St. Clair County School Board Member Bill Morris (R) is heading the St. Clair County for Kay Ivey Campaign.
Morris said that the governor needed donations to her campaign and volunteers to work the polls on election day.
Chairman Bell said that Kay Ivey was leading her Democratic opponent by 20 percentage points in the latest polling but that the biggest concern is that Republicans get complacent and not show up on election day. "Make sure you go vote and bring your friends and family too."
Judge Robert Minor (R) thanked the party members who contributed to the local charity, Lighten the Load which raises money so that children in the foster care system can have hard sided luggage so that when they have to move to a new location they have something to put their stuff in. "Most of them have to put their stuff in garbage bags," Judge Robert Minor said. "We raised $6500."
On November 20, St Clair County will be 200 years old. There will be birthday parties with cake at both the Ashville and Pell City court houses.
The general election will be November 6.
Print this piece
National Right to Life Committee endorses Aderholt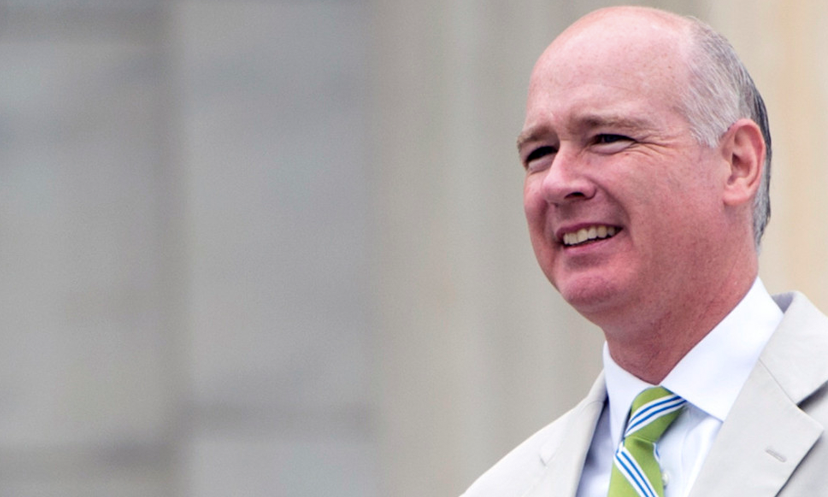 Wednesday, the campaign to re-elect Congressman Robert Aderholt, (R Haleyville) announced that the National Right to Life Committee (NRLC) has endorsed him for re-election to Alabama's Fourth Congressional District.
"I am truly humbled to have the endorsement of the National Right to Life Committee," said Congressman Aderholt. "I have, and I always will, fight for those who are the most vulnerable among us. I cannot think of anyone more vulnerable than the unborn. The National Right to Life Committee is committed to this fight, and it is an honor to fight along side them. As I have said before, no argument on the Pro-Choice side can get around one fundamental fact, abortion stops a human heartbeat."
The NRLC Committee commended Aderholt in its endorsement:
"National Right to Life is pleased to endorse you for re-election to the U.S. House of Representatives," the Committee wrote. "We strongly commend you for maintaining a perfect 100% pro-life voting record throughout the 116th Congress."
"You voted in support of the Born-Alive Abortion Survivors Protection Act," the endorsement letter continued. "This legislation would require that a baby born alive during an abortion must be afforded the same degree of care that would apply to any other child at the same gestational age. You support the Pain-Capable Unborn Child Protection Act. This Act would protect unborn children at 20 weeks, a point by which the unborn child is capable of experiencing great pain when being killed by dismemberment or other late abortion methods. You oppose using tax dollars to pay for abortion, and you oppose taxpayer funding of abortion providers."
"You are a strong advocate for life," the Committee said of Rep. Aderholt. "This endorsement reflects your commitment to strengthening a culture of life throughout our nation and in the U.S. House. We look forward to continuing our important work with you to protect the most vulnerable members of the human family – unborn children, the medically dependent, and persons with disabilities, whose lives are threatened by abortion or euthanasia."
"All voters who are concerned with the right to life and with the protection of the most vulnerable members of the human family should vote to return you to the U.S. House, so that you can continue to work to advance vital pro-life public policies," the endorsement letter concludes.
Robert B. Aderholt is a member of the powerful House Committee on Appropriations, which has jurisdiction over funding the operation of the federal government. He serves as Ranking Member of the Subcommittee on Commerce, Justice and Science. Aderholt also serves as a member of the Agriculture and Rural Development Subcommittee and the Defense Subcommittee. Aderholt is an advocate of fiscal responsibility, truth in budgeting and a federal government that operates within its means.
Aderholt also serves as a commission member of the Commission on Security and Cooperation in Europe (commonly known as the Helsinki Commission). The Helsinki Commission is comprised of 56 countries around the world that together monitors human rights in Europe and Central Asia.
Aderholt believes the federal government serves a critical role in assisting state and local projects regarding economic development. He support pro-growth initiatives that create jobs, strong immigration standards, and robust national security.
Prior to his election to Congress, Aderholt served as Assistant Legal Advisor to Governor Fob James (R) as well as Municipal Judge for the city of Haleyville, Alabama. Aderholt has a bachelor's degree from Birmingham Southern College and a law degree from the Cumberland School of Law at Samford University. He was born on July 22, 1965, and raised in Alabama, Aderholt and his wife, Caroline, have two children.
Congressman Robert Aderholt is seeking his thirteenth term representing Alabama's Fourth Congressional District.
Aderholt faces a general election challenge from Democratic nominee Rick Neighbors.
Print this piece