St. Clair GOP urged to vote yes on Alabama Amendment Two
Rick Renshaw with the Alliance for a Pro-Life Alabama addressed the St. Clair County Republican Party at a meeting in Moody Thursday. Renshaw urged the gathered Republicans to vote Yes on Amendment two.
Amendment Two is a pro-life amendment that would clarify that nothing in the Alabama Constitution could be interpreted as guaranteeing a right to an abortion.
Renshaw said that the opposition is, "Sitting on $900,000. We have about a $1000. When I say they are going to outspend us a million to one, I mean that literally."
We are not going to be able to run TV or radio advertising, Renshaw said. The opposition group is calling itself: "Alabama for Healthy Families. Can you be any more deceptive?"
We recently announced three co-chairs for our group, the Alliance for a Pro-Life Alabama: PSC President Twinkle Andress Cavanaugh, Republican Party Chairman Terry Lathan, and Mary Sue McClurkin. She shepherded a lot of legislation through the House during her four terms.
We have a statement from the Attorney General supporting Amendment Two, Renshaw said. Any state candidate is welcome to submit a statement supporting Amendment Two.
AG Steve Marshall (R) has been supportive of the pro-life cause.
"When the Democrats controlled the legislature, we were kind of conditioned to vote no on Amendments," Renshaw said. We need to get over that. Renshaw said that he was good with all four of the statewide Amendments; but particularly Amendment Two.
Renshaw warned that Planned Parenthood and the Amendment Two opposition would use scare tactics and misinformation to defeat Amendment Two.
"They are trying to scare people about the nature of the Amendment." Renshaw said.
Renshaw told the Alabama Political Reporter that Planned Parenthood PACs in other state are transferring funds to the Alabama for Healthy Families PAC in violation of Alabama's PAC to PAC transfer ban law.
"Thank you for letting me come up here and speak," Renshaw told the St. Clair County Republicans.
The Chairman of the St. Clair County Republican Party is Lance Bell.
Chairman Bell said that Sheriff elect Billy Murray (R) did not run for another term as a member of the state Republican Executive Committee because he did not want to appear on the ballot twice. Emory Cox ran for that seat; but he got a job in the White House so had to resign.
The St. Clair County Executive Committee then accepted nominations for the vacancy. Judge Phil Seay (R), a former St. Clair Republican Party Chairman, was selected unanimously to fill that vacancy on the State Republican Executive Committee.
"Thank you very much I really appreciate it," Judge Seay said.
The Treasurer reported that the St. Clair County Republican Party had over $45,000 in their main checking account. The bass tournament and scholarships accounts are separate from that main account.
Judge Seay made a motion that $10,000 of that be used to pay campaign debts for Judge-elect Bill Cole (R), Judge-elect Richard Minor (R), support the campaign of State Senator Jim McClendon (R), and state house candidate Craig Lipscomb (R). The St. Clair County Repubican Steering Committee would be able to spend up to $10,000 at their discretion.
The motion passed unanimously.
Chairman Bell announced that the Party will have officer elections in February.
St. Clair County School Board Member Bill Morris (R) is heading the St. Clair County for Kay Ivey Campaign.
Morris said that the governor needed donations to her campaign and volunteers to work the polls on election day.
Chairman Bell said that Kay Ivey was leading her Democratic opponent by 20 percentage points in the latest polling but that the biggest concern is that Republicans get complacent and not show up on election day. "Make sure you go vote and bring your friends and family too."
Judge Robert Minor (R) thanked the party members who contributed to the local charity, Lighten the Load which raises money so that children in the foster care system can have hard sided luggage so that when they have to move to a new location they have something to put their stuff in. "Most of them have to put their stuff in garbage bags," Judge Robert Minor said. "We raised $6500."
On November 20, St Clair County will be 200 years old. There will be birthday parties with cake at both the Ashville and Pell City court houses.
The general election will be November 6.
Jones introduces bill to encourage investments in minority-serving banks
"One of the biggest hurdles for minority entrepreneurs is access to capital," Jones said.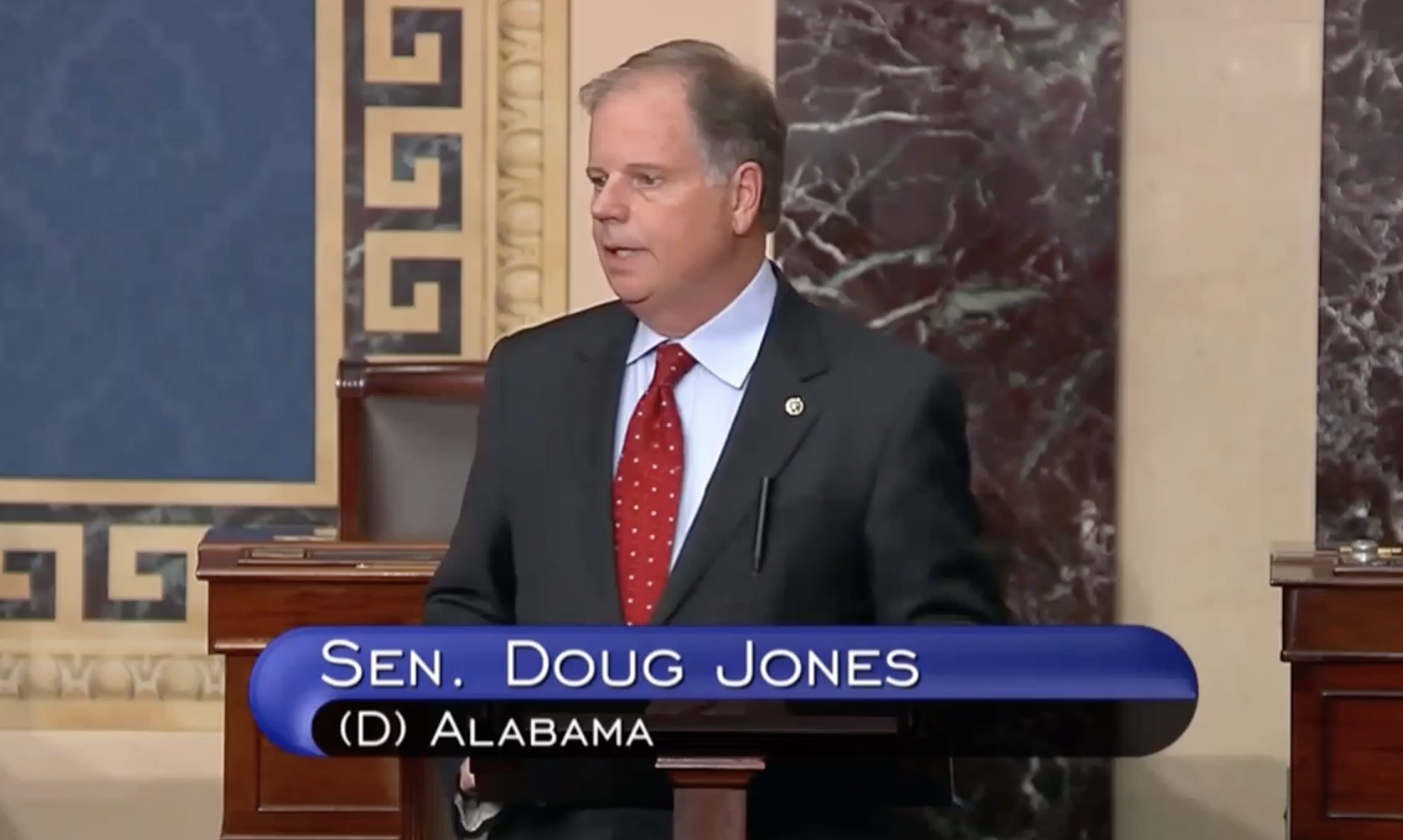 Alabama U.S. Sen. Doug Jones, D-Alabama, on Tuesday introduced legislation that would encourage investments in banks that serve minority communities.
"One of the biggest hurdles for minority entrepreneurs is access to capital," Jones said in a statement. "That's why this bill is so important. Increasing access to capital at the banks that serve minority communities will help expand financial opportunities for individuals and business owners in those communities."
Jones, a member of the Senate Banking Committee, in April urged the Federal Reserve and the U.S. Treasury to support Community Development Financial Institutions and minority-owned banks disproportionately affected by the COVID-19 pandemic, and he threw his support behind more federal funding for small community banks, minority-owned banks and CDFIs during the recent Paycheck Protection Program replenishment.
According to a press release from Jones's office, the bill would attract investments to those financial institutions by changing rules to allow "minority-owned banks, community banks with under $10 billion in deposits" and CDFIs to accept brokered deposits, or investments with high interest rates, thereby bolstering those institutions and encourage them to invest and lend in their communities.
It would also allow low-income and minority credit unions to access the National Credit Union Administration's Community Development Revolving Loan Fund.
"Commonwealth National Bank would like to thank Senator Jones for his leadership in introducing the Minority Depository Institution and Community Bank Deposit Access Act. As a small Alabama home grown institution, this proposal will allow us to accept needed deposits without the current limitations that hinder our ability to better serve the historically underserved communities that our institutions were created to serve. We support your efforts and encourage you to keep fighting the good fight for all of America," said Sidney King, president and CEO of Commonwealth National Bank, in a statement.
"The Minority Depository Institution and Community Bank Deposit Access Act is a welcomed first step in helping Minority Depository Institutions like our National Bankers Association member banks develop the kinds of national deposit networks that allow our institutions to compete for deposits with larger banks and to better meet the credit needs of the communities we serve. The National Bankers Association commends Senator Jones' leadership on this issue, and we look forward to continuing to engage with him on the ultimate passage of this proposal," said Kenneth Kelly, chairman of the National Bankers Association, in a statement.
A recent report by the Brookings Institute highlighted problems minority-owned businesses had accessing federal COVID-19 relief aid from PPP loans. Researchers found that it took seven days longer for small businesses with paid employees in majority Black zip codes to receive PPP loans, compared to majority-white communities. That gap grew to three weeks for non-employer minority-owned small businesses, the report notes.
The report also states that while minority-owned small businesses, many of which are unbanked or under banked, get approximately 80 percent of their loans from financial technology companies and online lending companies, fintechs weren't allowed under federal law to issue PPP loans until April 14.