Record employment numbers set in September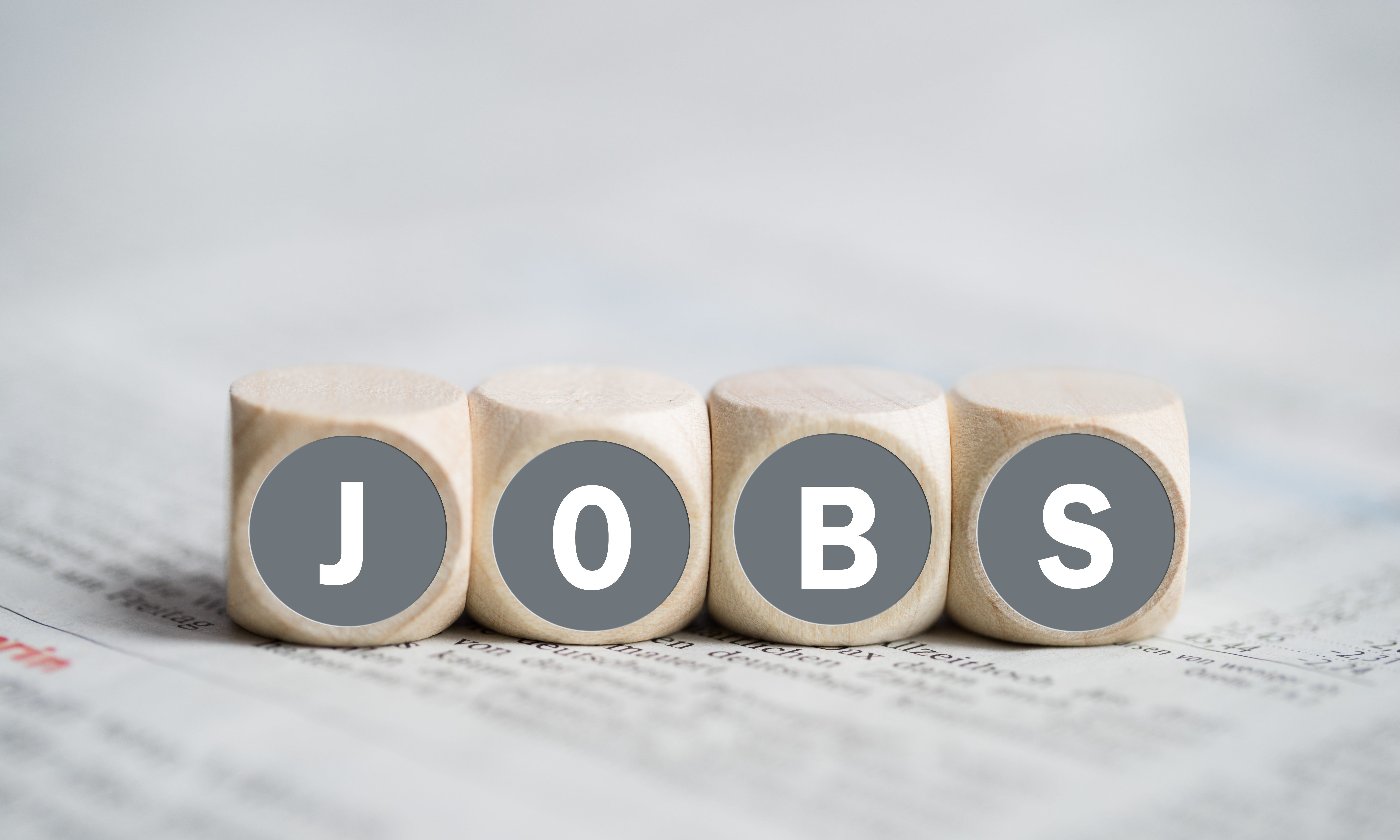 Gov. Kay Ivey announced Alabama has once again broken employment and job records. In September, wage and salary employment reached a record high, and the number of people counted as working was also a record high, for the fifth month in a row.
"Not only are we experiencing record high employment, this month we've also broken another record our economy is currently supporting the most number of jobs in history!" Governor Ivey said. "September's job count of 2,048,000 bypasses the previous record of 2,045,800, which was set in December 2007."
Alabama had a year-over-year job growth of 1.3 percent, the largest percentage increase in 2018.
"In January, economists predicted that Alabama would see job growth of 27,000 in 2018," said Secretary of Labor Fitzgerald Washington. "I'm pleased to say that, year-to-date, we've already seen job growth of 47,000, surpassing that prediction by 20,000 jobs, and we still have three months left to grow."
Wage and salary employment increased in September by 9,100. Monthly gains were seen in the government sector (+6,000), the education and health services sector (+4,000), and the professional and business services sector (+2,100), among others.
Over the year, wage and salary employment increased by 26,800, with gains in the professional and business services sector (+11,500), the manufacturing sector (+8,200), and the construction sector (+2,800), among others.
Alabama's preliminary, seasonally adjusted September unemployment rate is just 4.1 percent.
2,117,027 people were working in September, which is also a record high. In August, 2,112,099 people were counted as employed, and 2,082,085 were counted as employed in September 2017.
"This is the fifth month in a row that we've announced that more people are working in Alabama than ever before," Gov. Ivey said. "Alabama's businesses are hiring, Alabamians are working, and wages are rising."
Wages are also increasing. Average weekly earnings increased over the year in Alabama by $53.82. Manufacturing weekly earnings increased by $27.18 over the year, and construction weekly earnings were up $55.08 over the year.
The economic boom is happening nationwide. According to the federal Bureau of Labor Statistics, September unemployment was 3.7 percent.
Congressman Mo Brooks (R-Huntsville) said that the prosperity will continue as long as the American people continue to embrace free market principles.
"While Washington elites and national media obsess about other matters, working Americans rejoice at yet another great jobs report," Congressman Brooks said. "In September, Americans celebrated a 3.7 percent unemployment rate, America's best since 1969 and a continuation of the strongest economic boom America has enjoyed in more than a decade!"
"The bottom line is that free enterprise works. Socialism doesn't," Brooks stated. "Congress and President Trump's tax cuts, deregulation, restoration of free enterprise principles, and fair trade policies have united to spur fantastic economic growth that benefits all of America. The result? More jobs. Higher pay. Small business optimism higher than at any time in the last 35 years. Economic growth rates at levels unseen in more than a decade. The most explosive DOW Jones jump in decades. All are great for American families."
"Gone are the days of anemic jobs reports and subpar economic performance," Brooks stated. "The American economy has been unleashed and is roaring along. This is what the American people are capable of when we embrace liberty-based, free enterprise economic policies and reject the feel-good socialist policies that have resulted in untold misery and despair in places that have succumbed to their siren song. The prosperity we're seeing now will continue as long as America embraces free-market capitalism— the greatest engine for human advancement and wealth creation in history."
The America's economy added 134,000 new, nonfarm payroll jobs in September 2018 and has added 2.7 million over the past year.
Unemployment rates have fallen for all major races and ethnicities over the past year. African Americans have experienced the biggest improvement. The African American unemployment rate improved by 1.0 percentage points (from 7% in September 2017 to 6% in September 2018). The Hispanic American unemployment rate improved by 0.6 percentage points to just 4.5 percent. The Caucasian American unemployment rates improved by 0.4 percentage points to only 3.3 percent. The Asian American unemployment rate improved by 0.1 percentage points to 3.5 percent. Over the past year, the average weekly earnings for all non-farm American workers increased by $30.49, a whopping 3.4 percent increase over September, 2017. Americans are also keeping more of those earnings due to passage of the Tax Cuts and Jobs Act.
There are 90,830 unemployed persons in Alabama in September, down from 91,183 in August. There were 83,667 in September 2017, but fewer Alabamians were in the work force.
The counties with the lowest unemployment rates are: Shelby County at 2.8 percent, Cullman County at 3.1 percent, and Marshall and Elmore Counties at 3.3 percent. The counties with the highest unemployment rates are: Wilcox County at 9.3 percent, Clarke County at 7.3 percent, and Lowndes County at 7.2 percent.
The major cities with the lowest unemployment rates are: Vestavia Hills at 2.5 percent, Homewood at 2.6 percent, and Alabaster at 2.7 percent. The major cities with the highest unemployment rates are: Selma at 7.7 percent, Prichard at 7.2 percent, and Bessemer and Anniston at 5.2 percent.
The general election is just 15 day away and Republicans are hopeful that voters will consider the improving jobs situation and widespread prosperity when they vote.
Congressman Mo Brooks is seeking a fifth term representing the Fifth Congressional District. He faces former Huntsville City Attorney Peter Joffrion (D).
Kay Ivey is seeking her own term as Governor. She faces Tuscaloosa Mayor Walter "Walt" Maddox (D).
Alabamians request more than 101,000 absentee ballots with 30 days left to apply
So far, 35,184 absentee ballots have been successfully returned for the general election.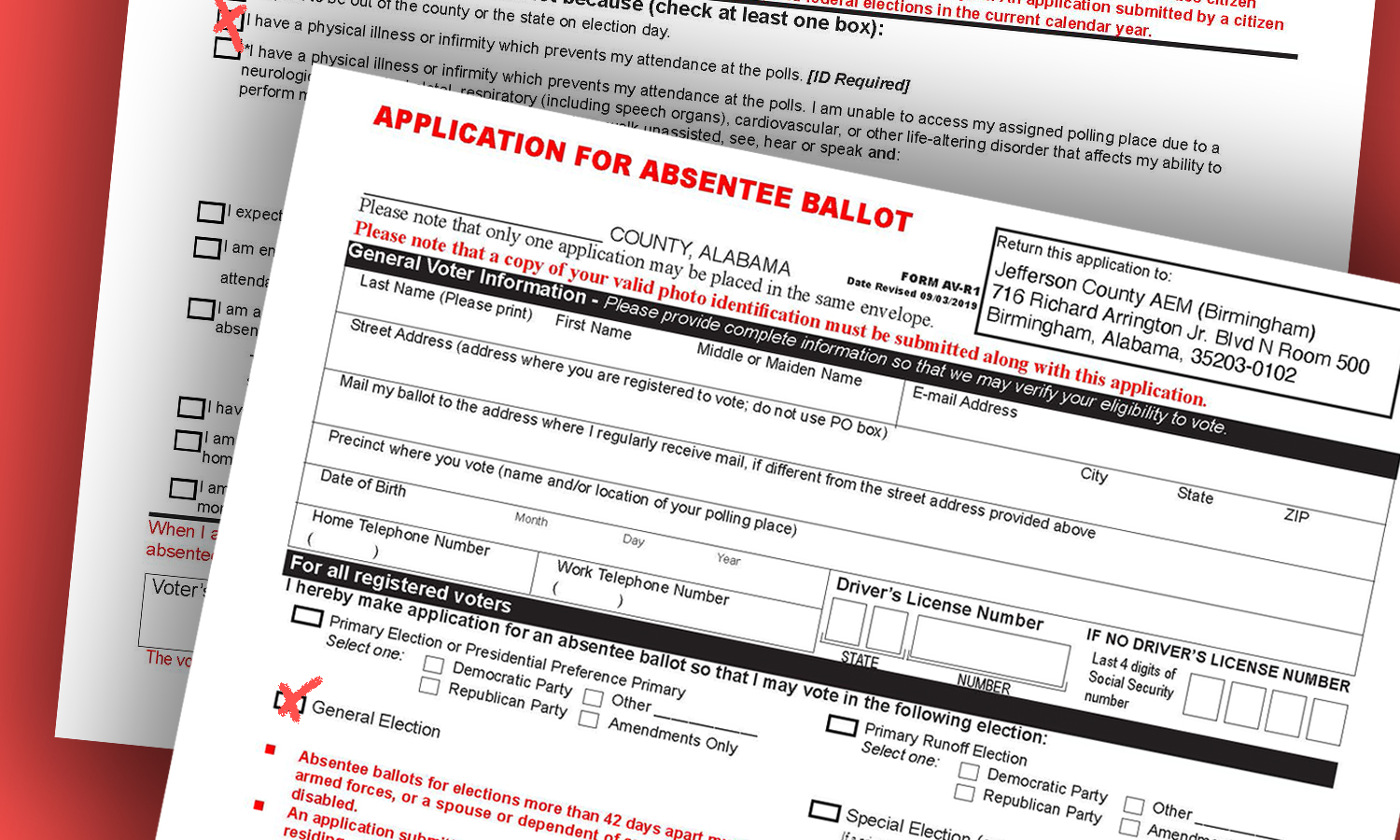 At least 101,092 absentee ballots have been requested so far in Alabama according to Secretary of State John Merrill, with just 30 days left to apply for an absentee ballot for the Nov. 3 general election. So far, 35,184 absentee ballots have been successfully returned for the general election.
In order to protect the safety and well-being of voters, Merrill is encouraging those who are concerned about contracting or spreading the coronavirus to apply for and cast an absentee ballot.
Absentee ballot applications can be downloaded online or requested by visiting or calling your local absentee election manager's office.
Voters may also contact the secretary of state's office at 334-242-7210 to request an absentee ballot application.
Due to the declared states of emergency, any qualified voter who determines it is impossible or unreasonable to vote at their polling place shall be eligible to check the box on the absentee ballot application that is most applicable to that individual. In the case none of the boxes are appropriate, voters can check the box which reads, "I have a physical illness or infirmity which prevents my attendance at the polls. [ID REQUIRED]"
For the Nov. 3 general election, the deadline to register to vote is Monday, Oct. 19, the deadline to submit an absentee ballot application is Thursday, Oct. 29, the deadline to return an absentee ballot to the absentee election manager is the close of business Monday, Nov. 2, and the last day to postmark an absentee ballot is Monday, Nov. 2.
Voters who are eligible to vote pursuant to the Uniformed and Overseas Absentee Voting Act will have until Tuesday, Nov. 3 to postmark an absentee ballot.
Voters concerned about COVID-19 are encouraged to select the box on the affidavit, which accompanies the absentee ballot, which reads as follows: "I am physically incapacitated and will not be able to vote in person on election day."
Due to recently witnessed delays with the U.S. Postal Service, Merrill encourages voters interested in returning their ballot by mail to go ahead and make application for their absentee ballot. As a reminder, Merrill worked with the Legislature last year to pass Act 2019-507, allowing voters the opportunity to return their absentee ballot by commercial carrier in addition to U.S. mail.