Joe Siegelman urges Marshall to return RAGA PAC money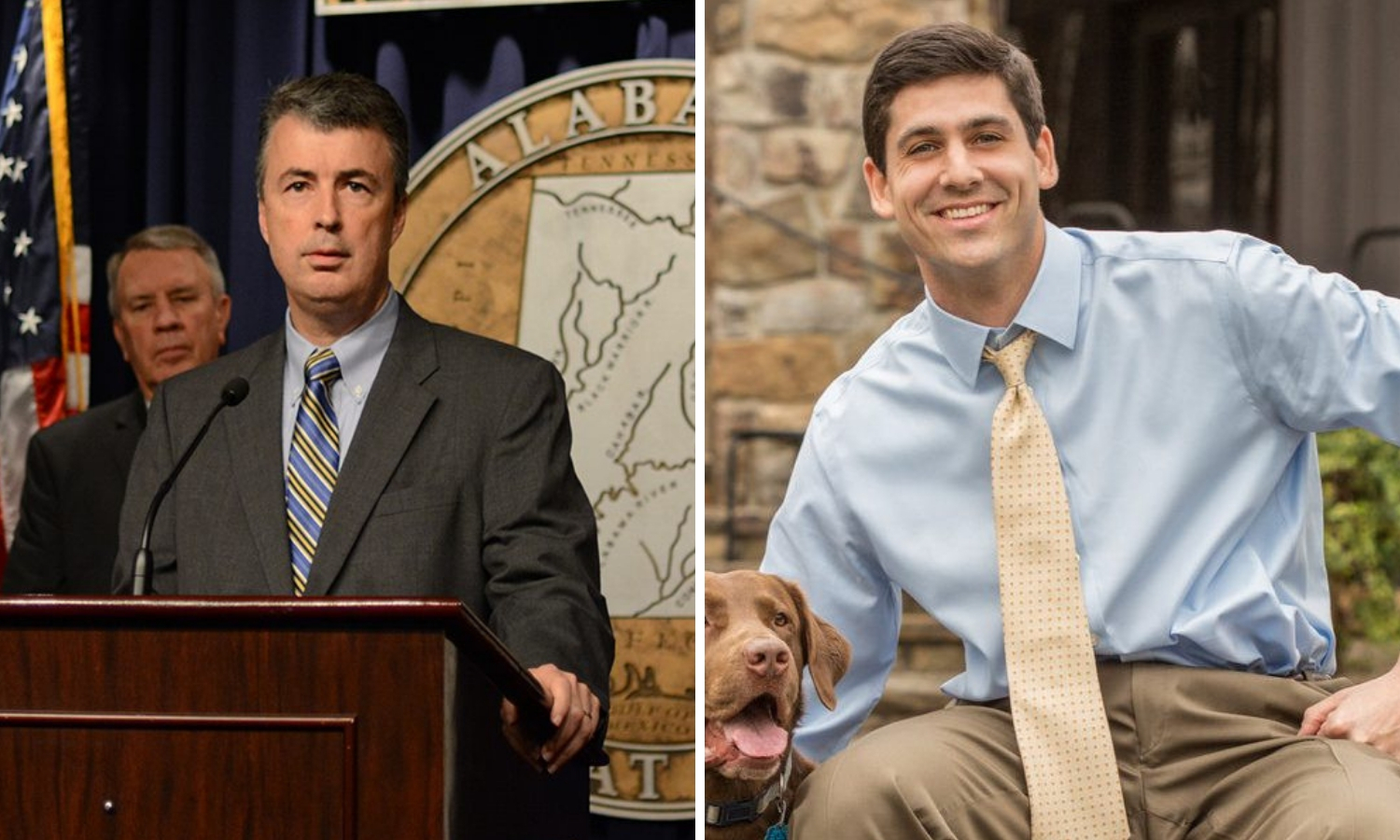 Tuesday, Joseph "Joe" Siegelman (D) sent a letter to Ted Hosp, the lawyer for current Attorney General Steve Marshall addressing the $735,000 in contributions that the Republican Attorney General's Association (RAGA) has donated to Marshall's campaign.
Siegelman claims that the RAGA contributions violate the Alabama PAC to PAC transfer ban law passed by the Republican controlled legislature in 2010 because RAGA accepts contributions from other political action committees. Siegelman called the RAGA contributions, "out-of-state, illegal, dark money contributions." Marshall's campaign received during the 2018 election. Some of AG Marshall's Republican primary opponents made the same argument during the primary race.
Siegelman released a video statement about his letter to Ted Hosp.
"We are now facing a situation where our Attorney General has refused to return $735,000 in illegal contributions," Siegelman said in a statement. "I have spoken with lawyers all across this state, from legal scholars to District Attorneys–many of them Republicans–and so far, not a single one believes these contributions are anything but illegal, except for my opponent Steve Marshall."
"I have written his attorney calling on him to return these illegal contributions within 10 days as the law requires," Siegelman said. "So far, I have not heard back from my letter, and my opponent still has not returned those contributions. Steve Marshall is not above the law, and Alabama cannot afford to lose another high officer to misconduct."
The Republican Attorney Generals Association PAC is federally registered and is regulated by the federal government which has no law against political action committees receiving donations from other political action committees. Alabama Secretary of State John Merrill (R) has said that he has no authority to regulate RAGA and their activities as they are not an Alabama registered PAC. The matter has been forwarded to the Alabama Ethics Commission; but they have not ruled and are not expected to rule before the general election on November 6.
Joseph Siegelman is the son of former Governor Don Siegelman (D) 1999 to 2003, who was released from prison last year.
Marshall is a long time Marshall County District Attorney who was appointed Attorney General by then Governor Robert Bentley (R).
The general election is just thirteen days away.
Opinion | Doug Jones's pathway to victory: Substance over lies
Jones said his work in the Senate should prove to the people of the state that party matters less than productivity. 
Alabama Sen. Doug Jones believes voters will ultimately see through Tommy Tuberville's lazy campaign and lies, and that enough of them will be moved by his work over the last two years to send him back to D.C. 
Jones' comments came during a lengthy interview on the Alabama Politics This Week podcast. He also discussed his plans to address some of Alabama's most pressing issues and also praised Sen. Richard Shelby, an Alabama Republican.  
But it was Jones' comments about Alabama voters — and whether too many of them are incapable of moving away from the Republican Party — that were most interesting. Jones still believes there are open-minded voters in the state, and that there isn't enough attention being paid to polls showing a growing dissatisfaction in Alabama with President Donald Trump. 
"There are a number of things that Donald Trump has done that people (in Alabama) don't agree with," Jones said. "There are a number of things that he's done that's hurt Alabama and that they're not OK with. That's where I come in."
Jones said his work in the Senate, where he's sponsored the most bipartisan legislation over the last two years, should prove to the people of the state that party matters less than productivity. 
"I tell everyone, you owe it to yourself to look at every candidate and every issue," Jones said. "I do that. I've been a Democrat all my life but I don't think that I have ever pulled a straight lever. Because I look at every issue. I will tell you that there have been times that I didn't vote for people who are Democrats for whatever reason — I just couldn't do it. I think we owe it to ourselves to do that."
Jones had the perfect example to drive the point home. 
"Y'all all know our state auditor, Jim Zeigler? Jim wasn't always a Republican. Jim's first runs for office were as a Democrat. 
"I rest my case."
You can listen to the full interview at the Alabama Politics This Week website, or you can subscribe to the podcast on Apple Podcasts, Google Play, Spotify or wherever you get your podcasts.