Joe Siegelman urges Marshall to return RAGA PAC money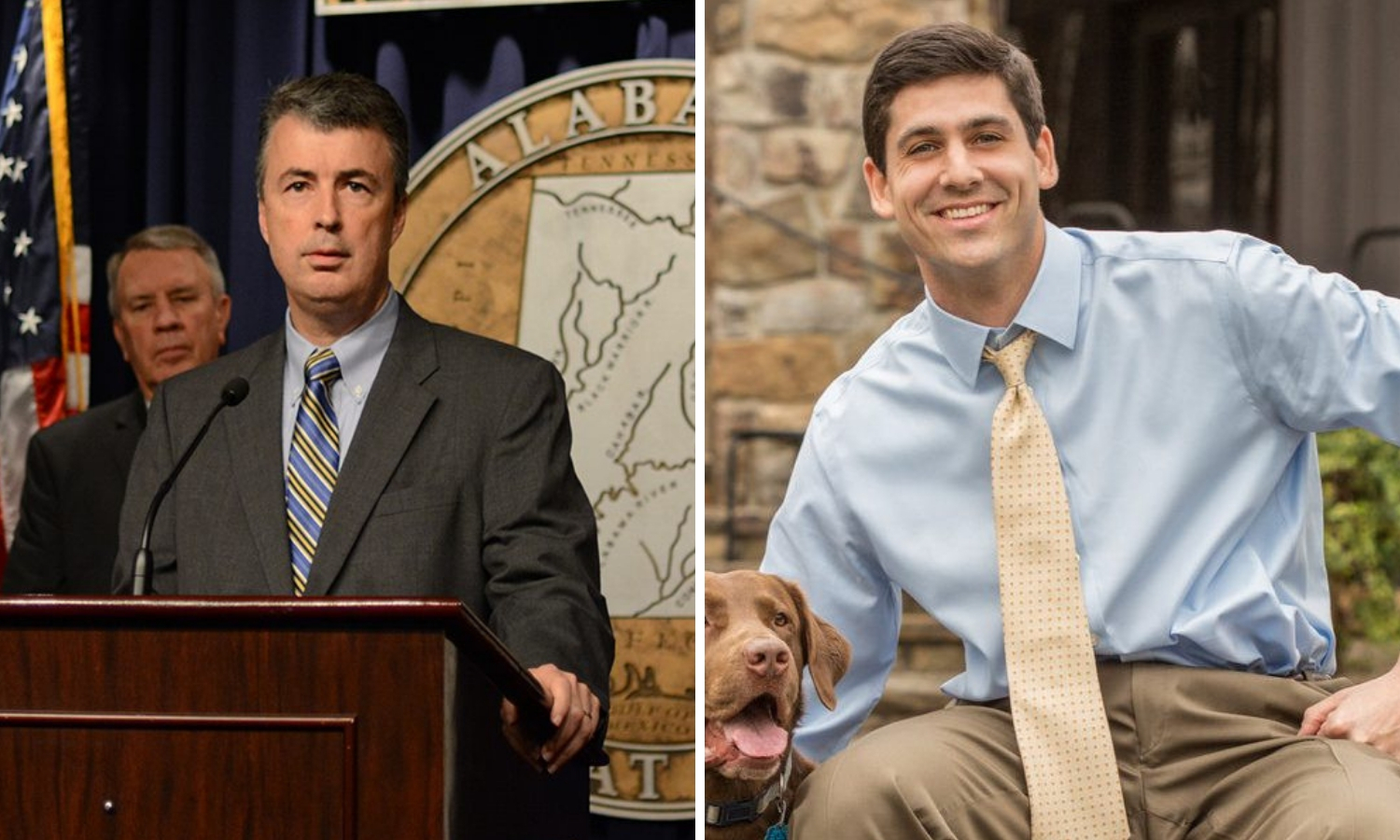 Tuesday, Joseph "Joe" Siegelman (D) sent a letter to Ted Hosp, the lawyer for current Attorney General Steve Marshall addressing the $735,000 in contributions that the Republican Attorney General's Association (RAGA) has donated to Marshall's campaign.
Siegelman claims that the RAGA contributions violate the Alabama PAC to PAC transfer ban law passed by the Republican controlled legislature in 2010 because RAGA accepts contributions from other political action committees. Siegelman called the RAGA contributions, "out-of-state, illegal, dark money contributions." Marshall's campaign received during the 2018 election. Some of AG Marshall's Republican primary opponents made the same argument during the primary race.
Siegelman released a video statement about his letter to Ted Hosp.
"We are now facing a situation where our Attorney General has refused to return $735,000 in illegal contributions," Siegelman said in a statement. "I have spoken with lawyers all across this state, from legal scholars to District Attorneys–many of them Republicans–and so far, not a single one believes these contributions are anything but illegal, except for my opponent Steve Marshall."
"I have written his attorney calling on him to return these illegal contributions within 10 days as the law requires," Siegelman said. "So far, I have not heard back from my letter, and my opponent still has not returned those contributions. Steve Marshall is not above the law, and Alabama cannot afford to lose another high officer to misconduct."
The Republican Attorney Generals Association PAC is federally registered and is regulated by the federal government which has no law against political action committees receiving donations from other political action committees. Alabama Secretary of State John Merrill (R) has said that he has no authority to regulate RAGA and their activities as they are not an Alabama registered PAC. The matter has been forwarded to the Alabama Ethics Commission; but they have not ruled and are not expected to rule before the general election on November 6.
Joseph Siegelman is the son of former Governor Don Siegelman (D) 1999 to 2003, who was released from prison last year.
Marshall is a long time Marshall County District Attorney who was appointed Attorney General by then Governor Robert Bentley (R).
The general election is just thirteen days away.
Print this piece
Tuberville: Arson, rioting, vandalism, violence are not valid forms of protest
Monday, U.S. Senate candidate former Auburn head football Coach Tommy Tuberville (R) said that Arson, looting, rioting, vandalism, and violence are not valid forms of protest-they are felonies."
Tuberville made the comments after planned protests over the death of George Floyd during an arrest by the Minneapolis Police Department rapidly descended into violence, destruction, and mayhem over the weekend across the countries, particularly in Birmingham where much of the downtown was ransacked by an angry mob.
Tuberville said that these crimes, "Must be punished to the fullest extent of the law."
"Vandalizing the Lincoln Memorial does not honor the life of George Floyd," Tuberville said. "Looting stores and stealing televisions will not stop another death like George Floyd's from occurring."
Tuberville also addressed the attacks on members of the press Sunday night in Birmingham.
"Beating journalists and robbing them of their wallets and telephones is not a social statement," Tuberville stated. "It is simply felons being felons."
In Birmingham, Members of the media were attacked during the protest. ABC 33/40 TV News reporter Stephen Quinn was sucker punched by a masked protestor and then hit in the head with a cup of ice by a second rioter, while the first assailant robbed him of his wallet. The Alabama Medica Group's Madison Underwood was hit in the face by masked assailants, then beaten to the ground where he continued to be beaten until his colleagues were able to drag him away.
"That was terrible. I'm glad my colleagues are okay," Underwood said. "I'm okay. My nose is swollen and bleeding. My phone is gone. I'm thankful to the folks who dragged me out of there, who checked on me, who said nice things. Not sure why that went bad so quickly."
Reporters Anna Beahm, Ivana Hrynkiw, and photographer Dez Wilson were also terrorized,
"Unless anarchy is met with the rule of law, the foundation of our nation will begin to crumble, so I support President Trump's decision to declare Antifa a terrorist organization and his calls to use the National Guard to stop further riots," Tuberville said.
Over a dozen buildings in Birmingham were also attacked including: the Harbert Center, Alabama Power museum, federal courthouse, and the Confederate Veterans Monument.
"Condemning every police officer across the nation for the actions of a few makes no sense," Tuberville continued. "The police officers who have had bricks and rocks thrown at them over in recent days wear the same uniform and badge as the officers who bravely ran into the World Trade Center on 9/11 to save lives. Without the man and women in blue, criminals would routinely rule our streets, just as they have in major cities across the U.S. for the past few nights."
"I don't think anyone can watch the 10-minute video and not feel outrage, anger, and sadness about what happened to George Floyd," Tuberville said. "From all appearances, he had the life slowly squeezed out of him, and it could have been avoided."
"I feel strongly that if someone is guilty of committing murder, they should be put on trial, convicted, and imprisoned, and if someone is guilty of looting a store, setting fire to a business, or vandalizing property, they should be convicted, tried, and locked up, too," Tuberville concluded.
Tuberville is running for the Senate in the July 14 Republican Party primary runoff against former Senator Jeff Sessions. The winner will go on to face incumbent Sen. Doug Jones (D-Alabama) in the November 3 General Election.
Print this piece