Opinion | President Trump's ACE rule is a win for Alabama
Protecting ratepayers and ensuring that we have a reliable, secure and affordable supply of electricity in Alabama is the lens through which I view energy policy. It was through this lens that I saw the Obama administration's so-called Clean Power Plan (CPP) as a significant threat to our state and that I now see President Trump's replacement plan, the Affordable Clean Energy (ACE) rule, as a welcome step in the right direction.
The Trump administration's ACE rule provides a path forward for us to achieve environmental progress but still provide a balanced, affordable electricity mix that doesn't impose crushing costs on consumers. The CPP, while never fully implemented thanks to a stay from the U.S. Supreme Court, aimed to transform the nation's energy grid with an enormous price tag.
When the CPP was proposed, I worried about the impact of rising electricity prices on Alabamians and what it would mean for Washington to dictate to us the right way to meet our energy needs. At its core, the CPP was a plan designed to punish the American coal industry and drive the nation's fleet of coal plants into early retirement. Those plants – which play such a critical role in so many states, including ours – have long been a foundation for secure, reliable and affordable power.
The ACE rule, in comparison, no longer aims to dismantle the coal fleet and instead allows individual states to craft emissions reduction strategies that work best for their unique needs. Instead of forcing utilities and power plant operators to close plants, the ACE rule provides a path forward for them to improve them. By improving the efficiency of existing power plants, we can generate more power using less fuel. It's a reasonable approach that provides states the flexibility to keep well-operating, essential power plants running.
The Obama administration's plan was just one more example of onerous federal overreach. President Trump's pro-jobs approach applies welcome restraint, and that restraint is going to pay dividends for ratepayers. The Trump administration expects the ACE rule's compliance cost to be $400 million per year less in comparison to the CPP, and that estimate may well be conservative.
Before the Supreme Court halted Obama's rule, one analysis projected that the CPP could cost consumers an additional $214 billion for electricity between 2022 and 2030. According to the same analysis, Alabama would have been one of more than 40 states that faced double-digit increases in the cost of wholesale electricity.
Even marginal increases in the cost of energy can have profound impacts. They can erode the competitiveness of entire states or industries, and rising prices can be the straw that breaks the camel's back for families barely able to pay the bills. The U.S. Department of Energy recently reported that one in three American households is already facing a challenge in meeting its energy needs and that one in five households, or 25 million households, has reduced or foregone necessities such as groceries or medicine to pay an energy bill. These sobering statistics are a critical reminder of the importance of making energy affordability a priority.
The ACE rule provides states the crucial flexibility they need to balance environmental goals with power grid reliability, security and affordability. It is for that reason I'm so supportive of President Trump's approach. We narrowly escaped a total energy disaster with the Obama CPP. Let's lend our voices to supporting a far better replacement.
Twinkle Andress Cavanaugh currently serves as President of the Alabama Public Service Commission. The opinions expressed in this article are those of Twinkle Andress Cavanaugh and are not intended to convey the official position of the Alabama Public Service Commission.
Print this piece
Opinion | Secretary of State responds to Alabama Political Reporter op-ed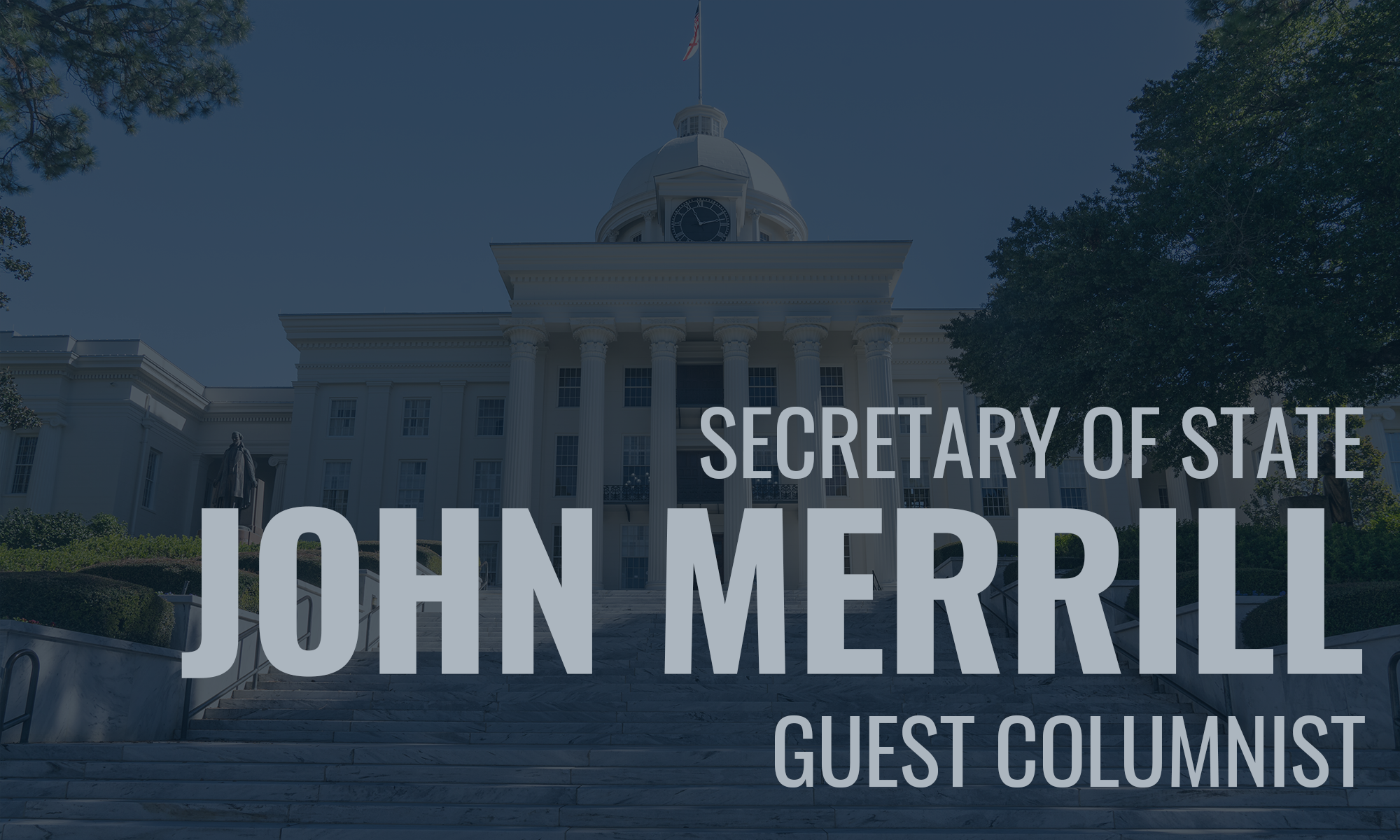 The following statement from Secretary of State John H. Merrill is in response to the inaccurate op-ed published yesterday morning by Josh Moon of Alabama Political Reporter:
This morning, Josh Moon of Alabama Political Reporter alleged that "voting by mail does not lead to fraud."
Moon went on to undermine the six voter fraud convictions and the five associated with tampering with absentee ballots in the last five years, claiming that these numbers are not substantial enough to have basis.
Let's start with the facts, Josh.
When you have one person that violates the trust and confidence in the elections process by committing illegal activity, that is one too many. Whether you have one voter fraud conviction or a thousand, you are proving to the electorate that elections require integrity and credibility! We will continue to work to build trust and confidence in the elections process.
Claiming "you can't commit enough fraud to alter the outcome of such a race" is naive and careless.
In 2018, we saw a member of the legislature who won her race by a mere six votes and another member who won his race by 28 votes. That same year, we witnessed a sheriff's race that was tied even after the recount. It should be apparent to anyone that just a few votes can determine the outcome of an election.
The fraudulent practice of ballot harvesting, which is often associated with voting by mail, led to the defeat of seven Republican candidates in the California 2018 midterm election. Young Kim, who ran to represent California's 39th Congressional District, was leading the vote count on election night and even in the week that followed the election. Two weeks later and after Kim attended New Member Orientation, the Democrat challenger was declared the winner after 11,000 mail ballots were counted. These ballots favored the Democrat challenger at a much higher rate than the previously counted ballots.
Similarly, during the 2018 Election Cycle, the North Carolina Board of Elections appropriately refused to certify the results of the 9th Congressional District's election due to the illegal misuse of absentee ballots.
It has also been reported, through data collected by the Election Assistance Commission, that between 2012 and 2018, 28.3 million mail-in ballots went unaccounted for, which equates to one in five of all absentee or mail-in ballots.
So, obviously, Josh, you can commit enough fraud to alter the outcome of an election.
The issues with mail-in voting far exceed the few that Josh attempts to raise. Consider Nevada where thousands of absentee ballots were just sent to inactive voters in Clark County. Consider the thousands of envelopes piling up in post offices or outside homes, apartments, and other facilities. Consider California in 2016 where 83 ballots were sent to one address housing just two people.
Then, Josh, after you have considered Alabama where in 2016, 109 absentee ballots were sent to the mother of a mayoral candidate in Brighton or when 119 absentee ballots were mailed to an abandoned home in Wilcox County, tell me that mail-in voting does not increase the likelihood for fraud to be committed.
To then pretend "small-town races" in Dothan, which is Alabama's seventh largest municipality out of 463, are not worthy of being noted is ludicrous.
The state's absentee law requiring a photo ID to be submitted with the application, which I remind you was passed last year with bipartisan support and sponsored, at our request, by Rodger Smitherman (D-Birmingham), has worked to prevent these sorts of opportunities in our state. This comprehensive, reform legislation has provided safeguards in our absentee process.
One major consideration that many supporters of mail-in voting fail to mention is cost. Currently, the administration for one Election Cycle (Primary, Runoff, and General) in our state is $16.5 million, whereas the administration of a full mail-in Election Cycle is almost $60 million.
I am positive that even Josh Moon can find a better way to spend $43.5 million generated by taxpayers.
Print this piece