In recording, Maddox seems to acknowledge Soros donations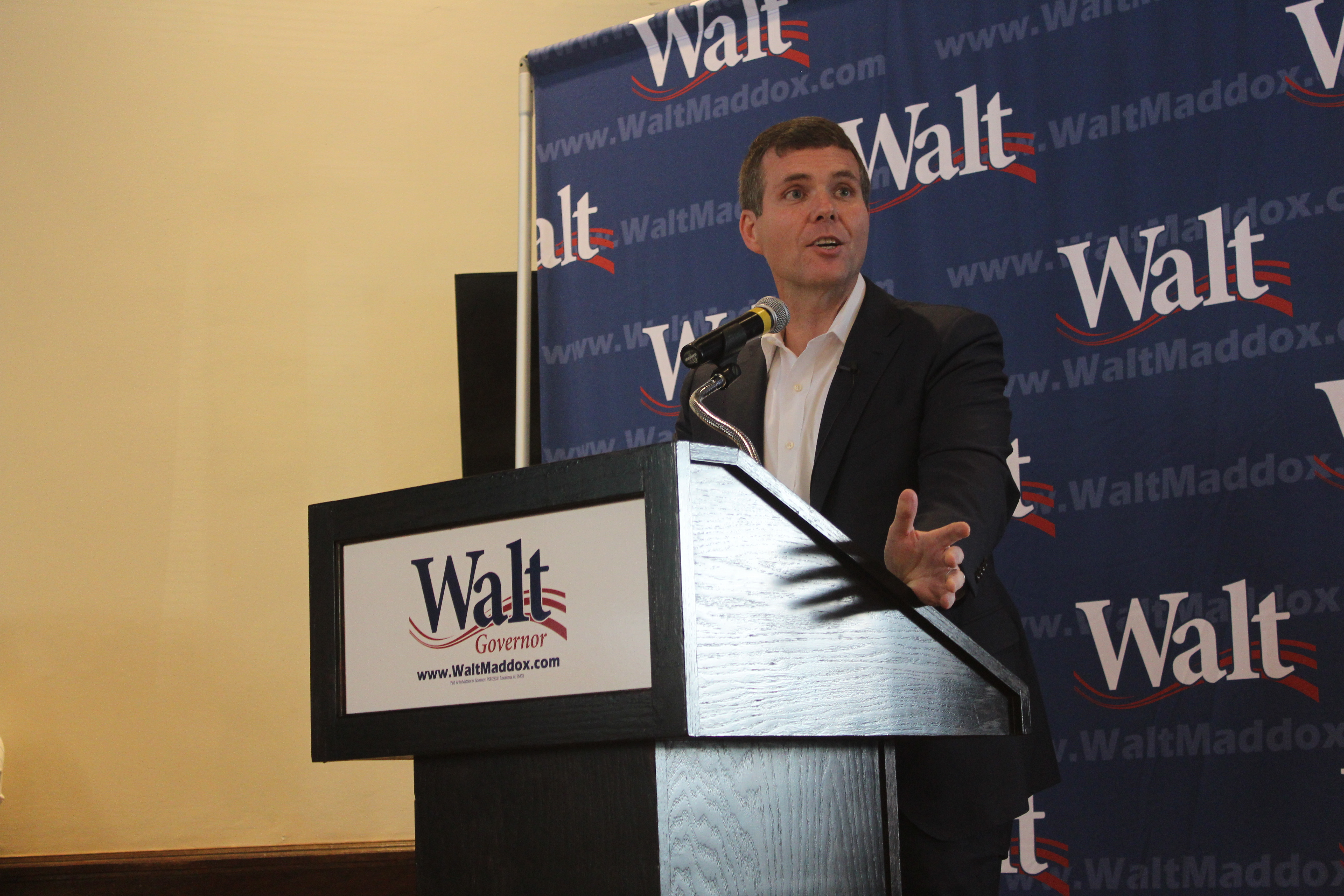 Tuscaloosa Mayor Walt Maddox seems to acknowledge receiving donations from billionaire Democratic donor George Soros in a short recording released by Gov. Kay Ivey's re-election campaign Wednesday.
In the recording, Maddox can be heard saying, "I was glad that we did."
Following his event this week at the University of Alabama, Walt Maddox was asked by an attendee about the $200,000 donation.
"I was absolutely almost in shock when we received the donation, but I was glad that we did, quite frankly, because we need the resources," Maddox said.
After Ivey's campaign released the recording, Maddox tempered his comments in a statement to APR.
"The PACs that received the funding contributed to both Governor Ivey and my campaign," Maddox said. "We did not solicit the funding but we are grateful for the contributions we have received."
Ivey campaign spokesperson Debbee Hancock released a comment with the recording.
"Walt Maddox's liberal agenda may not be resonating with Alabamians, but it's attracting the attention and approval of out of state liberals like George Soros," Hancock said.
A set of six chain PACS run by Tuscaloosa's Mike Echols received several different donations totaling $200,000 on Oct. 15. Since Soros' donations were received by the PACs Monday, Maddox has not reported any further contributions from the set of chain PACs.
Maddox's campaign has received more than $600,000 from the six PACs over the course of the primary and general election campaign season.
Ivey's campaign has also accepted $100,000 from the same PACs as recently as this month.
"Walt Maddox may have looked Alabamians in eye and promised to protect their Second Amendment rights, but his record shows a far more radical agenda," Hancock continued. "From his unconstitutional gun ban in Tuscaloosa to the admittance that he supports 'restraining' Alabamians' gun rights if necessary, it's clear Walt Maddox wants to force George Soros' anti-gun agenda on Alabama."
"George Soros knows that Walt Maddox's promise to put the people of Alabama above his party is complete lie, and he's willing to bet hundreds of thousands of dollars on it," Hancock concluded.
The conservative Birmingham-based site Yellowhammer News first reported the contributions to the PACs last week.
Despite Maddox not accepting any contributions from the PACs since Soros' donations, Republicans have argued that Soros' PAC contributions could have pledged for Maddox before Soros actually made the contributions.
That set of chain PACs — Cash PAC, CMG PAC II, ET PAC, Leadership PAC, Pride PAC II and T-Town PAC II — are known to make contributions to candidates on both sides of the aisle.
They've made contributions to Former Gov. Robert Bentley during his campaigns, former Republican Alabama Attorney General Troy King during his primary run against Republican Attorney General Steve Marshall, Republican Secretary of State John Merrill and Republican lieutenant governor candidate Twinkle Kavanaugh.
Maddox is running ads saying he is a pro-life, pro-gun Democrat and that he would never lie to the people of Alabama. Maddox is a former Tuscaloosa city councilman and formerly worked for the Alabama Education Association as a Uniserve Director.
Weekly mandatory campaign finance reports filed Monday show Ivey maintaining a hefty fundraising lead over the Tuscaloosa mayor. Ivey raised $193,293.14 last week. In contrast, Maddox raised only $105,113.
Although Ivey nearly doubled Maddox's contributions, Maddox had far more individual donors, continuing a trend among some of the Democratic candidates for statewide races. His filing reported more than 240 unique contributions, the vast majority of which were from individuals ranging from $4 to $5,000. Ivey reported 80 unique contributions, several of which were from PACs.
Maddox also accepted two $5,000 donations from anti-Trump Democratic donor Tom Steyer and his wife last week.
Maddox, Tuscaloosa's mayor since 2005, is a Tuscaloosa native and a graduate of the city's Central High School. Maddox has an undergraduate and a master's degree from the University of Alabama in Birmingham, where he played football.
Soros is a well-known liberal donor with a net worth estimated at over $8 billion who often donates to liberal candidates. He's often the receipient of Republican ire and the target of Republican campaign attacks.
Earlier this week, Soros was one of the recipients of suspicious packages containing pipe bombs. Similar packages were sent to other prominent Democrats including former President Barack Obama and former Secretary of State Hillary Clinton.
The general election will be on Nov. 6.
Trump Truck and boat parades this weekend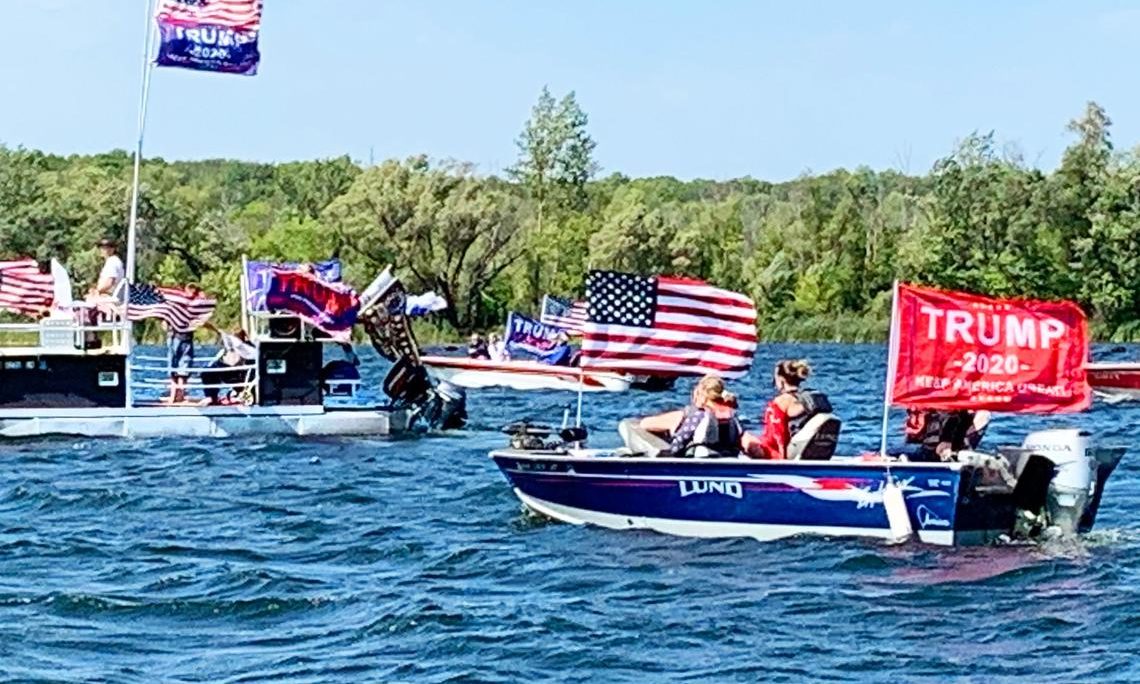 As Election Day draws near, Alabama Republicans are excited about promoting the re-election of Donald J. Trump as President and the election of Tommy Tuberville for U.S. Senate. This weekend two pro-President Trump events are happening in the state. There will be a truck parade from Ashland to Phenix City on Saturday sponsored by the Clay County Republican Party, while there will also be a boat parade on Wilson Lake in the Shoals sponsored by the Colbert County Republican Party on Sunday.
The pickup trucks will assemble at the Ashland Industrial Park in Clay County, 8240 Hwy 9, Ashland. There is a pre-departure rally at 10:00 a.m. central standard time. The trucks will depart at 11:00 a.m. and then proceed on a parade route that will take them into the bitterly contested swing state of Georgia. The Trump Pickup Parade will wind through east Alabama and West Georgia traveling through LaGrange and Columbus before concluding near the Alabama/Georgia line in Phenix City, 332 Woodland Drive, Phenix City at approximately 2:00 p.m. central time. Speakers will begin at 3:00. Trump flags will be on sale at the event.
The Phenix Motorsports Park will be hosting what sponsor hope could possibly the world's largest Pickup Tuck parade in U.S. history that is routing over 50 mile through Georgia in effort to "pickup" President Trump's numbers in GA.
A number dignitaries have been invited to address the Phenix City rally, including Coach Tuberville. Former State Sen. Shadrack McGill, Trump Victory Finance Committee member former State Rep. Perry O. Hooper Jr., and Paul Wellborn, the President and CEO of the largest Family owned Kitchen Cabinet manufacture in the USA are among the featured speakers who have committed to speak at the event.
Entertainment will be provided by: Charity Bowden, an up and coming country music singer who was the runner up on "The Voice". Charity will sing 'I am Proud to be an American' as well as songs from her Voice performances. The McGill Girls will also perform. The three beautiful and talented sisters will be singing patriotic songs in three part harmony. Geoff Carlisle, a professional DJ will be keeping the crowd pumped with music and entertainment.
Following the speakers and the entertainment there will Trump truck-vs- Joe Bidden truck races down the drag strip for the finale.
The Northwest Alabama boat parade will be on Sunday. The boats will gather at 2:00 p.m. near Turtle Point and then the flotilla will parade around the open waters of Wilson Lake til 3_00 p.m.. There will be a contest for best decorated Trump boats.
Trump supporters have held a number of large boat parades across the state to show their support for the re-election of Pres. Trump.
Boat parade sponsors say that this parade will be: pro-American, pro-law enforcement, pro-military.