Opinion | Ivey, Bentley have been robbing bridges to pay judges, and this shell game has to stop
Want to know how broke Alabama is under its current Republican leadership?
For the past nine years, GOP lawmakers, at the request of the Govs. Robert Bentley and Kay Ivey, have moved more than $300 million out of funds earmarked for road and bridge repairs and deposited it into an account that covers the costs of our court system.
And the court system is still so broke that it takes two years to get a case before a judge.
That's governance, baby.
It's also illegal.
Or, at least, it sure looks like the shifting of those funds — which was pointed out in a press release on Wednesday by Walt Maddox's campaign — violates the state constitution.
Those road and bridge funds, according to the state constitution, must be used for purposes at least somewhat related to the maintenance of roads and bridges. I don't believe the courts qualify.
But illegal or not, it's no way to fund government.
This is what Republican leadership has brought to Alabama.
This shell game, where we take a little from this fund to give to partially fund that fund because we took from that fund last year and now need to take from another fund.  
College kids manage their finances better than this. At least they would go out and find more money.
ALGOP just keeps pretending that all is well, and that our regressive tax structure, which leaves custodians paying a higher percentage of taxes than CEOs, is working out for us.
In the meantime, our roads and bridges are crumbling. Our roads are routinely rated as some of the worst in the nation. Our bridges, in some areas, are shockingly unsafe. And as comedian John Oliver once joked, "Alabama the state has as many dam inspectors as Alabama the band."
Now we know why.
For nine years, beginning with Robert Bentley, we've been robbing bridges to pay judges. It started with $25 million in 2011. It has reached $35 million each of the last nine years, including the last two years under Ivey.
The truly shameful part: The courts are still broke!
If you doubt this, ask any judge. Anywhere. From any party.
Or hell, just walk around almost any county courthouse and count the empty offices.
But it's actually even worse than it seems.
Actually, no, let me take that back. It's actually dumber than it seems. Because here's what very few people realize about the court system: It is a revenue generating system.
That means that our legislature, in all of their financial wisdom, are taking money from the courts to fund various non-court things within our general fund budget, to the point that the court system is at least $35 million in the hole every year. (It's actually much, much more than that, but $35 million is what they've stolen from roads and bridges each of the last seven years.)
Then, our lawmakers are taking road and bridge money and diverting it (illegally) into the court system to the fill the hole they created.
That is, of course, on top of the courts jacking up fines and fees and costs to the point that a ticket for rolling through a stop sign now costs more than a monthly power bill and the average Alabama citizen can't afford to participate in the Alabama legal system.
And not a single system, despite massive reductions in employees and expenses over the past eight years, is financially sound. Most of them are teetering on the verge of financial collapse.
Seriously. There's a hole so big in the general fund budget in 2019 that Alabama Republicans are praying that an oil well explodes somewhere in the Gulf. There is serious talk among some judges — Republicans and Democrats — about filing a grievance with the feds over Alabama's backlog of cases and inadequate funding. And one of the biggest GOP talking points this election cycle is their candidates' willingness to get behind a tax increase to pay for — you guessed it! — repairing roads and bridges.
Honestly, what are we doing here?
For the past six months, every Republican candidate that's popped up on your TV has rambled on and on about "responsible governing" and "living within our means" and treating our state budgets "like you and your family handle your budgets."
So, maybe these are analogies that are understood among the voters. In which case, let's try this.
Alabama Republicans have been paying only part of the power bill so it could pay the mortgage and then paying only a small portion of the car payment in order to send enough to keep the lights on. All because some members of the family aren't putting in a fair share or they're pretending that the property they own is worth way less than it is. You probably haven't realized any of this because they keep distracting you with scary fairytales about evil non-white people.
The only good news is that there's a nice Native American family that has its eye on the place once we go through foreclosure.
Opinion | All politics is local. All of Alabama's mayors races this year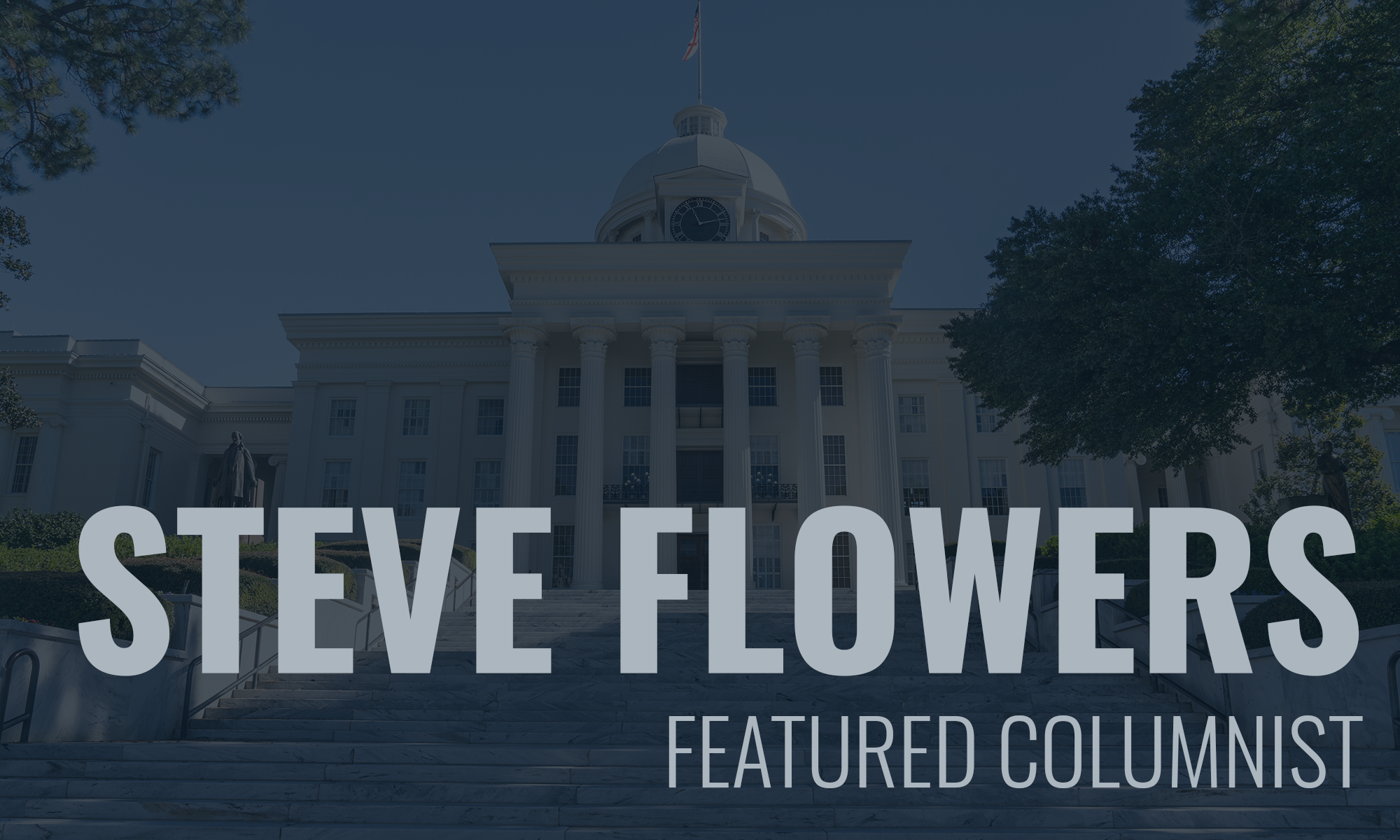 With it being a presidential election year and an election for one of our United States Senate Seats and all of the interest that goes along with those high-profile contests, it has gone under the radar that most of our cities in the state had elections for mayor and city council last month.
Mayors serve four-year terms and to most Alabamians they are the most important vote they will cast this year.
The job of mayor of a city is a difficult and intricate fulltime, 24-hours-a-day dedication to public service.
They make more decisions that affect the lives of their friends and neighbors than anyone else. The old maxim, "All politics is local," is epitomized in the role of mayor. Folks, being mayor of a city is where the rubber meets the road.
In looking all over the state, it appears that most Alabamians are content with the jobs their mayor is doing.  In almost every contest around the state, the incumbent mayor turned away the challenger usually by a wide margin.  Indeed, a good many of the incumbent mayors in the Heart of Dixie had no opposition.
Many of these incumbent mayors were reelected without opposition. Gordon Stone, the mayor of Alabama's fastest growing community, Pike Road, will be entering his fifth term as mayor.  Pretty soon Pike Road will have to start calling themselves a city.
Vestavia's Mayor, Ashley Curry, won a second term without opposition.  This former retired FBI agent has done a yeoman's job managing this upscale, Jefferson County suburb.
Jasper Mayor, David O'Mary, who escaped opposition, will begin a second term.  He has run Jasper like a well-tuned engine. Albertville mayor, Tracy Honea, garnered a third term without opposition. Luverne Mayor Ed Beasley was also unopposed.
In the contested races, most of the matchups were no contest. Two of Alabama's largest and most prosperous cities, Huntsville and Hoover, had mayoral races. Tommy Battle coasted to an easy 78 to 22 reelection victory in Huntsville. If Kay Ivey opts to not run for reelection in 2022, Battle will be favored to win the governor's race. However, being Governor of Alabama would be a demotion to being Mayor of Huntsville.
Hoover citizens must approve of Mayor Frank Brocato's job performance. Brocato trounced Hoover City Council President Gene Smith by a 76 to 24 margin.
Opelika's popular and effective, longtime mayor, Gary Fuller, turned back his challenger 66 to 34 to win a fifth term.
In Cullman incumbent mayor, Woody Jacobs, won a second term overwhelmingly. Hamilton Mayor Bob Page won a second term. Troy's 48-year-old mayor, Jason Reeves, won reelection to a third four-year term with 74 percent of the vote. Incumbent Eufaula Mayor Jack Tibbs won an impressive 68 percent victory for reelection over two opponents.
Prattville Mayor Bill Gillespie may have turned in the most impressive showing.  He shellacked former City Councilman Dean Argo 70 to 30.  His fellow citizens must approve of frugality with their city finances. Wetumpka's popular and hardworking, longtime mayor, Jerry Willis, turned back his challenger by a 69 to 31 margin. In neighboring Millbrook incumbent mayor, Al Kelley, won reelection 67 to 33. Mayor Kelley has overseen the growth of his city from 6,000 in population to over 20,000. Tallassee reelected Mayor John Hammock to a second term.
Clanton lost their mayor of three decades, Billy Joe Driver, to COVID-19 this year. His successor will be Jeff Mims, who won the election in the Peach City. Mike Oakley won the mayor's race in Centreville with a 60 percent margin.  It is proper and fitting that an Oakley will be Mayor of Centreville.
Bessemer Mayor Kenneth Gulley won a landslide reelection garnering 68 percent of the vote. Incumbent Pell City Mayor Bill Pruitt won reelection by an impressive 73 to 27 margin.Longtime Greenville Mayor Dexter McLendon won reelection in the Camellia City. Opp's first female mayor, Becky Bracke, won a second term with 60 percent of the vote.
There were two mayoral upsets on August 25. Scottsboro's incumbent mayor was defeated by challenger Jimmy McCamy.In the thriving, growing city of Fairhope challenger Sherry Sullivan trounced incumbent mayor Karin Wilson.
There are runoffs for mayor in several major cities, including Enterprise, Ozark, Selma, Tuskegee, Alexander City and Northport.  These cities will elect their mayors on October 6 in runoff elections.
Some of you may be wondering about two of the most populous cities. Tuscaloosa and Dothan have their mayoral races next year in August 2021. Tuscaloosa's Walt Maddox and Dothan's Mark Saliba will be tough to beat. All politics is local.
If you have not been counted in the census, you have not got many more shopping days to Christmas.