Marshall, Ainsworth rally in Albertville with Mo Brooks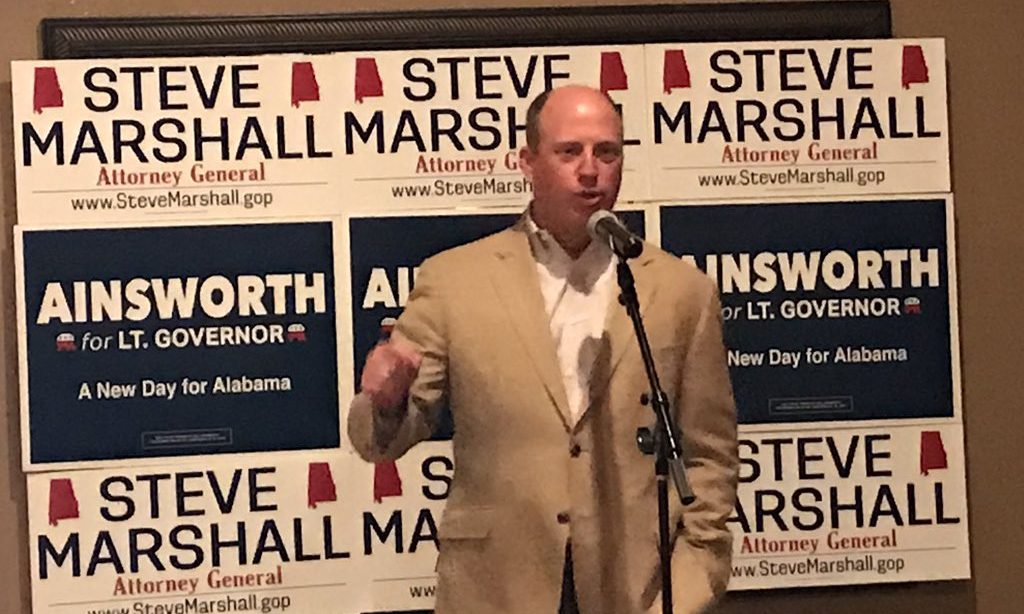 Saturday, with just ten days to go before the general election, Republican Lieutenant Governor candidate Will Ainsworth and Republican Attorney General candidate Steve Marshall attended a get out the vote rally in Albertville, with special guest Congressman Mo Brooks, R-Huntsville.
Marshall said that when he was appointed as Alabama Attorney General the critics said, "He is just a prosecutor, they can't make me a more powerful compliment. They said, He's a rural prosecutor from Marshall county." "If they want to call me a prosecutor and a rural prosecutor from Marshall County, let them do it."
Marshall was the longtime District Attorney in Marshall County. "There is nothing like coming home."
Marshall, whose wife killed herself during the Republican primary runoff, thanked his friends for standing with him during, "The most difficult times in my life."
Marshall thanked State Senator Clay Scofield, R-Guntersville, "I have no better friend" and state Representative David Standridge, R-Hayden, for coming to Saturday's event. "I am a better attorney general because of my daughter,"
"The greatest opportunity you have ever given me is to let me serve you in Montgomery," Marshall stated. "I am proud to be that conservative fighter that we need in Montgomery."
"It has been a blessing to have a friend on the campaign trail like Will Ainsworth," Marshall said. "As we have gone around the state, the one thing I knew is who he was, and he knew who I was despite of some of the things that have been written. He has a vision and a passion for the state of Alabama. We are on the cusp of doing some remarkable things in Alabama.
"Aren't we honored to have the best Attorney General in the nation," Ainsworth said.
Ainsworth said of Marshall, "The only people in Marshall County who didn't vote for him are people he put in jail or put their family members in jail."
"If it wasn't for the people of North Alabama and the turnout I would not be here talking today," Ainsworth said. "We did really well from Birmingham north."
"I have a passion for education," Ainsworth state. "I want the children of Alabama to have the same opportunities that children in other places have." Ainsworth cited technology, workforce development, and charter schools.
"I am honored to be the Republican nominee for Lieutenant Governor," Ainsworth said. "It is my honor to be introducing the hardest working conservative fighter in the Congress. This is not his district, its Aderholt's; but when he found out what we were doing here he insisted on coming over."
Congressman Mo Brooks said that it is important to vote for every candidate on the Republican ticket. "These city and county races are important not just for the city and county, but they are important for the whole country. These state races are important not just for the state of Alabama, but they are important for the whole country. Our views are under assault by the party that used to share our views but no longer does because is has been taken over by socialist radicals."
Brooks said that the national debt is the biggest security threat that we face as a nation and warned that the budget deficit has soared to $776 billion. "We can not get the Democrats to agree with us on any meaningful cuts in spending."
"Socialism is management from the top," Rep. Brooks said. "Free enterprise works. Liberty has given us the things that we enjoy."
"Socialism is what they have in Cuba and Venezuela where 90 percent of the people barely have enough to eat and are struggling to live while the elites are doing well," Brooks said.
"They believe in open borders," Congressman Brooks said. "They believe in cancelling your vote. Democrat controlled cities have made it legal for illegal aliens to vote in their municipal election."
Democrat controlled cities led by San Francisco have given illegal aliens the right to vote in their municipal elections Brooks said. "They want to do that nationally. The only people who are opposed to that march from central America is Republicans."
"They have a political agenda and that is to strip you of your voting power by giving the vote to illegal aliens," Brooks said of Democrats. "Illegal aliens cost Americans taxpayers $136 billion," Brooks said. "They pay $20 billion in taxes consume for a net cost $116 billion. There are economic reasons why we can not be the planet's welcome center."
"Remember that every Republican candidate here is doing what they do for love of country," Brooks said. "Support these fine candidates we have in the Tennessee Valley and particularly Will and Steve and every Republican candidate from the top of the ticket to the bottom of the ticket."
Marshall faces Joseph Siegelman (D) in the general election. Ainsworth faces Muscle Shoals area pastor Dr. Will Boyd (D). Congressman Mo Brooks is being challenged for the Fifth Congressional District by former Huntsville Attorney Peter Joffrion (D).
The general election will be on Tuesday, November 6. Polls open at 7:00 am and close at 7;00 pm. You must be a registered voter to participate and you must bring a valid voter ID.
U.S. Supreme Court rules Alabama can ban curbside voting
"The District Court's modest injunction is a reasonable accommodation, given the short time before the election," the three dissenting justices wrote.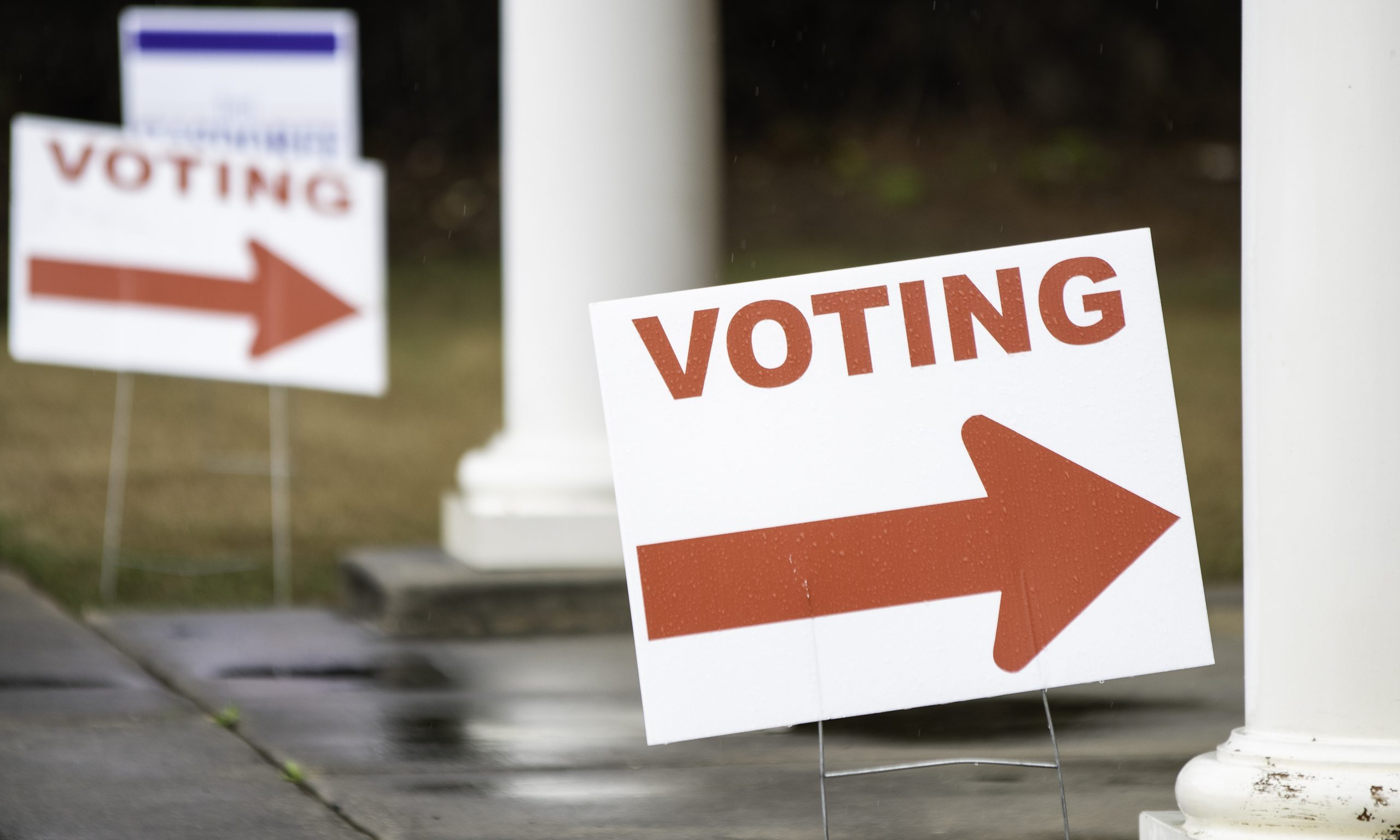 The Supreme Court, in a 5-3 decision, allowed Alabama Secretary of State John Merrill to ban curbside voting, staying a district court injunction that had allowed some counties to offer curbside voting in the Nov. 3 election amid the COVID-19 pandemic.
The Supreme Court's majority in its order declined to write an opinion, but Justices Stephen Breyer, Elena Kagan and Sonya Sotomayor's five-page dissent is included.

The lawsuit — filed by the NAACP Legal Defense and Educational Fund, Southern Poverty Law Center, American Civil Liberties Union, ACLU of Alabama and Alabama Disabilities Advocacy Program — was brought on behalf of several older Alabamians with underlying medical conditions.
"The District Court's modest injunction is a reasonable accommodation, given the short time before the election," the three dissenting justices wrote. 
Sotomayor, who wrote the dissent, closed using the words of one of the plaintiffs in the case. 
"Plaintiff Howard Porter Jr., a Black man in his seventies with asthma and Parkinson's disease, told the District Court, '[So] many of my [ancestors] even died to vote. And while I don't mind dying to vote, I think we're past that – We're past that time,'" Sotomayor wrote. 
Alabama Secretary of State John Merrill on Wednesday applauded the Supreme Court's decision. 
"I am proud to report the U.S. Supreme Court has now blocked a lower court's order allowing the fraudulent practice of curbside voting in the State of Alabama," Merrill said in a statement. "During the COVID-19 pandemic, we have worked diligently with local election officials in all 67 counties to offer safe and secure voting methods – including through the in-person and mail-in processes. I am glad the Supreme Court has recognized our actions to expand absentee voting, while also maintaining the safeguards put into place by the state Legislature."
"The fact that we have already shattered voter participation records with the election still being 13 days away is proof that our current voting options are easy, efficient, and accessible for all of Alabama's voters," Merrill continued. "Tonight's ruling in favor of election integrity and security is once again a win for the people of Alabama."
Sherrilyn Ifill, president and director-counsel of the NAACP Legal Defense and Education Fund, expressed frustration after the ruling in a tweet.
"Another devastating loss for voters and a blow for our team fighting to ensure safe voting for Black and disabled voters in Alabama. With no explanation, the SCOTUS allows Alabama to continue making it as hard as possible for COVID-vulnerable voters," Ifill wrote.
Curbside voting is not explicitly banned by state law in Alabama, but Merrill has argued that because the practice is not addressed in the law, he believes it to be illegal. 
A panel of federal appeals court judges on Oct. 13 reversed parts of U.S. District Judge Abdul Kallon's Sept. 30 order ruling regarding absentee voting in the upcoming Nov. 3 elections, but the judges let the previous ruling allowing curbside voting to stand. 
In his Sept. 30 ruling, Kallon wrote that "the plaintiffs have proved that their fears are justified" and the voting provisions challenged in the lawsuit "unduly burden the fundamental Constitutional rights of Alabama's most vulnerable voters and violate federal laws designed to protect America's most marginalized citizens."
Caren Short, SPLC's senior staff attorney, in a statement said the Supreme Court's decision has curtailed the voting rights of vulnerable Alabamians.
"Once again, the Supreme Court's 'shadow docket' – where orders are issued without written explanation – has curtailed the voting rights of vulnerable citizens amidst a once-in-a-century public health crisis. After a two-week trial, a federal judge allowed counties in Alabama to implement curbside voting so that high-risk voters could avoid crowded polling locations," Short said. "Tonight's order prevents Alabama counties from even making that decision for themselves. Already common in states across the South and the country before 2020, curbside voting is a practice now encouraged by the Centers for Disease Control and Prevention (CDC). It should be a no-brainer to implement everywhere during a pandemic; the Alabama Secretary of State unfortunately disagrees, as does the Supreme Court of the United States."