Marshall, Ainsworth rally in Albertville with Mo Brooks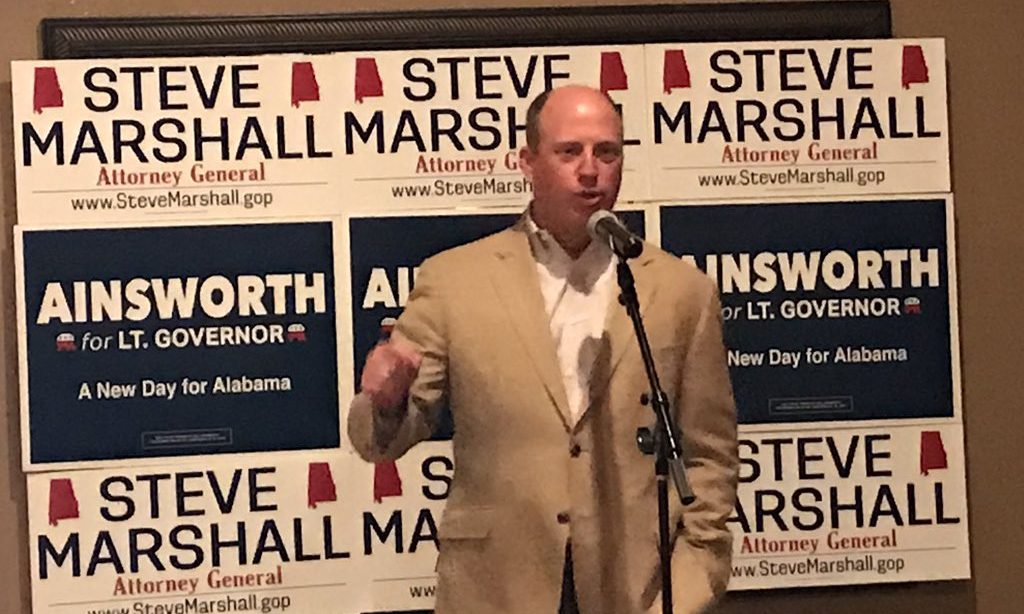 Saturday, with just ten days to go before the general election, Republican Lieutenant Governor candidate Will Ainsworth and Republican Attorney General candidate Steve Marshall attended a get out the vote rally in Albertville, with special guest Congressman Mo Brooks, R-Huntsville.
Marshall said that when he was appointed as Alabama Attorney General the critics said, "He is just a prosecutor, they can't make me a more powerful compliment. They said, He's a rural prosecutor from Marshall county." "If they want to call me a prosecutor and a rural prosecutor from Marshall County, let them do it."
Marshall was the longtime District Attorney in Marshall County. "There is nothing like coming home."
Marshall, whose wife killed herself during the Republican primary runoff, thanked his friends for standing with him during, "The most difficult times in my life."
Marshall thanked State Senator Clay Scofield, R-Guntersville, "I have no better friend" and state Representative David Standridge, R-Hayden, for coming to Saturday's event. "I am a better attorney general because of my daughter,"
"The greatest opportunity you have ever given me is to let me serve you in Montgomery," Marshall stated. "I am proud to be that conservative fighter that we need in Montgomery."
"It has been a blessing to have a friend on the campaign trail like Will Ainsworth," Marshall said. "As we have gone around the state, the one thing I knew is who he was, and he knew who I was despite of some of the things that have been written. He has a vision and a passion for the state of Alabama. We are on the cusp of doing some remarkable things in Alabama.
"Aren't we honored to have the best Attorney General in the nation," Ainsworth said.
Ainsworth said of Marshall, "The only people in Marshall County who didn't vote for him are people he put in jail or put their family members in jail."
"If it wasn't for the people of North Alabama and the turnout I would not be here talking today," Ainsworth said. "We did really well from Birmingham north."
"I have a passion for education," Ainsworth state. "I want the children of Alabama to have the same opportunities that children in other places have." Ainsworth cited technology, workforce development, and charter schools.
"I am honored to be the Republican nominee for Lieutenant Governor," Ainsworth said. "It is my honor to be introducing the hardest working conservative fighter in the Congress. This is not his district, its Aderholt's; but when he found out what we were doing here he insisted on coming over."
Congressman Mo Brooks said that it is important to vote for every candidate on the Republican ticket. "These city and county races are important not just for the city and county, but they are important for the whole country. These state races are important not just for the state of Alabama, but they are important for the whole country. Our views are under assault by the party that used to share our views but no longer does because is has been taken over by socialist radicals."
Brooks said that the national debt is the biggest security threat that we face as a nation and warned that the budget deficit has soared to $776 billion. "We can not get the Democrats to agree with us on any meaningful cuts in spending."
"Socialism is management from the top," Rep. Brooks said. "Free enterprise works. Liberty has given us the things that we enjoy."
"Socialism is what they have in Cuba and Venezuela where 90 percent of the people barely have enough to eat and are struggling to live while the elites are doing well," Brooks said.
"They believe in open borders," Congressman Brooks said. "They believe in cancelling your vote. Democrat controlled cities have made it legal for illegal aliens to vote in their municipal election."
Democrat controlled cities led by San Francisco have given illegal aliens the right to vote in their municipal elections Brooks said. "They want to do that nationally. The only people who are opposed to that march from central America is Republicans."
"They have a political agenda and that is to strip you of your voting power by giving the vote to illegal aliens," Brooks said of Democrats. "Illegal aliens cost Americans taxpayers $136 billion," Brooks said. "They pay $20 billion in taxes consume for a net cost $116 billion. There are economic reasons why we can not be the planet's welcome center."
"Remember that every Republican candidate here is doing what they do for love of country," Brooks said. "Support these fine candidates we have in the Tennessee Valley and particularly Will and Steve and every Republican candidate from the top of the ticket to the bottom of the ticket."
Marshall faces Joseph Siegelman (D) in the general election. Ainsworth faces Muscle Shoals area pastor Dr. Will Boyd (D). Congressman Mo Brooks is being challenged for the Fifth Congressional District by former Huntsville Attorney Peter Joffrion (D).
The general election will be on Tuesday, November 6. Polls open at 7:00 am and close at 7;00 pm. You must be a registered voter to participate and you must bring a valid voter ID.
NRSC congratulates Tuberville on winning runoff
The chairman of the National Republican Senatorial Committee, Indiana Sen. Todd Young, released a statement Tuesday congratulating Tommy Tuberville on his primary victory in Alabama.
"As a true political outsider, Tommy Tuberville has what it takes to stand up for the people of Alabama, conservative values and President Trump – and most importantly, defeat Doug Jones," Young said. "I look forward to another victory for Tuberville in November and working with him to build on President Trump's and our Republican Senate Majority's record of accomplishment."
Tuberville won the Republican primary runoff with 61 percent of the vote. His opponent, Former Attorney General and Sen. Jeff Sessions, received 39 percent.
Sessions was the first senator to endorse Donald Trump for president, served as Trump's attorney general for almost two years and was an important campaign surrogate for Trump during the 2016 presidential election. But the rift that developed between the two former political allies grew so large that the president called appointing Sessions as AG his "biggest mistake" as president.
Trump endorsed Tuberville and actively campaigned for Tuberville and against Sessions.
"Tommy Tuberville WON big against Jeff Sessions," Trump said on Twitter. "Will be a GREAT Senator for the incredible people of Alabama. @DougJones is a terrible Senator who is just a Super Liberal puppet for Schumer & Pelosi. Represents Alabama poorly. On to November 3rd."
The president is seeking re-election himself this year, and he will lead the Nov. 3 general election ticket for the GOP.
During his victory speech, Tuberville said that Trump called to congratulate him. Tuberville called Trump, "the greatest president of my lifetime."
Club for Growth PAC was an early endorser of Tuberville and contributed heavily to his election effort. President David McIntosh issued a statement congratulating Tuberville on winning the runoff.
"Coach Tommy Tuberville is a principled, pro-growth conservative, and well positioned to defeat liberal Democrat Sen. Doug Jones in the General Election," McIntosh said.
Club for Growth PAC also backed former State Rep. Barry Moore, R-Enterprise, in his bid to be the GOP nominee in the 2nd Congressional District. Moore won his race, beating Jeff Coleman.
Club for Growth Action spent $1,433,763 on the race, and Club for Growth members contributed $132,932 directly to Tuberville's campaign through the Club for Growth PAC.
Club for Growth Action announced that it will launch a new TV ad, "American Green," on July 15, highlighting Jones' "support for the Export-Import Bank and the billions in taxpayer funded loans that went to communist China."
Former State Rep. Perry Hooper Jr., R-Montgomery, is a member of the Alabama Republican Executive Committee and Trump's National Finance Committee.
"This is a huge win for the President," Hooper said. "This shows that the people of Alabama are fully behind the president."
Hooper said that he likes Jeff Sessions, but that Sessions should not have gotten into this race at the last possible moment and months after Tuberville and the other candidates had been out of the road campaigning.
"I honestly believe he will do everything in his power to defeat Doug Jones in November," Hooper said. "Coach Tuberville campaigned on his genuine support for President Trump and his Agenda and his desire to do what's best for the people of Alabama. His sincerity came through as led the ticket in March."
Hooper formally endorsed Tuberville in the days before the runoff election.
Sessions actually received 9,154 votes fewer in the runoff than he did back in March, while Tuberville gained 96,069 votes. 711,809 voted in the Republican primary while 549,721 voted in Tuesday's primary runoff – a decrease of 162,080 from March.
Part of that drop was due to a lack of competitive local races in many precincts, people traveling on summer holiday and no presidential politics to bring people to the polls — but part of it was also likely due to COVID-19 fears. The runoff had been scheduled for March 31, but it was delayed in hopes that the coronavirus global pandemic would have lessened.
It actually has gotten much worse.
Tuberville faces incumbent Sen. Doug Jones in the Nov. 3 general election.