Mike Pence meets with Ivey in Birmingham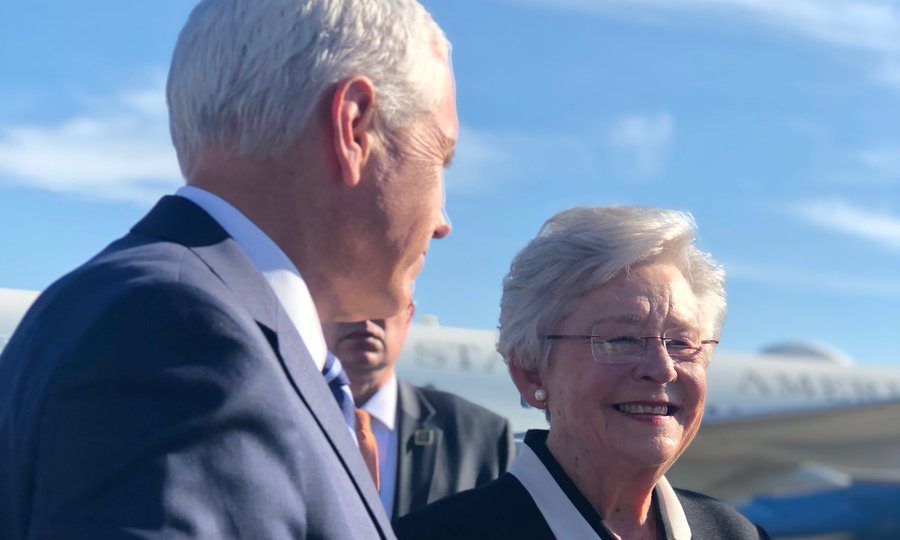 Tuesday, Vice-President Mike Pence (R) flew in to Birmingham for a National Republican Senate Committee (NRSC) event at Birmingham's Weston Hotel. Prior to leaving for that event the Vice President had a brief private meeting with Alabama Governor Kay Ivey (R) aboard Air Force Two. Ivey and Pence then disembarked from the plane and met briefly with select supporters and members of the Alabama Air National Guard's 117th Air Refueling Wing.
VP Pence said, "It is always great to be in Alabama."
Kay Ivey is in a hard fought gubernatorial race. VP Pence endorsed Ivey, saying that, "She has been a good partner, I hope the people of Alabama re-elect her."
Ivey and Pence reportedly discussed getting aid to victims of Hurricane Michael in Southeast Alabama.
Reporters asked Vice President Pence about President Donald Trump's (R) announcement that he would sign an executive order to end birth right citizenship.
"We have got to end illegal immigration," VP Pence said. "The President and I and our entire administration are absolutely committed to bring this crisis of illegal immigration on our southern border to an end."
Colonel Scott Grant told reporters that it was a great for some of his airmen to get to meet with the Vice President.
Colonel Grant said that he discussed some of the 117th's 101 year history with the Vice President and that VP Pence reminisced about his own experiences in flight school.
The NRSC event had been rescheduled from October 11, because of Hurricane Michael.
Trump Victory Chairman Perry Hooper Jr. told the Alabama Political Reporter that VP Pence participated in a round table discussion with himself and other influential Alabama political and business leaders; including Congressmen Bradley Byrne and Gary Palmer, U.S. Senator David Perdue of Georgia, President and CEO of Wellborn Cabinets Paul Wellborn, and former State Senator Shadrack McGill.
"He is such a great guy," Hooper said. "I thanked him for the F-35s (in Montgomery) and he said that his son will be flying F-35s soon."
Hooper said that Wellborn was critical of unfair Chinese competition in the kitchen cabinet industry. Pence responded saying that he and the President understood and are working on it. Hooper said that Pence also spoke about the confirmation of Brett Kavanaugh to the Supreme Court, "It was a huge win for the President."
The NRSC raises money to elect Republicans to the U.S. Senate.
Pence also visited Atlanta to support Republican Brian Kemp's effort to win the Georgia Governor's race.
Pence is a former member of Congress and a former Governor of Indiana.
"It was such an honor to welcome @VP Pence to Alabama today! I appreciate his willingness to allow me to step on board Air Force Two to discuss some Alabama business," Gov. Ivey said on Twitter. "He was very receptive and expressed his support of our great state."
Gov. Ivey told reporters afterwards that she also pressed Pence on trade issues.
"It's a work in progress, he clearly understands that I have got to protect Alabama's economy, and we have seven OEMs that are expanding and provide thousands of jobs for our people," Gov. Ivey said.
The general election will be Tuesday, November 6. Ivey is being challenged by Tuscaloosa Mayor Walter "Walt" Maddox. The Alabama Democratic Party has won only one of the last thirteen gubernatorial races in Alabama.
(Original reporting by WVTM TV Channel 13 contributed to this report.)
ACLU joins lawsuit over Alabama voting amid COVID-19 pandemic
The lawsuit was filed on behalf of several voters who are at greater risk from complications or death due to COVID-19. 
The American Civil Liberties Union and its Alabama chapter have joined in a lawsuit attempting to make it easier for some voters to cast their ballot during the COVID-19 pandemic.
The American Civil Liberties Union and ACLU of Alabama joined in the lawsuit filed in May by the NAACP Legal Defense and Educational Fund, Southern Poverty Law Center and Alabama Disabilities Advocacy Program against Gov. Kay Ivey and Secretary of State John Merrill. 
The U.S. Supreme Court in a 5-4 decision last week blocked U.S. District Judge Abdul Kallon's order that would have allowed curbside voting statewide and waived certain absentee ballot requirements for voters in at least Jefferson, Mobile and Lee Counties.
The lawsuit was filed on behalf of several voters who are at greater risk from complications or death due to COVID-19. 
The lawsuit was also brought on behalf of People First of Alabama, Greater Birmingham Ministries, the Alabama State Conference of the NAACP and Black Voters Matter Capacity Building Institute.
With the Supreme Court's decision, voters in the upcoming July 14 Republican runoff election will have to submit a copy of their photo ID and have either two adult witnesses sign their absentee ballot requests or have it notarized. 
"Alabama is in the middle of a deadly and ongoing pandemic but is refusing to take common-sense steps to protect the public's health and their right to vote for all elections in 2020. That's why we are taking legal action," said Alora Thomas-Lundborg, senior staff attorney with the ACLU's Voting Rights Project in a statement. 
"In the midst of an out-of-control pandemic, Alabama officials should be doing everything they can to ensure that all voters have a safe, fair, and equal opportunity to cast a ballot. Instead, officials have chosen politics over public health and safety. They are fighting to make it harder to cast a ballot and have that ballot counted. This litigation is crucial to ensure safe, fair, and equal opportunity to vote," said Randall Marshall, executive director of the ACLU of Alabama, in a statement.
"As we head into preparations for the November general election with COVID-19 cases rising in Alabama, it is critical that our election officials take seriously the protection of voters, poll workers, and our democracy," said Caren Short, senior staff attorney for SPLC in a statement. "In this critical election season, we are grateful to have Black Voters Matter Capacity Building Institute, the ACLU, and the ACLU of Alabama join this effort to ensure that every voter is heard. No voter should have to choose between exercising their fundamental right to vote and their health or the health of a loved one."
Deuel Ross, NAACP's Legal Defense Fund senior counsel, said in a statement that over the July 4th weekend, Alabama reported nearly 5,000 new coronavirus cases.
"Yet, state leaders insist on enforcing draconian restrictions on in-person and absentee voting that no other state finds necessary to combat the almost nonexistent issue of voter fraud," Ross said. "These restrictions are needless in normal circumstances. They are deadly in a pandemic. At trial in September, we will work to make sure that state leaders comply with their constitutional duty to protect the rights and safety of all voters."
In a Tweet on July 2, Alabama's Secretary of State John Merrill expressed gratitude for the Supreme Court's decision. 
"With the news that we have received a Stay in this process, I am excited that the United States Supreme Court has ruled in favor of those who believe in strict interpretation of the Constitution and has decided to grant the Stay and not endorse legislating from the bench," Merrill said in the tweet.