Report: Though improving, Alabama remains one of country's most corrupt states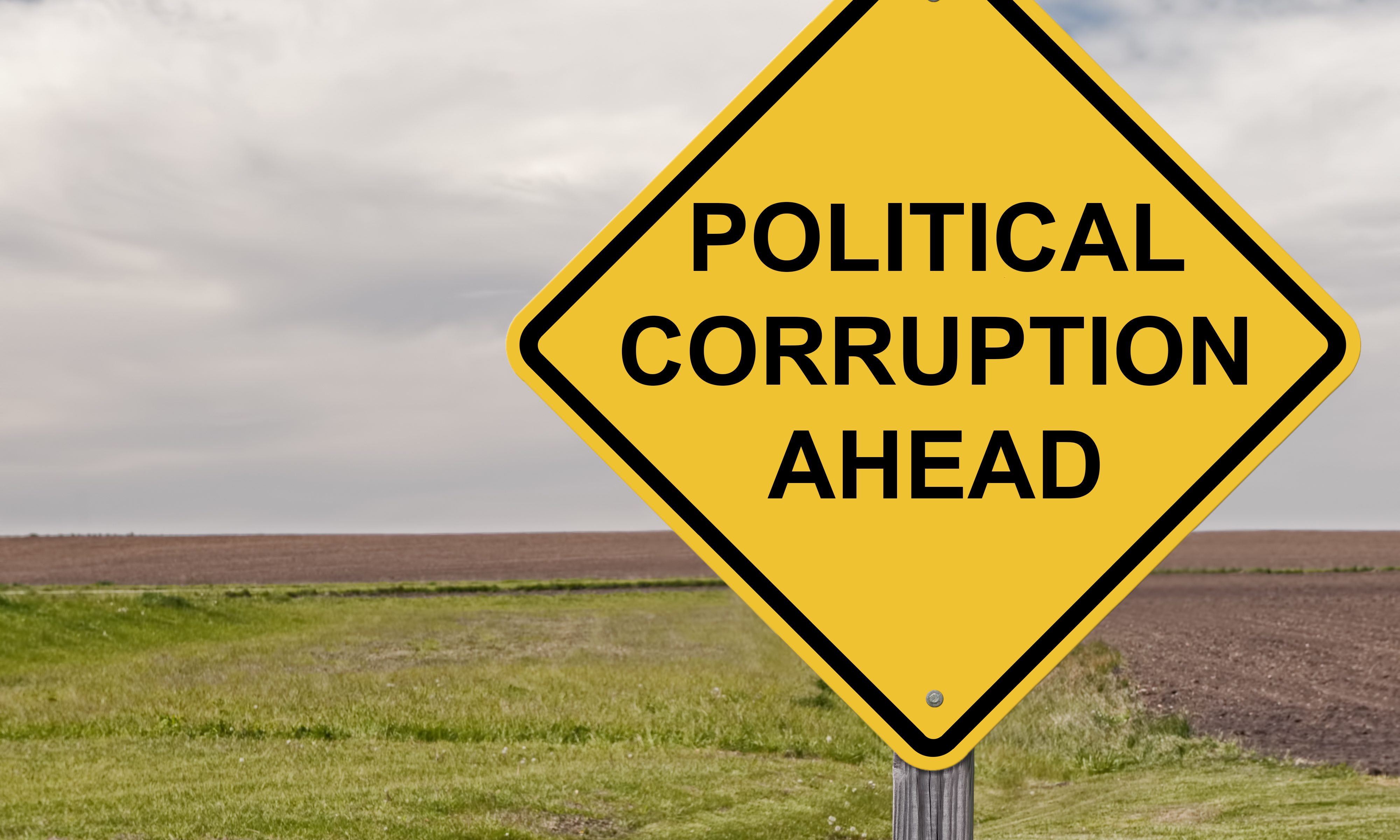 Alabama has been ranked again as one of the country's most corrupt states, according to a new survey conducted by Illinois State University's Institute Corruption Studies, though the ranking this year is a major improvement from last year.
The new survey lists Alabama as the fifth-most corrupt state in terms of illegal corruption — or corruption that is totally against the law — and No. 11 in terms of legal corruption, or conduct that is unethical or appears corrupt but isn't wholly illegal.
The Institute surveyed news reporters covering state politics and investigative reporters covering issues related to corruption to gather perception-based indices measuring the two forms of corruption.
The state ranks behind Arkansas, Kentucky, Louisiana and New York in perceptions of illegal corruption. In those states, illegal corruption in the state legislature and the executive branch is perceived to be "very common."
"With respect to illegal corruption, Arkansas and Kentucky are perceived to be the most corrupt states, followed by Louisiana and New York, and some other usual suspects such as Alabama and New Jersey," the survey found.
Alabama's judicial branch performs better. In that branch, illegal corruption is considered to be only "slightly common."
In recent years, Alabama was ranked at the top of the list for legal corruption, but this year, it's further down the list. Despite its improvement in the rankings, legal corruption is still perceived to be "very common" in the Legislature and the executive branch and "moderately common" in the judicial branch.
---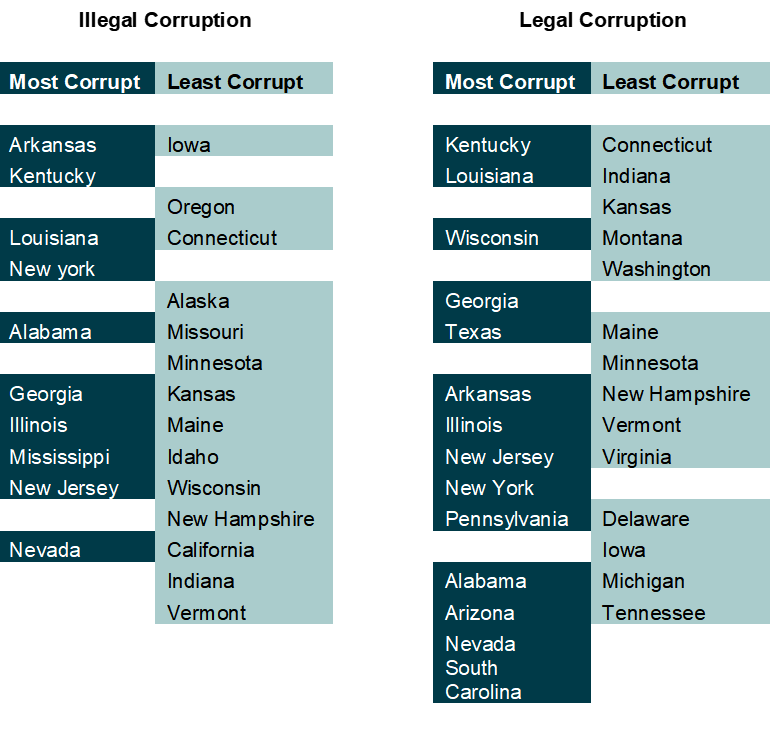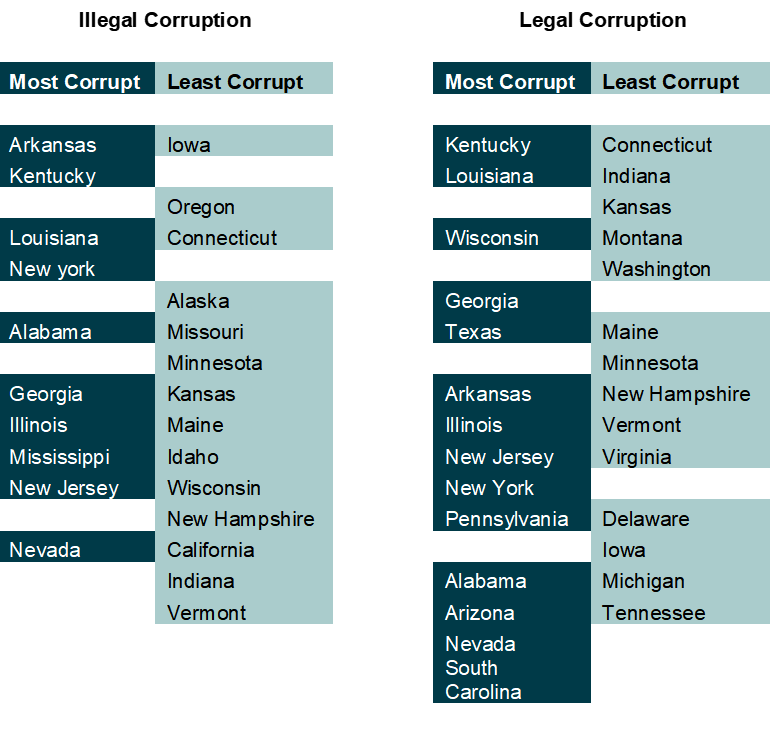 via ISU's Institute for Corruption Studies
---
In 2016, Alabama was behind only Kentucky in illegal corruption and was No. 1 in legal corruption. This results that were just released covers the year 2017.
"It is all bad news for such states as Alabama, Arkansas, Georgia, Illinois, Kentucky, Louisiana, New Jersey and New York as their aggregate scores are in the highest quartiles of both illegal and legal corruption," the survey found.
The Institute contacted nearly 1,000 reporters via email and phone, receiving a total of 240 responses. The reporters then ranked their perception of corruption on a scale of 1 to 5 for each branch of state government.
Over the course of a year in 2016 and 2017, the top three elected officials in the state of Alabama were removed after corruption or ethics scandals.
Former Alabama House Speaker Mike Hubbard was convicted of ethics violations, former Chief Justice Roy Moore was effectively removed for violating judicial ethics and former Gov. Robert Bentley resigned after a sex scandal with a top aide.
"You cannot convict the way out of corruption. You have to vote it out," said Oguzhan Dincer, the director of the institute and associate professor of economics at ISU.
Alabama consistently ranks in the top of this survey, but it isn't the first or only study to list corruption in Alabama as an issue.
In a recently released Public Affairs Research Council of Alabama survey identifying voter priorities ahead of this year's statewide election, at least 65 percent of respondents said they were "very concerned" about government corruption and ethics.
"While majorities of nearly every demographic or political group are concerned, there are some differences among partisan identifiers: A majority of Republicans are very concerned, while two-thirds of independents and over 80 percent of Democrats are very concerned," the report reads.
Coalition of attorneys general file opposition to Alabama attempt to ban curbside voting
The AGs argue that Alabama's suggestion to the courts that curbside voting invites fraud is "unfounded."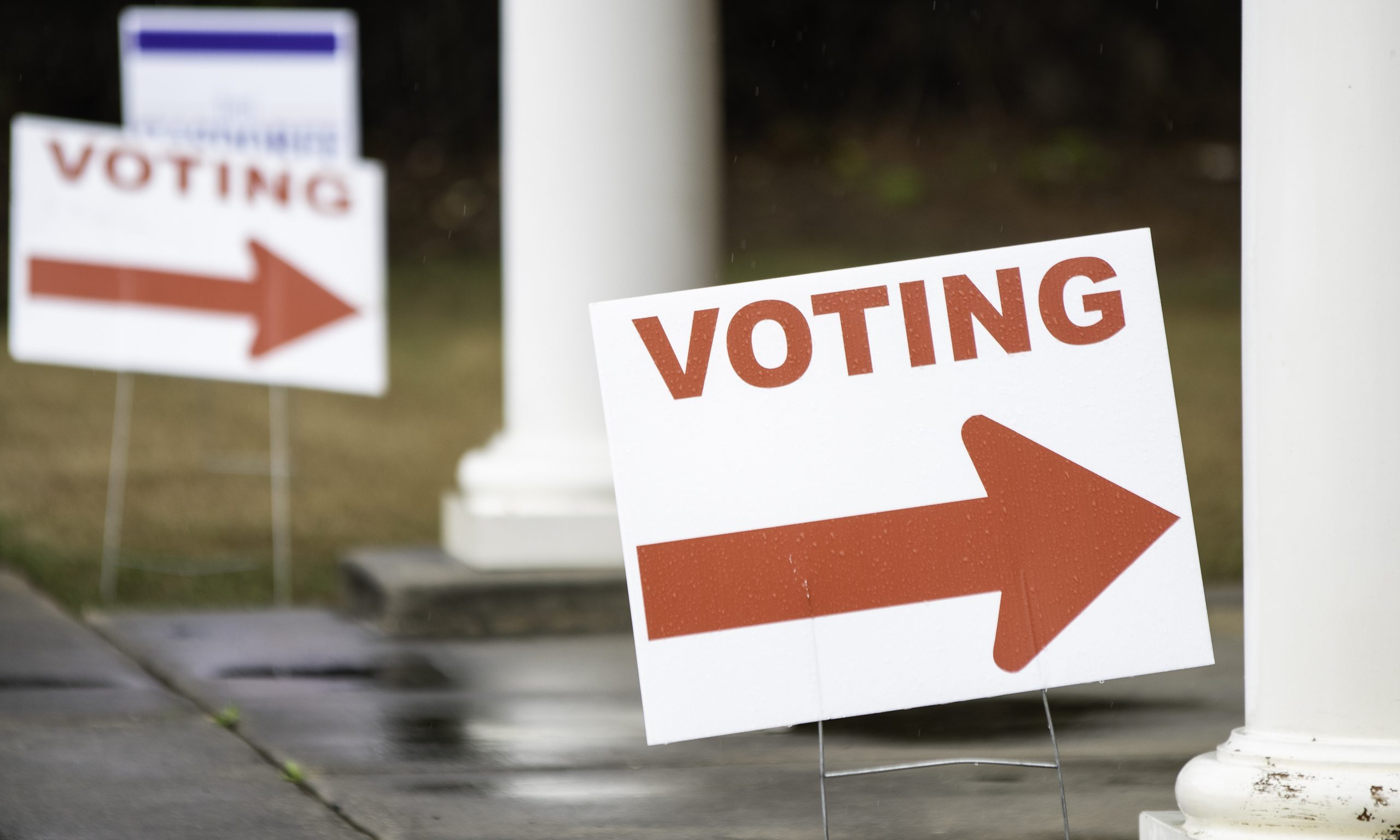 A coalition of 17 state attorneys general have filed an opposition to Alabama's attempt to get the U.S. Supreme Court to ban curbside voting. 
In a friend-of-the-court brief, led by District of Columbia Attorney General Karl Racine, the attorneys general argue to that curbside voting is safer for those at greatest risk from COVID-19, and that a ban on the practice would disproportionately impact the elderly, the disabled and Black Alabamians.
They also argue that Alabama's suggestion to the courts that curbside voting invites fraud is "unfounded." 
"The Presidential Advisory Commission on Election Integrity, established by President Trump following the 2016 election, 'uncovered no evidence to support claims of widespread voter fraud,'" the brief states, adding that there is no evidence that curbside voting in the many states that allow it invites fraud. 
"The practice is longstanding and widespread—as noted, more than half of states have historically offered curbside voting in some form," the brief continues. 
Alabama Attorney General Steve Marshall on Oct. 13 said the state will appeal to the U.S. Supreme Court a federal appeals court ruling allowing curbside voting in the Nov. 3 election. 
A panel of federal appeals court judges on Oct. 13 reversed parts of U.S. District Judge Abdul Kallon's Sept. 30 ordered ruling regarding absentee voting in the upcoming Nov. 3 elections, but the judges let the previous ruling allowing curbside voting to stand. 
The lawsuit, filed by the NAACP Legal Defense and Educational Fund, Southern Poverty Law Center, American Civil Liberties Union, ACLU of Alabama and Alabama Disabilities Advocacy Program, was brought on behalf of several Alabamians with underlying medical conditions. 
"Curbside voting is a longstanding, secure voting option that local jurisdictions have made available to protect the health of vulnerable voters, including elderly, disabled, and voters with underlying health issues," Racine said in a statement. "Curbside voting minimizes the risk to persons who are particularly susceptible to COVID-19, and local jurisdictions should be able to offer this common-sense accommodation to voters. State Attorneys General will keep fighting to ensure that voters can safely make their voices heard at the ballot box this November."
The brief filed by the coalition of state attorneys general comes as the number of COVID-19 hospitalizations across Alabama has been ticking upward.
Racine is joined in the brief by attorneys general from California, Connecticut, Delaware, Hawaii, Illinois, Maryland, Michigan, Minnesota, Nevada, New Mexico, New York, Oregon, Rhode Island, Vermont, Virginia and Washington.