Attorney General's alleged illegal acts make national news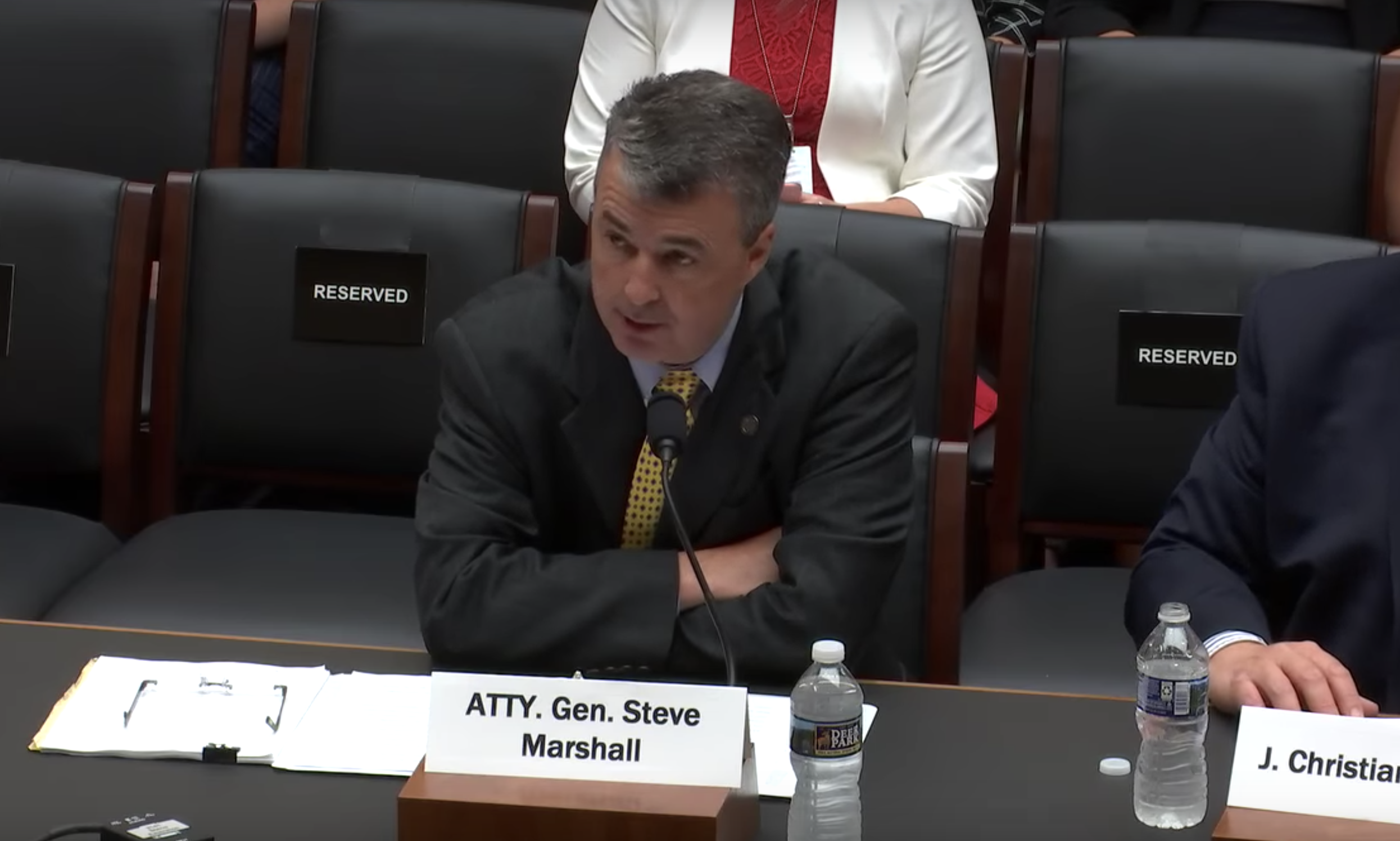 Alabama's Republican Attorney General has drawn national attention over controversial campaign contributions he received from the Republican Attorneys General Association.
"Alabama's Attorney General Steve Marshall may coast to victory on Nov. 6, but not without the help of some powerful friends from up north," reads a report published over the weekend in USA Today.
The report focuses on $735,000 in alleged illegal contributions Marshall received from RAGA that enabled him to win the Republican nomination for attorney general.
Even though Marshall was appointed attorney general by disgraced former Gov. Robert Bentley, RAGA treated him as an incumbent.
The Washington-based nonprofit stopped its donations to Marshall after a complaint was filed with the state's Ethics Commission.
RAGA operates as a political nonprofit regulated by Section 527 of the IRS, often referred to as "dark money," because sources of the original donors are masked.
At issue is Marshall receiving these funds unlawfully because RAGA accepts PAC-to-PAC transfers, which are illegal in Alabama.
According to the USA Today report, 527s like RAGA, "must report all donors who give $200 or more per calendar year. But they don't indicate which donors' money goes to which candidate they support, so the original source of the cash helping a specific candidate is often unclear."
RAGA's largest funder is the Judicial Crisis Network, which, according to USA Today, has given the group $7.2 million since its founding. "As a 501(c)(4) 'social welfare' group, Judicial Crisis Network doesn't disclose its donors," said USA Today. "[B]ut IRS documents show it has received around $4 million from the Wellspring Committee, another conservative 'dark-money' group."
USA Today also reports that RAGA receives significant donations from a corporation who are, "targets of large-scale multi-state lawsuit." Among RAGA's donors are Purdue Pharma, manufacturer of the drug OxyContin, who gave the nonprofit over $600,000 since 2014.
IRS filings show RAGA accepts contributions from super PACs such as the General Electric PAC and JP Morgan PAC, according to USA Today's report, which is at the heart of the ethics complaint hanging over Marshall.
Alabama's Ethics Commission has failed to act on the complaint against Marshall ahead of the elections, leaving voters in doubt as to the legal consequence Marshall could face after election day.
Montgomery District Attorney Darryl Bailey has been asked to present Marshall's case to a grand jury.
Marshall has argued that PAC-to-PAC transfers are illegal while maintaining he has done nothing wrong.
Marshall faces Democrat candidate Joe Siegelman on Tuesday.
First presidential debate is tonight
Tuesday's debate, set to begin at 8 p.m. CST, will be moderated by Fox News Sunday anchor Chris Wallace.
President Donald Trump and former Vice President Joseph Biden, the Democratic nominee for president, are preparing for Tuesday night's debate.
Tuesday's debate will be moderated by Fox News Sunday anchor Chris Wallace. The debate will be at 8 p.m. CST and is being hosted at Case Western Reserve University and the Cleveland Clinic in Cleveland, Ohio.
Due to COVID-19, the two candidates and the moderator will not shake hands. There will be a small number of ticketed guests inside the debate hall, along with debate officials, crews and TV network anchors including Fox News.
Trump has prepared with help from former New Jersey Governor Chris Christie and former New York City Major Rudy Giuliani but has chosen not to have traditional lengthy practice sessions.
Trump is suggesting he doesn't want to overdo it.
"Sometimes you can go too much in that stuff," Trump told reporters on Sunday.
Biden has been holding mock debate sessions with senior adviser Bob Bauer and top aides, according to CBS News.
"I'm prepared to go out and make my case as to why I think he's failed and why I think the answers I have to proceed will help the American people, the American economy and make us safer internationally," Biden said.
"The president prepares by being president," Trump campaign communications director Tim Murtaugh reportedly said. "And by regularly facing hostile news media. That's pretty good practice by any measure."
The debate as to whether Trump should have appointed Judge Amy Coney Barrett to fill the vacancy on the Supreme Court created by the death of Ruth Bader Ginsburg will almost certainly come up.
"Joe Biden spent a lot of time in his basement to study up," said Lara Trump, the president's campaign adviser and daughter-in-law. "He's been in this game for 47 years. I assume he'll do OK. Quite frankly, the bar has been lowered so much for Joe Biden that if he stays awake for the whole thing it's like maybe he won."
The two candidates are running very different campaigns.
From March until the last week in August, according to news reports, Biden made no in-person speeches or campaign appearances. Biden's events since have been rare and attended by just a few invited guests.
Trump, on the other hand, has been holding mass campaign rallies. Trump has held 14 in-person rallies in September including in swing states New Hampshire, Michigan, Wisconsin, Nevada, Florida, Virginia and Minnesota with multiple trips to Ohio, North Carolina and Pennsylvania.