General Boykin lists President Trump's accomplishments
Retired Lieutenant General William G. Boykin was in Gadsden speaking to the Etowah Republican Party. Boykin said that he opposed Donald J. Trump during the Republican primaries. Gen. Boykin was working for Senator Ted Cruz's campaign; but now that Trump is the President he thinks that Trump was chosen by God to be President.
"There were fifteen candidates on stage (in the Republican Primary) and I thought he was the most godless man on that stage; but I think that he was the one chosen by God to be President," Gen. Boykin told the crowd of over 550 Etowah County Republicans.
"This is a conservative country, you are a conservative people, but I am concerned about this country," Gen. Boykin said. "I travel all over the United States and I am concerned. We have a generation that is not proud to be Americans. That is beyond what I can understand. Bernie Sanders calls himself a socialist, but he is a Marxist. Karl Marx said my objective is to dethrone God and destroy capitalism," and now you have people running for office that says they are against capitalism.
"Nobody has caused more division than our last President, Barack Obama," Boykin added. "Division is a Marxist tool; but it is also a tool of the Devil. We dodged a bullet in November of 2016." "We would already have been a post constitutional society is Hillary had won."
I thought Trump was the most godless man on that stage, "but which one of those men would have moved the U.S. embassy to Jerusalem?" Boykin asked.
Boykins said that he did not like everything that Pres. Trump says on Twitter; but as people in the White House pointed out to me, "400 million people around the world are reading those tweets do you really want him to stop?"
Boykin said that under Trump and the Republican Congress, "We have received the largest tax cuts in history;" there has been positive growth in the economy; unemployment is at extremely low levels for all; specifically we have the lowest unemployment for women, Blacks, and Hispanics in history, Does he get credit from the media for that? No."
Gen. Boykin continued, "He cancelled the Iran Deal. That was the dumbest thing our diplomatic corps has ever done." He said he would get out of the Iran deal and he kept his promise. "Isis has lost over 90 percent of its territory. In Syrian and Iraq he told his generals and admirals we are in it to win it. What rules of engagement do you need," to do the job and he gave it to them.
"We were at the brink," of war with North Korea, Boykin said. "This was the closest we were in my lifetime to a nuclear war. He is the first President to have face to face discussions with the North Korean leader and I think it is incredible. Seventeen hostages have been released since Trump took office and I think the next one to be released will be Pastor Andrew Brunson we are so close (Brunson was released a few days later). The embassy has officially been moved to Jerusalem. Our military's budget has been restored."
Boykin said that transgender surgeries were banned in the military. Why should we spend $1 on anybody who can't be effective immediately at the mission at hand and that is to win the nations wars? Our military should not spend one dollar that could be spend on readiness on transgender surgeries.
"Our military just got its first raise in four years," Boykin said. "There has been major deregulation. For every new regulation passed 22 others are cancelled. We are on the path to energy independence. In just the last few months, we have become the world's leading exporter of natural gas and oil. We are no longer dependent on the sheiks of the Middle East and the thugs in Venezuela."
"Arab leaders have been put on notice regarding the support of terrorism," Boykin continued. Trump has told them to drive them out. He was speaking their language to them out of their own holy book. "NATO is now being forced to pay its share of the cost of running NATO. They agreed to spend two percent of their GDPs on defense. The Tans Pacific Partnership has been cancelled. In May 2017 Trump issued a religious liberty executive order. In August Jeff Sessions produced a set of rules for implementing this. Border security finally received its much needed increase in funding. He is fighting sanctuary cities. The Department of Justice is targeting the drug cartels. "The war on coal is over. Obama era regulations are being gutted. Hiring and buying American is popular again. Dodd Frank regulations have been reduced." "He has worked to reduce the cost of the F-35 and Air Force One."
"There is now a five year lobbying ban," for outgoing members of his administration and a lifetime ban for lobbying for a foreign government," Boykin said.
"He responded to Syrian use of chemicals weapons with bombing," Boykin continued. "There are now renegotiations regarding NAFTA. Canada has now come on board with NAFTA. Major businesses are investing again and building the economy. When are we going to learn that the guy actually operates from common sense?"
"The DOJ is now targeting MS-13," Boykin added. "The VA is being fixed. There is now a commission specific to the reduction of opioid addiction. Food stamp usage is at its lowest level in seven years because the economy is coming back. Trump reduced the White House staff."
General Boykin also praised Congressman Robert Aderholt, R-Haleyville, whom he said is a good friend and is right on all of the issues.
Boykin served for 36 years in the U.S. Army, was wounded during the invasion of Panama and is best remembered for his command of the special forces. Boykin now works for Focus on the Family.
State Senator Phil Williams, R-Rainbow City, is the Chairman of the Etowah County Republican Party.
Rep. Aderholt said, "Looking across this room, what a difference ten years have made in the Etowah County Republican party. Phil Williams does a great job both as Chairman of the Etowah Republican Party and as a State Senator."
"They talk about the blue wave that is coming," Rep. Aderholt said. "I think it will be a red wave here and in most of America. Most of American likes Donald Trump. Donald Trump's name will be on the ballot in every Senate District and every House District. Everybody has a chance to vote for Donald Trump by voting for the Trump agenda. To keep going he has got to have A Republican Congress. It is so important that we have a Congress that will work with implementing Donald Trump's agenda instead of trying to impeach him."
Aderholt said that every time he sees the President that he reminds that he got the highest percentage of the votes in the Fourth Congressional District in Alabama.
Aderholt praised Alabama Republican Party Chairman Terry Lathan, "We are so grateful that she is out there on the front lines."
"It is a great time to be a Republican in the state of Alabama," said Chairman Lathan. "83 percent of the voters in Etowah County voted in the Republican Primary. That is incredible. That is wonderful news." Lathan said, "Complacency can be our enemy. Champions are not complacent."
"This is the Trumpiest congressional district in the entire country," Lathan said.
Over 550 people paid to attend the Republican dinner event.
Etowah County Republican Party Chairman Phil Williams said, "This is not a room that would have been full fifteen years ago. I believe that after November sixth we will be entirely a Republican County."
"We are not Republicans because our daddies were and not because that is the cool thing to be: even though it is," Williams said. We are Republicans because we chose to be we believes the things that the Alabama Republican Party believes and those beliefs have been writtin into the Alabama Republican Party platform.
Williams added, "We had the tough primaries that were somewhat divisive. If you got sideways in the primary shake hands and leave it in this room. We are united. We are family."
The general election is Tuesday. Polls open at 7;00 a.m. and close at 7:00 p.m.
Print this piece
Sessions slams Tuberville for saying China has "a better military" than the U.S.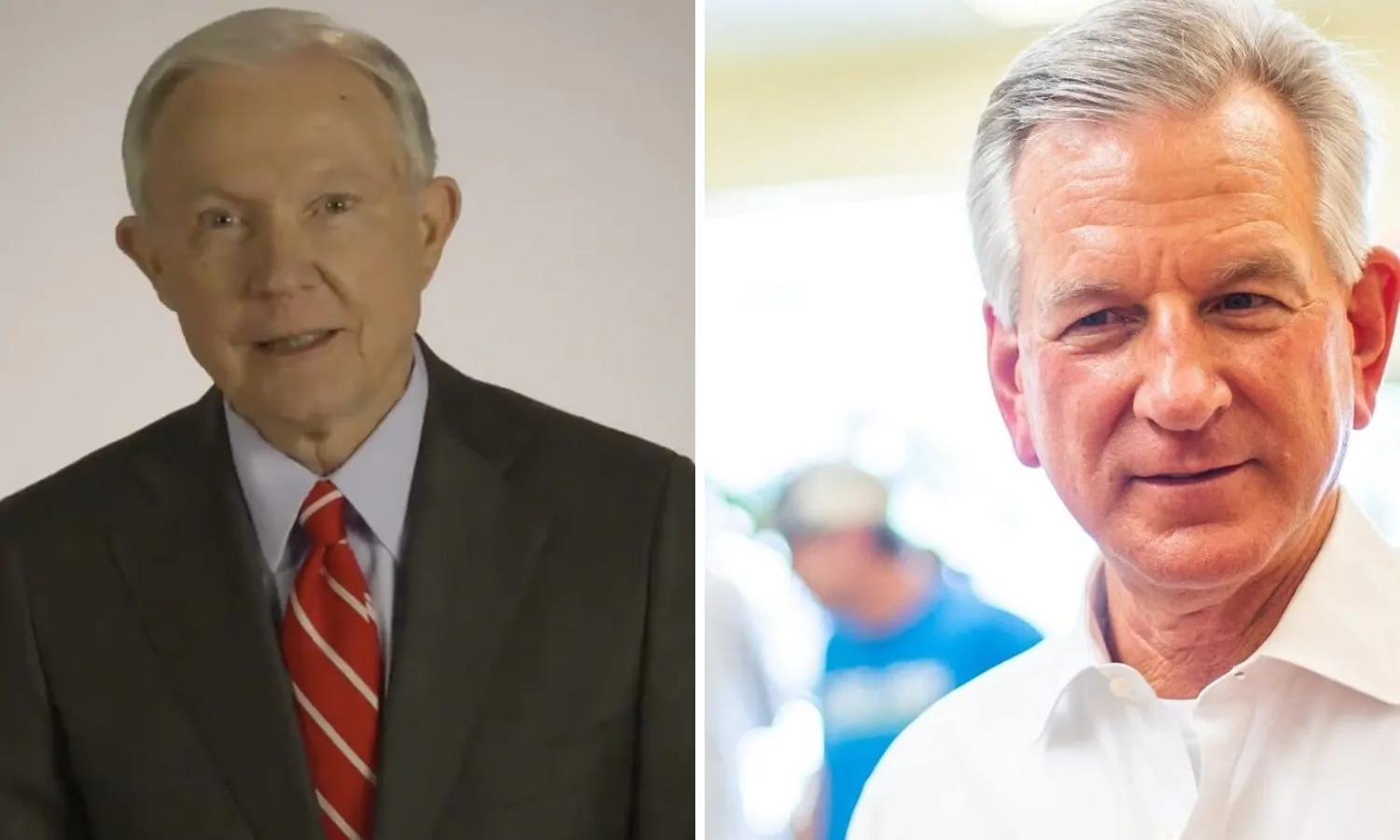 "On the day after Memorial Day, Tommy Tuberville is exalting the Chinese Communist Party's military over our own," GOP Senate candidate Jeff Sessions said in a statement.
This was in reaction to Tommy Tuberville's Tuesday comments on the Jeff Poor Radio Show when he said China has a "better military" than the United States.
"We've got China that's got a better military, and things, than we have," Tuberville said.
Sessions responded with this statement:
"Mr. Tuberville should immediately apologize," Sessions said. "His views further prove that he's not fit to be a United States Senator. His comments are an affront to the thousands of American military members who constitute the best fighting force the world has ever known."
"I have been to Afghanistan and Iraq and visited with our troops numerous times and have been to every one of Alabama's military bases countless times, and let me tell you, there is no better friend and no worse enemy than the United States military," Sessions stated. "This is personal to me. I served proudly in the armed forces as a Captain in the U.S. Army Reserve for over a decade. What Tommy Tuberville said is objectively wrong and reveals a lack of real understanding."
Tuberville has said that he favors free trade.
Sessions has called China a threat to the United States and has suggested that Tuberville's attitude is passive "appeasement" towards the Chinese Communist Party.
In an April radio interview on the Matt & Aunie Radio Show, when asked what should be done about China's cover-up of the details about the coronavirus, Tuberville said, "We can't worry about China right now."
The host then followed up: "You say you don't need to worry about China, but this came from China and our economy depends on China. Specifically, how to overcome some of that dependence on Chinese goods and specifically in the pharmaceutical industry because right now we're dependent on the country that covered this up."
"Now we're seeing firsthand the results of letting everything go to China," Tuberville responded. "The good thing about this is we'll have manufacturing come back and drugs and all those things….we're headed in that direction, just the simple fact that we can't control our own destiny. Everything's controlled by China. But that'll take care of itself."
During the Matt & Aunie interview, Tuberville also characterized the Wuhan Virus as "just a virus."
Sessions has suggested that Tuberville's comments show that he lacks a depth of understanding of the issues and has challenged Tuberville to a series of five debates.
"Mr. Tuberville, It is time for you to stop running away, and face me and the voters of Alabama," Sessions said. "No candidate who is scared to debate, or unable to defend our values, is worthy of support from the people of Alabama. I challenge you to a series of five debates before the voters of Alabama, one for each major media market in our state. This will allow us to discuss the unique issues of each geographic area, as well as national and international issues."
"Being a United States Senator is more than just casting the occasional vote," Sessions continued. "Effective senators must be ready to debate Chuck Schumer, Bernie Sanders, Elizabeth Warren, and others on many issues and away from the safety of talking points scripted by Facebook's chief open-borders lobbyist, who you've hired to help lead your Senate campaign. And anyone representing Alabama needs to be fully vetted before they are trusted to represent Alabama Republicans in a race against Doug Jones."
Sessions also charged that Tuberville's character would be exposed in a national campaign against Doug Jones, by Democrats.
"The Alabama voters need to hear you answer questions about the time you were sued for more than a million dollars in fraud at the failed hedge fund you started," Sessions said.
Tuberville's alleged partner went to prison for securities fraud and several prominent football coaches lost money investing in that hedge fund.
Sessions even attacked Tuberville's football coaching prowess.
"They need to hear you answer questions about the suspicious circumstances of the unceremonious end to your Auburn coaching career—where you took millions of additional dollars beyond the buyout for which you weren't even eligible," Sessions charged. "They need to hear about the times you walked out on college recruits or quit jobs just days after promising you wouldn't do so. They need to know everything. Because there is no question that the Democrats and Doug Jones already do, and they will spend millions using the skeletons in your closet against you."
"If you won't debate me now before the voters of Alabama, with two months to go until the election, there is no doubt that you would be eaten alive by Doug Jones, Nancy Pelosi, and Chuck Schumer," Sessions said. "You like to call me weak because I follow the law, and call yourself strong as you hide behind Silicon Valley's talking points and clips from coaching jobs that you quit. Ok. Time to man up. Say it to my face. You are either strong enough to debate, or weak and scared."
Tuberville maintains that he is endorsed by Donald Trump and that Sessions failed the President as Attorney General. As of this date, Tuberville has not agreed to any debates.
Sessions will face Tuberville in the July 14 Republican primary runoff. The winner will represent the Alabama Republican Party on November 3 against incumbent Sen. Doug Jones.
Print this piece