Alabama Senate Republicans hold onto commanding super majority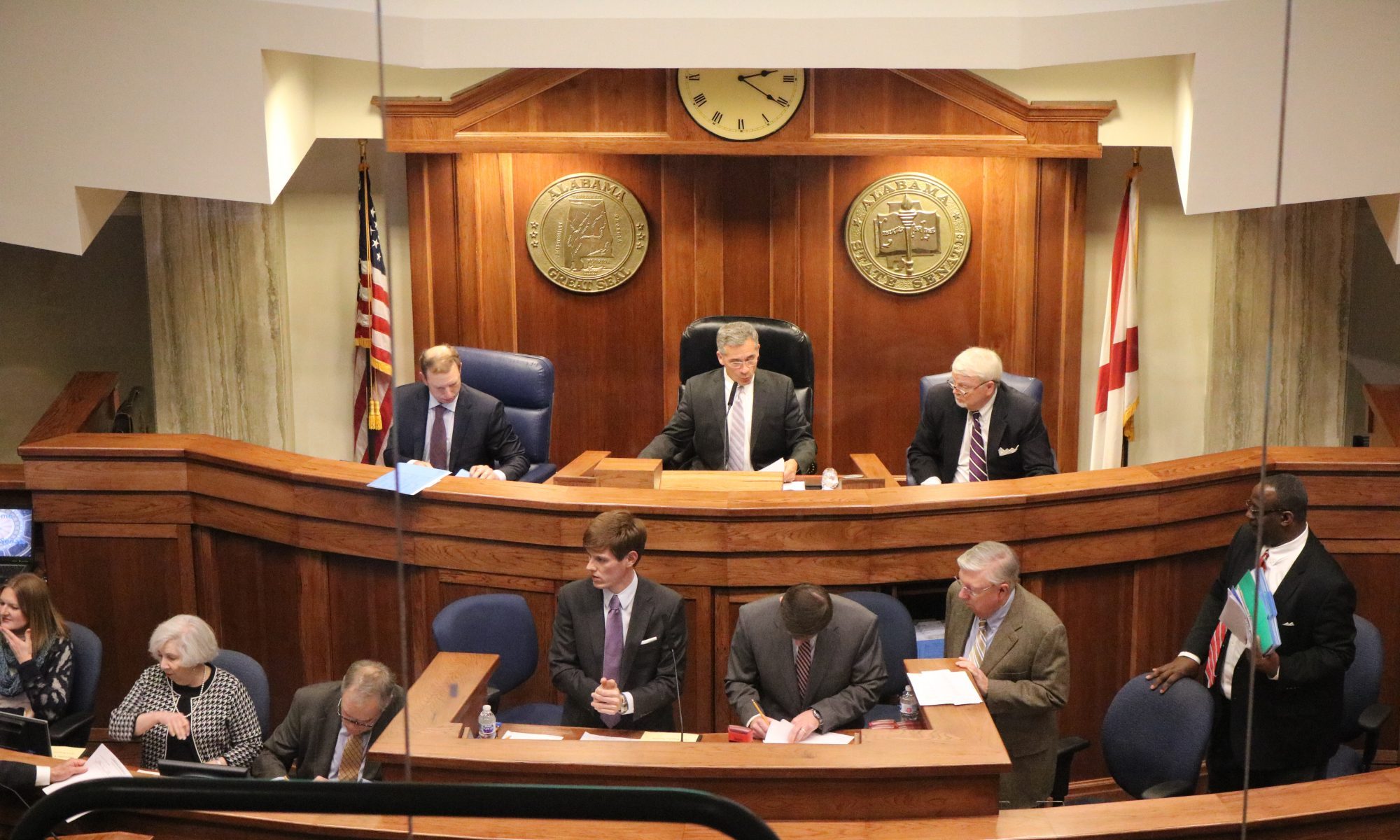 The people of Alabama went to the polls on Tuesday and gave a resounding vote of confidence to the Alabama Senate Republican Caucus. Currently the GOP holds a commanding 26 to 8 to 1 supermajority in the Alabama Senate. According to our early calculations, it appears that Senate Pro Tem Del Marsh (R-Anniston) has grown that to 27 to 8.
Senate Majority Leader Greg Reed (R-Jasper) said in a statement:
"The people of Alabama have again entrusted the reins of state government to conservative Republicans, and we will honor that trust by continuing to pursue policies that will lift every part of the state, from the wiregrass to the Black Belt to the Tennessee Valley. The economy is booming, but there is still work to be done, and Republicans in the Legislature will work hand-in-hand with Governor Ivey to rebuild our roads, bridges, and ports, strengthen our schools, support educators, and position Alabama as a leader for the twenty-first century."
In Alabama State Senate District 1, incumbent Tim Melson (R) had 32,154 votes, 68 percent. Caroline Self (D) received just 14,975 votes, 32 percent.
In Alabama State Senate District 2, former state Senator Tom Butler (R) received 31,849 votes, 54 percent. Amy Wasyluka (D) had 26,725, 46 percent.
In Alabama State Senate District 6 Larry Stutts (R) received 22,631 votes, 51 percent. State Representative Johnny Mack Morrow (D) had 21,732 votes, 49 percent. Stutts is a doctor and was subjected to relentless negative attacks by some in the media over allegations that he made some errors of judgement in his long medical practice. Despite the attacks, Dr. Stutts won the closest Senate race.
In Alabama State Senate District 7 Madison County Republican Party Chairman Sam Givhan (R) received 28,847 votes, 55 percent. Deborah Barros (D) received 23,942, 45 percent.
In Alabama State Senate District 10 Andrew Jones (R) received 25,809 votes, 61 percent. Independent State Representative Craig Ford received just 16,696 votes, 39 percent. Ford was the former House Minority Leader for the Democrats until he criticized Alabama Democratic Party Chairwoman Nancy Worley and Alabama Democratic Conference Chairman Joe Reed. After running afoul of the powerful Democrats, Ford gave up his seat in the House to run for the vacant Senate District 10 seat. Jones is a cattle farmer and businessman from Cherokee County.
In Alabama State Senate District 11 incumbent Senator Jim McClendon (R) received 36,138 votes, 76 percent. Carl Carter (D) received 11,386 votes, 24 percent. McClendon is the Chairman of the powerful Senate Health Committee as well as being the co-Chair of the Joint Committee on Reapportionment.
In Senate – District 12 Senate Pro Tem Del Marsh (R) received 27,352 votes, 65 percent. Jim Williams (D) received 14,971 votes, 35 percent. Marsh is one of the three most powerful people in Alabama state government along with Governor Kay Ivey (R) and Speaker of the House Mack McCutcheon (R). There are a lot of new members to the Senate so the GOP Caucus could replace Marsh as pro tem with someone else in their January organizational session; but that is not expected.
In Alabama State Senate District 13, Randy Price (R) received 31,545 votes, 71 percent. Darrell Turner (D) received 12,804 votes, 29 percent.
In Alabama State Senate District 14 incumbent Senator Cam Ward (R) received 34,910 votes, 73 percent. Jerry McDonald (D) got just 13,135 votes, 27 percent. Ward is the Chairman of the Senate Judiciary Committee and has been tasked with task forces studying sentencing and prison reform.
In Alabama State Senate District 16 incumbent Senator Jabo Waggoner (R) received 36,500 votes, 63 percent. Lindsey Deckard (D) had 21,364 votes, 37 percent. Waggoner is Chairman of the powerful Senate Rules Committee. He has served fifty years in the Alabama legislature.
In Alabama State Senate District 21 incumbent Senator Gerald Allen (R) received 33,331 votes, 68 percent. Rick Burnham (D) had 15,956 votes, 32 percent.
In Alabama State Senate District 23 Malika Sanders-Fortier (D) received 30,140 votes, 66 percent. Independent Mark Story received 15,768 votes, 34 percent. Sanders-Fortier is the daughter of longtime state Senator Hank Sanders (D-Selma) who is retiring from his seat in SD23 after decades in the legislature.
In Alabama State Senate District 25 Will Barfoot (R) received 32,968 votes, 61 percent. David Sadler (D) got 20,777 votes, 39 percent.
In Alabama State Senate District 26 incumbent David Burkette (D) received 31,857 votes, 80 percent. D.J. Johnson (R) received 7,843 votes, 20 percent.
In Alabama State Senate District 27 incumbent Senator Tom Whatley (R) received 29,658 votes, 59 percent. Nancy Bendinger (D) had 20,503 votes, 41 percent. Whatley is Chairman of the Senate Agriculture and Forestry Committee.
In Alabama State Senate District 32 Chris Elliott (R) received 45,687 votes, 75 percent. Jason Fisher (D) had 15,165, 25 percent.
In Alabama State Senate District 35 state Representative David Sessions (R) received 28,816 votes, 68 votes. Tom Holmes (D) received 13,694 votes, 32 percent.
State Senate Majority Leader Greg Reed (R-Jasper) told the Alabama Political Reporter that the Senate GOP Legislative Caucus was concerned with Melson, Butler, Whatley, Jones, and Stutts races so had focused their resources towards winning those contests and were winning across the board, except in Stutts race which was a tossup (at that time, since then Stutts has won his race.).
Twelve Republican did not have a general election opponent to deal with. Republican incumbent Senators: Arthur Orr, Greg Reed, Steve Livingston, Clay Scofield, Shay Shelnut, Greg Albritton, Clyde Chambliss, and Jimmy Holley effectively had already been re-elected. Additionally, GOP newcomers: Garlan Gudger, Jack Williams, Donnie Chesteen, and Dan Roberts also had no general election opponents.
Democratic incumbents: Vivian Figures, Roger Smitherman, Billy Beasley, Priscilla Dunn, Linda Coleman-Madison, and Bobby Singleton all also advanced without facing a general election opponent.
The only independent in the Senate, Harri Ann Smith, chose not to seek re-election. State Representative Donnie Chesteen (R) had no opponent for that seat.
While these numbers are not final and are subject to change, barring something unexpected the 2019 Alabama state Senate will be composed of 27 Republicans to 8 Democrats. All the Republicans are White and seven of the Democrats are Black.
Republicans took control of the Alabama Senate in 2010 after 135 years of Democratic control.
The next general election will be in 2022.
Print this piece
Alabama Republicans will hold summer meeting August 1
The Alabama Republican Party announced Tuesday that the state executive committee will meet on Saturday, August 1.
The Alabama Republican Party Summer Meeting is scheduled to be at the Trussville Civic Center, 5381 Trussville Clay Road, Trussville, AL 35173.
"We will be meeting in person and will be following all social distancing guidelines as applicable at the meeting time," wrote Alabama Republican Party Chairman Terry Lathan. "As the guidelines change, the ALGOP will plan accordingly for a safe, in person business meeting. The civic center can accommodate the social distancing guidelines with some alternations. However, as of today, special event buildings are closed. We will look for a backup place in case we need one. For now, our meeting is booked at the Trussville Civic Center."
"Because of the guidelines that require distancing and not knowing what the future brings, the luncheon fundraiser we had scheduled prior to our meeting will be postponed," Lathan explained. "Seating for 8-10 people at a table is not conducive for now- hopefully this will change sooner than later. It takes us months to prepare for 500 at our dinners, luncheons and meetings. The virus situation has hijacked many of our choices. Stay tuned for information about an exciting event later in the fall."
Lathan said that, "The guidelines are fluid and our plan will need to adjust accordingly."
"Please be assured that our team will be focused on having a safe and efficient Summer Meeting on August 1."
Re-electing Donald Trump and defeating Democratic incumbent Sen. Doug Jones are the focuses of the Alabama Republican Party. Tommy Tuberville and Jeff Sessions are in the July 14 Republican Primary runoff seeking that nomination.
The Alabama Republican Party holds six of the state's seven congressional seats. They are not challenging incumbent Terri Sewell, D-Selma.
Republican incumbents Mo Brooks of Huntsville and Gary Palmer of Hoover do not have Democratic challengers.
Republicans are hoping to re-elect incumbent Congressmen Robert Aderholt and Mike Rogers who face Democratic challengers. The 1st and 2nd Congressional Districts are both vacant.
In CD1 Bill Hightower faces Jerry Carl in the Republican Party primary runoff. In CD2 Barry Moore and Jeff Coleman are seeking the GOP nomination. Both eventual nominees will face Democratic opponents in the fall.
The Alabama Republican Party holds every statewide office. The highest-profile state office on the November ballot is Public Service Commission President where the Alabama Republican Party hopes to re-elect incumbent Twinkle Andress Cavanaugh.
Print this piece