Jeff Sessions is reportedly eyeing a return to Alabama politics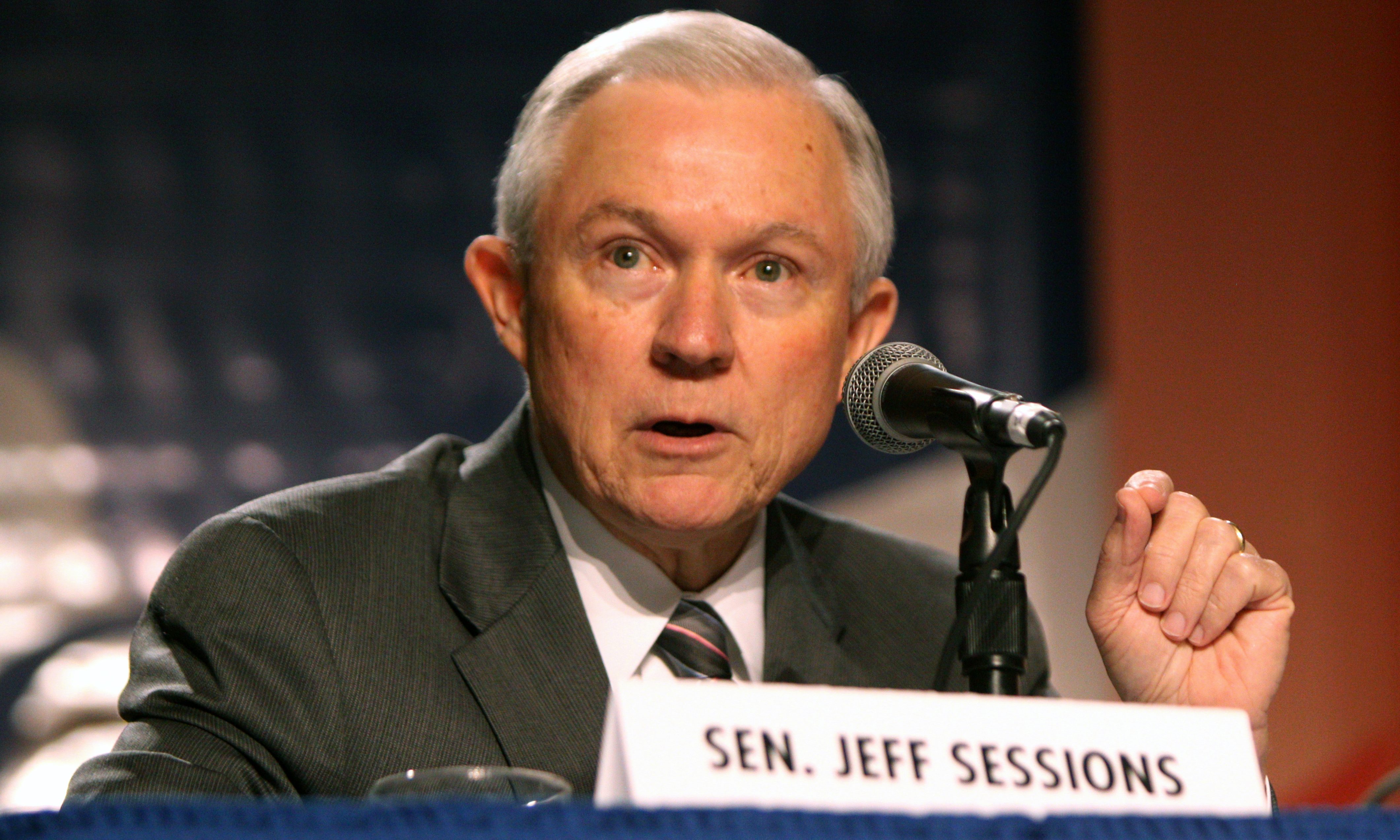 Former Attorney General Jeff Sessions is reportedly eyeing a return to politics in the Yellowhammer State.
After Sessions announced his forced resignation Wednesday, two people familiar with his thinking told Politico that he is considering a run for his old seat as Alabama's junior senator.
The seat is up for another election in 2020.
The embattled attorney general sent a long-awaited resignation letter to President Donald Trump Wednesday. The first line of the letter: "At your request, I am submitting my resignation."
Session — one of Trump's first allies among the upper echelons of American politics — has been on the receiving end of Trump's attacks and criticism for more than a year.
Trump has publicly hit Sessions for his decision to recuse from the investigation into potential ties between Trump's campaign and the Russian government.
He's also attacked Sessions for apparently refusing to launch investigations into former Secretary of State Hillary Clinton and other prominent Democrats whom Trump has, without evidence, accused of violating the law.
….The Democrats, none of whom voted for Jeff Sessions, must love him now. Same thing with Lyin' James Comey. The Dems all hated him, wanted him out, thought he was disgusting – UNTIL I FIRED HIM! Immediately he became a wonderful man, a saint like figure in fact. Really sick!

— Donald J. Trump (@realDonaldTrump) September 3, 2018
After representing Alabama for two decades, Sessions left the Senate in 2017 when Trump chose him to lead the Justice Department as the attorney general.
Sessions' tenure as attorney general has been tumultuous, to say the least. Only a month after taking office, Sessions was accused of committing perjury during his confirmation hearings after he told Senators he had not had any contact with Russian officials during the 2016 presidential campaign.
In March, press reports revealed that Sessions had, in fact, met twice with a senior Russian diplomat, Sergey Kislyak, in 2016. The accusations led to Sessions' recusal.
While Sessions has been on the wrong side of Trump when it comes to the Russia investigation, he has been one of Trump's most effective cabinet members, enacting a number of Trump-backed priorities and hard-line immigration policies — including family separation.
He's been hard-lined against so-called sanctuary cities, reversed an Obama-era memo intended to relax mandatory sentencing requirements and backed civil asset forfeiture.
Sessions' resignation came the day after Democrats won back the House of Representatives on Nov. 6. Democrats now plan to ramp back up investigations in the House that were dampened by Republican Intelligence Committee Chairman Devin Nunes, R-California.
Reports have suggested that Trump was waiting until after the midterms to fire Jeff Sessions as to avoid affecting the outcome of the elections. Democrats have alleged that Trump was seeking to fire Sessions as a way to take more control over the Russia investigation.
Sessions chief of staff, Matthew Whitaker, is now replacing Sessions on an acting basis until the Senate can consider a new nomination. In the meantime, Whitaker, who has been openly critical of Special Counsel Robert Mueller's investigation, will assume authority over the probe.
Because Sessions was recused, the Deputy Attorney General Rod Rosenstein, who also has a tumultuous relationship with Trump, was overseeing the investigation. The normal chain of command would have seen Rosenstein assume the acting attorney general role.
In Alabama, Sessions remained extremely popular throughout his tenure in the Senate, winning re-election in 2008 with 68 percent of the vote and running unopposed in 2014.
After Sessions left his Senate seat, Democrat Doug Jones won an upset special election against Roy Moore, the former chief justice of the Alabama Supreme Court. Though Jones has attempted to walk a moderate line in a deeply red state, he's widely viewed as one of the most vulnerable senators facing re-election in 2020.
There are already a number of rumors about who could be seeking the Republican nomination to challenge Jones. Among the potential hopefuls is U.S. Rep. Bradley Byrne, who represents Alabama's 1st Congressional District.
Luther Strange, who was temporarily appointed by former Gov. Robert Bentley to replace Sessions, sent out an eerily predictive tweet early Wednesday morning.
Jeff Sessions for Senate in 2020! #alpolitics

— Luther Strange (@lutherstrange) November 7, 2018
Print this piece
Opponents accuse Tuberville of supporting amnesty for undocumented immigrants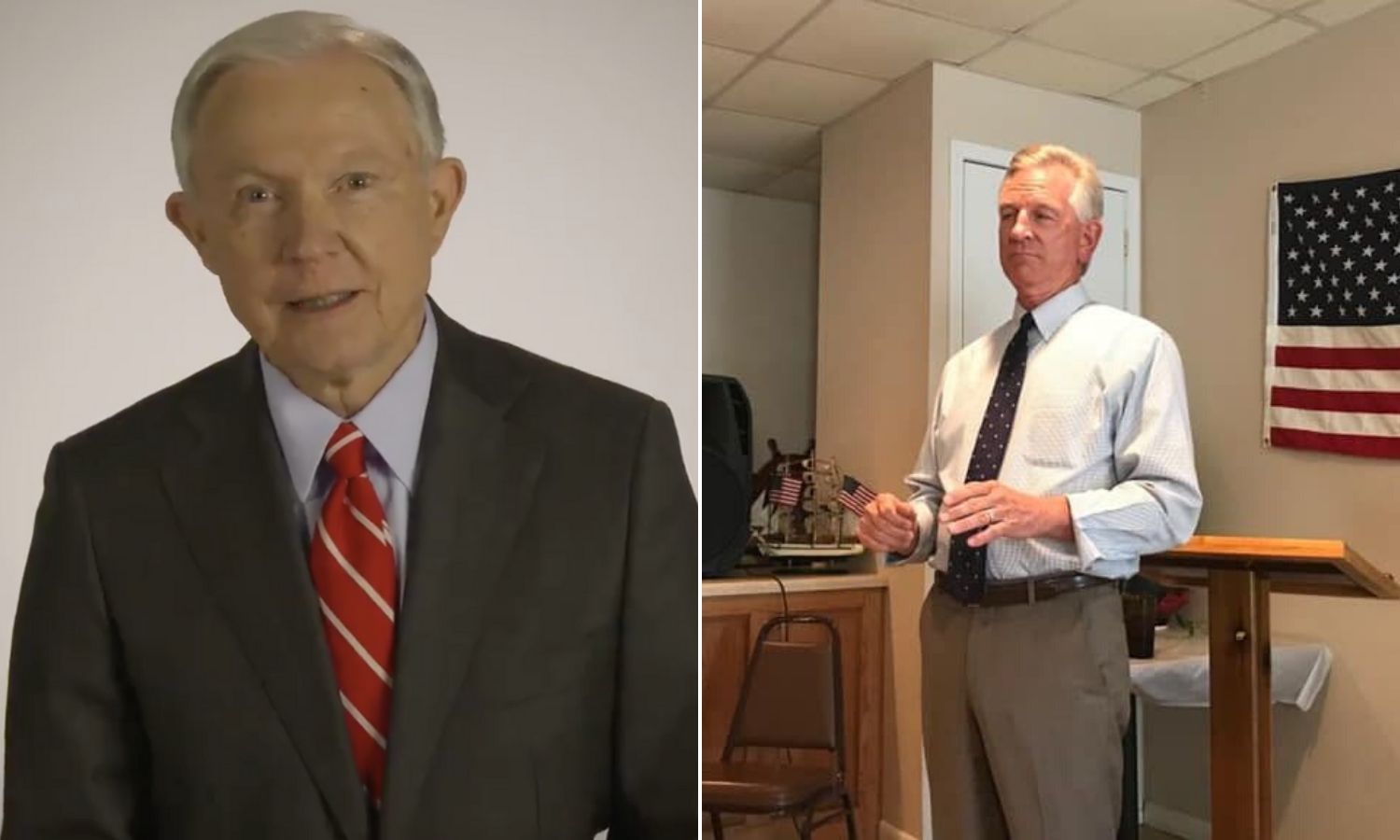 The Senate campaign is heating up as the top three candidates are all going negative. Former Auburn head football coach Tommy Tuberville has attacked Congressman Bradley Byrne (R-Montrose) and former Attorney General and Senator Jeff Sessions of being career politicians. Both Byrne and Tuberville have attacked Sessions for not having adequately served President Donald J. Trump (R) while Attorney General. Byrne has even attacked Tuberville's coaching abilities. The latest attacks on Tuberville accuse him of supporting amnesty for illegal aliens. Sessions even accused Tuberville of being a "tourist."
Wednesday, Sessions announced a new television ad called "Tuberville for Amnesty."
Byrne and Tuberville point to an August speech by Coach Tuberville when he said: "There are people coming across the border that need jobs… and we want them to come over here… Let em' come in and become citizens like we all became citizens."
The Tuberville campaign called the attack "fake news" on Twitter.
Sessions' campaign manager Jon Jones said, "Tuberville is claiming that his own words are 'fake news.' All of them? Tommy Tuberville needs to read the transcript. It is clear that Tuberville supports immigration amnesty, and he is attempting to trick Alabama voters to believe otherwise. In contrast, Jeff Sessions has done more than just say he wants to fix the border – he has already worked alongside President Trump to stop illegal immigration."
The new Sessions ad reads: "Tuberville is trying to trick you, hiding his support for immigration amnesty." Then plays an audio clip of the Tuberville comment from August
Tuesday, Byrne told reporters in Trussville: "I can tell you right now this issue about Tommy Tuberville's position on amnesty is a key issue. And so we're going to keep telling people about his position on that and let him explain why he doesn't think that's amnesty."
"Let em' come in and become citizens like we all became citizens," Tuberville is quoted in the ad.
Tuberville has denied supporting amnesty and says that he supports President Trump's immigration agenda.
The Sessions ad further charges: "And Tuberville's not even from Alabama, he's a tourist here. He lives, pays taxes and even votes in Florida."
On Tuesday, the Tuberville campaign responded with an attack ad of their own.
"The career politicians are desperate to hang on to their paychecks and power, so they have started airing negative ads full of false attacks and baseless distortions," Tuberville said. "Our new commercial allows us to respond with some hard truths about which candidate wants to drain the D.C. swamp and is tough enough to actually help President Trump get the job done."
The Tuberville ad has Byrne with former Secretary Hillary Clinton and Sessions with Congressman Adam Schiff (D-California) who led the impeachment effort against President Trump. The ad even connects Sessions and Byrne with Sen. Mitt Romney (the only Republican in either House of Congress who found that the President did anything wrong.)
State Representative Arnold Mooney, former Chief Justice Roy Moore, Ruth Page Nelson, and businessman Stanley Adair are also running for the Republican nomination for the Senate seat currently held by Doug Jones (D).
The Republican primary is March 3.
Print this piece