President George H.W. Bush will lie in state in the United States Capitol Rotunda through Wednesday Morning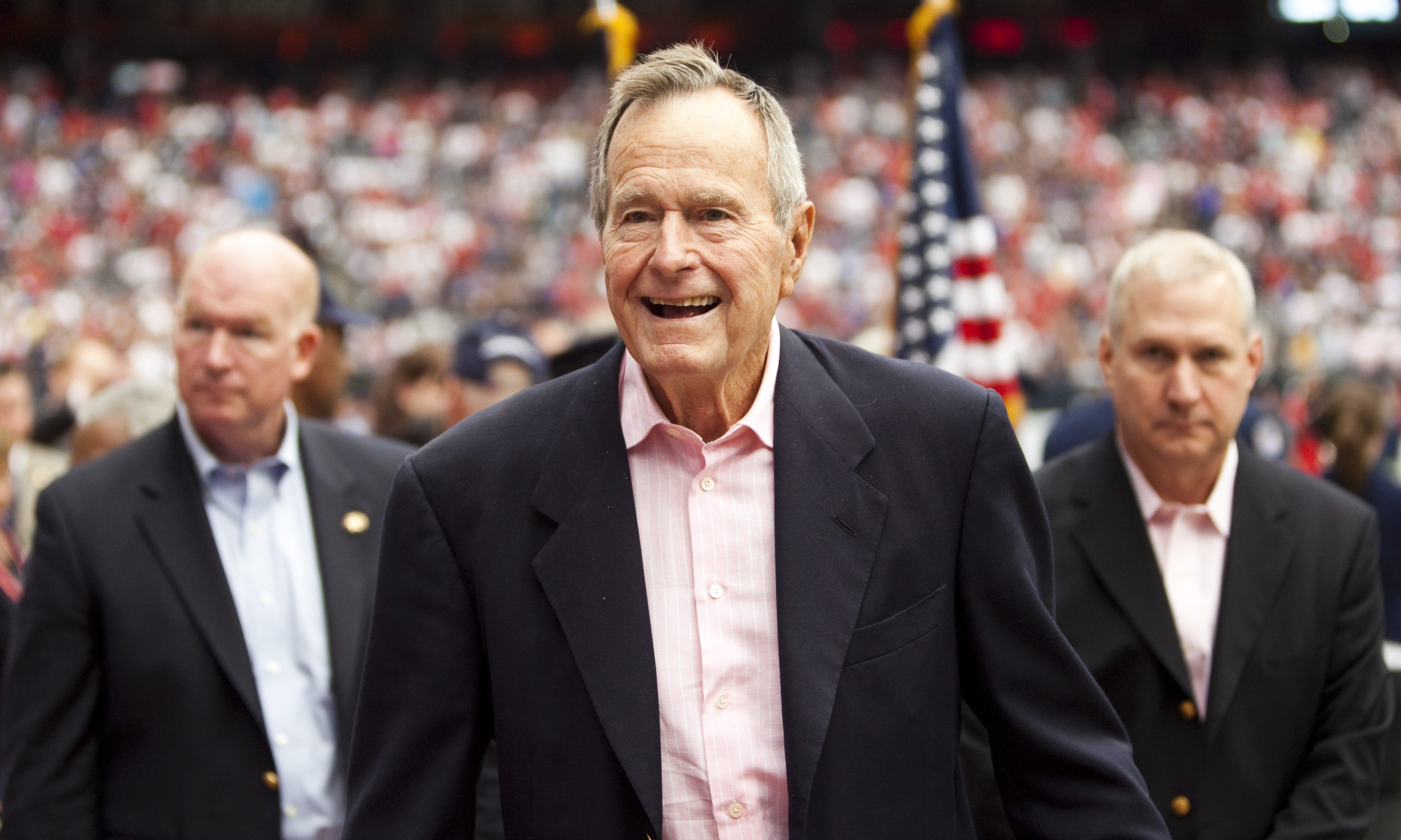 The body of President George Herbert Walker Bush, the 41st President of the United States, arrived in Washington Monday.
On Saturday, Speaker of the House Paul Ryan, R-Wisconsin; Senate Majority Leader Mitch McConnell, R-Kentucky; Senate Democratic Leader Chuck Schumer, D-New York; and House Democratic Leader Nancy Pelosi, D-California, announced in a joint statement Bush will lie in state in the United States Capitol Rotunda.
Bush was honored in a service at the United States Capitol. The ceremony marked the arrival of his casket to the Capitol Rotunda, where the late president will lie in state until Wednesday.
Ryan spoke to recognize Bush's legacy of service, strength of character and the indelible mark he left on our nation's history.
"As Americans, we have no more solemn duty than laying a great patriot to rest," Ryan said. "Here lies a great man. To the Bush family: On behalf of the whole House — Republicans and Democrats — we are profoundly sorry for your loss. And we are honored to celebrate this wonderful life with you. Like so many, I feel a personal debt of gratitude today. The 1988 campaign was the first one I was involved in. We handed out literature at the Janesville Craig Cougars ball games. I remember going to this big rally on the Miami of Ohio campus the day after the first debate. The whole experience really drew me into politics. He was the first president I had the chance to vote for. And he was the first president to teach me that in a democracy sometimes you fall short. And that how you handle that is just as important as how you win."
"An old preacher once said: 'Grace is but glory begun, and glory is but grace perfected,'" Ryan continued. "Glory is transcendent in the life of our republic. This Rotunda is a trumpet call to glory, tributes to the giants all the way up to the sky. Grace is different, more elemental. It is not larger than life; it is the stuff of life—the connective tissue in a free society. It deepens the well of our common humanity. Throughout his life of service, President Bush personified grace. His character was second to none. He reached the heights of power with uncommon humility. He made monumental contributions to freedom with a fundamental decency that resonates across generations. No one better harmonized the joy of life and the duty of life. There is that indelible image of him as commander-in-chief during the Gulf War waving to a sea of troops during a visit over Thanksgiving. There are the images of him as a devoted husband—that twinkle in his eye Barbara always brought out—especially in those big family photos in Kennebunkport. There is the image of him as a loving father reaching out to hold his son's hand at the National Cathedral after 9/11. And there is the letter he wrote to his children on the last day of 1990, as he wrestled with the decision over Operation Desert Storm. He begins by recounting the family Christmas, and apologizes if he seemed distracted. 'I tried not to be,' he writes. Then, for about a page, he elaborates on his struggle over sending young Americans into harm's way. Twice in the letter, he writes that 'every human life is precious.' On the original copy, he adds by hand a note wishing the family a happy new year. In consequential times, George Herbert Walker Bush demonstrated the finest qualities of our Nation and humankind. A great leader and a good man. A gentle soul of firm resolve. He showed us that how we live is as important as what we achieve. His life was a hymn of honor. His legacy is grace perfected. His memory will belong to glory. God bless the 41st president of the United States."
The public is invited to pay their respects from Monday, Dec. 3, at 7:30 p.m. EST until Wednesday, Dec. 5, at 7 a.m. EST.
"This week, our nation joins together to mourn the passing of our 41st President, George H.W. Bush," Congresswoman Martha Roby, R-Alabama, wrote. "He was a remarkable American who served this country honorably. He will be dearly missed. My prayers are with the Bush family during this time."
"It is with heavy hearts Martha and I learn of President George H.W. Bush's passing this morning," Congressman Mo Brooks, R-Huntsville, wrote on social media. "We join the Nation in mourning the death of a great man, who before serving as President of the United States honorably served as a Navy pilot during World War II, a U.S. Congressman, Ambassador to the United Nations, Chief U.S. Liaison to China, CIA Director, and Vice President of the United States. Throughout his impressive service to our Nation, President Bush set the standard for leadership and integrity. President Bush was deeply devoted to his family, and it showed in their love for him. Our thoughts and prayers are with the entire Bush family at this time of grief."
"I am deeply saddened by the passing of President George H.W. Bush," said Congressman Gary Palmer, R-Hoover. "He was a great example to me as an honorable public servant and an example of civility, character, compassion, and courage. He was an American hero. He volunteered for U.S. Navy in World War II at age 18 and flew 58 combat missions before he turned 21. He had one of the most expansive backgrounds of anyone who ever served our nation. He served as a member of the U.S. House of Representatives, as U.S. Diplomat to the United Nations, as Chief of the U.S. Liaison Office in Beijing, China, as CIA Director, as Vice President to President Ronald Reagan, and finally as our 41st president. And after leaving the White House, he and First Lady Barbara selflessly stepped up to serve not only our country, but the needs of people worldwide. America has lost a great man, a leader who epitomized the ideal of a humble servant leader and a dedicated family man. While Ann and I send our deepest condolences to the Bush family, we also thank God for his dedication to our country and for the example he set for us all as a leader."
President Donald Trump has declared Wednesday as a National Day of Mourning for Bush. He was 94.
Alabama GOP chair: "We expect our elected officials to follow the law" after Dismukes arrest
"Will Dismukes matter: We expect our elected officials, regardless of Party, to follow the laws of our state and nation," Alabama GOP chair Terry Lathan said on Twitter.
Alabama Republican Party Chair Terry Lathan said Thursday that Alabamians expect their leaders to follow the law. Her comments came in response to news that an arrest warrant had been issued for State Rep. Will Dismukes, R-Prattville, on the charge of felony theft.
"Will Dismukes matter: We expect our elected officials, regardless of Party, to follow the laws of our state and nation," Lathan said on Twitter. "No one is immune to these standards. It is very disappointing to hear of these allegations. This is now a legal matter and it must run its course."
Will Dismukes matter:
We expect our elected officials, regardless of Party, to follow the laws of our state and nation. No one is immune to these standards. It is very disappointing to hear of these allegations.This is now a legal matter and it must run its course. #alpolitics

— Terry Lathan (@ChairmanLathan) August 6, 2020
Speaker of the House Mac McCutcheon, R-Monrovia, said Friday in a statement that Dismukes will get his day in court.
"As a former law enforcement officer, I have faith in the criminal justice process and trust that he will receive a full and fair hearing," McCutcheon said. "Both Democrats and Republicans have been accused of similar crimes in the past, and we cannot tolerate such behavior whether the lawmaker involved has a D or an R beside their name."
Dismukes has been charged by his former employer, a custom flooring company, of felony theft charges. Dismukes left that employer and started his own custom flooring company.
Dismukes, who is serving in his first term and is one of the youngest members of the Alabama Legislature, has been heavily criticized for his participation in a birthday party for Confederate Lt. General Nathan Bedford Forrest in Selma. Forrest was also the first grand wizard of the Ku Klux Klan.
The party in Selma occurred the same week that Congressman John Lewis's funeral events were happening in Selma. Dismukes resigned his position at Valley Baptist Church when the Southern Baptists threatened to disassociate the Prattville Church if they retained Dismukes. He has defiantly refused to step down from the Legislature, but if convicted of a felony, he would be automatically removed from office.
Both Democrats and Republicans have called for Dismukes to resign from the Alabama House of Representatives over his being the chaplain of the Prattville Sons of Confederate Veterans and his Facebook post lauding Forrest. The investigation into the theft predates the controversies surrounding Dismukes's glorification of the Confederacy and Forrest.
Republican State Sen. Clyde Chambliss, who also represents Prattville, has called on Dismukes to resign.
"Since first being elected in 1996, I've had a policy of not publicly criticizing other elected officials, but at this time I am making an exception since Rep. Dismukes is MY state representative. He does not represent my views or the views of the vast majority of people of District 88," Chambliss said. "The post is bad enough, the timing is even worse, but the real problem is that an elected official in 2020 would attend a celebration of the life of someone that led a group that terrorized and killed other human beings. He has had 24 hours to understand why people are so upset, but his interview on WSFA a few moments ago confirms that he is lacking in understanding and judgment — he should resign immediately."
Alabama Democratic Party Chairman State Rep. Chris England, D-Tuscaloosa, has repeatedly called for Dismukes to resign from the Alabama House of Representatives.
The Alabama Democratic Party recently said in a statement, "Will Dismukes is morally unfit for office. Republicans and Democrats statewide seem to agree. Unfortunately, despite the mounting calls for his immediate resignation, Will intends to stay in office and seek re-election without penalty from the Republican Party."
"While Alabama Republicans hope this will be a distant memory when Dismukes runs for re-election in 2022, we are not going to let him off the hook," the ADP wrote. "The Alabama Democratic Party is going to leverage every tool we have to send Will packing when he comes up for re-election in two years."
"In our darkest hours in life there is still light in Christ!" Dismukes wrote on social media Wednesday. "As the storm continues to blow with heavy force, there is yet a peace that this too shall pass. I guess sometimes we find out if we have built our house on sand or the solid rock of Christ. Psalm 23."
When Speaker of the House Mike Hubbard, R-Auburn, was indicted on 21 charges of felony ethics violations, he did not resign and actually remained speaker until a jury of his peers in Lee County convicted him on 12 counts.