Ivey speaks at USA Hospital Trauma Center groundbreaking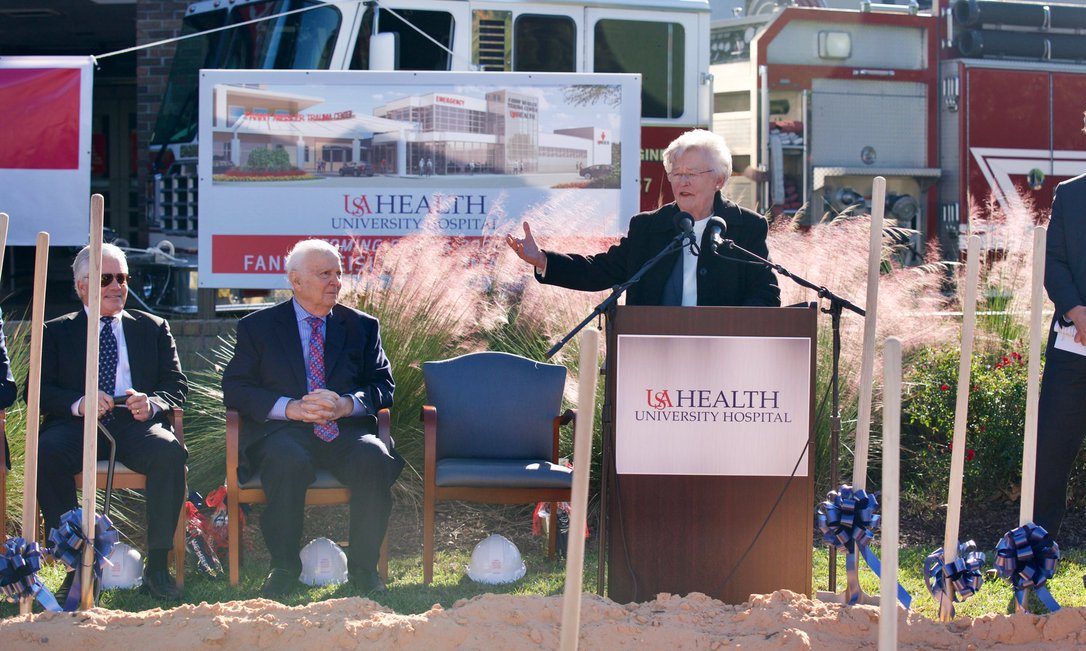 Alabama Gov. Kay Ivey was in Mobile County for the groundbreaking ceremony of the Fanny Meisler Trauma Center at University Hospital.
"A year after awarding a $4 million grant to @usaunivhospital, I'm thrilled to join them & many others in breaking ground on a much-needed expansion of the region's only Level One Trauma Center." Gov. Kay Ivey said on Twitter.
The center is possible due to contributions of $4 million from the state and a private donation of $5 million from local businessman and philanthropist Bert Meisler.
State Representative Margie Wilcox said on social media, "It is a beautiful day to have a groundbreaking ceremony. USA's University Hospital broke ground on the Fanny Meisler Trauma Center. Governor Ivey and many of our Mobile legislative delegation were on hand to turn a shovel for this much-needed transformation of our level 1 Trauma center. Thank you to the Meisler family for the 5 million dollar donation and the State of Alabama for the 4 million appropriated for this life-saving facility."
The contributions of $4 million from the state and a private donation of $5 million from local businessman and philanthropist Bert Meisler allowed USA Health and the University of South Alabama to break ground on the Fanny Meisler Trauma Center at University Hospital.
The Trauma Center is planned for the Spring of 2020. The new construction and renovation will expand and modernize the current space, enhancing the hospital's ability to accommodate patients with traumatic injuries and respond to mass casualty situations in the region. The center is named for Fanny Meisler, the late wife of Bert Meisler, who announced his $5 million gift to USA Health earlier this year.
Gov. Ivey announced the economic development grant of $4 million in August 2017 for the trauma center, recognizing the need for expansion of University Hospital's existing Emergency Department.
"We are proud to support the work of University Hospital as the region's only Level 1 Trauma Center," Gov. Ivey said. "We depend on this care for our residents. This service is also vital to our state's economic development efforts, as corporations demand this level of care when they look to relocate to Alabama."
University Hospital is the only academic medical center in the region where patients can receive the highest level of care when a traumatic injury occurs. A dedicated trauma team of specialized physicians and staff is on standby at the hospital 24 hours a day, every day, ready to help patients at a moment's notice.
"We are grateful Gov. Ivey and Bert Meisler recognize the importance of an expanded Level 1 Trauma Center in our region and the role our dedication to quality healthcare has in attracting more businesses and saving more lives," said University of South Alabama President Dr. Tony Waldrop.
Economic Developer Nicole Jones told the Alabama Political Reporter, "The advancement allows our state to offer top-notch health care for patients in some of the most critical, life-and-death situations. Thank you to the Meisler family and to Governor Ivey and the State of Alabama for recognizing the need for the Fanny Meisler Trauma Center at USA Hospital, currently the only Level-I Trauma Center in the region. This is a wonderful example of collaborative efforts between the public and private sector that will ultimately save lives."
As a state-certified Level 1 Trauma and Burn Center, USA Health University Hospital serves as the major referral center for patients with traumatic injuries from southern Alabama, southeast Mississippi, and portions of northwest Florida. The hospital's designated trauma team – which includes around-the-clock trauma surgeons, cardiovascular surgeons and neurosurgeons – treats an average of five critically injured patients a day, which is more than 1,700 people a year. As the go-to facility for the area's toughest emergencies, University Hospital is capable of providing total care for every aspect of injury, from prevention through rehabilitation.
USA Health has more than 3,800 employees. USA Health is unlike any other health care organization on the Alabama Gulf Coast. It includes University Hospital, USA Children's & Women's Hospital, USA Mitchell Cancer Institute, USA Physicians Group and USA College of Medicine.
At least one-third of local physicians, some 2,500, received their training at University Hospital, formerly USA Medical Center. More than 10,400 nurses and 5,600 allied health professionals received training at USA hospitals. USA Health has an annual economic impact of more than $791 million annually.
Trump Truck and boat parades this weekend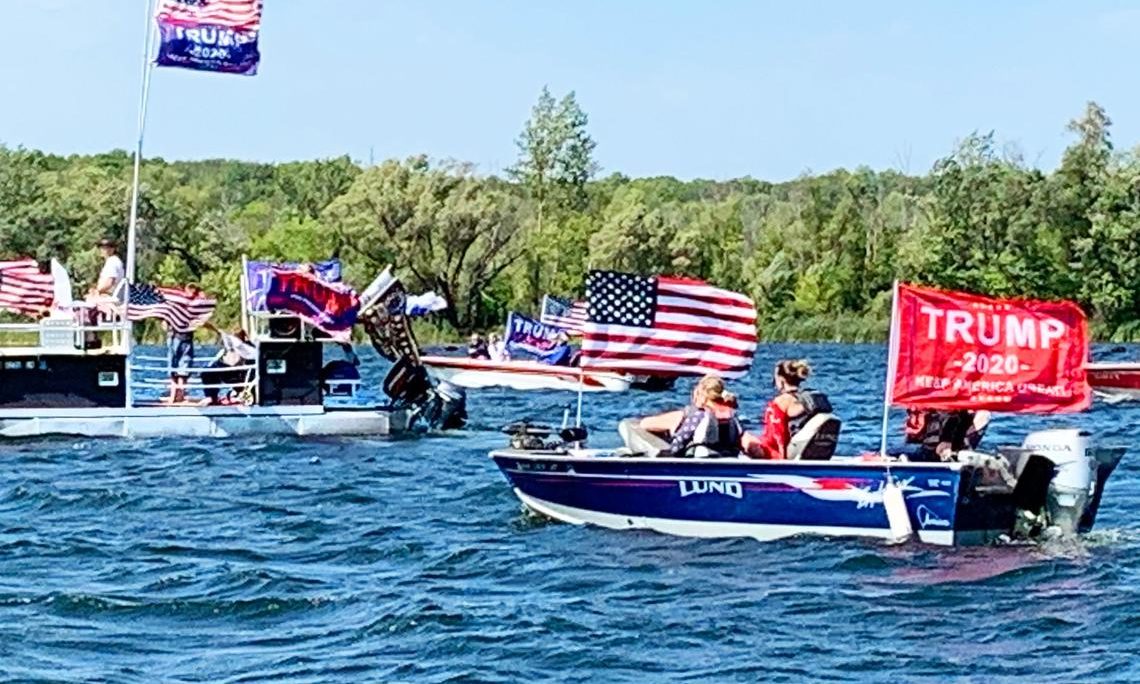 As Election Day draws near, Alabama Republicans are excited about promoting the re-election of Donald J. Trump as President and the election of Tommy Tuberville for U.S. Senate. This weekend two pro-President Trump events are happening in the state. There will be a truck parade from Ashland to Phenix City on Saturday sponsored by the Clay County Republican Party, while there will also be a boat parade on Wilson Lake in the Shoals sponsored by the Colbert County Republican Party on Sunday.
The pickup trucks will assemble at the Ashland Industrial Park in Clay County, 8240 Hwy 9, Ashland. There is a pre-departure rally at 10:00 a.m. central standard time. The trucks will depart at 11:00 a.m. and then proceed on a parade route that will take them into the bitterly contested swing state of Georgia. The Trump Pickup Parade will wind through east Alabama and West Georgia traveling through LaGrange and Columbus before concluding near the Alabama/Georgia line in Phenix City, 332 Woodland Drive, Phenix City at approximately 2:00 p.m. central time. Speakers will begin at 3:00. Trump flags will be on sale at the event.
The Phenix Motorsports Park will be hosting what sponsor hope could possibly the world's largest Pickup Tuck parade in U.S. history that is routing over 50 mile through Georgia in effort to "pickup" President Trump's numbers in GA.
A number dignitaries have been invited to address the Phenix City rally, including Coach Tuberville. Former State Sen. Shadrack McGill, Trump Victory Finance Committee member former State Rep. Perry O. Hooper Jr., and Paul Wellborn, the President and CEO of the largest Family owned Kitchen Cabinet manufacture in the USA are among the featured speakers who have committed to speak at the event.
Entertainment will be provided by: Charity Bowden, an up and coming country music singer who was the runner up on "The Voice". Charity will sing 'I am Proud to be an American' as well as songs from her Voice performances. The McGill Girls will also perform. The three beautiful and talented sisters will be singing patriotic songs in three part harmony. Geoff Carlisle, a professional DJ will be keeping the crowd pumped with music and entertainment.
Following the speakers and the entertainment there will Trump truck-vs- Joe Bidden truck races down the drag strip for the finale.
The Northwest Alabama boat parade will be on Sunday. The boats will gather at 2:00 p.m. near Turtle Point and then the flotilla will parade around the open waters of Wilson Lake til 3_00 p.m.. There will be a contest for best decorated Trump boats.
Trump supporters have held a number of large boat parades across the state to show their support for the re-election of Pres. Trump.
Boat parade sponsors say that this parade will be: pro-American, pro-law enforcement, pro-military.