NASA: OSIRIS-Rex has discovered water on Asteroid Bennu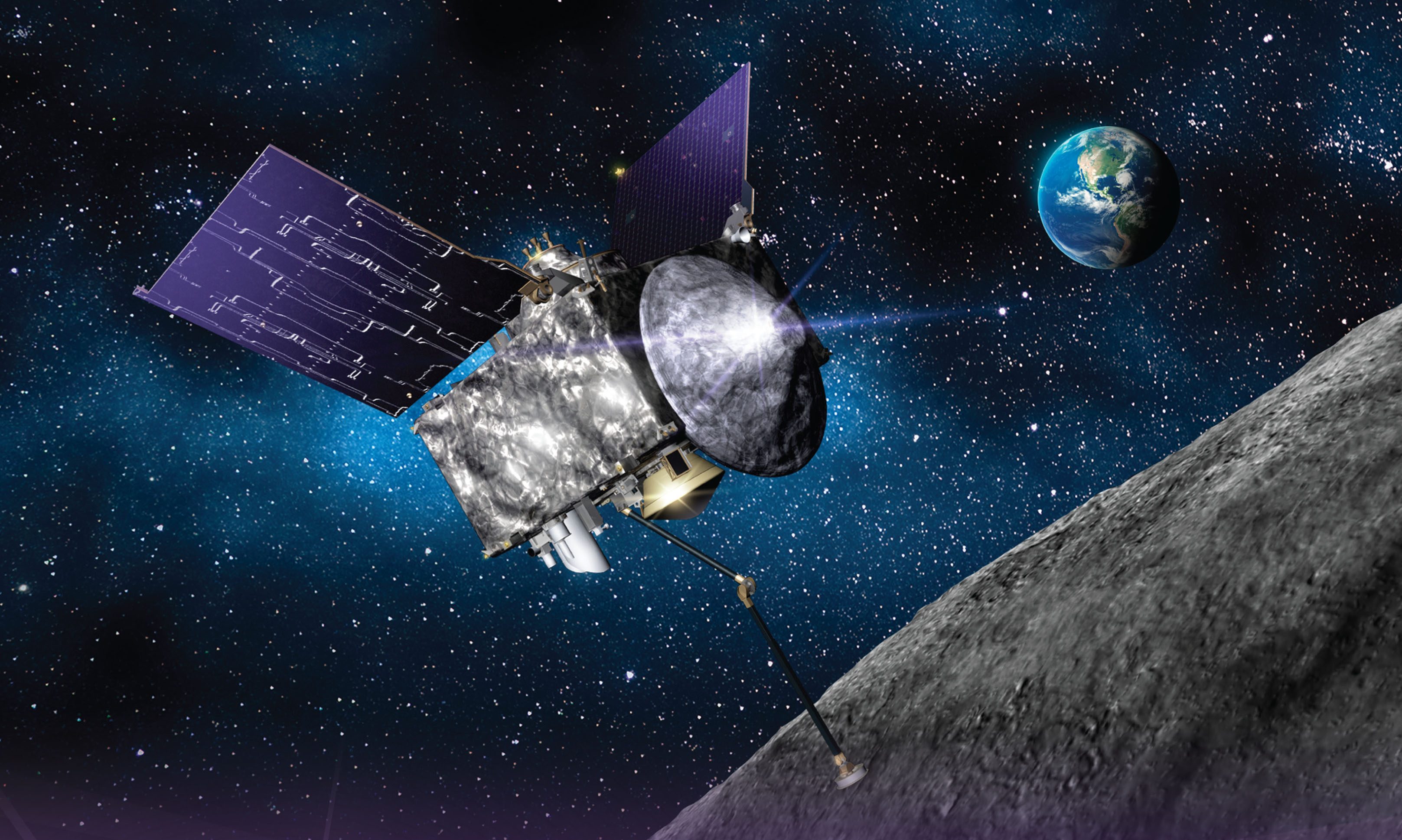 NASA announced Monday that its Origins, Spectral Interpretation, Resource Identification, Security-Regolith Explorer (OSIRIS-REx) spacecraft has already discovered water locked inside the clays that make up its scientific target, the asteroid Bennu.
During the mission's approach phase, between mid-August and early December, the spacecraft traveled 1.4 million miles on its journey from Earth to arrive at a location 12 miles from Bennu last week. During this time, the science team on Earth aimed three of the spacecraft's instruments towards Bennu and began making the mission's first scientific observations of the asteroid.
NASA announced that data obtained from the spacecraft's two spectrometers, the OSIRIS-REx Visible and Infrared Spectrometer (OVIRS) and the OSIRIS-REx
Thermal Emission Spectrometer (OTES) reveals that the presence of molecules that contain oxygen and hydrogen atoms bonded together, known as "hydroxyls." The team suspects that these hydroxyl groups exist globally across the asteroid in water-bearing clay minerals, meaning that at some point, Bennu's rocky material interacted with water. While Bennu itself is too small to have ever hosted liquid water, the finding does indicate that liquid water was present at some time on Bennu's parent body, a much larger asteroid.
"The presence of hydrated minerals across the asteroid confirms that Bennu, a remnant from early in the formation of the solar system, is an excellent specimen for the OSIRIS-REx mission to study the composition of primitive volatiles and organics," said OVIRS deputy instrument scientist Amy Simon at NASA's Goddard Space Flight Center in Greenbelt, Maryland. "When samples of this material are returned by the mission to Earth in 2023, scientists will receive a treasure trove of new information about the history and evolution of our solar system."
Additionally, data obtained from the OSIRIS-REx Camera Suite (OCAMS) corroborate ground-based telescopic observations of Bennu and confirm the original model developed in 2013 by OSIRIS-REx Science Team Chief Michael Nolan and collaborators. That model closely predicted the asteroid's actual shape, with Bennu's diameter, rotation rate, inclination, and overall shape presented almost exactly as projected.
One outlier from the predicted shape model is the size of the large boulder near Bennu's south pole. The ground-based shape model calculated this boulder to be at least 33 feet (10 meters) in height. Preliminary calculations from OCAMS observations show that the boulder is closer to 164 feet (50 meters) in height, with a width of approximately 180 feet (55 meters).
Bennu's surface material is a mix of very rocky, boulder-filled regions and a few relatively smooth regions that lack boulders. However, the quantity of boulders on the surface is higher than expected. The team will make further observations at closer ranges to more accurately assess where a sample can be taken on Bennu to later be returned to Earth. OSIRIS-REx is NASA's first asteroid sample return mission.
Space exploration and rocket manufacturing and design are major Alabama industries. The Marshall Space Flight Center in Huntsville employs thousands of Alabamians.
Mark McDaniel reappointed to NASA Human Exploration and Operations Advisory Committee
Congressman Mo Brooks, R-Huntsville, announced Thursday NASA administrator Jim Bridenstine's reappointment of Huntsville's Mark McDaniel to a two-year term on the Human Exploration and Operations Committee of the NASA Advisory Council.
Brooks initially recommended McDaniel in 2018 to Bridenstine. Bridenstine is a personal friend and former House colleague of Brooks. Brooks cited McDaniel's past record of exemplary service on the NASA Advisory Council. The NAC is NASA's highest civilian advisory board.
"Mark McDaniel has done an exemplary job advising NASA on its future missions as a member of NASA Advisory Council's Human Exploration and Operations Committee," Brooks said, praising the decision. "Mark's past service and qualifications make him an excellent choice for reappointment to another term on the committee. I congratulate Mark on his reappointment."
"I greatly appreciate my friend NASA Administrator Jim Bridenstine for his thoughtful consideration in reappointing Mark McDaniel," Brooks continued. "Jim's leadership at NASA has been exemplary, and I am glad he recognized Mark's contributions to this important NASA advisory committee."
"Mark McDaniel has been a dedicated member of the NAC for several years, and we look forward to him continuing to provide his expertise to the Committee," said Bridenstine. "As we prepare to go forward to the Moon and beyond, it is critical that NASA has top experts like Mark on our team. His wealth of knowledge is a great benefit to the Artemis program, as well as our mission to send human explorers to Mars."
"Congressman Mo Brooks has provided great leadership to our nation, state and NASA," McDaniel said. "I thank Congressman Brooks for recommending my reappointment to the NASA Advisory Council- Human Exploration and Operations Committee."
"I am confident that under the leadership of Administrator Jim Bridenstine and the tremendous team he has put together, our nation will put the first woman and next man on the Moon by 2024," McDaniel added. "Under Administrator Bridenstine's leadership NASA is setting the stage for human exploration of Mars and the heavens beyond."
Then-NASA administrator Daniel Goldin appointed McDaniel to the NASA Advisory Council in October 2000, and then-NASA administrator Sean O'Keefe reappointed McDaniel to the council in November 2002 and November 2004. During McDaniel's tenure on the NAC, President George W. Bush announced the "Moon, Mars, and Beyond Initiative," which set the nation on a more aggressive pace for space exploration.
On Jan. 26, 2007, McDaniel received the NASA Public Service Medal for his "Leadership and Council to America's Space Agency, his advocacy of Human Space Flight and Exploration and dedication to the Aerospace Community at large."
Brooks is in his fifth term representing Alabama's 5th Congressional District. NASA and its contractors are a major employer in the 5th District.