NASA: OSIRIS-Rex has discovered water on Asteroid Bennu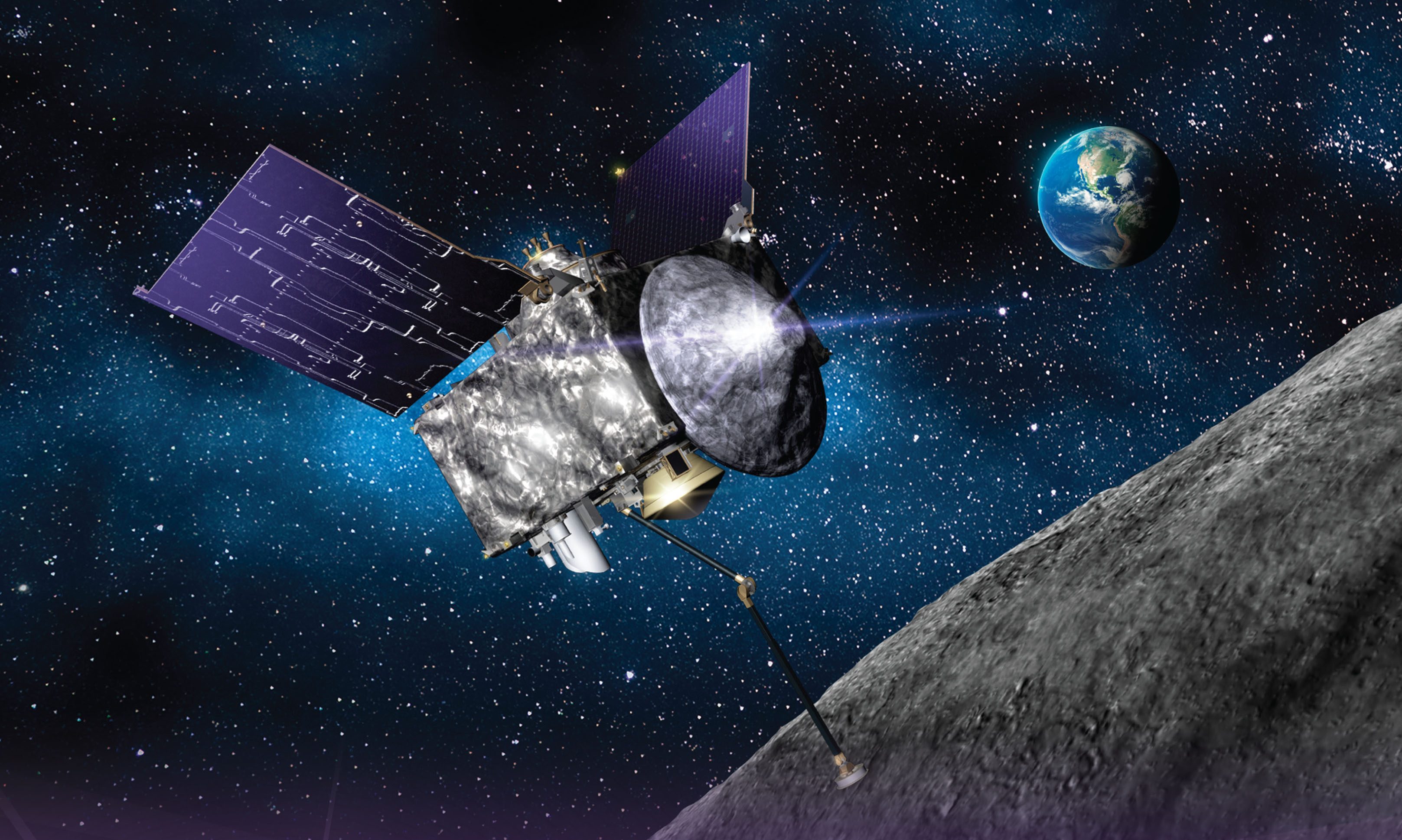 NASA announced Monday that its Origins, Spectral Interpretation, Resource Identification, Security-Regolith Explorer (OSIRIS-REx) spacecraft has already discovered water locked inside the clays that make up its scientific target, the asteroid Bennu.
During the mission's approach phase, between mid-August and early December, the spacecraft traveled 1.4 million miles on its journey from Earth to arrive at a location 12 miles from Bennu last week. During this time, the science team on Earth aimed three of the spacecraft's instruments towards Bennu and began making the mission's first scientific observations of the asteroid.
NASA announced that data obtained from the spacecraft's two spectrometers, the OSIRIS-REx Visible and Infrared Spectrometer (OVIRS) and the OSIRIS-REx
Thermal Emission Spectrometer (OTES) reveals that the presence of molecules that contain oxygen and hydrogen atoms bonded together, known as "hydroxyls." The team suspects that these hydroxyl groups exist globally across the asteroid in water-bearing clay minerals, meaning that at some point, Bennu's rocky material interacted with water. While Bennu itself is too small to have ever hosted liquid water, the finding does indicate that liquid water was present at some time on Bennu's parent body, a much larger asteroid.
"The presence of hydrated minerals across the asteroid confirms that Bennu, a remnant from early in the formation of the solar system, is an excellent specimen for the OSIRIS-REx mission to study the composition of primitive volatiles and organics," said OVIRS deputy instrument scientist Amy Simon at NASA's Goddard Space Flight Center in Greenbelt, Maryland. "When samples of this material are returned by the mission to Earth in 2023, scientists will receive a treasure trove of new information about the history and evolution of our solar system."
Additionally, data obtained from the OSIRIS-REx Camera Suite (OCAMS) corroborate ground-based telescopic observations of Bennu and confirm the original model developed in 2013 by OSIRIS-REx Science Team Chief Michael Nolan and collaborators. That model closely predicted the asteroid's actual shape, with Bennu's diameter, rotation rate, inclination, and overall shape presented almost exactly as projected.
One outlier from the predicted shape model is the size of the large boulder near Bennu's south pole. The ground-based shape model calculated this boulder to be at least 33 feet (10 meters) in height. Preliminary calculations from OCAMS observations show that the boulder is closer to 164 feet (50 meters) in height, with a width of approximately 180 feet (55 meters).
Bennu's surface material is a mix of very rocky, boulder-filled regions and a few relatively smooth regions that lack boulders. However, the quantity of boulders on the surface is higher than expected. The team will make further observations at closer ranges to more accurately assess where a sample can be taken on Bennu to later be returned to Earth. OSIRIS-REx is NASA's first asteroid sample return mission.
Space exploration and rocket manufacturing and design are major Alabama industries. The Marshall Space Flight Center in Huntsville employs thousands of Alabamians.
Print this piece
Blue Origin opens rocket engine factory in Huntsville
Blue Origin has opened its sprawling factory in Huntsville, Alabama's "Rocket City."
The massive new factory will allow the spaceflight company to accelerate the production of its heavy-lift BE-4 rocket engine. The move creates hundreds of jobs.
The BE-4, which is under development, will power both Blue Origin's New Glenn rocket and the United Launch Alliance's new Vulcan rocket, which is being produced at ULA's factory in nearby Decatur.
Our facility will be home to the next generation of rocket engines, as well as the next generation of engine builders. Join our team, which is soon to be 300 strong. https://t.co/LxlJu7DBfp pic.twitter.com/xrkvvJU96M

— Blue Origin (@blueorigin) February 17, 2020
Huntsville was an ideal location for the new factory, not only for its highly skilled workforce; but also for its proximity to ULA's assembly pant and NASA's Marshall Space Flight Center where the new Alabama-built engine will be tested. Marshall's historic test stand 4670 is where the Saturn V moon rocket's engines were tested.
Blue Origin is upgrading and refurbishing the test stand.
"This community is absolutely terrific to be a part of," Blue Origin CEO Bob Smith said. "It has the kind of spirit that you want when developing this kind of technology and actually has the history that you can be feel proud about."
"Enjoyed speaking at the ribbon cutting ceremony for Blue Origin's new rocket engine production facility in Cummings Research Park," Congressman Mo Brooks, R-Huntsville, said. "This top-notch facility will be used to conduct production of the BE-4 and BE-3U engines. These engines will undergo testing at NASA's Marshall Space Flight Center on the historic Test Stand 4670. I joined Blue Origin CEO Bob Smith, Congressman Robert Aderholt, Huntsville Mayor Tommy Battle and several others this afternoon to discuss the impact Blue Origin is making in the Tennessee Valley!"
Alabama Commerce Sec. Greg Canfield was at the ceremony making the opening of the spaceflight company's rocket engine factory.
Economic developer Dr. Nicole Jones told the Alabama Political Reporter, "In addition to the economic boost resulting from hundreds of new jobs in north Alabama, the Blue Origin BE-4 rocket engine production facility will allow the United States – the state of Alabama – to take astronauts once again into space without dependence on other nations. Methods of warfare have changed, and maintaining our dominance in the current space race is therefore a critical element in national security."
Blue Origin was founded by Amazon CEO Jeff Bezos.
Blue Origin's 350,000-square-foot facility is located in Cummings Research Park and will employ more than 300 people. Smith said that around 200 jobs should be created over the next year.
The factory was a $200 million investment in the state and announced on June 2017, with construction beginning in Huntsville a little over a year ago.
Print this piece