Jones appointed to powerful Senate Armed Services Committee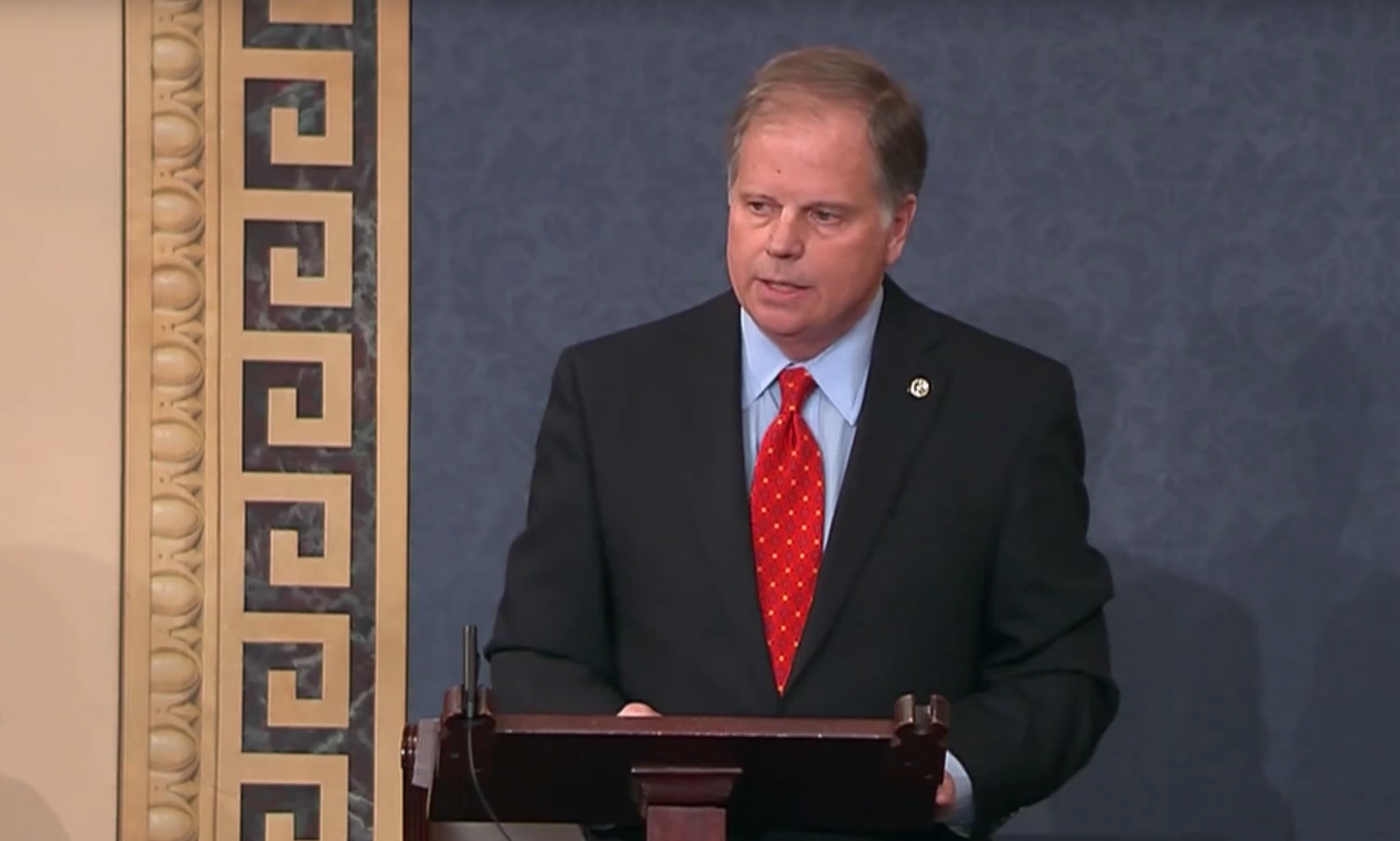 After a brief stint with no representation on the powerful Senate Armed Services Committee, Alabama is back in the mix.
U.S. Sen. Doug Jones has been appointed to the influential committee tasked with overseeing the nation's armed forces, national security and military research and development. Jones will assume his position on the committee when the 116th Congress convenes in January.
Alabama is home to five military bases, which employ 8,500 active-duty service members and more than 23,000 civilians. With Jones' appointment, Alabama will regain some representation for the aerospace industry in Huntsville and the shipbuilding industry in Mobile, both of which have deep ties to the military.
In 2017, the Department of Defense spent $7.7 billion on contracts in Alabama. Alabama hasn't had any representation on the committee since Republican Sen. Jeff Sessions left the Senate to become attorney general and his temporary replacement, Luther Strange, lost the Republican primary to Roy Moore.
More than 375,000 veterans, including 65,000 retirees, live in Alabama.
"Alabama and its citizens have long played a significant role in our national defense, from building or maintaining ships and other vehicles to leading cutting-edge research and development to volunteering to serve in our armed forces," Jones said. "It is vital that we have a voice on the Senate Armed Services Committee, a role that I am honored to be able to fill in the next Congress."
Jones said he is committed to serving as Alabama's advocate for a strong national defense, which also means a strong and prosperous economy in our state.
"I look forward to working with Chairman Inhofe and Ranking Member Reed to advocate for our service members and their families, and for a robust national defense posture that protects our interests at home and abroad," Jones said.
Democrats had to fill three seats on the committee after losing three of the senior Democrats who were serving there. Sen. Bill Nelson, D-Florida; Sen. Claire McCaskill, D-Missouri; and Sen. Joe Donnelly, D-Indiana, all lost their re-election to the Senate, leaving a gaping hole for the Democrats. Sen. Jack Reed, D-Rhode Island, is the highest-ranking Democrat on the committee.
"Senator Jones is a tremendous advocate for Alabama and a true champion for our service members and their families," Reed said. "I am pleased to welcome him to the committee and know he'll continue working on a bipartisan basis to help keep America strong militarily and economically."
Jones will remain on the Health, Education, Labor and Pensions Committee, where his office says he will continue to advocate for improved access to health care and quality educational opportunities for Alabamians.
Jones will also continue to serve on the Senate Committee on Banking, Housing, and Urban Affairs and the Senate Special Committee on Aging. He will no longer serve on the Senate Committee on Homeland Security and Governmental Affairs.
Mark McDaniel reappointed to NASA Human Exploration and Operations Advisory Committee
Congressman Mo Brooks, R-Huntsville, announced Thursday NASA administrator Jim Bridenstine's reappointment of Huntsville's Mark McDaniel to a two-year term on the Human Exploration and Operations Committee of the NASA Advisory Council.
Brooks initially recommended McDaniel in 2018 to Bridenstine. Bridenstine is a personal friend and former House colleague of Brooks. Brooks cited McDaniel's past record of exemplary service on the NASA Advisory Council. The NAC is NASA's highest civilian advisory board.
"Mark McDaniel has done an exemplary job advising NASA on its future missions as a member of NASA Advisory Council's Human Exploration and Operations Committee," Brooks said, praising the decision. "Mark's past service and qualifications make him an excellent choice for reappointment to another term on the committee. I congratulate Mark on his reappointment."
"I greatly appreciate my friend NASA Administrator Jim Bridenstine for his thoughtful consideration in reappointing Mark McDaniel," Brooks continued. "Jim's leadership at NASA has been exemplary, and I am glad he recognized Mark's contributions to this important NASA advisory committee."
"Mark McDaniel has been a dedicated member of the NAC for several years, and we look forward to him continuing to provide his expertise to the Committee," said Bridenstine. "As we prepare to go forward to the Moon and beyond, it is critical that NASA has top experts like Mark on our team. His wealth of knowledge is a great benefit to the Artemis program, as well as our mission to send human explorers to Mars."
"Congressman Mo Brooks has provided great leadership to our nation, state and NASA," McDaniel said. "I thank Congressman Brooks for recommending my reappointment to the NASA Advisory Council- Human Exploration and Operations Committee."
"I am confident that under the leadership of Administrator Jim Bridenstine and the tremendous team he has put together, our nation will put the first woman and next man on the Moon by 2024," McDaniel added. "Under Administrator Bridenstine's leadership NASA is setting the stage for human exploration of Mars and the heavens beyond."
Then-NASA administrator Daniel Goldin appointed McDaniel to the NASA Advisory Council in October 2000, and then-NASA administrator Sean O'Keefe reappointed McDaniel to the council in November 2002 and November 2004. During McDaniel's tenure on the NAC, President George W. Bush announced the "Moon, Mars, and Beyond Initiative," which set the nation on a more aggressive pace for space exploration.
On Jan. 26, 2007, McDaniel received the NASA Public Service Medal for his "Leadership and Council to America's Space Agency, his advocacy of Human Space Flight and Exploration and dedication to the Aerospace Community at large."
Brooks is in his fifth term representing Alabama's 5th Congressional District. NASA and its contractors are a major employer in the 5th District.