Opinion | A week of good news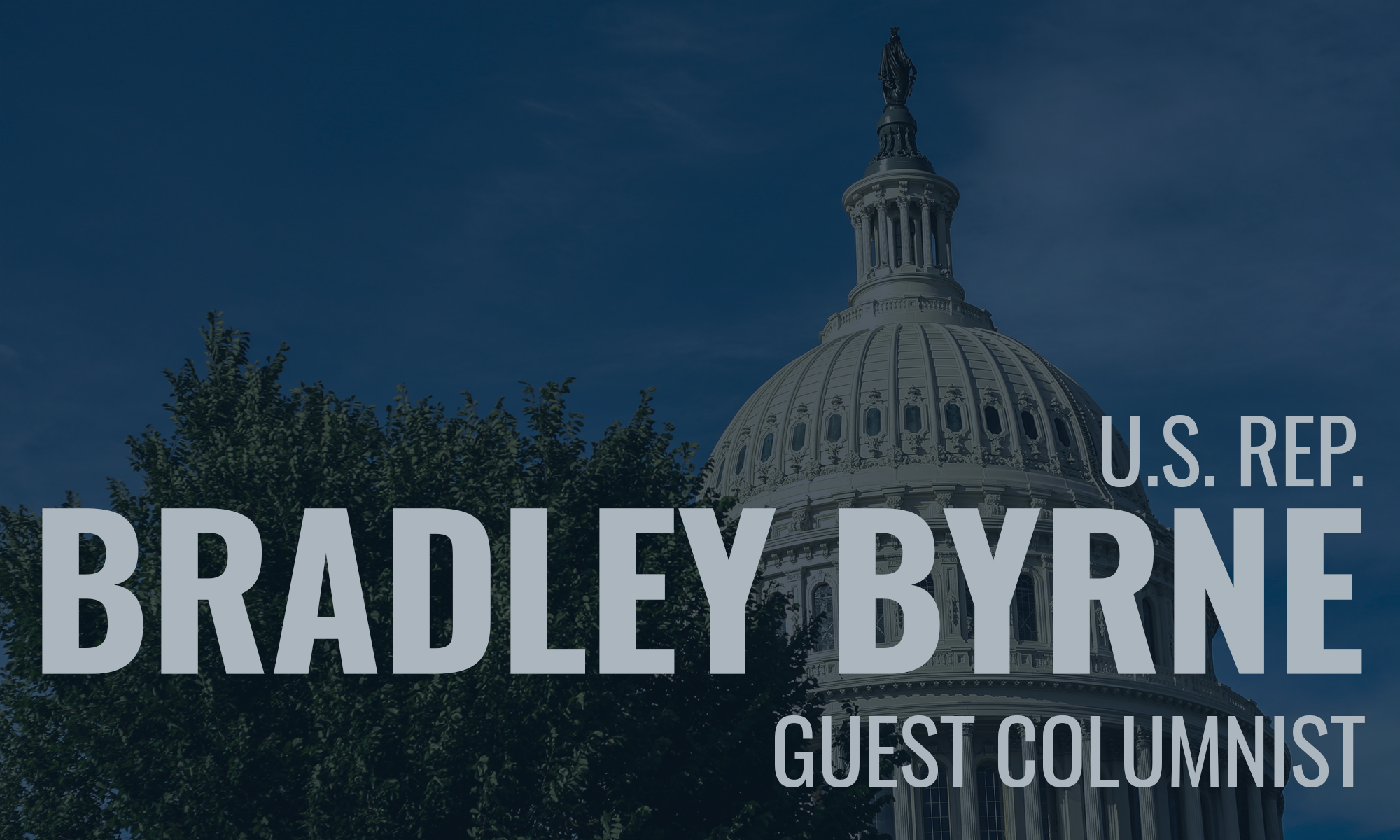 There was much to celebrate this past week in Washington.
That sentence may surprise you if you just go off what you hear from the national news media, but the reality is we continue to get work done here in the People's House.
To be clear, there is still work to be done, and that starts with passing funding necessary to secure the border and protect the American people. That said, I think it is worth pausing for a moment and reviewing the wins from this past week.
One of the biggest wins last week was passage of the 2018 Farm Bill.
As I have said before, our farmers and foresters are our future. I am pleased to have voted for this bipartisan legislation to better support our farmers in Alabama and throughout the country.
The 2018 Farm Bill will allow for improved crop protections and loan options for farmers, incentivize rural development, support animal disease prevention and management, and will continue our nation's commitment to agriculture and farmers.
I am especially pleased to see the substantial resources provided to improve rural broadband access to communities. Providing Internet access to people in rural Alabama is absolutely critical to economic development and the success of these communities in the 21st Century.
A few of the other provisions in the bill will greatly benefit the cotton and peanut growers here in Alabama; help maintain access to crop insurance through reduced premiums and waived fees; boost critical funding for feral swine control; and restore funding for trade promotion efforts in an attempt to keep pace with trading competitors around the world.
Most importantly, the 2018 Farm Bill will help equip and train the next generation of farmers both here in Alabama and throughout the United States. I was proud to support this bill, and I look forward to President Trump signing it into law.
Another piece of good news we received this week was the passage of a bill to help drain the Washington swamp.
The American people are sick of Congress being able to play under different rules than the rest of the country, and that must change.
That is why I am proud to be one of the leaders on the effort to reform the way sexual harassment claims are handled on Capitol Hill to increase transparency and accountability.
No longer will members of Congress be able to use taxpayer dollars to pay settlements for their own misconduct when it comes to sexual harassment. No longer will members of Congress be able to cover up their personal wrongdoings at the expense of the American people.
It was important for Congress to make this statement. With this legislation, we did the right thing. By doing the right thing, we not only do right by the people who work around us and for us, but we do right by the American people.
This has been a tough fight, but with these reforms we will make the Washington swamp a little less swampy and shine light on what is happening in the halls of Congress.
With this week of good news, it is also important to remember that the best news of all will be celebrated next week: a small baby, wrapped in swaddling clothes, and lying in a manger.
This good news is the birth of our Savior, bringing God's light directly into the world through His son.
It is easy to lose sight of the meaning of Christmas with all the bustle of daily life and routine. But this week, I challenge you to stop and remember what this season is about in preparation for the good news yet to come.
Opinion | This leader inspires confidence
"It takes a proven leader to make thoughtful, vigilant decisions in times of chaos."
There is no playbook in a pandemic. There are no hard and fast rules in a fast-moving crisis. Second-guessing in a crisis, especially from those who have never had to deal with such pressures, is counterproductive.
It takes a proven leader to make thoughtful, vigilant decisions in times of chaos.
Following the uncertainty that defined last spring and summer, Auburn University forged into an unpredictable fall, making necessary tough decisions in the midst of an unprecedented crisis as it transitioned back to campus. Although many institutions opted for fully remote instruction, suspending classes, or even canceling semesters entirely, Auburn committed to creating a safe campus environment while preserving many of the benefits of a residential academic community. 
Despite the pandemic's myriad challenges, Auburn remained open throughout the fall and had a successful semester, thanks to countless students, faculty, and staff who understood the importance of safety protocols and upheld shared institutional values. Not surprisingly, there was an increase in COVID-19 cases in the first few weeks of the fall semester, but the number of cases declined and remained at negligible levels for the remainder of the term. 
Amazingly, Auburn was able to avoid the employee furloughs, layoffs, salary cuts, and hiring freezes which have befallen other colleges and universities throughout the country. In addition to holding town halls with faculty and staff, I know the university worked diligently to respond to concerns, adjust policies and procedures, and implement safety measures that enabled the institution to continue delivering on its mission of teaching, research, and outreach. The versatility and nimbleness exhibited by Auburn's leadership, faculty, staff, and students in navigating the extraordinary circumstances resulting from the pandemic are impressive.
As our country grapples with an unprecedented public health crisis and a highly volatile political climate, we know that one of the best ways to support students is to foster a structured learning environment that supports critical thinking, advances problem solving, encourages empathy, and promotes diversity of thought. 
With this in mind, and using the past semester as a guide, the university is preparing to start the spring semester next week with more than 70 percent of classes face-to-face. Although some may disagree with a return to on-campus learning, the decision to do so was made based on careful consideration by the university's senior leadership. These leaders sought feedback from local, state, and federal medical professionals, shared governance groups, campus representatives at various levels, and other sources, including state government and peer institutions. 
Last month, Governor Ivey encouraged educational institutions to return to the classroom for the spring. A majority of students and faculty who have communicated their preferences favor returning to the classroom while still providing flexibility to faculty and students who request it. Indeed, there is an unavoidable cost to remote learning — we have seen its negative effect on the mental health of both students and faculty members. 
Although the decision to return to on-campus instruction is supported by many, some have voiced opposition. The changing and uncertain nature of the pandemic often leads to fear and, in some cases, anger. Unfortunately, much of this anger has been directed at Bill Hardgrave, Auburn's provost and chief academic officer. Recently, this frustration has manifested in a specially-called — and horribly misguided — meeting to take a vote of no confidence. At Auburn, it takes only 50 faculty members of the more than 1,700 faculty to sign a petition calling for such a vote. That is fewer than 3 percent of the entire faculty!
This action is regrettable. It sends a false message about a leader who has stepped up to forge an uncharted path during extraordinary times. Throughout this unprecedented year, Dr. Hardgrave has taken deliberate measures to consult with and to incorporate faculty opinion, and to allow exceptions to in-person teaching when it presented a hardship for a faculty member. He has encouraged innovative approaches to pedagogy and helped deliver excellence, which is the hallmark of an Auburn education and a renowned faculty. 
Auburn President Jay Gogue said recently, "A no-confidence vote in the midst of a global pandemic and social unrest when student, faculty, staff and administration leaders have worked diligently together for the best interests of our campus is unprecedented and destructive."
At a time when our nation is experiencing profound divisiveness at all levels, Auburn has a unique opportunity to demonstrate its role as a leader in higher education. Dr. Hardgrave's proven ability to guide Auburn's academic enterprise during these unprecedented times is indisputable. His efforts have exemplified The Auburn Creed, demonstrating a belief in education, hard work, honesty, and sympathy for the interests of the university's students, faculty, and staff.
Not only does a vote of no confidence damage the reputation of an academic leader who has served Auburn admirably for the past ten years, but it damages the reputation of our university among the higher education community, and it undermines its credibility with our students, parents, alumni, community, and accrediting agencies. It does not benefit the university, but rather undercuts the hard work of so many members of the Auburn Family in advancing our mission during the pandemic. I strongly encourage those who wish to express a rational, constructive voice in furthering Auburn's mission to continue to speak up in support of Dr. Hardgrave and, thus, in support of our university. You are being heard.