Ethics Commission will hear Marshall/RAGA case on Wednesday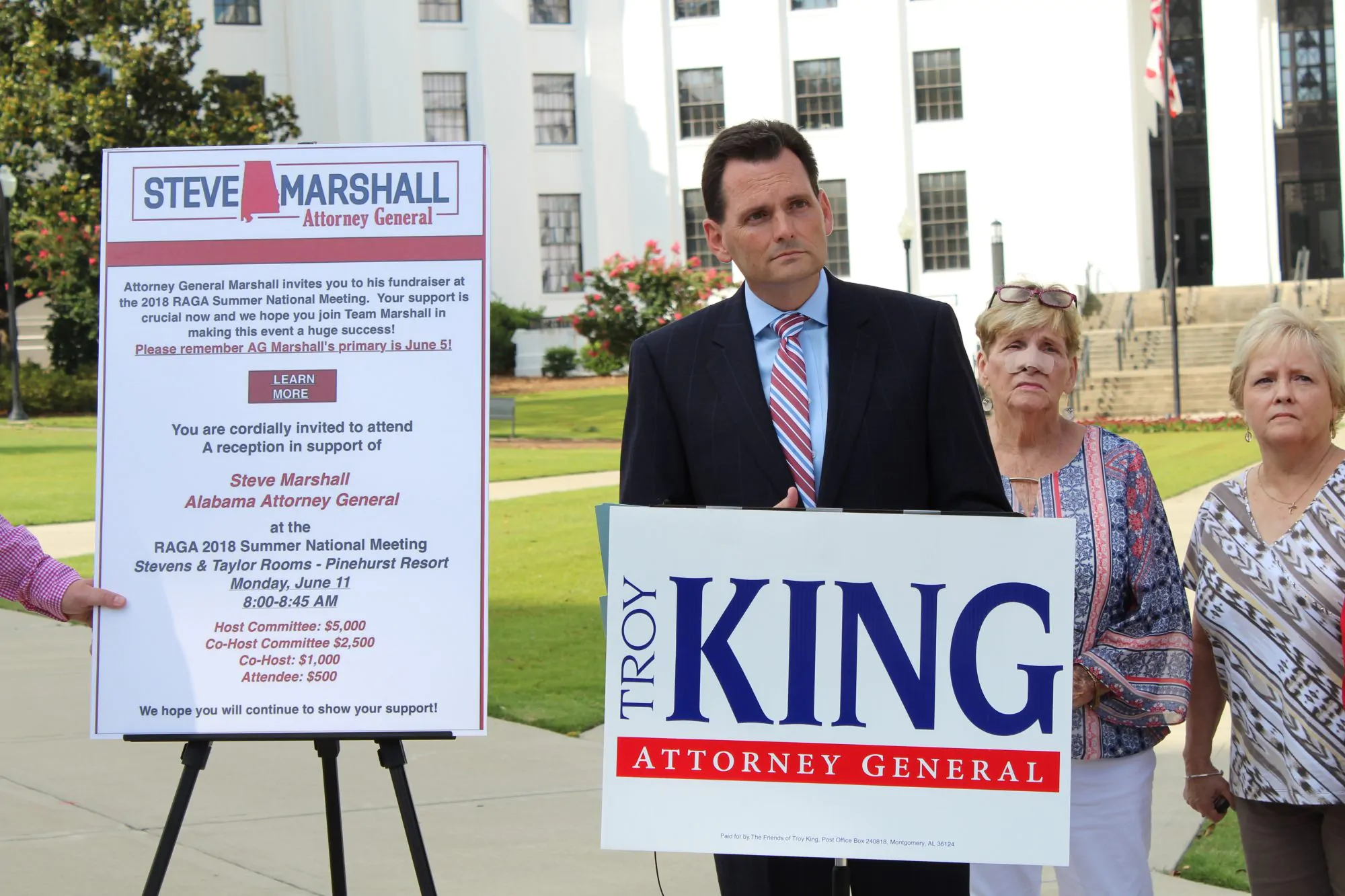 The case of Steve Marshall and the $735,000 in illegal campaign contributions will finally be heard by the Alabama Ethics Commission on Wednesday.
Former Alabama Attorney General Troy King told APR on Tuesday that he had received a notice from the Ethics Commission that afternoon notifying him that the complaint he filed against Marshall, the state's current AG, would be heard at 9:30 a.m.
King said he found it more than a bit concerning that he received the notice less than 24 hours before the hearing, which is being held six days before Christmas when many people are preoccupied and out of town.
"I have great respect for some members of the Commission, and I think they want to do the right thing, but I would be lying if I told you it wasn't disconcerting to receive this notice at 2 p.m. today," King said. He told APR that a Commission employee informed him a mistake had been made and the notice had been mailed to the wrong address previously.
King filed the original complaint against Marshall when the two were vying for the Republican nomination for state AG. Specifically, King took issue with hundreds of thousands of dollars in campaign contributions that Marshall accepted from the Republican Attorneys General Association (RAGA).
Under a 2010 law passed by Republicans in the Alabama Legislature, it is illegal for candidates to accept donations from political action committees (PACs) that mask the original source of donations by donating between PACs. Such a setup would allow, for example, a casino owner to contribute to a PAC, along with dozens of other donors, and those funds be donated to another PAC, which would then donate to the candidate.
By the time the funds made it to the candidate, they were so co-mingled and mixed up that it would be impossible to tell the original source of the funds.
Democrats in Alabama challenged the law, and the AG's office, headed by Marshall, defended it. In a case that landed in front of the U.S. Supreme Court, Marshall submitted a brief that called the PAC-to-PAC transfer ban one of the last lines of defense for Alabama citizens against a "quid pro quo government."
The fund from RAGA — nearly three-quarters of a million dollars worth — were at least partially mixed together with funds that were transferred from one PAC to RAGA's PAC.
In early July, King filed a complaint with the Ethics Commission over the donations. Later, he attempted to get a circuit court judge in Montgomery to block Marshall from using the funds.
The Ethics Commission slow-walked the complaint, and King said that at one point an employee of the Commission told him that it didn't want to affect the outcome of the elections. King's restraining order also failed, as the judge determined he didn't have sufficient standing to rule on the matter.
"Everyone knows what the outcome of this should be," King said. "The language is plain. It's right there in black and white for anyone to read."
Marshall's defense has generally centered on some version of: RAGA is a federal PAC and is not subject to Alabama laws.
Of course, King and others argue that the law applies to the candidate, who has a responsibility to adhere to Alabama campaign finance laws. Under the PAC-to-PAC ban, there is a specific requirement of candidates who receive donations that violate the ban — they have 10 days to return the donations or face criminal penalties for each offense.
Marshall should face at least five penalties, including for donations he accepted from RAGA after King filed his original complaint.
Of course, the ultimate decision will be left to the Ethics Commission, and most insiders around Montgomery are skeptical — given the events that have transpired so far — that the Commission will find Marshall violated the law.
"I would just ask the Ethics Commission to be very careful with this ruling, because it has the potential to completely annihilate the PAC-to-PAC ban," King said. "And they would be doing so by completely disregarding the plain language of the law. It is clear what the right thing is."
Will Mike Hubbard ever go to jail? Yes. And likely soon.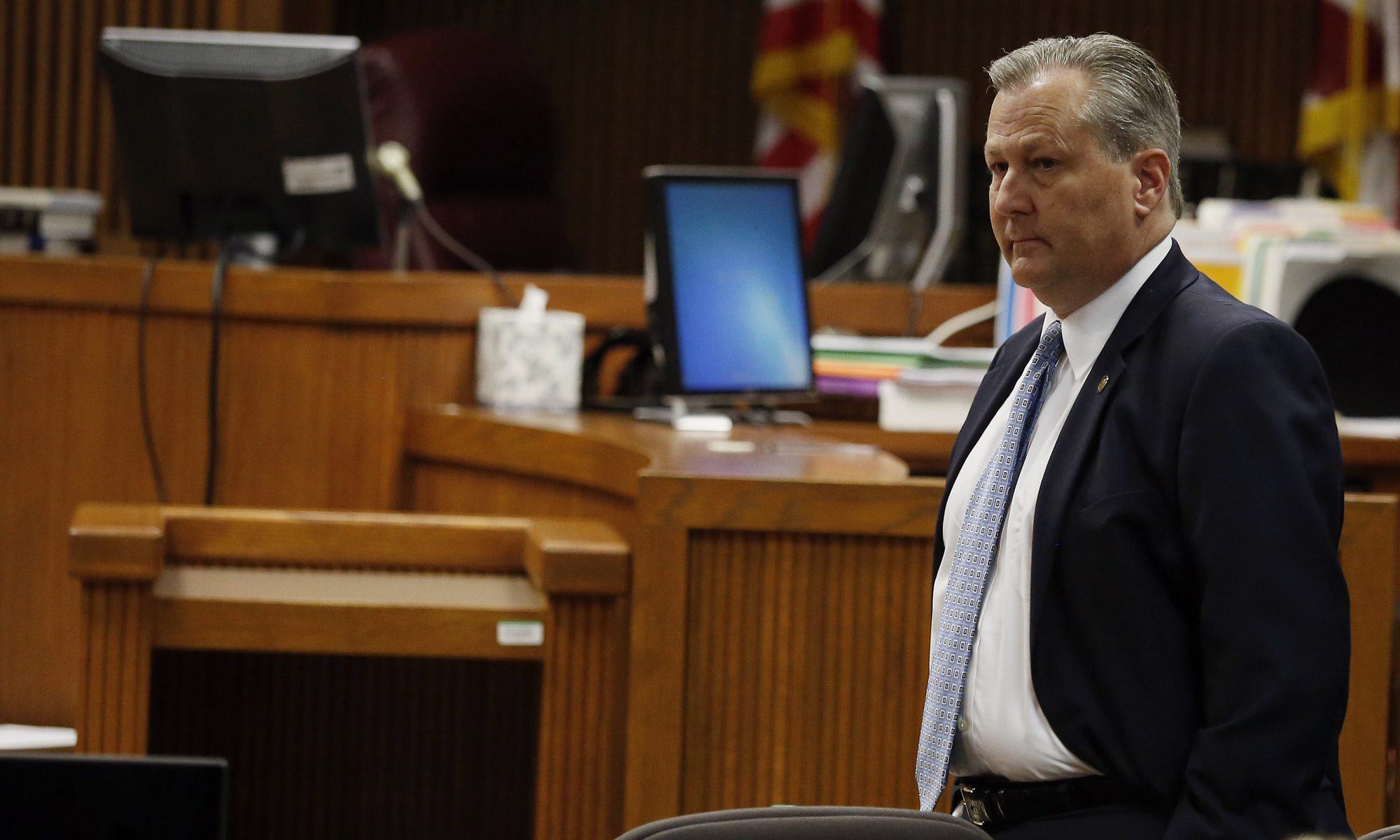 Mike Hubbard is likely going to prison within the next couple of months. 
Hubbard, the former Alabama House speaker, had his conviction on 11 felony ethics counts partially upheld last week by the Alabama Supreme Court. The justices overturned five of the charges and sent them back to the Alabama Criminal Court of Appeals for review, but upheld six of his charges. 
And those six matter a lot. 
Under the original sentence imposed by Lee County Circuit Court Judge Jacob Walker, Hubbard was set to serve four years in prison and eight years of probation. That sentence was structured in a manner that all but assured that Hubbard would serve that time unless the entire verdict against him was overturned. 
It wasn't. And a source familiar with the ALSC's opinion in the case told APR that the justices were fully aware that their opinion would not lessen Hubbard's jail time. 
That ALSC opinion puts an end to Hubbard's appeals bond that has allowed him to remain a free man as his case worked its way through the appeals process over the past four years. 
According to the Lee County Circuit Court clerk's office, once a final determination is made by the ALSC on charges that result in a sentence, that opinion is the final piece supporting the need for an appeals bond.
Basically, there are no additional avenues for appeal that could possibly result in Hubbard not serving his prison sentence, so the bond has to be revoked and Hubbard sent to prison.  
Once Walker receives the certificate of judgment from the ALSC showing it upheld the counts that related to Hubbard's sentence, that should prompt Walker to revoke the bond and Hubbard will be notified that he is expected to begin his prison term. 
According to Scott Mitchell, the clerk of the Alabama Court of Criminal Appeals, that certificate of judgment can't be issued by the ALSC until at least 14 days have passed. That span allows both the prosecution and defense time to submit requests for rehearings on ALSC's opinion. Should either side do so, consideration of those requests by ALSC could add more time. 
"It's really hard to say (how long it might take) — it's such a case-by-case thing," Mitchell said. "It could be anywhere from weeks to a couple of months before we get it." 
It is also not uncommon for one side or the other to ask for an extension of time to file their requests for a rehearing, which would add additional time. 
However, once that certificate is sent out by the ALSC, it should trigger Walker to revoke the appeals bond. 
The Criminal Appeals Court will also have to review Hubbard's case and issue a new decision that considers the ALSC's opinion on the six reversed counts. That process is likely to take much longer.
"Again, a lot of factors play into that and it's hard to determine how long any one case might take," Mitchell said. "I'd say you're looking at a few months at least."  
It will only add to the extraordinary length of this case.
Hubbard was convicted in June 2016 on 12 felony counts for using his office for personal gain and directing public business to his clients. Court testimony and evidence revealed Hubbard was making more than $600,000 per year in "consulting" contracts, mostly for work in areas in which he held no prior work experience.  
Since his conviction, a team of attorneys working for him — and financed by his campaign funds and various other entities — have challenged every word of his conviction, accusing the prosecution of misdeeds and attacking the state's ethics laws — which Hubbard helped write — as overly broad and vague. 
Those appeals have been successful in getting half of the charges knocked down. But because Hubbard's prison sentence was tied to only a couple of the specific charges, those decisions will not lessen his jail time.