A government shut down this weekend became more probable Thursday after President Donald Trump told GOP lawmakers that he would not sign a bill to fund the government because it doesn't include money for his border wall, a campaign promise that he has yet to fulfill.
The threats blew a gaping hole in the budget process.
The Senate — led in large part by Sen. Richard Shelby, R-Alabama, the chair of the Senate appropriations committee — passed a plan Wednesday to avert a shutdown. Sen. Doug Jones, D-Alabama, also supported the stop-gap bill that would have temporarily funded the government.
On a phone call with reporters Thursday, Jones said the president's threat to upend the federal budget was a ploy to gin up his political base.
The Senate's passage of the short-term solution was met with defiance by Trump Thursday when, as the House was set to vote on the measure, Trump told congressional Republicans he wouldn't sign it if they did.
"The president informed us that he will not sign the bill that came up from the Senate last evening because of his legitimate concerns for border security," said House Speaker Paul Ryan. "So what we're going to do is go back to the House and work with our members. We want to keep the government open, but we also want to see an agreement that protects the border."
The shutdown of some key federal agencies, which could begin midnight on Friday just days before Christmas, could leave thousands of federal employees temporarily without a job and a paycheck. The Senate's plan had the backing of Republican leadership and Democratic leaders Nancy Pelosi and Chuck Schumer.
Despite an agreement in the House and Senate before Trump's threat Thursday, the deal has ground to a halt as the president demands at least $5 billion in funding for "steel slats or a wall" along the U.S.-Mexico border. Democrats had refused to fund the wall in the continuing resolution needed to keep the government, though they offered to fund part of it in a DACA deal that failed earlier this year largely because the president signaled he wouldn't sign it.
Later on Thursday, the House passed a version of the resolution that included $5.7 billion for the wall, but that version is almost certain to die in the Senate, where it would need Democratic support to reach the 60-vote threshold needed to pass.
Conservatives in the House urged Trump not to give up on his fight for a wall, which has long been a conservative hope and a rallying cry for the most conservative strata of Trump's GOP base. He faced some rare criticism from some members of the conservative Freedom Caucus for "caving" on the wall funding before he decided to reverse his support for the short-term spending measure. Trump blamed Republican leadership for failing to get the funding as part of the deal.
"I was promised the Wall and Border Security by leadership," Trump tweeted Thursday morning. "Would be done by end of year (NOW). It didn't happen! We foolishly fight for Border Security for other countries — but not for our beloved U.S.A. Not good!"
The looming government shutdown added additional uncertainty to a chaotic day when the stock market was tumbling, fears of a recession rose, Trump announced plans to withdraw troops from Syria and Defense Secretary Jim Mattis resigned in protest.
Shelby supported the stop-gap bill in the appropriations committee he chairs and on the floor of the Senate. The senator called on lawmakers to keep the government open.
"Having already funded 75 percent of the government on time with broad bipartisan support, I am disappointed that we could not come to an agreement on the remaining 25 percent," Shelby said Wednesday. "However, I am committed to keeping the government open and will take the next six weeks to continue working toward that end.  The President is right that we must secure our borders.  I hope that this continuing resolution will provide us the time to work out our differences in a thoughtful manner and reach a bipartisan consensus on important national priorities."
The temporary funding would keep the government open only through Feb. 8, at which point Trump will need more Democrats to keep the government running as Democrats are poised to take over the House in January. With a Democratic House, the prospects of funding for his proposed border wall will become slim. The battle of the temporary funding this week is largely seen as a last-ditch effort to get some sort of funding for his top campaign promise before Democrats put their own slats between Trump and the funding he needs to start construction.
Jones criticized Trump for backing down from the DACA deal earlier this year that would have provided up to $25 billion in funding for border security, part of which could have been used for Trump's wall. The administration backed down from the deal largely because it couldn't get the curbs on legal immigration it had requested as part of a trade for congressional authorization of DACA.
"The administration wanted more curbs on legal immigration," Jones said on a conference call Thursday with reporters, "not the border security, they were fine with that. But they wanted curbs on legal immigration, and so they killed that billed. So now here we are, at the 11th hour, for nothing but a political ploy in which a bipartisan group of senators including Sen. Shelby, Sen. Leahy, and the appropriations process and the appropriations committee appropriated and gave $1.3 billion for border security that could be used partially for a wall, other things as well."
At this stage, Jones said he couldn't see himself supporting any funding for a wall because it should be part of an overall immigration package, not a short-term funding bill.
"For the president now to come in and threaten the security of thousands and thousands of federal workers and to shut down the government during the holidays is just wrong, wrong wrong. We need to get past that," Jones said.
Jones blamed the House of Representatives for failing to follow the Senate in funding the government in a timely fashion. Since taking over the Senate Appropriations Committee, Shelby has managed to pass a number of on-time funding bills for the first time in a decade.
It has been the House and the president who have delayed the process.
"Now we're at a point where we still have to kick it down the road, which I don't particularly like, but we should not be shutting down the government over this particular issue (the border wall)," Jones said. "If that's something he wants to do, let's take it up after the first of the year. There are opportunities, instead of threatening just for political play to a base, there are opportunities in the next Congress to get some real things done on immigration if the president wants to get some things done."
Jones said if Trump continues to play his way or the highway, nothing will happen, and the American people will suffer for it.
"I was part of a group that gave money for a wall, but I think it's got to be part of an overall package," Jones said. "I don't think [Democrats] can do it with a political gun to our head like the president is doing now. This is pure politics. It is raw politics. It has nothing to do with real immigration reform or anything else. It is playing to a political base and ginning people up after an election."
Print this piece
Alabama municipalities may be left out of $2 trillion stimulus package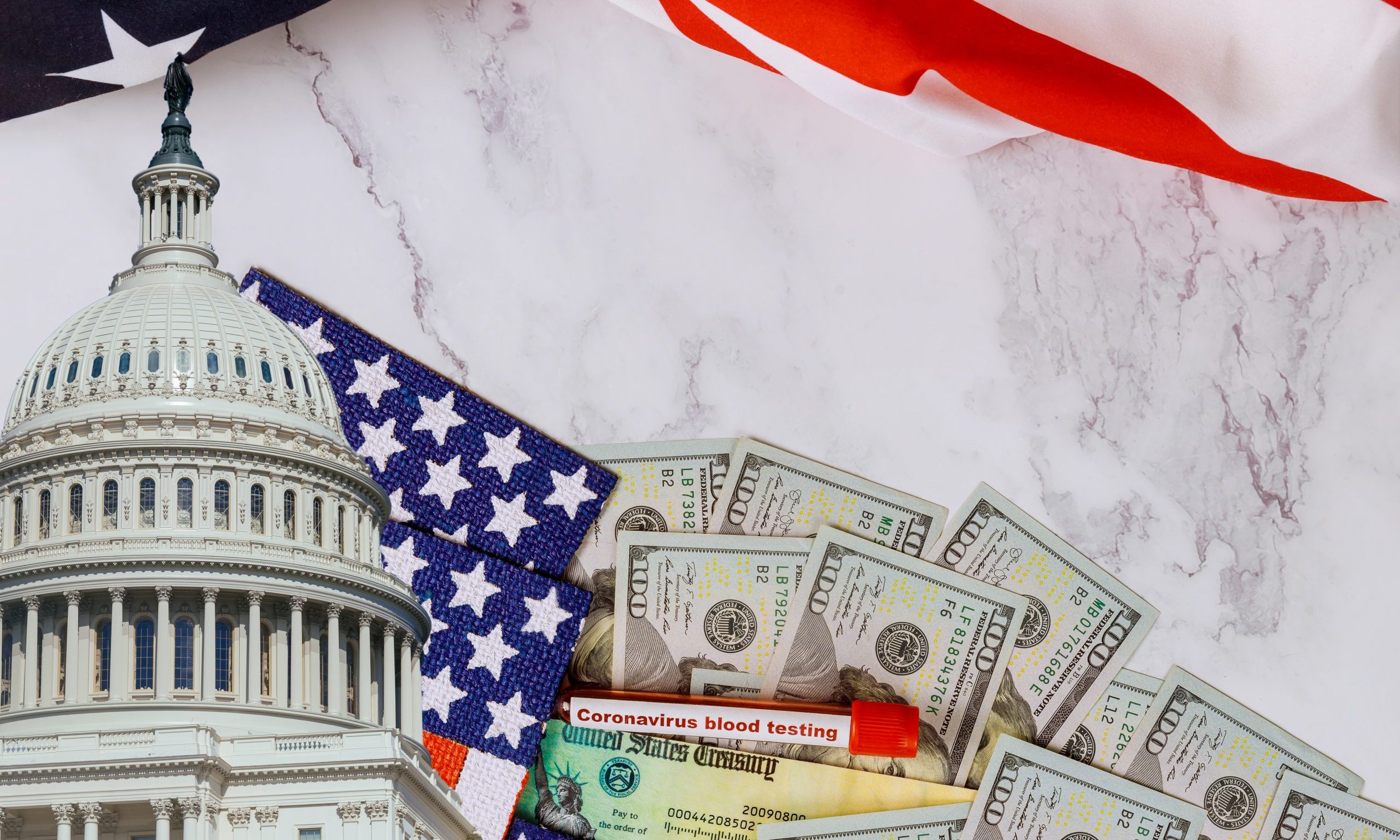 As the largest economic stimulus in American history flows to states and municipalities around the nation, stipulations in the two-trillion dollar emergency fund may leave Alabama cities out altogether.
As enacted, the third stimulus bill, the CARE Act, directs funding for states, and local governments, the catch is that the act only allocates funds for municipalities with a population of 500,000 or more.
No city in Alabama has a population of 500,000, leaving an unanswered question as to who gets what and who gets nothing?
The state has 463 municipalities spread out over 67 counties. Not one has a population nearing half a million yet each one is experiencing the negative effects of the COVID-19 pandemic.
"We are working with Treasury and the Governor's office to understand what municipalities can expect," said Greg Cochran, deputy director of the Alabama League of Municipalities.
Alabama will receive $1.9 billion from the stimulus package, as a block grant, which could be allocated in a 55-45 split, according to the League's estimation with around $1.04 billion to the state and $856 million going to local governments.
"Currently, there is little guidance on how those shared resources are to be distributed to local governments," said Cochran. "Nor is there clear directive that those resources are to be shared with local governments with less than 500,000 populations."
The National League of Cities is also seeking clarification from Treasury Department on these questions and guidelines to ensure funds are shared with local governments.
"Congress is working on a fourth stimulus bill, and we are working diligently with our Congressional delegation, NLC and other stakeholders to have all cities and towns are recognized for federal funding assistance," Cochran said.
However, on Tuesday, Senate Majority Leader Mitch McConnell cast doubt on a fourth package, saying that Speaker Nancy Pelosi's needed to "stand down" on passing another rescue bill. "She needs to stand down on the notion that we're going to go along with taking advantage of the crisis to do things that are unrelated to the crisis," as reported by The Washington Post.
Alabama's biggest cites, Birmingham, Montgomery, Huntsville, Mobile and Tuscaloosa, are already facing strain under the weight of the COVID-19 outbreak.
But so are smaller cities like Auburn, Hoover, Madison, Opelika and others. Lee County and Chambers County have far more cases of the virus per capita than the state's more populous counties.
"I was not really happy with the way that they limited the money," Jones said, adding that the money could go to counties with 500,000 or above. Jefferson County would qualify for that.
Jones also said he would like to see more money for city and county expenses not directly related to COVID-19 like fire and police. "We're going to have to do what I think we can to backfill some of the expenses," Jones said.
In addition to health and welfare concerns for residents during the COVID-19 calamity, cites are dealing with what is certain to be a downward spiral on tax revenue and other sources of income and a subsequent rise in costs. The U.S. Department of Labor reported Thursday that at least 90,000 people have applied for unemployment compensation in the state over the last two weeks.
"Knowing that our municipalities will experience a loss in revenue because they rely on sales, motor fuel and lodgings taxes, we are urging our state Legislature to be mindful of actions they take when they return regarding unfunded mandates/preemptions," said Cochran. "Additionally, we are concerned about the adverse impact this could have on 2021 business licenses, which are based on sales from 2020."
The combined population of the state's two biggest cities, Birmingham and Montgomery, do not equal 500,000, the threshold for receiving funds under the Care Act.
Cochran says that the League is working tirelessly to find answers as to how local governments can participate in Congress's emergency funding.
Print this piece