Opinion | An open letter to Rachel Bryars of the Alabama Policy Institute and the people of Alabama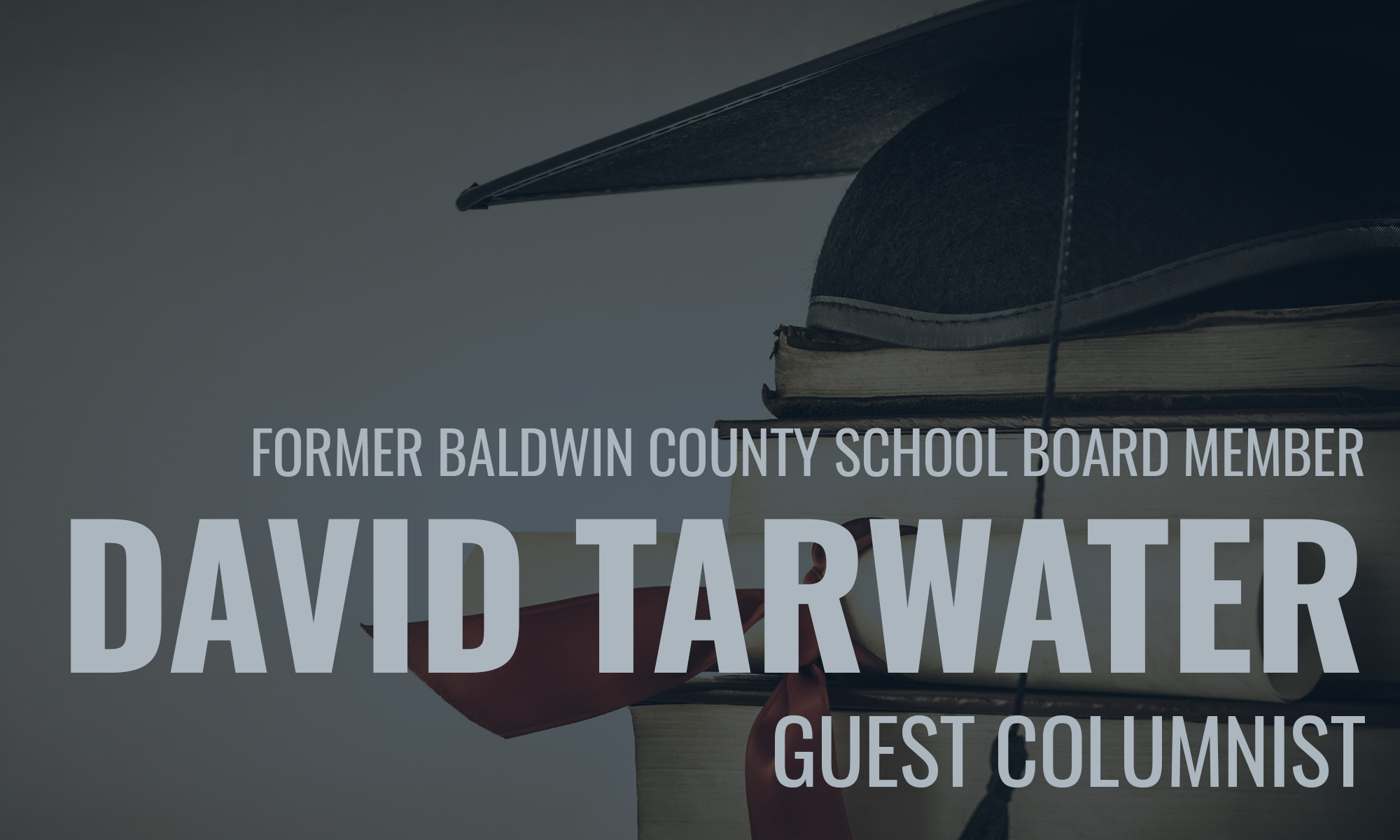 Dear Ms. Bryars,
I read your criticism of the Baldwin County school board's resolution calling for a repeal of the Alabama Accountability Act (AAA). Having been a member of this board at that time, I felt the need to respond.
I recently retired after six years of service to Baldwin County schools. It was a great honor to serve. I was mentioned in your article as I was the one to initially offer this repeal resolution.
Your article was titled, "School boards are choosing systems over students by calling for scholarship repeal."
While running my own business, I put in countless hours in my board position, all to benefit the children of our county. This could be said about any other member of the board as well. I point this out to strongly disagree with your suggestion that our resolution was offered for any other purpose than to benefit students, and the idea that we are choosing "systems over students" is categorically false.
It's important to note that the Alabama Policy Institute says one of their main goals is school choice.  For example, a letter from a private school principal on API's website illustrates how "school choice" leads to school privatization, or at very least public funding of private schools.
When considering your position, I feel as if there are very important  details that readers need to consider. I also offer a response on a few of your other points.
First, to address your data on school funding for Mobile, Montgomery, and Baldwin Counties, there are other factors when looking at these statistics. First, let me point out that school systems received less state monies in 2018 on a per pupil basis than they did in 2007. Over a decade has passed and public education professionals are receiving less resources to move our children forward. When we consider inflation, state funding has been cut by 20 percent. Less than ten years ago Baldwin County Schools had to release 1,100 employees because of drastic reductions in state funding. Alabama continues to be way behind in the country in education funding. Our funding per pupil is over $2,000 less than the national average and our K-12 achievement Index ranks 45th in the nation.
To suggest that education funding is where it needs to be for Alabama, and that we should be happy with recent tiny increases, is an insult to our great teachers and faculty. Anything that decreases our already deficient funding of education, which the AAA does, is unacceptable for the students and people of Alabama.
Baldwin County, like the vast majority of school systems, does not have a "failing school". I have a hard time agreeing that students and teachers in our great schools pay for a $9,000 voucher to the Mobile County  private school you listed in your article. The AAA has meant $5 million less in funding for Baldwin County alone since its adoption.
Five million dollars could mean more teachers, support staff, technology, and extracurricular programs for our students, the type of things that will allow our schools to be truly world-class places. The AAA has siphoned in excess of $146 million from the Education Trust Fund for the state. These are real numbers that have real effects on our children.
I called for the repeal of the AAA because the law means our tax dollars fund large amounts for private schools just so they can take a few of our students, when instead we should be making the improvement of these struggling schools our greatest emphasis and priority.
While the three interviews you share from parents of students utilizing the scholarship are very compelling, my concern is what the effects are to the "failing schools" left behind. What happens with the rest of their student body? What does this do to teachers and students morale? My other concern with the AAA is the lack of accountability. Public Schools must report academic success but there are no such requirements for vouchered students.
In response to your biblical example and idea that  those opposed to the law do not want students to have the "best learning environment possible",  I feel as if we cannot honestly say that we are caring for ALL of our children if, instead of investing heavily in the schools and communities that have the greatest need, we are choosing to brand them as failing and leaving the vast majority of their students at a disadvantage.
The children of my community deserve better than the Alabama Accountability Act, and that is why I will continue to call for its repeal. I hope that others, whether they are private individuals, institutions, or other school boards will also continue to speak out against it. The Alabama Accountability Act's stated purpose was to identify and fix "failing" schools, but the reality of the law is that it is actually only failing our students and the future of education in our great state.
Our children deserve the best, and I hope you will join me in reaching out to your local Board of Education and state legislators and letting them know it is time to repeal this law.
Analysis | There's a better plan for reopening schools — if Alabama leaders will use it
Maybe there will be a plan for reopening schools after all. 
A bipartisan group of lawmakers is set to meet with Gov. Kay Ivey's staff on Tuesday morning to discuss an ambitious and comprehensive plan to reopen Alabama's public schools that would see every school in the state get a new, stand-alone nurses station, a testing machine, a full-time nurse and tools to test and check students' temperatures. 
The plan, known as the Safely Opening Schools Program, or SOS, was put together by the Alabama School Nurses Association and has the backing of several doctors and the Alabama Education Association. It was presented to some lawmakers earlier this month. 
State Sens. Jabo Waggoner, Jim McClendon and Bobby Singleton — two top Republicans and the highest-ranking Democrat — have since submitted requests for funding out of Alabama's portion of CARES Act money to pay for the various components of the plan. 
In a letter sent last week to Ivey, Singleton said he was "excited by the plan," and believes it will "address, to some degree, the inequity (in his local school districts) and allow my constituents to feel that they are receiving the same support to reopen their schools as the more affluent districts of our state."
The SOS program contains, essentially, three pieces: Building 500-square-feet nurses stations/isolation rooms at every school, purchasing testing machines and supplies and hiring approximately 300 nurses for the schools around the state that are currently lacking one. (Every school is technically required to have a school nurse, but the systems have circumvented that requirement by allowing a district nurse to cover multiple schools.)
In total, the plan is projected to cost roughly $150 million — almost all of it (around 90 percent) coming from the nearly $2 billion in CARES Act funds provided to Alabama by the federal government. (The remaining portion is projected to be covered by other grants.) Included in those costs are the nurses' salaries for two years and the construction of more than 1,300 stand-alone nurses stations/isolation rooms — each costing a little less than $50,000. 
In addition, each school would receive its own testing device, which nurses would be trained to use, and testing supplies. If used as the program projects, Alabama schools would turn in more than 500,000 tests in nine months, with blind results being sent to the Centers for Disease Control for data collection purposes. The testing machines can also be modified to test for other ailments, such as the different types of flu.  
To put the total cost in perspective, the state has already spent at least $150 million — it received $115 million in grants from the CDC and received part of the more than $450 million the federal government sent to Alabama earlier this year — to test less than 10 percent of the state's population over the last six months. 
The SOS program could potentially test between 12-15 percent in far less time, and in a setting where early detection could prevent massive hotspots. 
It's a good program, and it would likely be worth the costs if only for the things mentioned. 
But those things are only half of the benefits of this program. Maybe not even half. 
Consider this: Included in the costs, every school in every city in Alabama, regardless of income level or parental involvement or poverty rates, will get a state-of-the-art nurses station and a fulltime school nurse. 
To care for children who rarely see any sort of healthcare professional. To diagnose the early signs of disease or mental health issues. To spot the early warning signs of physical abuse or drug addiction. 
In every school in Alabama. For two full school years. 
"This is extremely important to my communities, as they lack school nurses and other critical health access," Singleton wrote to Ivey. "The opportunity to have testing/screening on-site and nurses to address students' health needs would be of tremendous assistance to the residents in my district."
The same could be said for school districts, and for school children, all over the state. 
The simple fact is there is no better plan offered for reopening Alabama's schools. The others, including the "roadmap" presented by state superintendent Eric Mackey last week, mostly fail to account for known shortages in teachers, staff and nurses, and they offer no assurances for worried parents. 
The SOS plan would take the burden of monitoring and quarantining sick students off the staff and faculty, would establish a clear protocol for dealing with the virus in our schools and would assist the state and federal government with accurate, real-time data. In addition, it could be a health lifeline for kids in rural and impoverished areas. 
There is no better plan.