President Trump signs Farm Bill
President Donald Trump signed the Farm Bill into law. The Agriculture Improvement Act of 2018, which sets agriculture policy for the next five years.
"We have been working every day to deliver for America's farmers just as they work every single day to deliver for us," President Trump said.
"This important piece of legislation provides the certainty Alabama farmers need to produce the food and fiber our country depends on" Congresswoman Martha Roby, R-Montgomery, said.
The Alabama Farmers Federation and the American Farm Bureau both supported passage of the bill.
"While no farm bill is perfect, this legislation addresses many concerns expressed by our members," Alabama Farmers Federation President Jimmy Parnell said in a statement. "It gives farmers greater flexibility in choosing programs to fit their individual businesses and allows prices and yields to be adjusted based on global markets and production history. We appreciate Congress and the Trump administration getting a farm bill approved so farmers can have certainty going into next year."
"This 2018 farm bill is a complete package — one that will serve all Americans," American Farm Bureau President Zippy Duvall said. "Farm and ranch families in particular will find a good degree of risk management support they need to help them weather the prolonged downturn in the agricultural economy that many of us are facing. Next year, we are going to face continued challenges across farm and ranch country, and this new farm bill gives us the tools we will need to weather this ongoing storm."
The conference committee version of the bill that was signed into law on Thursday passed both the House and the Senate with bipartisan support. The bill passed after the conference committee removed a Republican House measure that would have imposed strict work requirements on people who receive supplemental nutrition assistance program (SNAP) benefits, still commonly called "food stamps." Pres. Trump said at the bill signing ceremony that he would impose the work requirements administratively.
"I have instructed my administration to take immediate action on welfare reform," Trump said. "Millions of able-bodied, working-age adults continue to collect food stamps without working or even looking for work. This action … was a difficult thing to get done. But farmers wanted it done, we all wanted it done, and I think in the end it's going to make a lot of people very happy."
The White House said that the Farm Bill provides critical funding for the United States Department of Agriculture and provides support, certainty, and stability to our Nation's farmers. The bill will: Extend farm support programs and improve crop insurance; Maintain vital disaster programs to ensure our farmers and agricultural producers are well-prepared to weather market disruptions; Promote agricultural exports and opening of new markets for America's farmers; Expand rural broadband development and dedicate resources to fight the opioid crisis; Promote voluntary conservation, outdoor recreation, and better water infrastructure; and Encourage forest management partnerships with States and localities.
Jones votes against Amy Coney Barrett confirmation
Since Justice Ruth Bader Ginsburg's death in September, Jones said he would not vote for a nominee, no matter who it was, until after the Nov. 3 general election.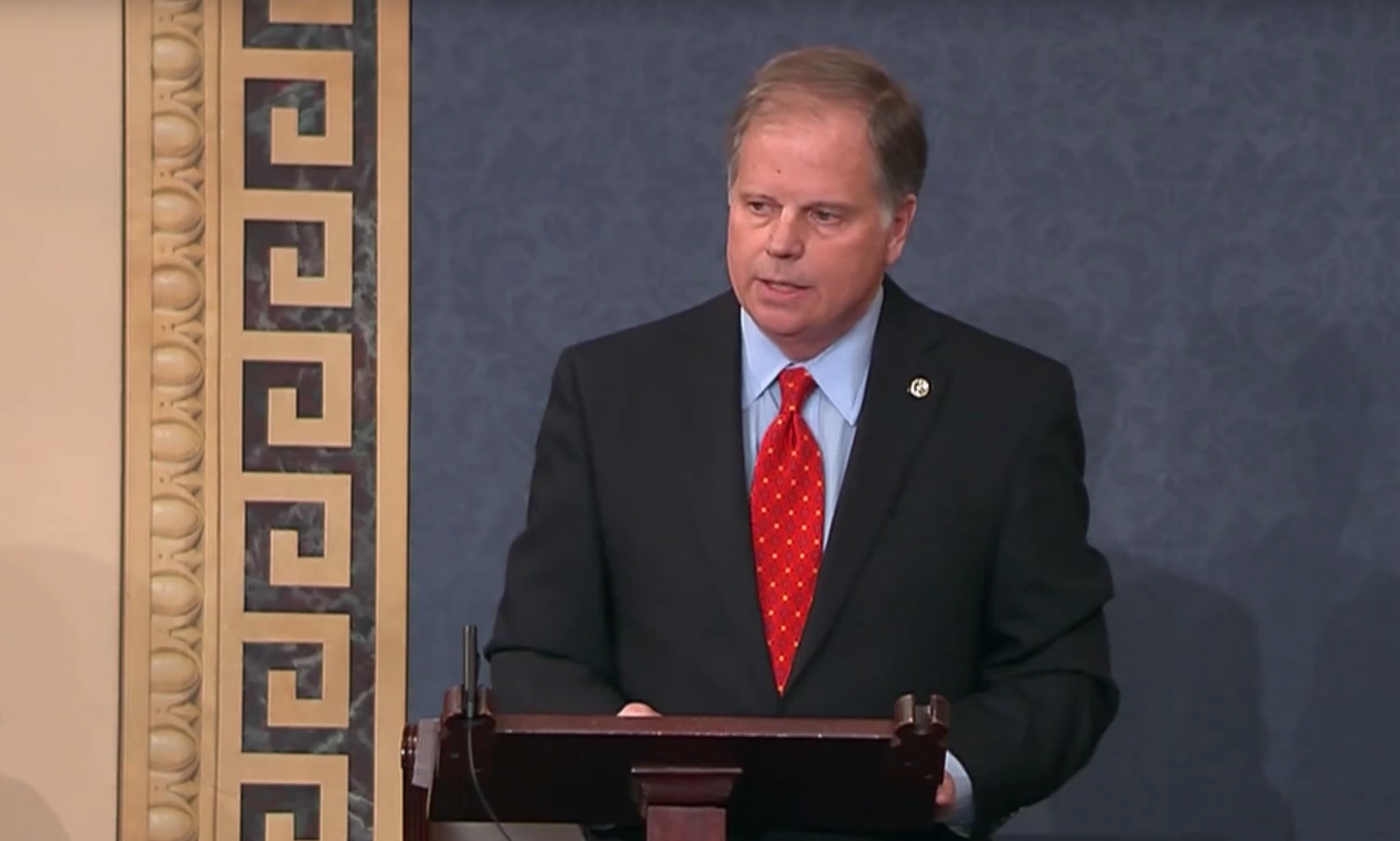 Democratic Alabama Sen. Doug Jones voted with his party and one GOP Senator against the confirmation of President Donald Trump's nominee, Amy Coney Barrett, to the United States Supreme Court.
"This process has been perhaps one of the most blatantly hypocritical in the history of the Senate and has further eroded trust in the independence of the Supreme Court in the eyes of the American people," Jones said. "By forcing this vote only eight days before an election, Mitch McConnell has prioritized temporary political gain over the long term integrity of both institutions. I also believe his decision to force through this confirmation instead of negotiating a bipartisan COVID relief package is an insult to the millions of Americans who are suffering as a result of this pandemic."
Since Justice Ruth Bader Ginsburg's death in September, Jones said he would not vote for a nominee, no matter who it was, until after the Nov. 3 general election.
"I voted no today because I refuse to be a party to Mitch McConnell's power grab, to the hyper-politicization of the Senate and the courts, and to denying the American people a voice in this process while voting for the next President is already underway," Jones added. "Now that Justice Barrett has been confirmed, it is my sincere hope that she will rule in a way that protects our institutions, our democracy, and the rule of law."
In 2016, Republicans in the United States Senate blocked the nomination of Judge Merrick Garland, a centrist jurist, by President Barack Obama, saying his nomination was too close to the 2016 election. Obama nominated Garland in February of that year, months before the election. Barrett's nomination came just weeks before the election this year and her confirmation just days before Election Day.
But Jones's "no" vote on Barrett was quickly denounced by Republicans, including his general election opponent Tommy Tuberville. Republicans attacked Jones for his vote against Barrett's confirmation.
"Senator Doug Jones continued to thumb his nose at our state's majority with his 'no' vote," said Alabama Republican Party Chairman Terry Lathan. "He has once again put the interests of his left wing groups first while ignoring those he is supposed to represent."
Lathan said Alabama voters will snub Jones for his vote next week.
"Alabama will relieve him of his duties on November 3rd when Tommy Tuberville is elected as Alabama's new U. S. Senator. Doug Jones will be a paragraph in a history book as future political pundits study how to be a failure in the arena of public service — ignoring the majority ends your tenure," Lathan said.
Tuberville was sharply critical of his general election opponent.
"Instead of standing up for our conservative Alabama values and voting to confirm Judge Amy Coney Barrett to the Supreme Court, Doug Jones voted against her nomination and represented the liberal beliefs of his high-dollar campaign donors in California and New York," Tuberville claimed.
"But Doug can't help himself because he's a liberal to his core — just like Nancy Pelosi, Chuck Schumer, Bernie Sanders, and AOC," Tuberville continued. "Ever since becoming our temporary senator, Doug Jones has opposed everything Alabamians support and supported everything Alabamians oppose."
"Anti-Trump Democrat Doug Jones voted no today on the confirmation of Amy Coney Barrett to the Supreme Court," said National Republican Senatorial Committee Deputy Press Secretary Paige Lindgren. "In September, before the President's nominee was even announced, Jones stated he would not meet with or vote in favor of any nomination to the court. Jones previously voted against Trump-nominated Justice Brett Kavanaugh."
"Anti-Trump Democrat Doug Jones has long since given up on representing Alabama, and his vote against Amy Coney Barrett is no different," Lindgren said. "Alabamians overwhelmingly support Justice Barrett's place on the Supreme Court and yet their junior Senator has obstructed President Trump at every turn. Jones has once again shown that his loyalty lies with Washington Democrats and not Alabama families."
"The latest poll has Jones down by 14 points against Trump-endorsed Republican Senate candidate Tommy Tuberville," Lindgren added.
Barrett won confirmation on a 52 to 48 vote. She was given the oath of office at a ceremony at the White House by Justice Clarence Thomas. The election is next week.