President Trump signs Farm Bill
President Donald Trump signed the Farm Bill into law. The Agriculture Improvement Act of 2018, which sets agriculture policy for the next five years.
"We have been working every day to deliver for America's farmers just as they work every single day to deliver for us," President Trump said.
"This important piece of legislation provides the certainty Alabama farmers need to produce the food and fiber our country depends on" Congresswoman Martha Roby, R-Montgomery, said.
The Alabama Farmers Federation and the American Farm Bureau both supported passage of the bill.
"While no farm bill is perfect, this legislation addresses many concerns expressed by our members," Alabama Farmers Federation President Jimmy Parnell said in a statement. "It gives farmers greater flexibility in choosing programs to fit their individual businesses and allows prices and yields to be adjusted based on global markets and production history. We appreciate Congress and the Trump administration getting a farm bill approved so farmers can have certainty going into next year."
"This 2018 farm bill is a complete package — one that will serve all Americans," American Farm Bureau President Zippy Duvall said. "Farm and ranch families in particular will find a good degree of risk management support they need to help them weather the prolonged downturn in the agricultural economy that many of us are facing. Next year, we are going to face continued challenges across farm and ranch country, and this new farm bill gives us the tools we will need to weather this ongoing storm."
The conference committee version of the bill that was signed into law on Thursday passed both the House and the Senate with bipartisan support. The bill passed after the conference committee removed a Republican House measure that would have imposed strict work requirements on people who receive supplemental nutrition assistance program (SNAP) benefits, still commonly called "food stamps." Pres. Trump said at the bill signing ceremony that he would impose the work requirements administratively.
"I have instructed my administration to take immediate action on welfare reform," Trump said. "Millions of able-bodied, working-age adults continue to collect food stamps without working or even looking for work. This action … was a difficult thing to get done. But farmers wanted it done, we all wanted it done, and I think in the end it's going to make a lot of people very happy."
The White House said that the Farm Bill provides critical funding for the United States Department of Agriculture and provides support, certainty, and stability to our Nation's farmers. The bill will: Extend farm support programs and improve crop insurance; Maintain vital disaster programs to ensure our farmers and agricultural producers are well-prepared to weather market disruptions; Promote agricultural exports and opening of new markets for America's farmers; Expand rural broadband development and dedicate resources to fight the opioid crisis; Promote voluntary conservation, outdoor recreation, and better water infrastructure; and Encourage forest management partnerships with States and localities.
Print this piece
Sen. Doug Jones calls on Alabama governor to order shelter-in-place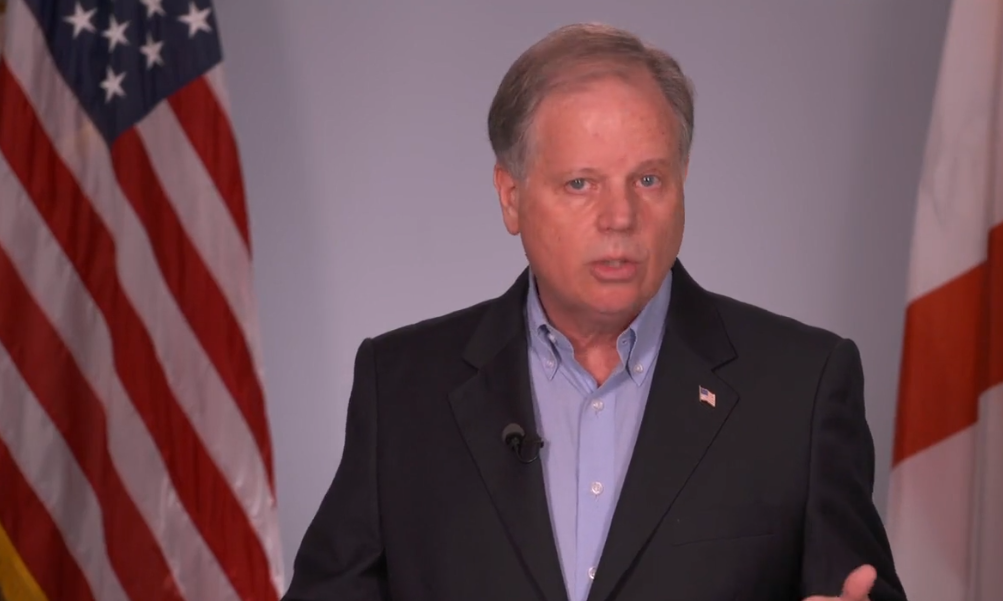 Alabama Sen. Doug Jones during a virtual town hall on Thursday called on Gov. Kay Ivey to implement a statewide shelter-in-place or stay-at-home order.
"I have been promoting stay at home orders for some time," Jones said, adding that he "absolutely" thinks the state should implement such an order.
"The reason I would like to see one is because it sends a strong message to the people of Alabama of how significant it is to use the social distancing, to use whatever means necessary to stop the spread of this virus," he said.
Jones said an order from the governor would have more force than social media messages asking people to stay home.
Public health experts have also called for such measures.
"People's health is about the least political thing there should be," said Dr. Jeanne Marrazzo, the director of the Division of Infectious Diseases and a professor of medicine at The University of Alabama Birmingham, who participated in the town hall. "I don't care what you call it, but the messaging should be consistent. We should all be playing from the same playbook."
Ivey has said she is trying to balance the economy and public health by closing beaches and closing some non-essential businesses. But she has not ordered people to stay home. She has said she doesn't want to put more strain on the economy by adding a more restrictive shelter-in-place order.
"The governor remains committed to exploring all options and has not ruled anything out, but she hopes that we do not need to take this approach," Ivey's spokesperson said Wednesday. "The governor's priority is protecting the health, safety and well-being of all Alabamians, and their well-being also relies on being able to have a job and provide for themselves and their families. Many factors surround a statewide shelter-in-place, and Alabama is not at a place where we are ready to make this call."
Jones said what would be best for the economy is to defeat the virus.
"We help this economy by staying home because we can stop the spread, and we can get rolling again pretty soon," Jones said.
Jones also encouraged the president to continue to invoke the Defense Production Act to direct companies to manufacture more personal protective equipment, testing supplies and ventilators for hospitals fighting the virus. "We need to have more and if it takes an invoking of the Defense Production Act, then so be it."
In the town hall, Jones warned that Alabama is on the verge of a health care crisis. As of Thursday morning, there are nearly 1,200 lab-confirmed cases of the virus in the state and at least 32 deaths.
"Our healthcare response is getting overwhelmed," Jones said.
Jones continued to call on Alabamians to heed the advice of medical professionals who are asking people to stay home except for most essential needs.
"Listen to the medical professions. Do it for yourself and do it for your parents and do it for each other," Jones said.
Print this piece