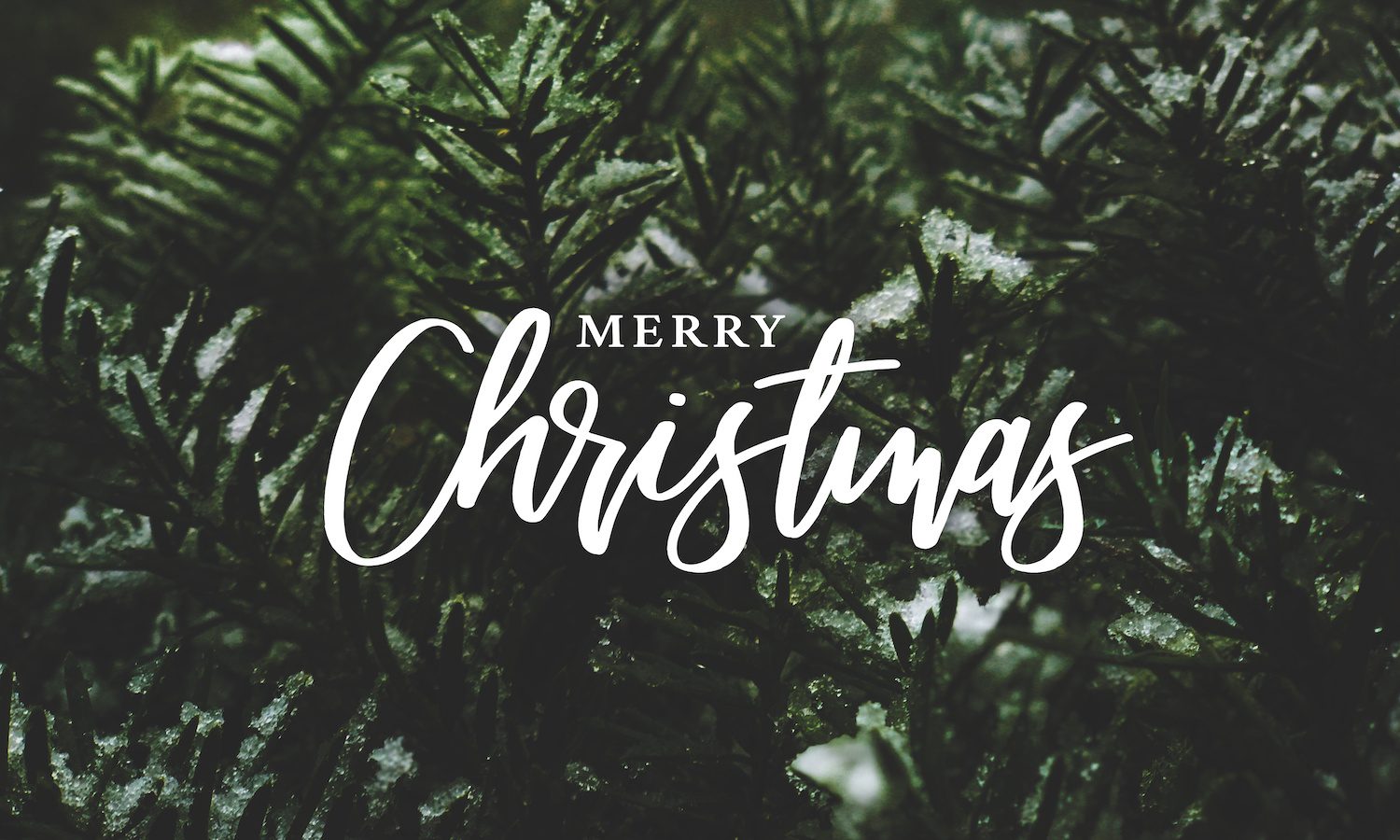 Tuesday, December 25 is Christmas. It is a state and federal holiday, so banks, schools, courthouses and other government buildings will be closed, as well as many private businesses.
The holiday celebrates the birth of Jesus of Nazareth over 2,000 years ago. Most Christians believe that Jesus is God made flesh. "For God so loved the world, as to give his only begotten Son; that whosoever believeth in him, may not perish, but may have life everlasting." (John 3:16)
The story of Jesus's birth is found in the Gospels of Luke and Matthew, though there are differences in the two accounts.
Luke Chapter 2: "And it came to pass, that in those days there went out a decree from Caesar Augustus, that the whole world should be enrolled. [2] This enrolling was first made by Cyrinus, the governor of Syria. [3] And all went to be enrolled, every one into his own city. [4] And Joseph also went up from Galilee, out of the city of Nazareth into Judea, to the city of David, which is called Bethlehem: because he was of the house and family of David, [5] To be enrolled with Mary his espoused wife, who was with child. [6] And it came to pass, that when they were there, her days were accomplished, that she should be delivered. [7] And she brought forth her firstborn son, and wrapped him up in swaddling clothes, and laid him in a manger; because there was no room for them in the inn. [8] And there were in the same country shepherds watching, and keeping the night watches over their flock. [9] And behold an angel of the Lord stood by them, and the brightness of God shone round about them; and they feared with a great fear. [10] And the angel said to them: Fear not; for, behold, I bring you good tidings of great joy, that shall be to all the people: [11] For, this day, is born to you a Saviour, who is Christ the Lord, in the city of David. [12] And this shall be a sign unto you. You shall find the infant wrapped in swaddling clothes, and laid in a manger. [13] And suddenly there was with the angel a multitude of the heavenly army, praising God, and saying: [14] Glory to God in the highest; and on earth peace to men of good will. [15] And it came to pass, after the angels departed from them into heaven, the shepherds said one to another: Let us go over to Bethlehem, and let us see this word that is come to pass, which the Lord hath shewed to us. [16] And they came with haste; and they found Mary and Joseph, and the infant lying in the manger. [17] And seeing, they understood of the word that had been spoken to them concerning this child. [18] And all that heard, wondered; and at those things that were told them by the shepherds. [19] But Mary kept all these words, pondering them in her heart. [20] And the shepherds returned, glorifying and praising God, for all the things they had heard and seen, as it was told unto them. [21] And after eight days were accomplished, that the child should be circumcised, his name was called JESUS, which was called by the angel, before he was conceived in the womb." (Gospel of Luke, Douai-Rheims).
The Gospel of Matthew tells of the visitation by three Magi who followed a star to find the child. There is some disagreement among biblical scholars on whether or not the magi arrived at the birth or actually two or three days later; but most people are familiar with the nativity scene that shows both the shepherds and the three "wise men" with their camels at the nativity.
The word for Christmas in late Old English is Cristes Maesse, the Mass of Christ, first found in 1038, and Cristes-messe, in 1131. In Dutch, it is Kerstmis; in Latin, Dies Natalis, whence comes the French Noël and Italian Il natale.
The early Christians probably did not celebrate Christmas as we do today. Christmas was not mentioned by Irenaeus and Tertullian in their lists of feasts. It is actually a Roman tradition to honor and celebrate birthdays, not a Jewish one.
The first evidence of the feast of Christmas is from Egypt. About A.D. 200, Clement of Alexandria, says that certain Egyptian theologians "over curiously" placed the day of Christ's birth as May 20. Other early theologians placed it as either April 19 or 20. Other Christian communities celebrated it on March 28. Clement tells us that the Basilidians celebrated the Epiphany, and with it, probably, the Nativity, on 15 or 11 Tybi – 10 or 6 January. At some point, however, the celebration became established on 29 Choiak – 25 December. By the late Fourth Century, that became the standard in the western church where it remains to this day. Some Eastern Churches stuck with 6 January, and generations of theologians have debated whether the feast should be December 25 or January 6. By the time of St. Jerome, December 25 was established in the western church. From the Fourth Century, every western calendar assigns it to 25 December.
It is likely that the popular pagan festival of Sol Natalis Invicti, celebrated on 25 December, had a role in establishing the feast of Christ's birth as December 25. In ancient Babylon, the feast of Horus, the Son of the goddess of nature, Isis, was celebrated on December 25. The holiday was known for heavy partying, feasts, drinking and gift giving. Elements of that older holiday likely influenced the Roman winter solstice celebration. Sol Natalis Invicti was the celebration of the birthday of the unconquered sun. The Christmas tree tradition likely dates to Germanic people bringing evergreen trees in their homes to celebrate the winter solstice, and in many cases, the birth of the god, Mithras, is generally celebrated on December 25. Christmas trees are not introduced into France and Great Britain until approximately 1840. Presents and gift giving likely dates to the pagan holiday.
Pope Leo I, delivering a sermon on Christmas Day in the middle of the Fifth Century said, "Our Saviour, dearly-beloved, was born today: let us be glad. For there is no proper place for sadness, when we keep the birthday of the Life, which destroys the fear of mortality and brings to us the joy of promised eternity. No one is kept from sharing in this happiness. There is for all one common measure of joy, because as our Lord the destroyer of sin and death finds none free from charge, so is He come to free us all. Let the saint exult in that he draws near to victory. Let the sinner be glad in that he is invited to pardon. Let the gentile take courage in that he is called to life."
December 25 became a major Christian feast day.
In 1223, St. Francis of Assisi made the nativity scene popular. It was an older, ecclesiastical custom, but St. Francis made it popular. The oldest known nativity scene dates to the Fourth Century. In the 13th Century, the manger scene with the holy family, the shepherds, wise men, camels, oxen, donkeys, sheep and angels became fixtures in churches across medieval Christendom and became the Christmas decoration of choice in public squares and private homes.
Christmas carols began as church hymns sung at Christmas mass and dates to at least the 11th Century.
The St. Nicholas and his "reformed" equivalent, Father Christmas, or later – Santa Claus, are probably borrowed straight out of the pagan tradition of the god, Woden, who, with his wife, Berchta, descended on the nights between 25 December and 6 January – later the 12 days of Christmas, on a white horse to bless earth and men. This was celebrated with fires on hills and blazing wheels – wheels were a pagan symbol for the sun – and feasts.
The Catholic Church made the celebration of Christmas a major part of its liturgical year, second in importance only to Easter week.
Early Protestant reformers did not like Christmas at all, and many Protestant Churches did not formally celebrate the holiday for several centuries. Protestants in Scotland abolished Christmas in 1560. In England, during the English Civil War, Puritans replaced the "Book of Common Prayer" with the "Directory for the Public Worship of God" which completely eliminated all things Christmas from the English Church. Christmas was formally outlawed by an Act of Parliament in 1644. It was illegal for shops to close, and plum puddings and mince pies were condemned as heathen. Feasting on the day was denounced, churches were closed that day and December 25 was declared a day of fasting. The Puritans under Oliver Cromwell defeated the Royalists under King Charles I; but the common people strongly disliked the outlawing of their holiday, and a number of pro-Christmas riots were held in the 1640s. In 1647, pro-Christmas rioters protesting working on Christmas day actually seized control of the city of Canterbury, leading to a major insurrection that consumed much of Kent and became part of the Second English Civil War. The Royalists were finally defeated a second time, Charles I was executed and Christmas, again, suppressed throughout the remaining years of Cromwell's rule as Lord Protector. In 1660, the English monarchy was restored under King Charles II, and with it, Christmas emerged from the shadows. Angry dissenters would call Yuletide "Fooltide" for years. Christmas in England would be sort of a drunken day of feasting for years afterwards; but would make an even more powerful comeback beginning in the 1830s and 1840s.
In America, anti-Christmas Puritans ignored the holiday as Catholic and/or pagan. Largely Anglican or Episcopalian Virginians had it as a day for parties, feasting and hunting. The Catholic Irish, who increasingly were moving to America in greater and greater numbers, treated the day as a religious holiday complete with mass, feasts and nativity scenes. German settlers brought the Christmas tree with them, and by the 1830s, that tradition began to catch on as a distinct American identity began to develop. Alabama was the first state to make Christmas a state holiday in 1836. By the 1850s, town squares all over the United States featured decorated Christmas trees. What had begun as a quaint German tradition was now an American one. By the 1850s, American printers were selling Christmas cards. The Civil War ironically increased the appeal of Christmas as the long time away from home and the brothers lost in the war made family even more important to the returning veterans. By the 1870s, Americans were embracing the ritualistic exchanging of gifts and were importing Christmas ornaments in large quantities from Germany.
Christmas with its emphasis on gift giving, carols, feasts, sentimentality and parties elevated family to almost a national religion unto itself.
Catholic Churches would fill as both parishioners and their non-Catholic neighbors would flood the church on the night of Christmas Eve to pray and celebrate the birth of the savior. Eventually, even the most Calvinist Protestant denominations added Christmas carols, Christmas decoration and even Christmas services.
Christmas today is partly a celebration of a savior born in a manger over 2,000 years ago during the height of the Roman Empire, partly a materialistic display of wealth and partly a celebration of all things family.
Previously published in 2017.
Print this piece
"I've never felt the fear I felt then:" Demonstrators describe police action at Huntsville protest
Protesters gathered in Huntsville on Wednesday, first at an NAACP rally against police brutality, and later an unorganized protest downtown near the Madison County courthouse.
The largely peaceful demonstrations ended when police fired tear gas and rubber bullets at demonstrators who refused to disperse after a protest permit expired at 6:30 p.m.
The Huntsville Police chief and Madison County sheriff have said they used appropriate force to disperse an "unauthorized protest against the government."
Police claim the protest had to be dispersed because "anarchists" from out of state hijacked the gathering and threw rocks and water bottles at police.
"It's darkness coming on, when we lose the fight," Chief Mark McMurray said. "We have daylight, we win. It's 90 minutes. It's an unauthorized protest against the government. That's what it is. That's what anarchists do. This was not NAACP. This was a separate splinter group that took advantage of a peaceful protest and hijacked it to cause anarchy against our government. Their way is to cause damage, set fires, loot, pillage."
At least 24 people were arrested, all locals from Madison County — 20 of them charged with disorderly conduct. Several people were injured by "less lethal" rubber bullets and tear gas deployed by police. At least two police officers sustained minor injuries and returned to work the next day, the police chief said Thursday.
Below are some accounts and videos from demonstrators at the protest, based on their own recollection of what happened. Their accounts have been edited for length and clarity. This post may be updated with additional perspectives.
Video: Eddie Swift
---
Sarah Myers from Huntsville:
We came to the protest in the park initially at around 5:30 p.m. It was so packed we could barely get anywhere near the crowd or speakers, but we came with medical supplies in case people got maced again like they did Monday.
We dispersed our supplies to various people around the park, and then shortly after headed home. At 7:30 p.m., we came back because we saw people posting about how the protest moved to the courthouse square and there was a strong police presence. I wanted to document and make sure people were okay. I had no idea what would happen.
As we approached the square at about 7:30 p.m., all the stairs to the courthouse were barred up and heavily armed, shielded officers wearing gas masks lined the entire perimeter of the courthouse.
I've never felt the fear I felt then. I genuinely felt as if I could be shot at any moment for any reason. They were intimidating, smug, snickering amongst themselves as we protested.
I suppose, we were blocking the streets, so we gave them a "reason." I say that very loosely and sarcastically because the way they responded was in no way appropriate toward civilians — even if we were standing in the street.
I've heard about the 6:30 p.m. expiration of the permit — which I guess the NAACP agreed upon — but is public property not always fairground for a protest? Even if we, as a separate group, wanted to continue after 6:30?
Maybe I'm wrong, but what I do know is we were 99 percent peaceful. The majority SHOULD HAVE spoken. The police could have easily taken a knee with us, as many police in many cities have done, and we would have been gone by 8.
But what they did instead was wait for the clock to strike "8" (7:45) and started sounding off loud intense alarm sounds, so I fell back about a block. I'm honestly not even sure on a perfect timeline after that — all hell broke loose, time stretched and warped and still hasn't really returned to the same.
I cannot get my mind off of that night, the feeling of terror in my own city.
They were trapping us, yet shoving us, there were people screaming blood-curdling screams because of pepper spray or tear gas being sprayed directly into their faces.
Immediately turning around to see a young boy, who looked no older than 17, with a huge hole blown out of his calf and blood covering his entire leg. He was in such shock that you couldn't even tell anything was wrong until you looked down. We were trying to help this guy, and they still just kept shooting behind us, dropping gas on us, shoving us while we knelt down on the sidewalks, trying to aid people.
We literally just had to take off running for shelter in the parking garage on Jefferson in the middle of helping that guy because there was just constant shots approaching behind us.
Everyone I saw who was shot, was shot with their backs turned to the police. People who were trying to disperse, being maced as they ran by. A medic helping someone on the sidewalk, and police throwing smoke canisters at them.
It was barbaric, unnecessary terrorism. Someone needs to be held accountable for the absolutely uncalled for brutality that happened that night.
Even if someone threw a water bottle or yelled at them, we were unarmed. We were 99 percent peaceful and not participating in antagonizing the police, but when they decided they were over it, they didn't care who was what or what was what. They started shooting, harassing, arresting, and gassing innocent people who pleaded with them and protested for change.

We left at the point that the riot police began advancing down Jefferson. It just seemed like there was nothing else we could do. They made it clear to leave if you can — or get brutalized one way or another.
I don't really know what else to say other than I got a glimpse of what a black person goes through everyday … who do you call when its the police that are attacking us?

Warning: Video contains violence and profane language.
Video: Eddie Swift
---
Dr. Pippa Abston from Huntsville:
I arrived at Big Springs Park at about 4:30 before the start of the protest at 5 p.m. I am pleased to say that multiple medical people and first aid volunteers came. We had at least one EMT. People brought armloads of supplies and water. We had a medical area set up towards the back, and some of us walked through the crowd. I carried a medic sign on a pole.
After the speakers — which I don't think I can do justice to describing, other than to say extremely inspiring — we were led up the stairs on the side of the park to march. There was chanting. It seemed to me that there were a whole lot more people than on Monday night. The line of marchers really couldn't move much. We chanted.
Instead of a big march around the square, mainly people seemed to settle in the area in front of the courthouse. Everything I saw appeared peaceful in that area. Again, there were large numbers of police on the courthouse steps. This time they were holding large numbers of wrist ties, indicating to us that they planned to do a lot of arrests, I suppose. We could see people posted on top of the courthouse, and I was told they were snipers, but I couldn't get a close enough look to verify that.
Suddenly — and again for no discernible reason — police dressed in riot gear lined up along the intersection where Fountain Circle turns into Southside Square. We heard a siren and then once again, unintelligible talking over some kind of sound system. I was roughly opposite the courthouse steps, and none of us could hear them.
Video: Pippa Abston
It turned into that game "operator" that kids play. People were passing along information that they had heard, but it wasn't the same information. Some said we were supposed to leave in 4 minutes, others said everybody just had to get off the street and onto the sidewalks.
Toward Clinton, which was blocked also on Monday, there was no riot line of police, but there were some police cars, and it wasn't clear to anyone standing there if that was an exit route. I asked several people if anyone had provided an exit route, as is required, and they said no.
Around that time, some people started coming up to us and reporting that first aid volunteers were being detained and ordered to remove their red cross signs made with tape, on the grounds that they were impersonating doctors. Because of this, the many medical volunteers we had were not identifiable to the crowd.
Several people came to me over the course of the night, because I still had the sign and a red cross on my shirt and backpack. I had put my medical license in with my ID, and I said "let them just try that." But no one did.
We were also told that police on the courthouse roof were targeting medics — that they were pointing out our position. We were warned by several people to watch out because of that.
A few minutes later, people started passing down the word that they were about to start shooting rubber bullets. So the medical team I was with once again went down the stairs towards Big Spring Park, thinking likely that would be the way folks would flee again.
There was an initial rush of folks running down the stairs again, with some screaming, but this was brief and then people went back up again. We were unsure what to do but decided to stay in the park to be ready for their return. We heard chanting.
After some amount of time, which I did not note because I intentionally left my watch at home, a large crowd of people came screaming, running down those same stairs again into Big Spring Park, being chased by police and we heard shooting of rubber bullets.
We ran also. We heard several large explosions that sounded like bombs. We were told it was tear gas.
Even though it wasn't really too close to where we were, my eyes did burn.
People passing us said that police had told them we had to leave Big Spring Park, a city park, because it was private property, and that we would be fine if we went across Church Street as long as we didn't get near businesses.
So a lot of us — maybe 100 or so — walked over there. As we were heading there, we saw a large line of patrol cars with lights and sirens on, coming down Church Street, and we wondered if it was ok after all to go there, but they passed by. We were told they were circling the courthouse.
People milled around on the sidewalk area across near Church Street, which is definitely public property, talking, wondering what was next. Again, we stayed in case we needed to give medical help and also because we had never received any instructions from the police about where to go.
We got word that they were loading up large numbers of police into trucks and coming … to do what, we didn't know, but we were worried, so we walked further away from Church Street toward the Von Braun Center area.
We saw a line of police advancing down Clinton and onto Monroe Street, and we were worried we were going to get trapped. A large crowd to the left of us were moving past the art museum, and suddenly there were explosions again and what looked like fireworks aimed at the crowd. I was told it was tear gas.
People were running and screaming and several of us were trying to help wash their eyes. These tear gas explosions happened several times. We thought they were trying to drive us to Monroe Street, but we had also seen troopers marching that way, and we didn't know if we were going to get cornered.
We were still washing people's eyes. Some people were having intense skin reactions to the gas, burning and redness.
One person had been hit so badly in the eyes that they couldn't see to find their ride, so they walked with my group back to where we were parked and got a ride with my friends. It seemed like protesters were mostly dispersing from that end of the park. We heard there were continuing protests on Jefferson Street.
I made it home. That was like being in a war, getting shot at, having gas thrown at us. And once again, one of the scariest parts was that it wasn't clear where to go and be safe from being shot at.
We have to keep showing up for these protests. They are obviously trying to terrorize us into staying home, but we must persist.
The Huntsville police chief is saying that us putting on eye protection and getting out first aid equipment was one of their reasons for gassing and shooting us, because it was a sign we wanted violence.
If I go hiking during hunting season with an orange hat on, am I hoping a hunter will shoot me in the head?
If I lock my car door, am I hoping to have my window broken?
If I wear a mask, am I hoping to get COVID-19?
They had snipers yesterday. If we come wearing bulletproof vests — and no, I don't own one — are they going to shoot us and say well, look what they made us do?
Could it be that we are aware of their weapons and their history of unprovoked brutality and want to protect ourselves while we exercise our First Amendment rights?
Print this piece